Exhausted by dinner-time but still want a healthy meal? Our blogger, Carole Beck, is sharing her favourite healthy 30-minute meals every fortnight. This week: dinner salads, ready fast
Sometimes you just want a salad for dinner. I don't blame you. It keeps cooking time to a minimum, and means your meal is ready fast, giving you time to get on with everything else. Plus it's easy to pack a salad high with fruit and veg to max out your five-a-day, and you can alter the ingredients to whatever's good that day in your fridge.
If you need some pointers, below are three salads I've tried recently that I think are perfect for dinner. They're high in protein and carb-free at the moment, but if you're ravenous after a workout or a long day, you can always add a helping of healthy carbs, like quinoa, brown rice or sweet potato, to bulk out the dish.
Pear, Parmesan and Parma ham salad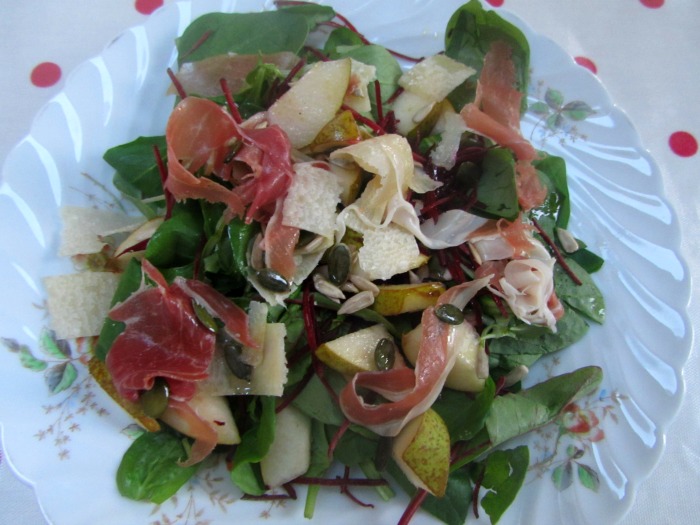 Serves 1
1 slice of Parma ham
1 pear, sliced
Shavings of Parmesan cheese, to taste
Mixed beetroot leaves and rocket
1 tbsp mixed pumpkin and sunflower seeds
For the dressing:
3 tbsp olive oil
1 tbsp red wine vinegar
1 tsp honey
Juice of half a lemon
Black pepper
Method
Lay the salad on a plate, and top with the pear, ham and cheese. Sprinkle over the seeds.
In a small jug, whisk the dressing ingredients together. Drizzle some over your salad (and save the rest for another day, another salad.)
Nectarine, goat's cheese, mint and soy bean salad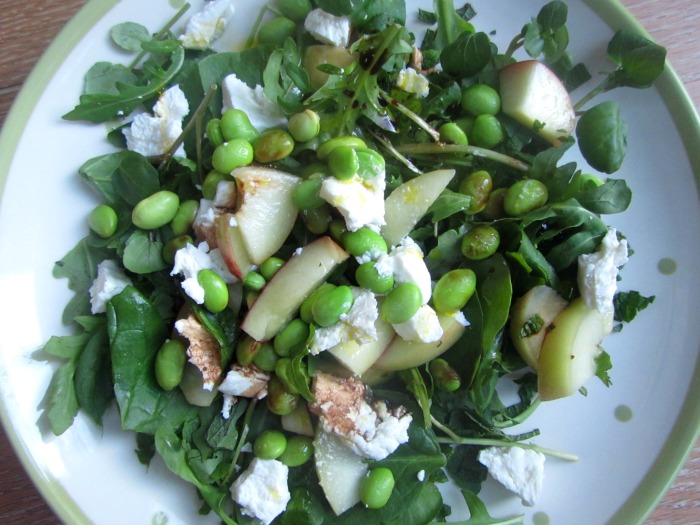 Serves 1
40g cooked soy beans (available from the frozen veg section in supermarkets)
40g goat's cheese
Handful of mint, chopped
1 nectarine
Lettuce leaves
For the dressing:
3 tbsp olive oil
1 tbsp balsamic vinegar
Dash of sugar, and mustard
Method
Cook the soya beans in boiling water for 3 minutes.
Meanwhile, arrange the leaves and chopped mint on a plate and top with goat's cheese and nectarine.
Drain the soya beans and sprinkle over the salad.
Whisk together the dressing ingredients and dress the salad.
Puy lentil, tomato and poached egg salad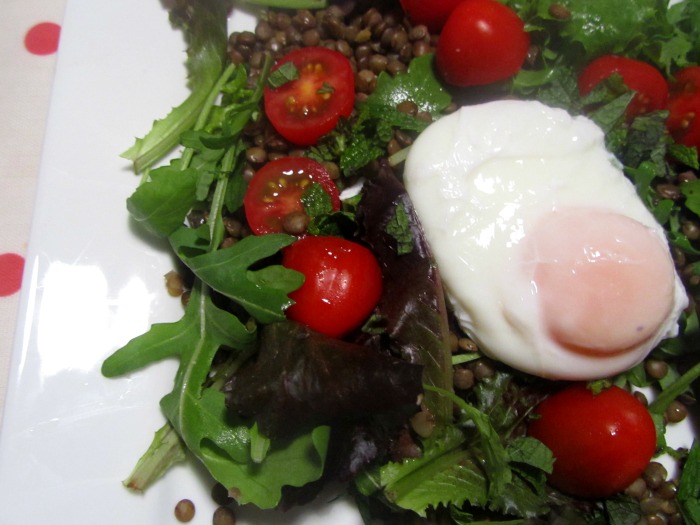 Serves 1
60g Puy lentils
1 egg
Squeeze of lemon
Handful of cherry tomatoes, sliced
Salad leaves
Method
Cook the lentils in boiling water or stock according to the packet instructions for about 15 minutes or until soft but with a bite.
Arrange the salad on the plate.
When the lentils are ready, drain them and place them on top of the salad. Add the cherry tomatoes.
To make the poached egg, crack the egg into a mug or small jug. Pour boiling water into a wide-bottomed saucepan and add a dash of vinegar. Set the water to simmer gently and pour the egg in, setting the timer for 3 minutes.
When the timer sounds, use a slotted spoon to remove the egg from the water. Let it rest on some kitchen paper before laying it over the lentils.
Read more from The 30-Minute Cook:
3 healthy summer picnic dips
5 healthy gadgets under £20
Baked sea bass, filleted and cooked in a paper packet
Fast & Fit Cook: 5-minute meals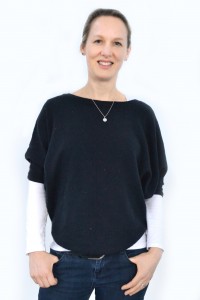 Carole is a health, parenting and food journalist, and has three children, aged eight, five and three. She lives in London, and writes a blog at Healthier Mummy about trying to lead a healthier family life. Follow her at @healthiermummy. 
Like this article? Sign up to our newsletter to get more articles like this delivered straight to your inbox.