We've got a cribsheet of 10 health blogs that will make you healthier to help you find your next favourite blogger
Whether you want to read more about weight loss, dietary restrictions, mental health issues, infertility, raising a family, fighting cancer or improving confidence and body image, there is a whole blogging world out there at your fingertips. We've found 10 health blogs to start following now.
The blog that's… FULL OF GLUTEN/WHEAT/DAIRY/YEAST/SUGAR-FREE RECIPES:
Supercharged Food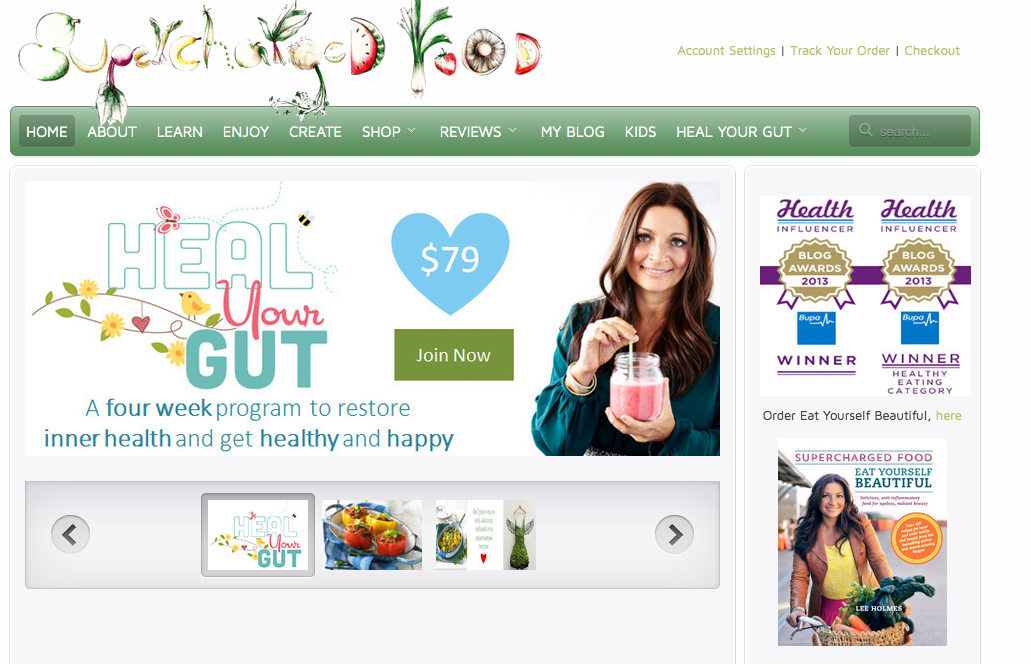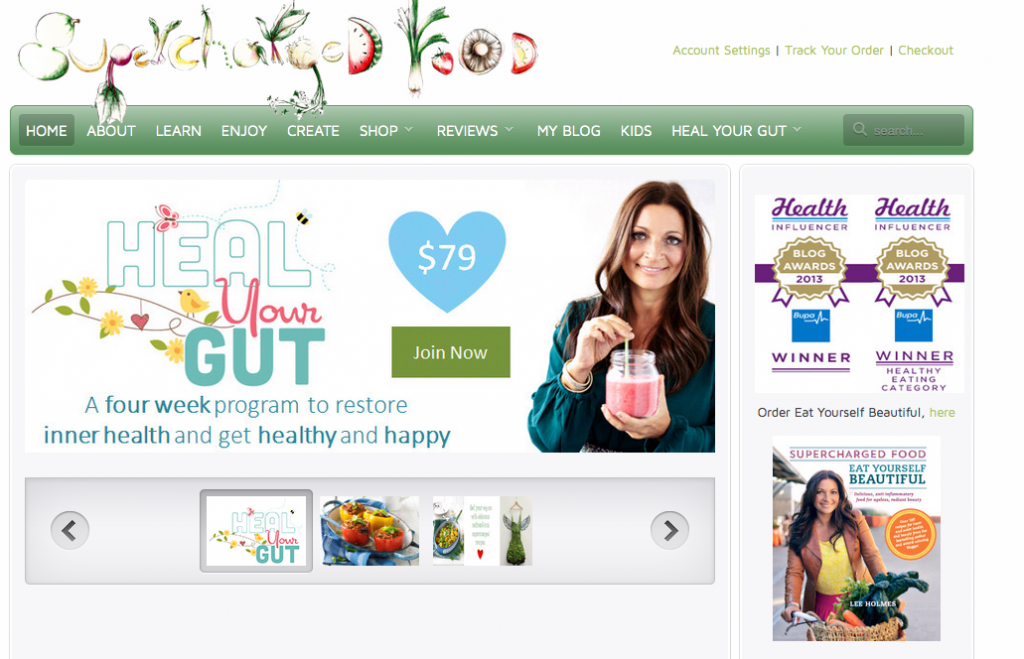 Who is the author? Lee Holmes is a mother, author, certified holistic health and wellness coach and a qualified wholefoods chef from Australia on a mission: provide gluten, wheat, dairy, yeast and sugar free recipes that are delicious and easy to prepare. Lee was diagnosed with fibromyalgia, an autoimmune disease that seemingly sucked away her energy. Determined to stray away from the conventional route, Lee decided to use food as medicine, and thus Supercharged Food was born.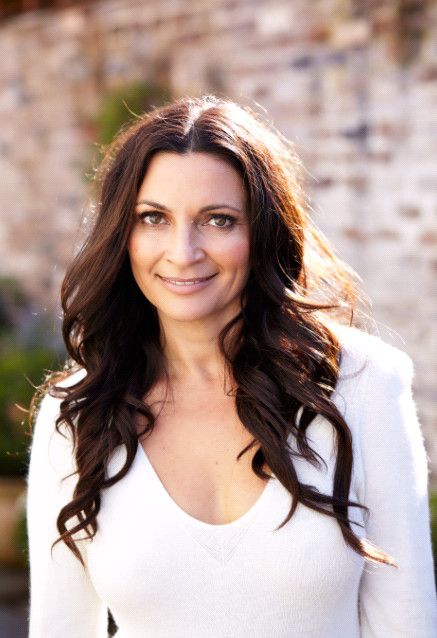 What is it about? Eating your way to a better health. Lee provides recipes and tabs full of advice such as foods to avoid, how to use food as medicine, good fats, supplements and detox tips. Lee also writes reviews on cookware and appliances as well as a section geared toward healthy lunch box ideas for kids and other members of the family.
It's so much more than reading post after post
Why should I read it? It's so much more than reading post after post. The blog offers an interactive 'Heal Your Gut' 4 week programme you can join. Lee talks about how most health/diet conditions are linked to the gut since all your food, nutrition and hydration goes through it. When you join the programme, you'll receive a welcome kit, weekly emails and meal plans designed for you as well as web videos to help you through the process with the goal to set a firm foundation toward better health.
Best health tip: 'Listen to your body and don't follow fad diets,' Lee told Healthista. 'There isn't a one sized fits all approach to health and your body is unique. Find the foods that allow you as an individual to thrive and throw fad diets out of the window for good.'
The blog that's… SPEAKING UP FOR WOMEN LIVING WITH INFERTILITY:
The Infertility Voice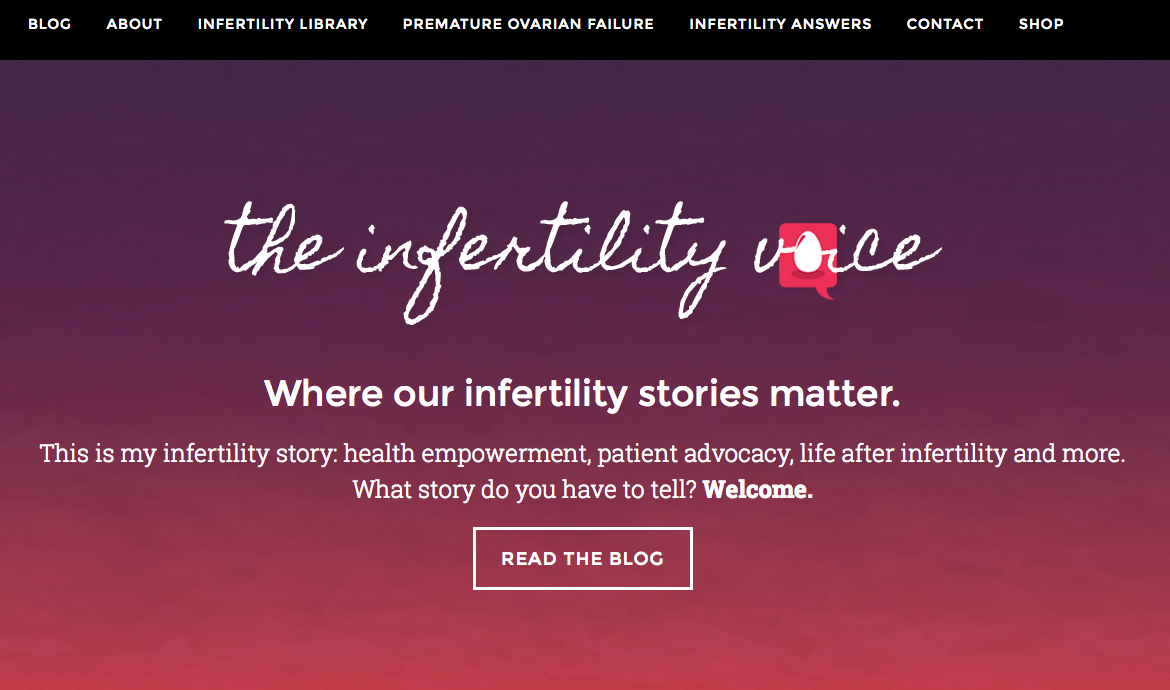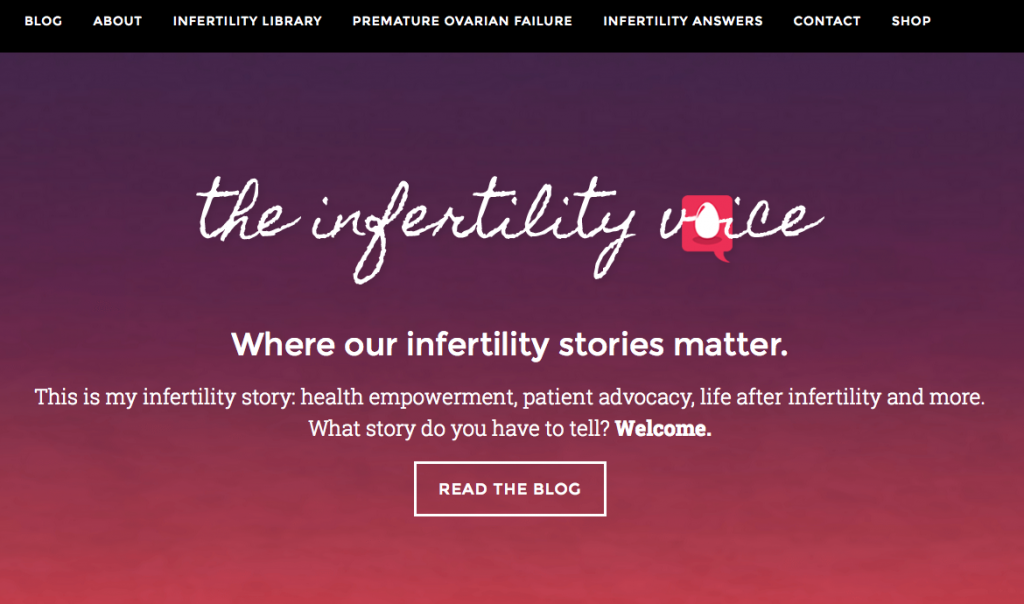 Who is the author? Keiko Zoll is the founder and editor-in-chief of The Infertility Voice. She is also a leading infertility and women's health writer. After being diagnosed with premature ovarian failure in 2009, Keiko started writing an anonymous infertility blog which gathered a handful of followers. Today, the blog has grown, and Keiko's writings are now more of a empowering resource for infertility patients looking for answers, guidance and community support.
Keiko's writings are an empowering resource for infertility patients looking for answers, guidance and community support.
What is it about? The blog has seven core beliefs: (1) infertility is a life-altering disease, (2) you deserve respect, dignity and compassion, (3) your emotional experience is real and valid, (4) all infertility stories matter: including yours, (5) you have the right to equal access to care, (6) family-building must be grounded in ethical care and practice, and (7) hope is not a four-letter word.
With pages like an infertility library with resources and information about diagnosis, to Keiko's own personal blog posts, The Infertility Voice is a complete collection of coverage aimed to provide answers and aid with coping and revitalizing energy by focusing on the positive.
Why should I read it? Even if you don't have a infertility diagnosis, the blog is a wonderful hub of information. Infertility that leads to assisted reproductive methods (such as IVF) can be to be tricky, controversial subjects – so the more you know, the better before jumping to misinformed conclusions. Keiko's posts are personal and worthwhile reads.
Steal a trick: 'When going to your doctor for a check-up or concern about potential fertility issues, make sure you are as prepared as possible so you can get the most out of your appointment,' Keiko writes in a post. 'Come prepared with knowledge about any menstrual cycle changes, menopausal symptoms, past surgeries on your reproductive system and family history records. The more information you can provide, the better'.

The blog that…BRINGS HUMOUR TO HEALTH:
Cranky Fitness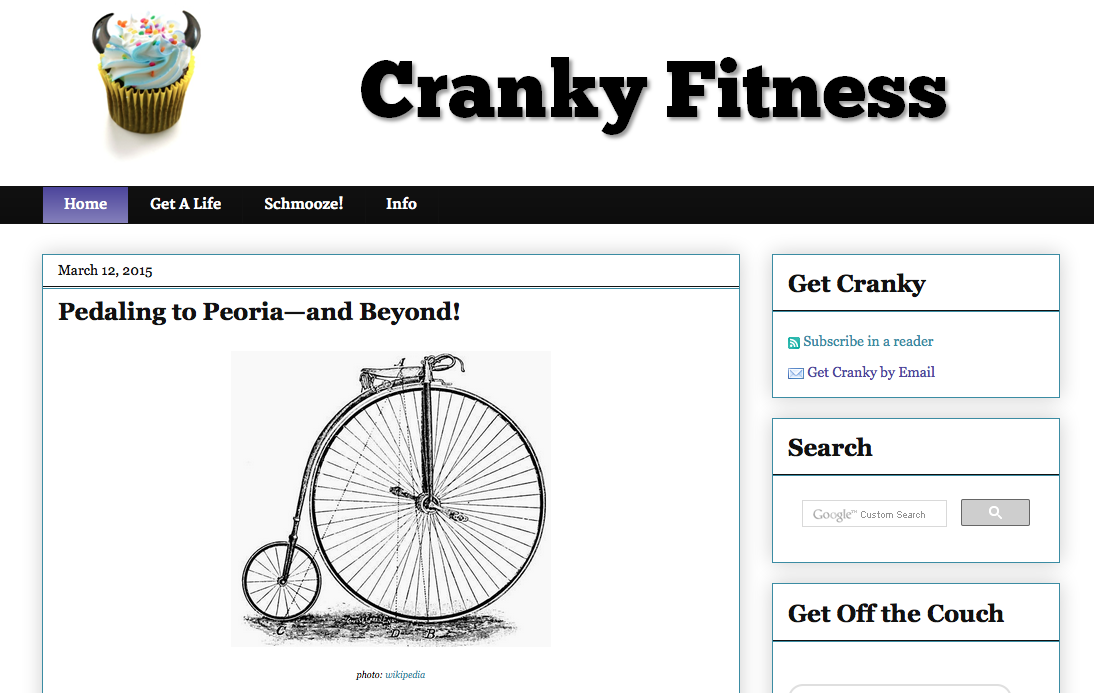 Who is the author? Jan Graham, also known as 'Crabby McSlacker' is a life and wellness coach and author of ebook, Cranky Fitness: Exercise Your Ass Off
Jan's health and fitness blog has been up and running since 2007.
What is it about? Posts vary from general health, fitness, nutrition, personal development, disease prevention and ageing topics along with scattered personal post here a there by 'Crabby.' There are also guest posts from various contributors that add to the variety of the blog. Some recent posts include a what you need to know guide about prescription medication, a review by Crabby about an in-home massage company and a post from a doctor about the importance of exercise thresholds.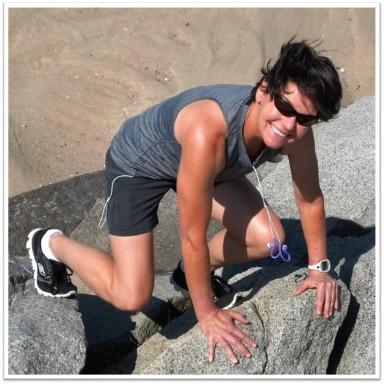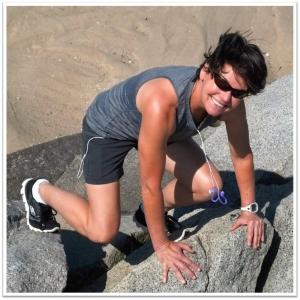 Why should I read it? Cranky Fitness, holds a lot of character and light-heartedness. Crabby is like a friend who writes honestly with touches of humour. It is an all-encompassing blog that provides information and insight to many topics, so it's hard to get bored. I've found myself laughing under my breath while reading posts or thinking about new subjects that have never crossed my mind before thanks to Crabby's witty mind and creative spirit that exudes from her writings.
it provides information and insight to many topics, so it's hard to get bored
Best health tip: 'To beat exercise boredom, bring awesome music and get silly,' Jan (aka Crabby) told Healthista. 'Dance on the elliptical machine, run sideways or backwards on the treadmill, sing out loud and weave like a drunkard on an empty bike path, flee from imaginary monsters on the running trail, or otherwise let the exhilaration of the pounding beat drive you to do things that make you look like a complete idiot.' We love it.
The blog that… UPDATES YOU ON HEALTH NEWS
Health-E-Helen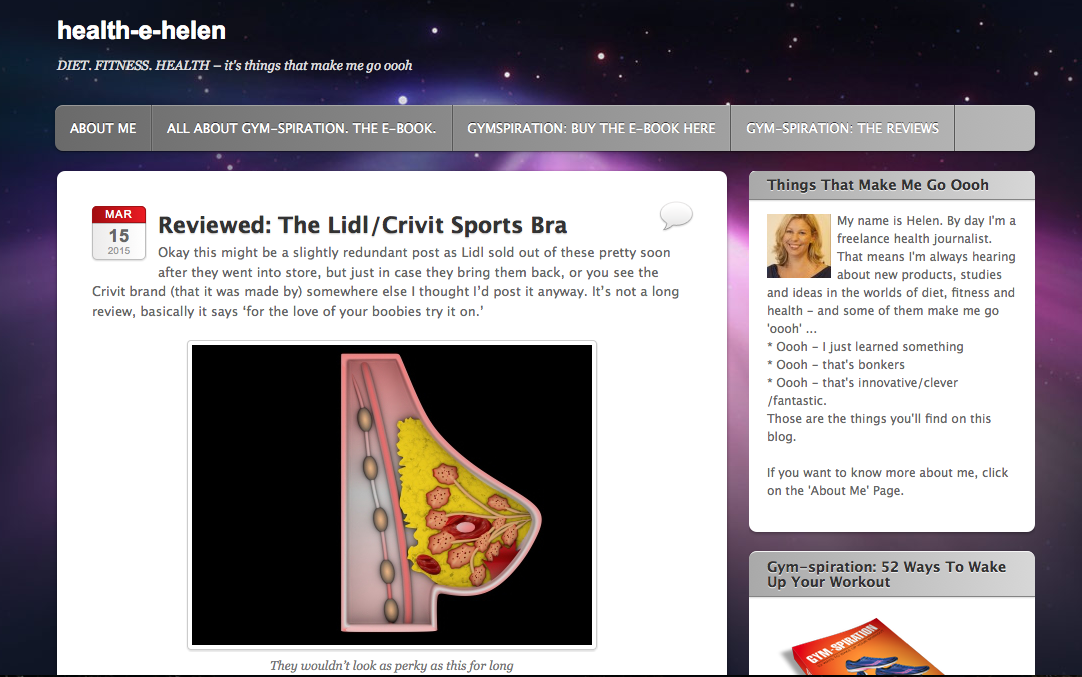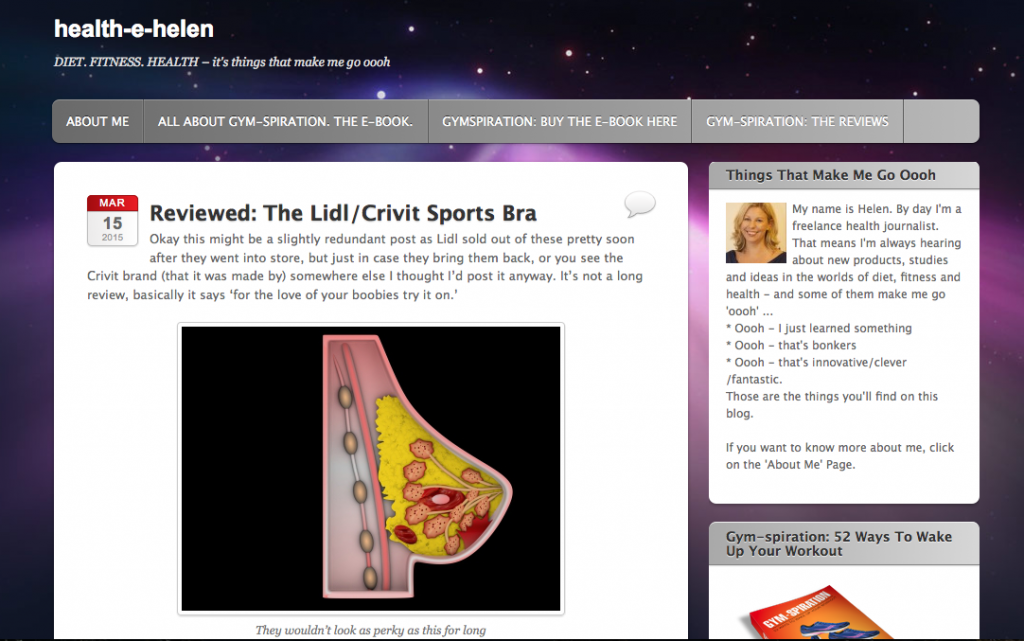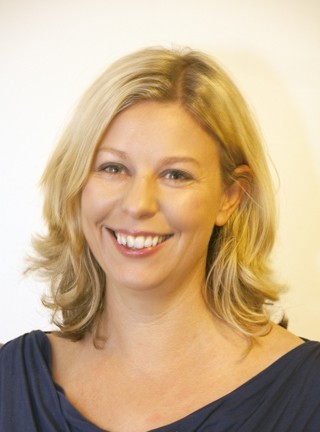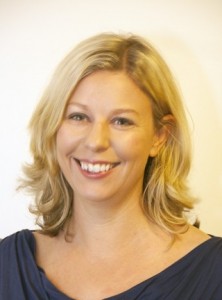 Who is the author? Health journalist, author and Healthista Bodyologist blogger, Helen Foster has been writing for over ten years. For her work she interviews health experts and tries out products for review – all with the hope to better inform her readers. Aside from blogging, Helen writes for magazines like Red, Top Sante and Good Health. Helen lives in England but finds herself happiest while in Sydney, Australia.
What is it about? On her blog, readers will find a variety of posts that Helen likes to say make her go, 'oooh,' – basically anything health-related that catches her eye, is new, clever or seems crazy – you'll find it here. Her most recent posts include a review of a new sports bra, soup maker and things that make her happy – like her dogs and ice cream.
Why should I read it? What Helen finds worth the time to write about is indeed interesting and great to know to help you make better informed health decisions – whether that be buying a new product or thinking about starting a diet. She's honest and funny and like someone you'd like to have a glass of wine with (she's laid back and chatty and we get the feeling she wouldn't even force you to choose an organic version – actually we know her and she wouldn't!). In a world where health facts and products are in abundance, Helen is like your little voice of reason, helping you navigate through the good and bad products, health news that you need to know and health fads and tips that you shouldn't waste another second on.
Best health tip: Helen's favourite health tip/slogan comes from the logo of a virtual running group she belongs to. 'Dead Last Finish beats Did Not Finish which greatly trumps Did Not Start. I'm not a fast runner, I'm never going to win a race, but at least I'm covering those miles.'
The blog that… FACES BREAST CANCER HEAD-ON:
Darn Good Lemonade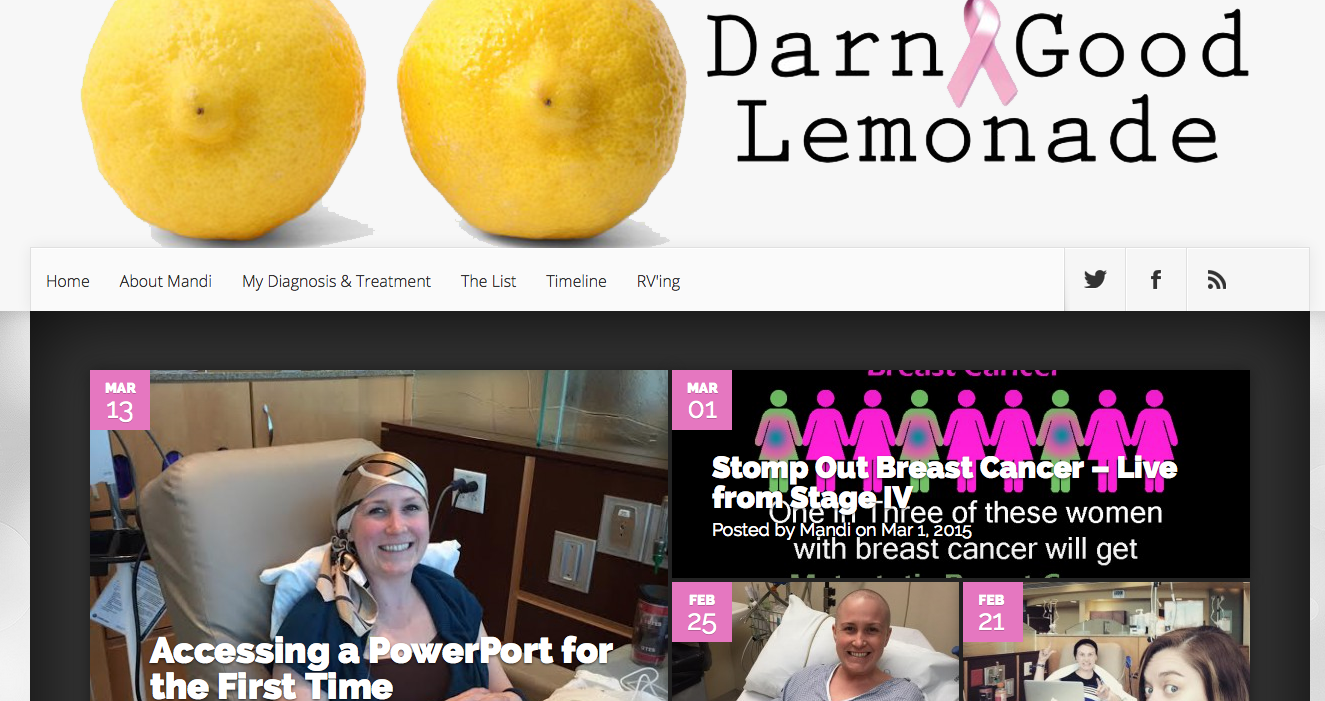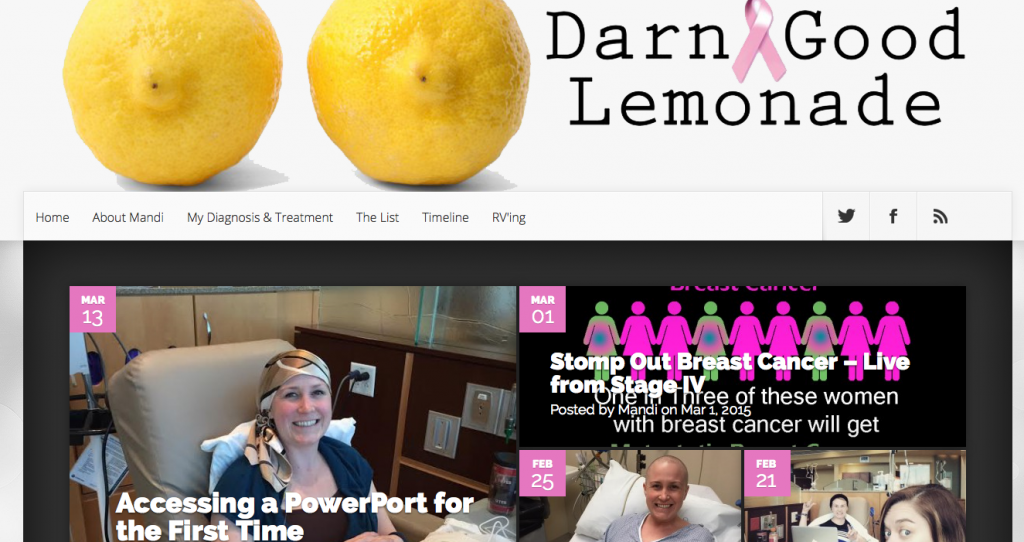 Who is the author? On Mandi's 31st birthday she was diagnosed with stage IIB breast cancer. It was an unwelcome surprise, which prompted her to start writing her blog Darn Good Lemonade – a title inspired by the idea that life has certainly thrown her some lemons, so she might as well learn how to make some delicious lemonade.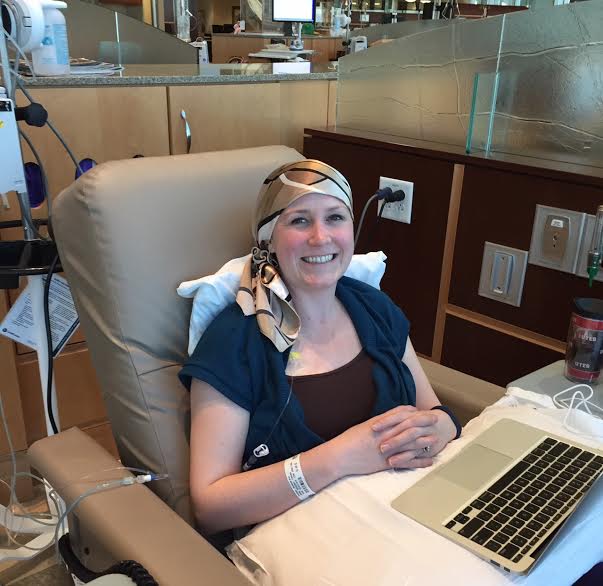 What is it about? It has been a little over four years since Mandi's diagnosis and her cancer has progressed to stage IV. Darn Good Lemonade has been her way of documenting her journey in hopes to help others who are fighting similar battles. The posts start on the exact day of Mandi's diagnosis in 2010, up to her current treatments and surgeries – offering an up-to-date view into her life and courageous heart.
Why should I read it? Whether you know someone who is battling cancer, a cancer survivor or fighting your own battle, this blog will help. Just after reading a few of Mandi's posts, you start to feel like you've known her for years instead of minutes, and you cannot help but wish her the best of health. Mandi's positivity even in the most devastating of times is touching and sincere, making her blog one of the best personal, inspiring blogs I've ever come across.
Best health tip: Mandi was kind enough to share with Healthista the best health tip that has helped her the most.  'Get up and move. It is tough to get going again after surgeries and setbacks, but walking, an elliptical, gentle yoga – anything and everything active will make you feel amazing no matter how tired and worn out you feel. I am in the process of trying to get my energy back up right now after starting chemo again just over a month ago. If I can do it, you can too!'
The blog that… IS HONEST ABOUT MENTAL ILLNESS:
Bipolar Burble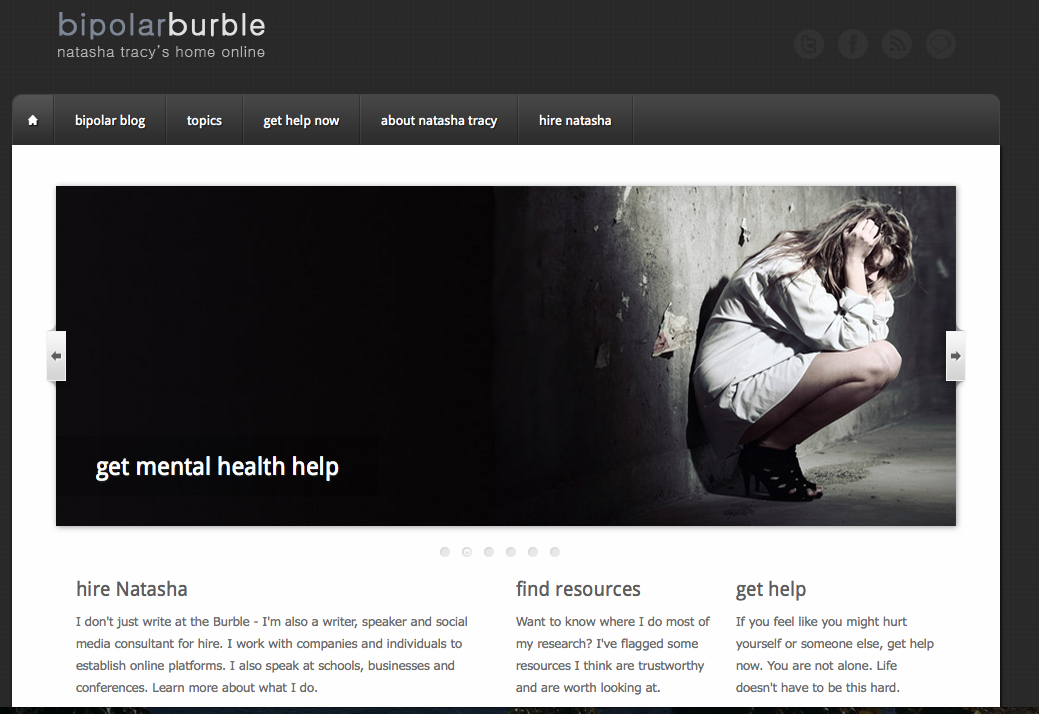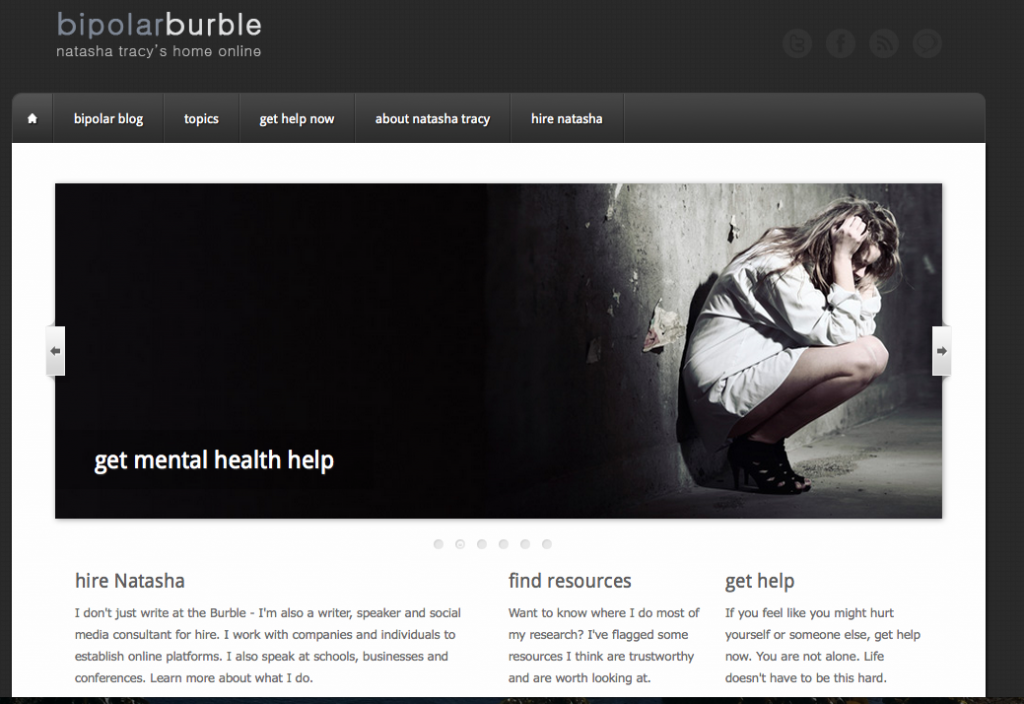 Who is the author? Natasha Tracy likes to sum herself up as a 'professional crazy person' on top of being an award-winning writer and mental health advocate. She has been diagnosed with bipolar disorder and also writes a variety of articles and other works around the subject – which she finds have benefited her as she shares her experiences, thoughts and research.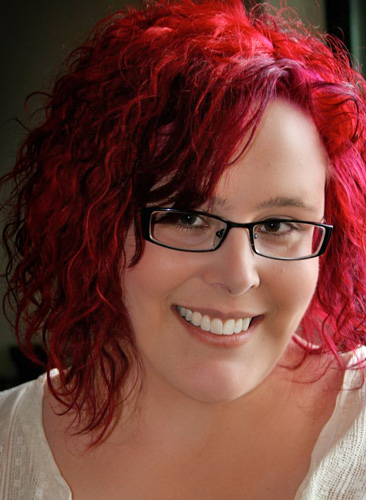 What is it about? Bipolar Burble tackles difficult issues that are usually only spoken in medical terms, but Natasha puts a personal edge to each post making the blog equally informative and thought-provoking. With posts about tips on how to finish tasks with bipolar disorder, and how depression cannot be simplified as 'choosing to be unhappy,' Bipolar Burble is a hub of great work on serious issues that are often never talked about.
The best thing anyone can do for their mental health is to go to bed at the same time every night and wake up at the same time every day, says Natasha
Why should I read it? When you don't fully understand a subject it is easy to make uninformed opinions and decisions – this happens more often than it should for people who are living with bipolar disorder and depression. With that in mind, anyone – no matter if you are living with bipolar disorder – should read this blog  to understand and learn more.
Best health tip: Natasha finds great importance in sleep regulation. She told Healthista: 'The best thing anyone can do for their mental health is to adopt a sleep schedule wherein they go to bed at the same time every night and wake up at the same time every day. Our bodies were made for this type of rhythm but we often deprive them of it due to our wants and obligations. However, just making this one change to your daily life can improve how you feel every day – whether you have a mental illness or not.'

MORE: Read Natasha's story – The moment I realised I had bipolar disorder 
The blog that… WILL HELP YOU RUN A MARATHON:
Lazy Girl Running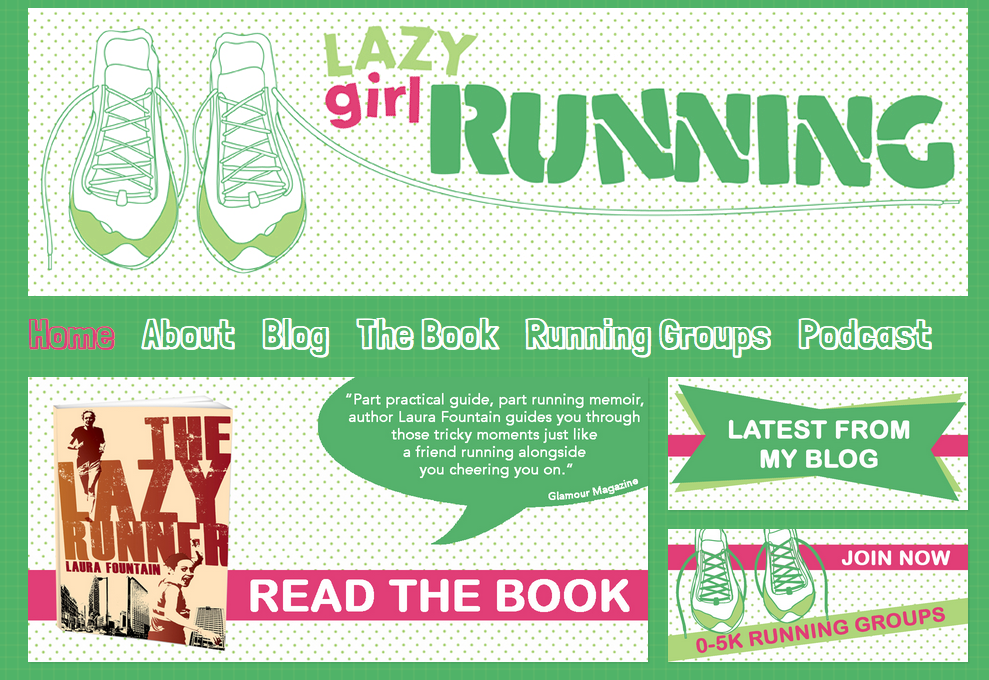 Who is the author? You can find Laura Fountain running around her home city of London, but it hasn't always been that way. As she got closer to the age of 30, Laura knew her negative attitude toward any kind of exercise needed to change. So, she took up running – it was a far from easy task, but once she started she never stopped. When she isn't running, she is writing as a journalist specalised in women's health. Laura has also published two books about her journey of falling in love with running.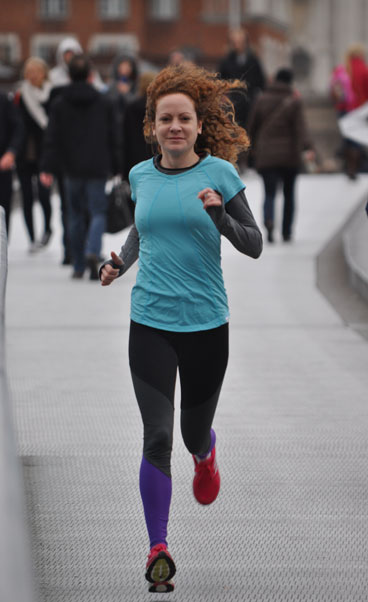 What is it about? The Lazy Girl Running blog started in the summer of 2008, where Laura wrote in one of her first posts that the blog is, 'the diary of a very lazy girl who is trying to run a distance to be proud of, and I'm still collapsing in a sweaty heap after every run.' From buying new running shoes, running her first marathon and making yummy protein balls – Laura writes it all.
Why should I read it? To be inspired! Each blog post is candid and relatable, allowing the reader to really engage with Laura's journey and possibly be encouraged to start running themselves. Exercise isn't easy, waking up early to push yourself to run one more mile is difficult – but it isn't impossible, and this blog above all else, let's you see the possibility behind every goal. It's more like a diary than a training programme but throughout, you'll pick up tips from Laura's experience.
Best health tip: Laura let Healthista know what helps her get up in the morning and run. 'I used to be rubbish at getting up early to swim or run before work. Now I fill the kettle and put my cereal out the night before. Just thinking one step ahead at a time rather than getting into a cold pool or heading out the door makes the morning a bit more manageable.'
The blog that… MAKES HEALTHY COOKING EASY:
stonesoup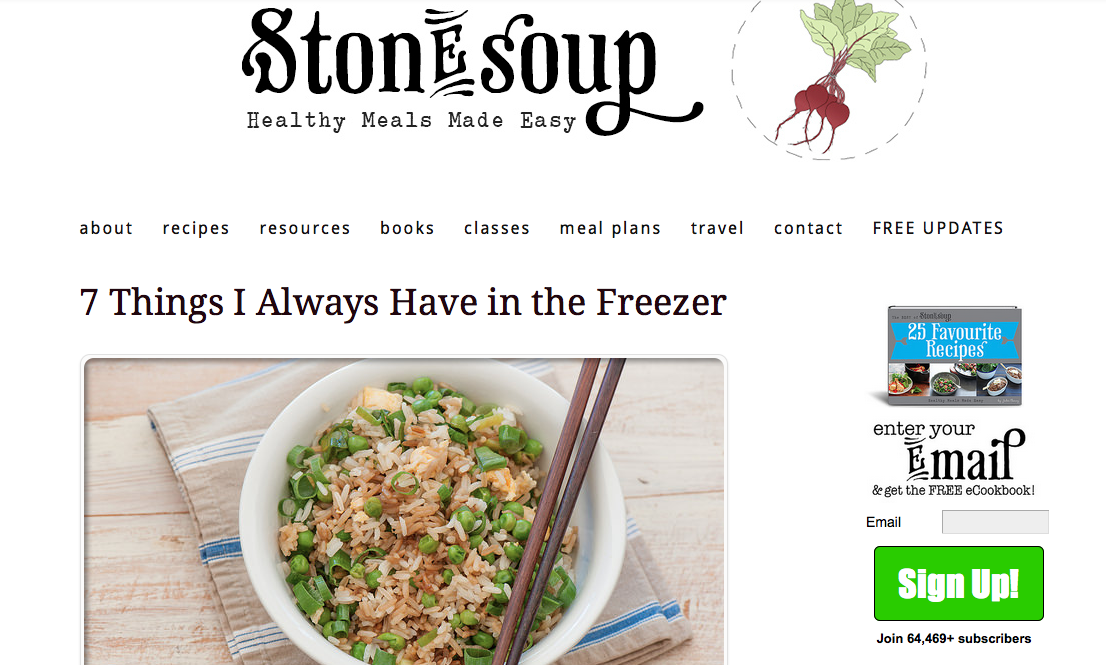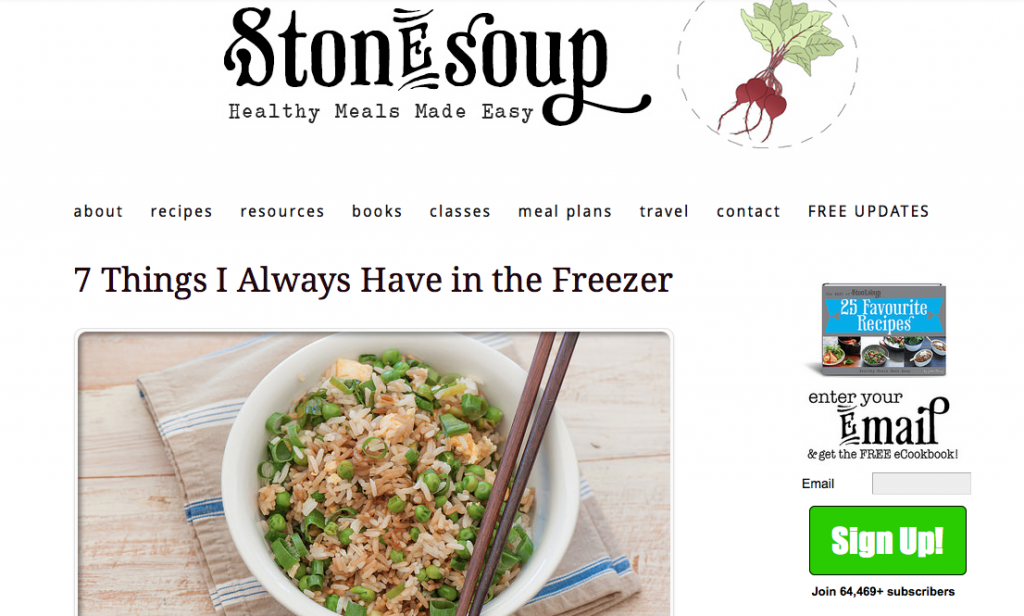 Who is the author? Australian native Jules Clancy is the leading voice behind the delectable (yet simple) recipes offered on the stonesoup blog. As a long-time lover of food and wine, Jules has worked in both industries and is an avid writer and photographer – striving to make new, deliciously healthy recipes.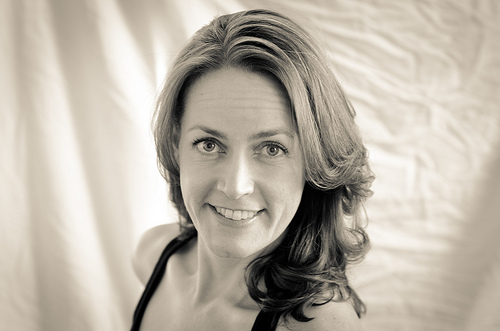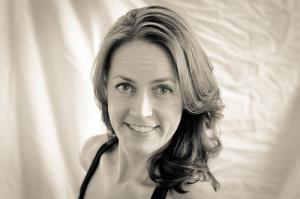 What is it about? The goal for stonesoup is to be a resource for readers to improve their status as healthy home cooks, using the minimalist approach to cooking. Through her own in-kitchen discoveries, Jules shares recipes that usually only need about five ingredients that completely stray away from processed food, and fancy kitchen utensils. The blog is a down-to-earth guide to make healthy meals easy. We are all about that at Healthista.
Why should I read it? You will never be out of recipe ideas again! With the blog's organised 'recipe index,' anyone can find recipes for soup, snacks/starters, veggies, salads, pasta, grains, egg/tofu, seafood, meat and sweet treats in mere seconds. If the simple, easy-to-follow recipes aren't enough, the beautiful photography of each dish will definitely do you in. This blog, without a doubt, will get you cooking in no time.
Steal a trick: Remember as a child when you were always told to, 'eat your vegetables?' Well, it still holds true. Jules writes about how she has yet to come across someone advising that you shouldn't include more vegetables in your diet – so load up your plate. She suggests that replacing vegetables for grains is a simple swap that can go a long way.
The blog that… WILL MOTIVATE YOU TO CHANGE YOUR LIFESTYLE:
Hungry Healthy Happy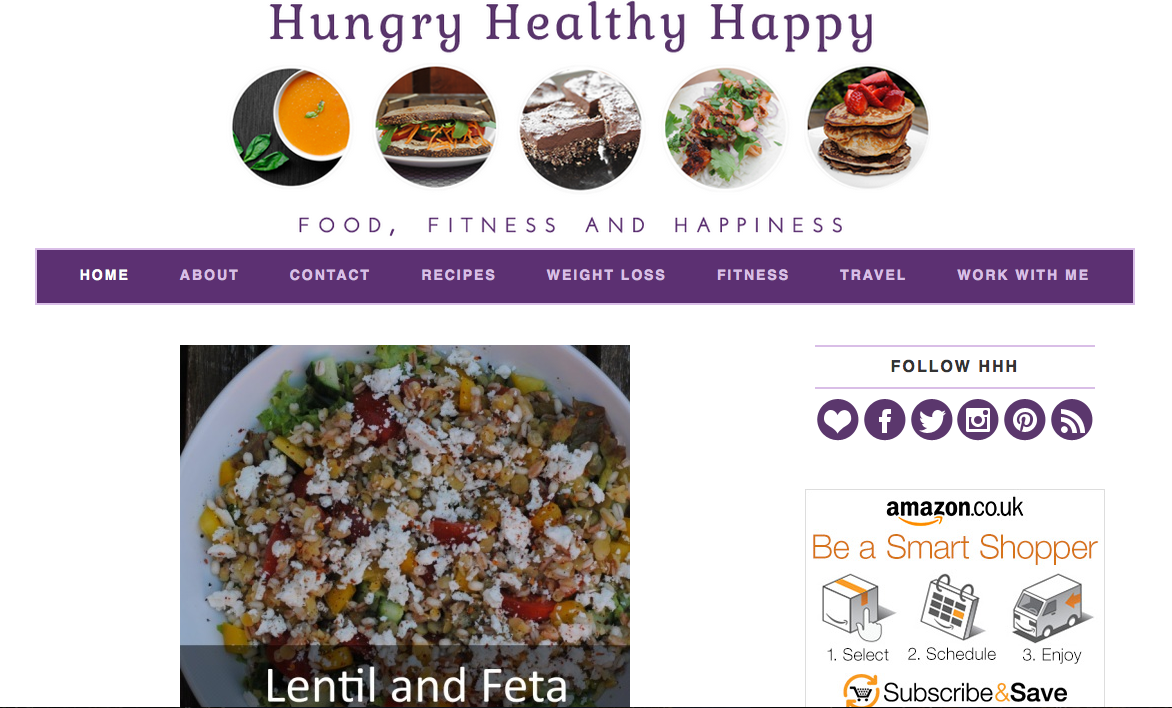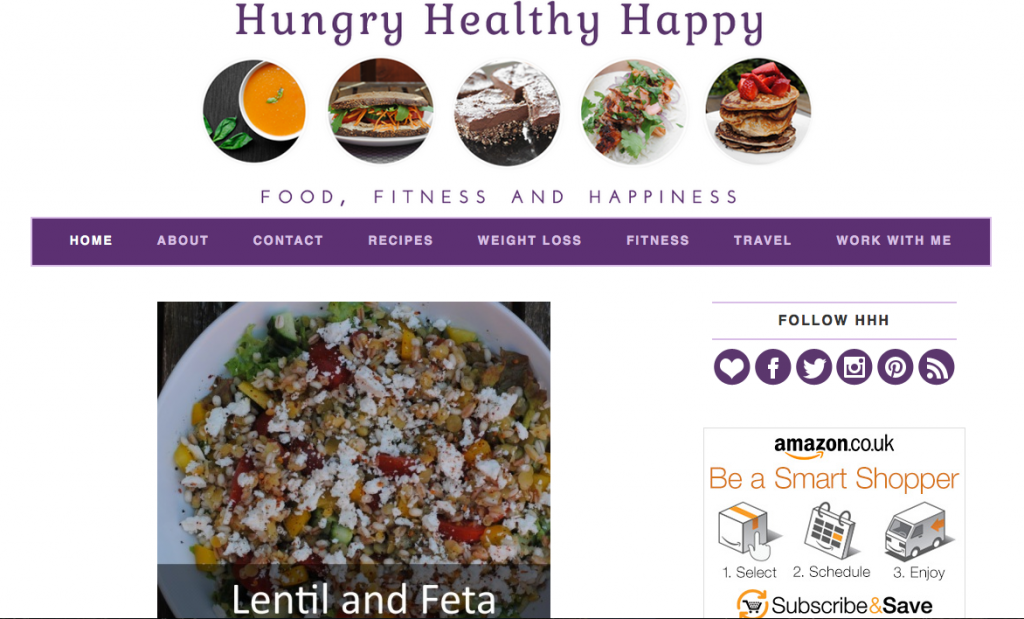 Who is the author? Dannii Martin was dealing with health issues, especially regarding her heart back in 2008 due to her unhealthy weight. This was the scare she needed to turn her life around. Dannii started eating healthier and exercising more, eating clean 95 per cent of the time and through persistent perseverance (along with some bad days) she managed to lose a staggering seven stone (from 16 to nine stone)! Dannii calls the UK her home and continues to maintain her weight everyday, as she pursues a healthier life.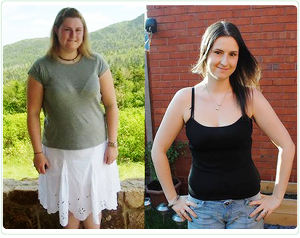 What is it about? Hungry Healthy Happy came around in 2011 as a way for Dannii to stay motivated and keep her on track of making her lifestyle healthier. The blog acts as Dannii's personal voice as well as a way for her to help readers who may be on a similar path as her to a healthier life. With recipes, fitness and travel sections – Hungry Healthy Happy provides a mix of personal posts and resources to better what you eat and your outlook on pursuing a more well-rounded life.
Why should I read it? This blog really makes you feel like you are in a caring community and Dannii is a wise friend who genuinely has your back. As you read and view pictures of Dannii's health transformation, you cannot help but cheer her on and in turn, motivate yourself to take the first steps toward a better, healthier life. Hungry Healthy Happy is a safe place, whether you are on your first, second, or tenth attempt at rewriting your health, Dannii's story, posts, and replies to comments are all great ways of healthy lifestyle encouragement.
Best health tip:  'If I ate loads of cake, or ate too much pizza one night, I wouldn't beat myself up about it and I wouldn't punish myself the next day by doing two workouts,' Danny told Healthista. 'I would just go back to sensible eating. Emotional eating and guilt is a big issue for people and often not spoken about. Ditching the guilt made me a much healthier and happier person.' 

The blog for… INSPIRES HEALTHY BODY IMAGE AND HAPPINESS
We Need To Live More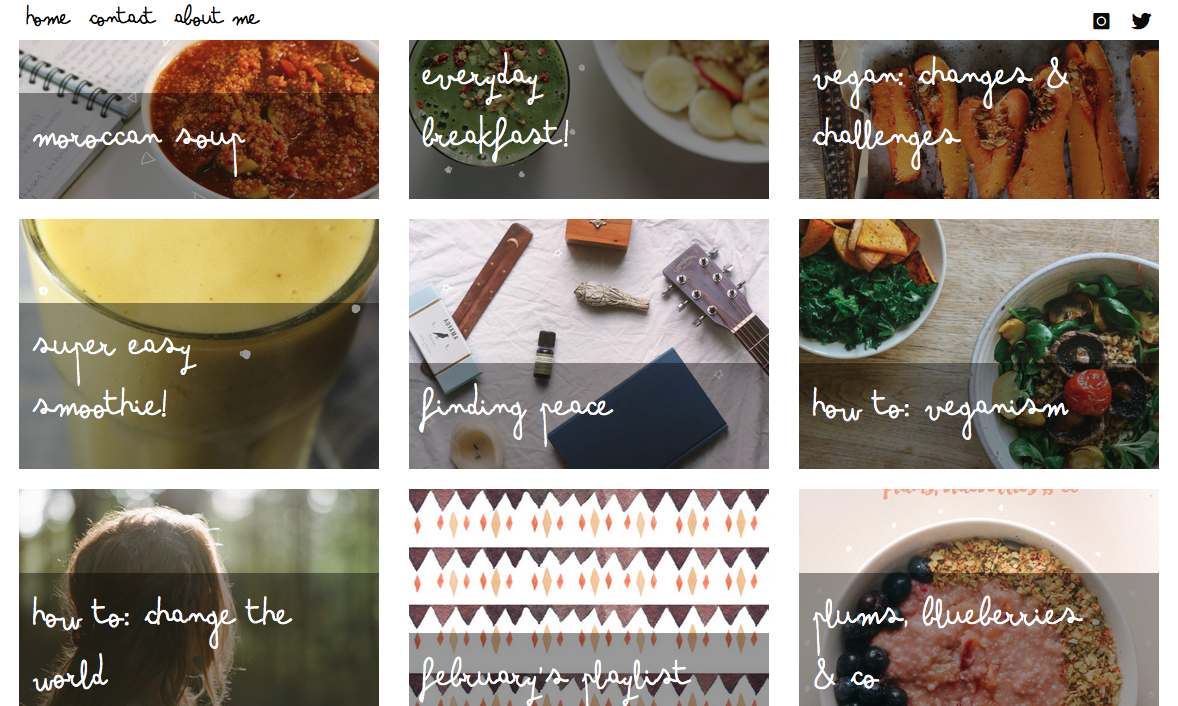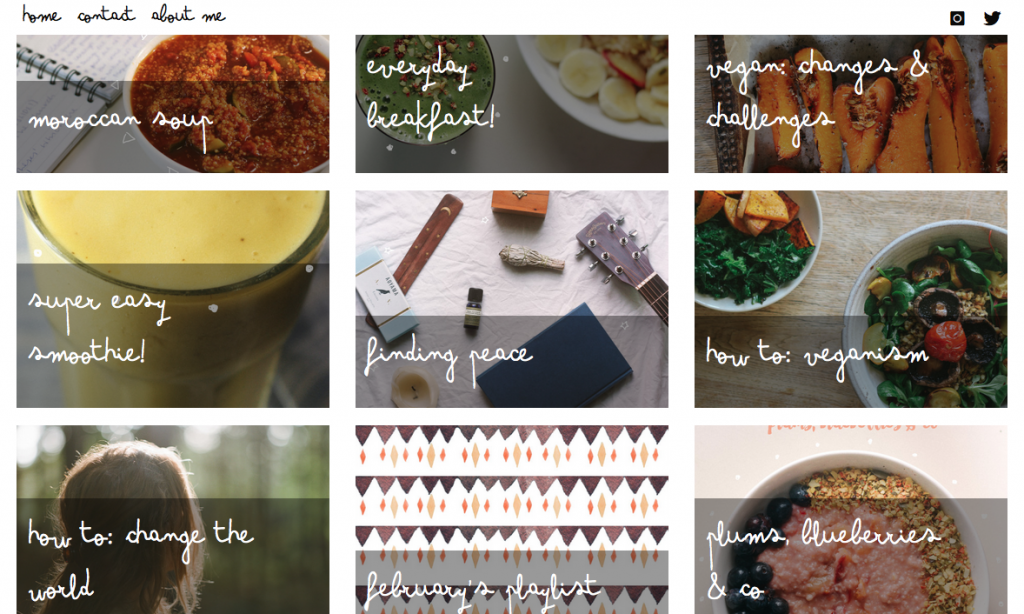 Who is the author? Londoner Ella Grace Denton starred in her own YouTube videos as a teenager, gathering a large following of over 60,000 subscribers. But along the road, Ella couldn't bring herself to film or post videos anymore and realised she was incredibly unhappy. Through traveling and a lot of introspective searching, Ella has tackled an undiagnosed binge eating disorder and self-esteem issues. She shares these stories and others on We Need To Live More.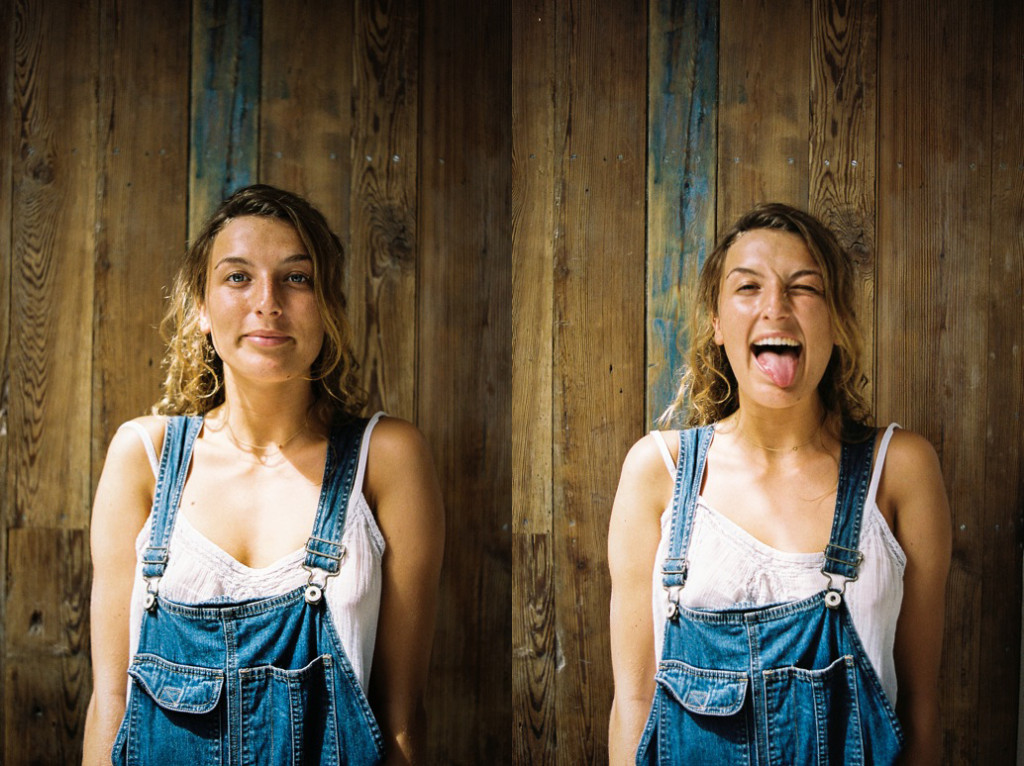 What is it about? The blog is meant to be a safe space for inspiration which gives readers the needed push to live life fuller. Ella shares healthy recipes, her passion behind being a vegan, personal projects, feelings and any adventures that come her way.
Why should I read it? Ella dares you after reading any post on her blog to change your routine and try something different. Her writing voice is infectious and relatable, like you are talking with a friend over coffee. There is a sense of adventure in each post, even if Ella is just sharing a fun recipe for a healthy smoothie – it's hard not to want to follow suit with a more positive outlook on life, health and body image.
Best health tip: Ella shared with Healthista that she finds a certain state of mind has helped her personally change her outlook on food. 'Stop eating out of dislike for your body or self,' she advises.  'Start eating out of love and appreciation for the food you're eating and how it makes you feel!'
Like this article? Sign up to our newsletter to get more articles like this delivered straight to your inbox.