Kneipp's beauty range is the latest obsession here at Healthista with its natural ingredients, holistic properties and impressive skincare products. Vicky Hadley spent three days in Germany finding out more about these natural products…
Kneipp is a German skincare brand founded by Naturopath, Sebastian Kneipp. After suffering and curing tuberculosis through the use of only natural remedies, Sebastian Kneipp went on to help heal others and open a leading health resort in Bad Wörishofen, Germany; 'The Kneippanium', where people from all around the world could visit to recoup, detox and revitalise for a period of time.
Sebastian Kneipp based his healing methods on purely natural remedies which included immersing himself daily in fresh icy water as well as eating a purely natural diet rich in wholegrain foods, vegetables and organic ingredients. The success of his healing methods inspired him to open the Hotel Kneippanium in 1896 in order to allow others to benefit from his philosophy.  There are five pillars within Kneipp's philosophy which the Kneippanium promotes.
The five pillars are:
1. Water
 Water is the core pillar of Kneipp's philosophy, it stimulates circulation strengthening the body's natural defence system
2. Physical exercise
The exercise gives you a sense of well being and strengthens the body's natural immune defences
3. Plants

 
Within the entire Kneipp range, the products contain many natural plant extracts
4. Nutrition

 
Kneipp believes in following a healthy well balanced diet rich in wholegrains, fruits, vegetables and unrefined foods.
5. A balanced lifestyle

 

The final philosophy is to ensure you keep your lifestyle in balance in terms of work, leisure and happiness.

This is definitely not your stereotypical spa resort…
I headed to the Kneippanium for a three day retreat and found that this was definitely not your stereotypical spa resort. This isn't your normal spa with facials and massages, the treatments are extremely unique and natural focusing on the five philosophies and using Kneipp's affinity with water as the main treatment method.
There is limited wifi within the resort so guests are able to switch off from the outside world and concentrate on their inner health. As a active social blogger this was definitely one of the bigger challenges for me to begin with. Looking around the retreat and having been introduced to the Spa Manager, Jochen Reisberger, I discovered just how passionate the people of Bad Wörishofen were about the Kneipp philospohy.
The water treatments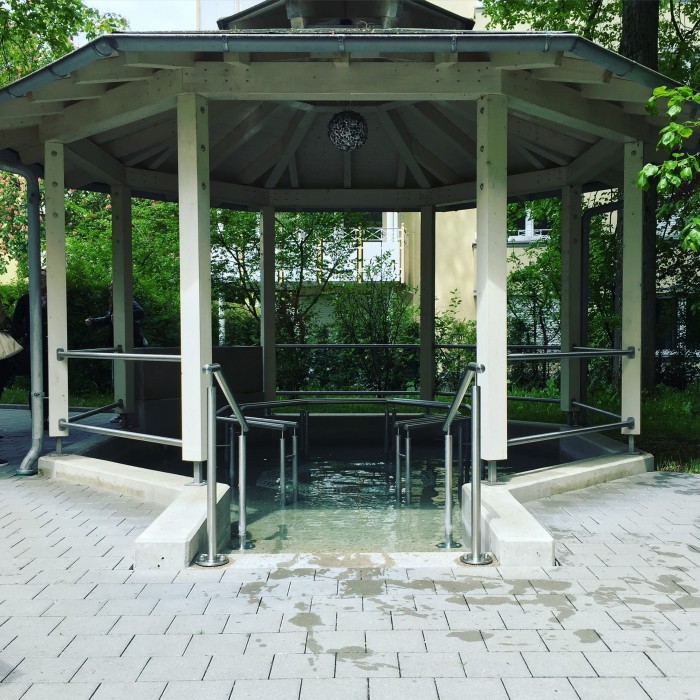 I tried the Kneipp foot infusion bath and the Kneipp arm bath whilst at the Kneippanium. These water treatment areas aren't just found in the Kneippanium however, they can be found in the streets and parks of Bad Wörishofen. You simply take your shoes off and walk around the cold icy water baths or place your arms in the basins. These water treatments are said to give guests the rejuvenating healing properties water offers leaving you feeling calm, detoxed and altogether soothed. I tried out the foot baths in the Kneippanium in which you immerse your feet in a ice cold water basin for ten seconds followed by putting it into a warm water basin straight after for five minutes then repeating. The treatment, despite the icy water making me shriek, really did leave me feeling detoxed and calm. I was surprised that something that treated my feet could have such a calming effect on my mind. I was told that the people of Germany are actually advised by their doctors to visit the Kneipp Health Spa to help with their healing as they believe it to be a more natural and holistic way to help medical issues.
The other spa treatment I took part in at the hotel is one of the Kneippanium's most famous remedies, the 'Haystack massage'. This massage is another water therapy treatment that can be performed either hot or cold depending on the guests' preferences. Hay flowers are placed in a linen bag and are heated with hot steam or cooled in ice water. In the early hours of the morning the hotel staff come into your bedroom and wrap the haystack around you whilst you remain in bed. The treatment is said to soothe your muscles and help you fall into a deeper, rejuvenating sleep that will refresh and prepare you for your day. I chose the warm haystack and was pleasantly surprised with how relaxing the treatment was. The blanket resembled lying in a bath and the warmth soothed my muscles allowing my back to recline deeper into the heat. The aroma of the essential oils calmed my mind and slowed my breath to the point that I found myself drifting back to sleep. Upon waking I not only felt revitalised and fresh but my back muscles felt soothed and flexible as they would after a normal back massage.

The Kneipp products:

Bath Salts


What product? Kneipp Valerian & Hops Deep Sleep Mineral Bath Salt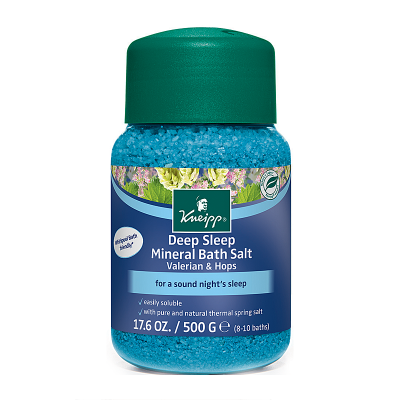 What is it used for? The Mineral bath crystal salts are designed to help clear the mind and soothe the body. They are perfect for those who suffer with aching muscles or high stress levels to relax you before bed.
Why we love them? The salts turned my bath a deep calming blue colour and gave off herbal aromas of essential oils that instantly relax you. My skin felt soft and moisturised and the dry skin on the backs of my arms looked exfoliated and smooth. The salts are made from pure and natural thermal salts as well as essential oils.

Available for: £8.95 from Amazon
Body Scrub

What product?  Kneipp Grapeseed Oil Exfoliating Body Scrub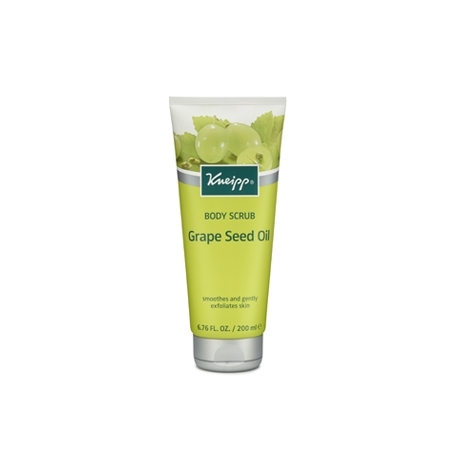 What's it used for? The beads in the body scrub act as a deep massager for the skin, it exfoliates the dead skin and stimulates the skin to renew leaving you will silky and soft skin that feels fresh and new.
Why we love it? The exfoliant in the scrub has a gorgeous aroma of essential oils like the rest of the kneipp brand which helps to ease stress and relax you. The grapeseed oil tightenss and smooths the skin helping to combat cellulite and rough skin.
Available for: £9.99 from Amazon



Body lotion

What product? Almond Blossom Soft Skin Body Lotion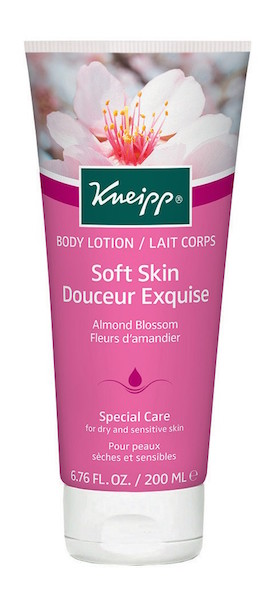 What's it used for? Kneipp's body lotion is perfect for dry sensitive skin in need of some moisture. The almond oil gives the moisturiser a gentle scent whilst the sheer butter smoothes the skin leaving your skin feeling soft and smooth.
Why we love it? The sweet almond oil is high in essential fatty acids and Vitamin E meaning you are only absorbing natural ingredients. The product is very hydrating and is best used whilst your skin is damp or straight after a shower to help lock in the moisture.
Available for: £11.63 from Amazon