If you need a healthy snack on the run, look no further than Graze's new range of low-calorie, delicious and portable packs.
The range was released to stores on July 12th, and come in both savoury and sweet flavours. All under 300 calories, each snack boasts a different nutritional benefit. Some pack in the protein, some are made with whole oats and others give you one of your five daily recommended servings of fruit. They also use high-quality ingredients and never use any artificial flavors, colour or preservatives.
Our favorites? To satisfy a sweet craving, we loved the Dark Chocolate Cherry Tart, which had dark chocolate buttons and whole dried cherries and cranberries. Definitely our new favorite way to get in a full serving of fruit!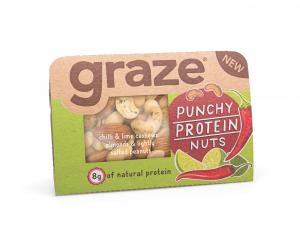 For a salty fix, we love Punchy Protein Nuts. Chili and lime cashews, almonds and peanuts which give 8 grams of protein in the 35g snack. Yum!
Graze good to go snacks are available in Sainsbury's for £1.19 and they will soon be at Boots and WH Smith Travel.
Like this article? Sign up to our newsletter to get more articles like this delivered straight to your inbox.