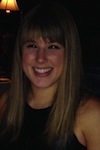 Eating out can be tough for gluten-free fans, but have no fear: Alexa's found her favourite gluten-free menu items at London's most popular lunch spots
Last week was going great. I felt like superwoman when it came to resisting temptations. Thursday was my roommate's birthday, which presented some serious tests of willpower. My other roommates and I made her pancakes in the morning, which are my all-time favorite breakfast food. In an attempt to stay on track, I treated myself to gluten-free pancakes from a recipe I found online (they were more like thick crepes because of the thinner batter consistency, but still super satisfying.)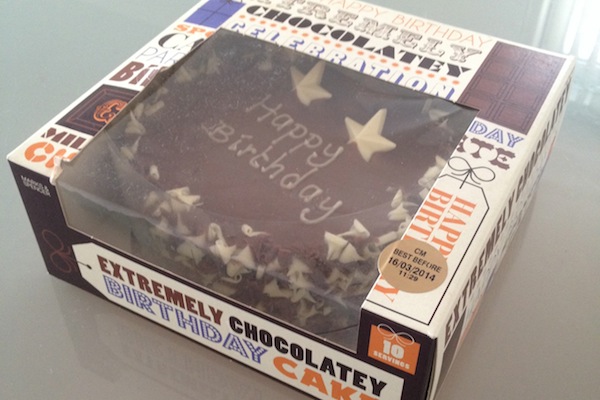 That night, chocolate cake entered our apartment. If you know me, you know chocolate cake is a major, major weakness of mine. But I stayed strong, sang happy birthday to her like a grown-up (read: no pouting), and went about my evening. Even though I broke last week's rule I set for myself about not drinking more than a glass of wine on the weekend (mimosas in the morning and gluten-free cider at night made for a boozier day than it should have been), I was feeling pretty darn proud of myself for staying on track all week.
And then, the weekend hit.
I was so close. So close. I was in Edinburgh this weekend, and doing a great job of finding menu items that skipped out on wheat. And on Sunday, I had, dun dun dunnn…a cookie.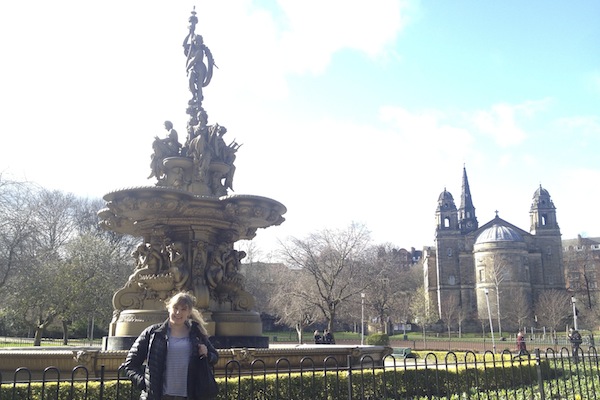 What a waste of a cheat. I'm still kicking myself over it, even though I said I'd let it go if I cheated once on vacation in the rules I set for myself last week. My travel buddy, Jill, put it this way: 'at least you're not doing drugs!'
But with what I know about wheat now, I think I might've been.
The funny thing is, my Monday morning didn't go so well. It started with a panic attack over a massive to-do list, turned into me tearing up on the tube over the anxiety from said to-do list, and just put a general cloud over my head. Sure, it might have just been one of those days (we all have them), but I can't help but wonder if it was in direct connection with my wheat cheat.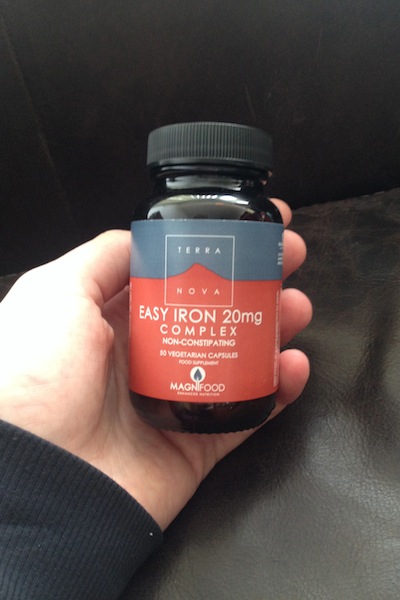 At least I was 1 for 3 on my rules—I did get iron and start taking it every night. I haven't noticed that much of a difference in my energy, but I have a feeling it might take a little more time for the iron to build up in my body, so I'll reassess next weekend.
For me, one of the hardest things about being gluten free is eating out. At lunchtime, you feel bombarded by sandwiches and bread and wraps. I'm a bit of a picky eater, so I've literally ended up with a bag of baby carrots and deli turkey from Sainsbury's because I couldn't find anything else I wanted to eat in the area. So, needless to say, I'm on a constant mission to find tasty and gluten-free menu items at some of London's most popular spots for a bite. Here are some of my favourites:
GLUTEN-FREE EATING OUT – ALEXA'S CHOICES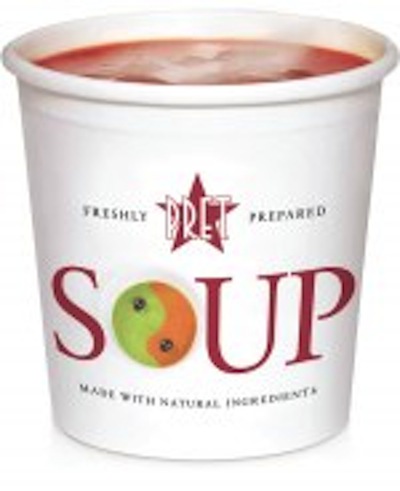 Pret A Manger: 'Soup-er healthy' soups
'Soup-er healthy' soups at Pret vary by day and location, but I never met one of these below-200 calorie soups I didn't like. My favorite, though, is the South Indian Tomato & Spice soup. It tastes just like one of my guilty pleasures, chicken tikka masala, but without the guilt.
Eat: Simple Tuna Salad
If I don't have protein at lunch, you can bet I'll be 'hangry' (a combo of hungry and angry–an emotion I'm prone to) by 4 o'clock. As suggested in the name, choosing a tuna salad is a simple way to ensure I don't start to gnaw my hand off two hours after lunch.
ITSU: Smoked Chicken Salad
Even though Asian food isn't the worst cuisine for people who are gluten-free, wheat can be sneaky in it–did you know soy sauce has wheat in it? That can complicate things. At ITSU, the smoked chicken salad is a great option when you're craving something oriental but don't want to deal with the soy sauce factor.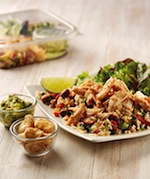 Starbucks: Holy Guacamole Salad
Let's take a culinary trip to another corner of the world: Mexico. Starbucks' Holy Guacamole salad is, sadly, the chain's only GF salad, but at least it's a good one. If Starbucks is your only option, don't fret–you're not confined to a fruit cup and coffee.
Leon: Chicken Noodle Soup
Rejoice, chicken noodle soup lovers: it's made with rice noodles. I can't quite explain the joy I experienced upon finding this out–it's rare to find a chain that makes a gluten-free version of mom's specialty. It's perfect for one of 'those days'–in fact, I should have sought  it out on Monday.
 PAUL: Salade Chevre Automne
Alright, how fancy does this salad look? It's like bringing an uppity cafe menu item back to your desk. One cause for concern: we could not get through to find a calorie count. And we can't help but wonder why this would be so hard to track down. However, if PAUL's the only thing around, we can confirm it's GF–and super posh-looking.
Have I missed any of your favorite GF lunch choices? Let me know!
READ MORE
The gluten-free diaries: week one
The gluten-free diaries: week two
The gluten-free diaries: week three
The gluten-free diaries: week four
Alexa blogs at 100littlevictories.com.
Like this article? Sign up to our newsletter to get more articles like this delivered straight to your inbox.