Queen of Retreats founder & leading wellness travel journalist Caroline Sylger Jones explores spas and retreats around the globe. Here she reviews Gara Rock hotel in the South Hams, Devon
Perched in isolated splendour with unspoilt, far-reaching views out to an ever-changing sea in East Portlemouth in the South Hams, Gara Rock is the former site of local coastguard cottages and a wondrous place to be.
Its latest reincarnation as a luxury but laid back hotel is most welcome, especially for locals like me who relish their coastal walks, for it's set right on the South West Coast path and a perfect pit stop for decent drinks and snacks with a view.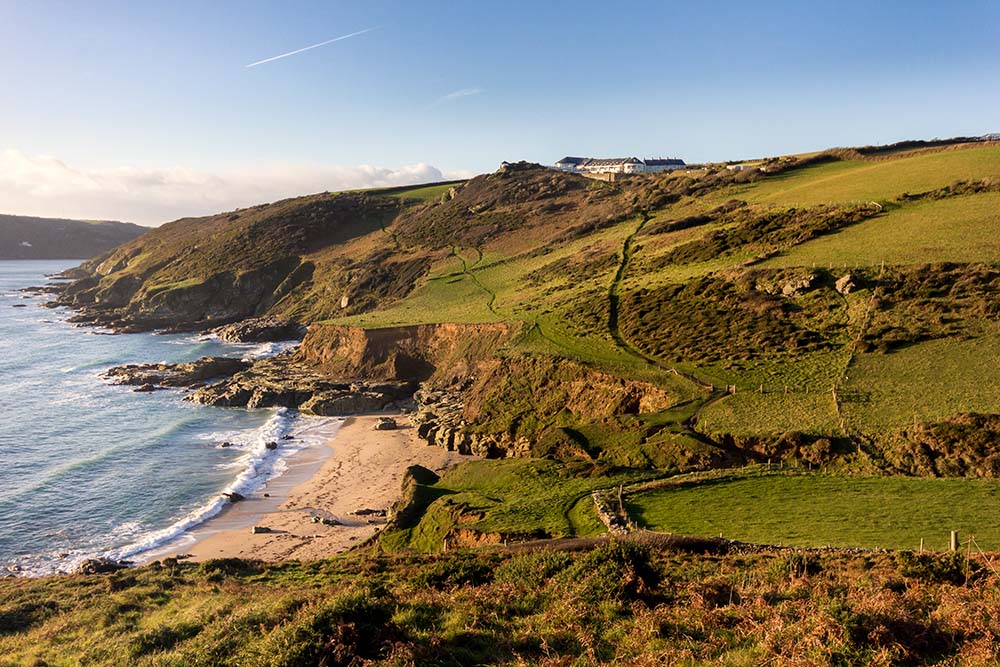 I pitched up at this romantic place with my husband and daughter for a two night winter weekend and had a supremely cosy time of it. We lolled about playing board games and cards in the humungous lounge, drunk hot chocolate on huge sofas covered with sheepskin throws and sipped bubbly and mocktails perched on sassy green leather high chairs at a little bar.
There was a roaring fire in a wood burning stove to warm us all weekend, and friendly local staff casually clad in jeans and stripy tops to attend to our needs.
The simple, wood-clad spa has a steam, sauna, jacuzzi and spacious indoor pool where, refreshingly for parents, kids swimming times aren't restricted.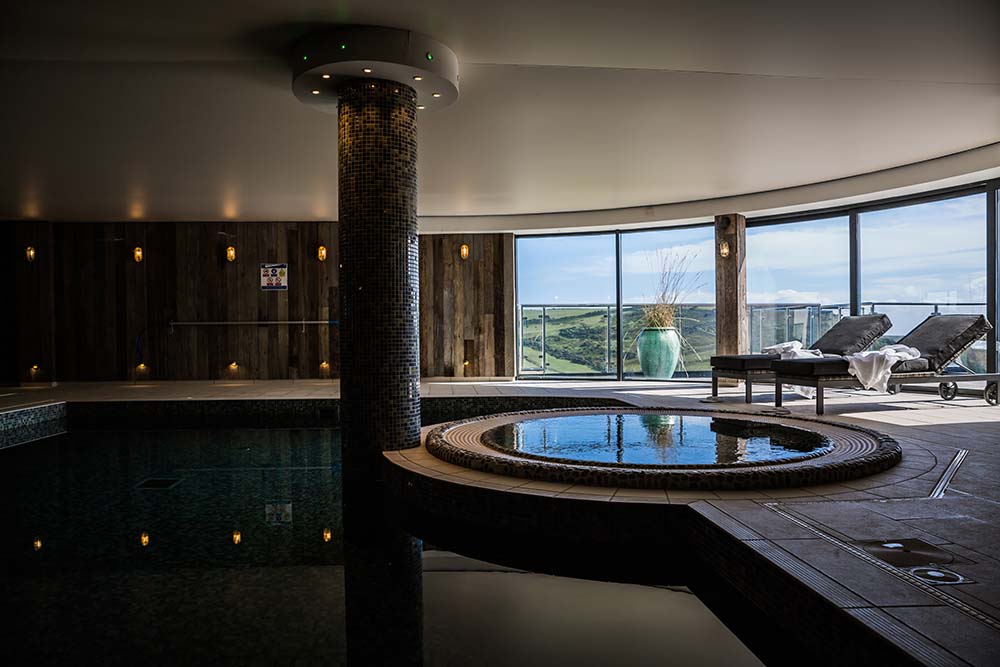 There's a nicely short menu for face and body therapies and a couple of treatment rooms, where both my husband and I had relaxing body massages with a friendly local therapist using Elemis products – plans are afoot to change the products to something more local and to source a truly inspirational bodyworker.
Our room, a junior suite, had a stylish, low key vibe with furniture in muted tones made largely from wood and natural materials.
It was just a skip away from the hotel spa entrance – we did get wet getting to it a couple of times in the rain, so would take an umbrella and perhaps some throw-on waterproof shoes next time.
Gara Rock provided their own organic toiletries in our ensuite bathroom – the Bergamot and Grapefruit body wash and lotion smelt and felt terrific. Ask for a choice of pillows if you prefer feather to the rather firm ones they give out as a matter of course.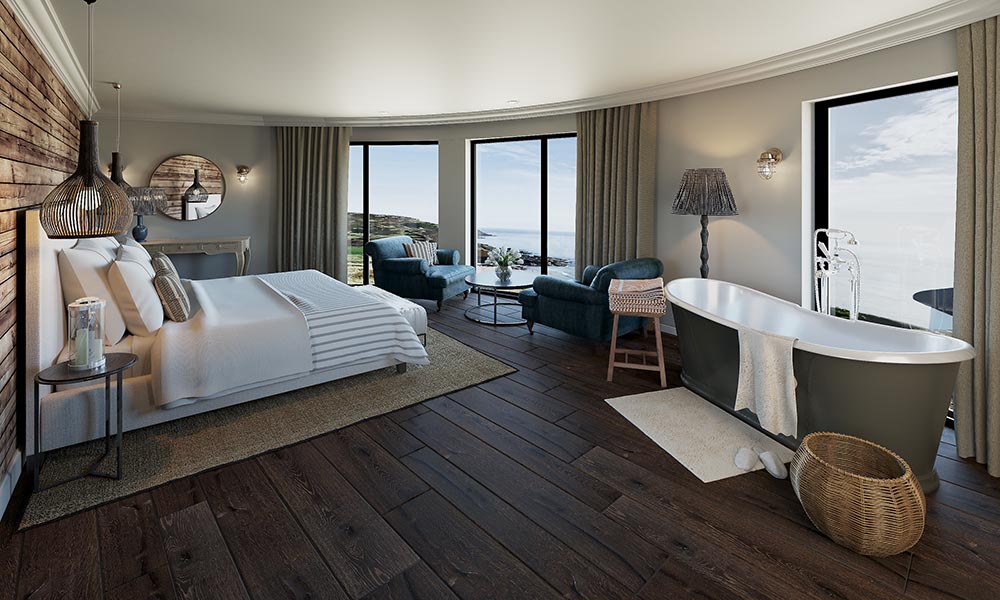 From the windows in our large sitting room we could look right out to the ragingly beautiful sea, step straight onto our own terrace and access the coastal path through a garden gate.
We read stories to our daughter and French plaited her hair as we watched the rain fall, then in between downpours donned our boots and coats and stomped along the coast path, singing wildly and breathing in the salt-infused, stress-bashing air.
The Sunday highlight though was an afternoon watching Back To The Future in the private cinema, which we had all to ourselves. We sipped beers, our daughter had milk, and we all had a laugh.
Because of the weather we spent more time than we might have done in the restaurant, which is surrounded by floor to ceiling windows and where the British menus included lots of tasty comfort meals using locally and seasonally sourced ingredients, such as Game terrine, pickles and toast or Grilled Dartmouth sardines with lemon aioli for starters, and line caught fish and chips or a Gara burger or Herb ravioli, girolles and chard for mains.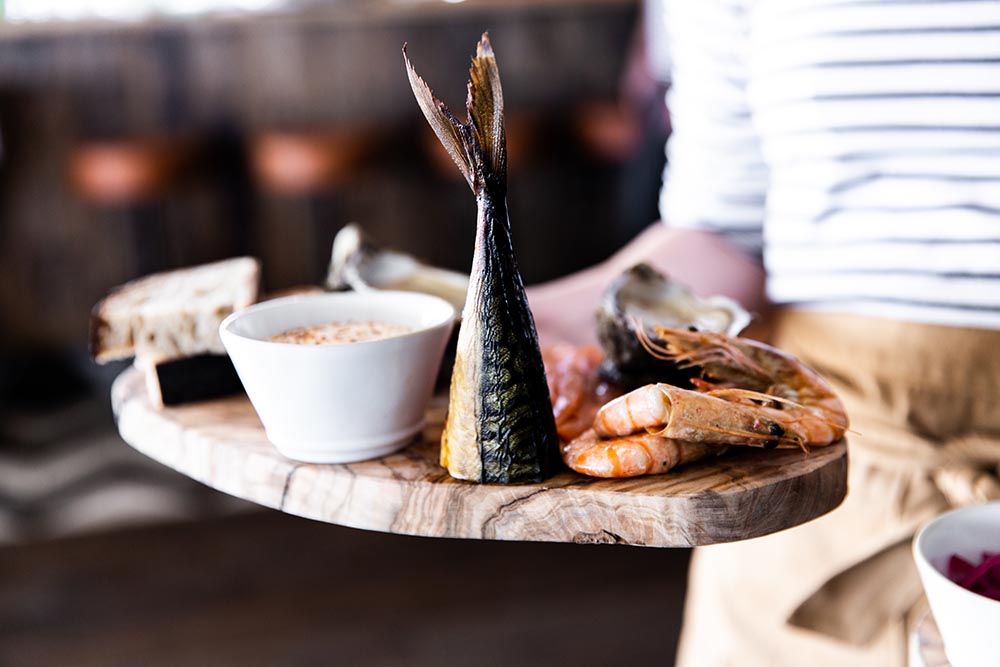 Deserts such as the Caramel fondant with granny smith sorbet or Baked custard and berries went down a treat for us all.
There's a beach down the cliff to frolic on in the summer, when guest will also have access to wetsuits, surf tuition and deep-sea fishing.
The hotel is set across the estuary from Salcombe, where there's a boaty vibe, little beaches and various shops and cafes – take the hotel's free shuttle by boat, or by landcover when the sea is rough, though note it's a good 40 minutes drive by road.
From £200 including breakfast & VAT. More at www.gararock.com.
For more wellness travel ideas check out Caroline's brilliant site Queen of Retreats at www.queenofretreats.com.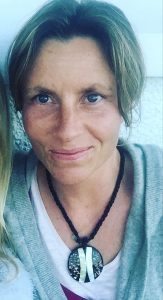 Caroline is an author and freelance journalist who travels the world checking out spas, retreats and healthy holidays for international newspapers, glossy magazines and websites. She is the founder and director of wellness travel site Queen of Retreats.
Follow on Twitter: @QueenOfRetreats
Follow on Facebook: @QueenOfRetreats
Follow on Instagram: @QueenOfRetreats
More Healthista Content:
Can't focus? This supplement could help
7 alkaline diet secrets from the world's most famous weight loss clinic
Could a probiotic help you sleep?
Menopause symptoms making you miserable? These natural fixes will help
Like this article? Sign up to our newsletter to get more articles like this delivered straight to your inbox.