Paleo was the most Googled diet last year. But if you think you can't entertain and live a cavewoman lifestyle, think again. Healthista's guest blogger, Emma Porter, from Paleo With Mrs P shows you how to create the perfect paleo dinner party – including paleo cake made with no sugar or carbs
I started the paleo lifestyle after my now-husband proposed to me in Indonesia last year. After being diagnosed as a Type 1 Diabetic and having battled with my weight and insulin control for around nine years, the idea of getting married on a beach was daunting; especially as I had picked four gorgeous blonde bridesmaids. I decided that it was time to have a health overhaul, and I hired a personal trainer who suggested I try the paleo lifestyle. It was a pretty dramatic shift – I cut out all dairy, grains, sugar and processed foods in favour of plenty of fruit, vegetables, lean meat, poultry and eggs. The health benefits were immediate, and over eight months I lost 2.5 stone without ever feeling deprived or hungry and cut my insulin intake by 65 per cent.
I found the whole lifestyle so liberating and enjoyable; good food combined with lots of short sharp bursts of exercise. After marrying Mr P in April, I became Mrs P and I thought it perfect timing to start a blog called Paleo With Mrs P. People have this misconception that the paleo diet is restrictive, but it doesn't have to be. I love to create dishes which are packed with flavour, texture and a list of health benefits.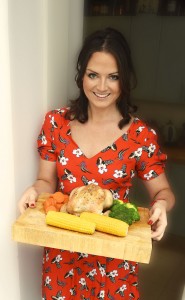 What better way to eat paleo than share it with friends? Dinner parties for me are all about the food, the people and the ambience – plus lots and lots of candles. At my most recent dinner party I had four close friends come over. With only one allergy to contend with (pineapple – odd, I know), I set to creating my menu. I chose a light gazpacho to start, a flavour packed beef and beet curry with cauliflower cumin rice for mains and a raw chocolate orange 'cheat cake' for dessert. While they do take a little preparation the night before, all the dishes are straight forward and give you extra time to light the candles and put some lipstick on before the dinner party begins.
Starters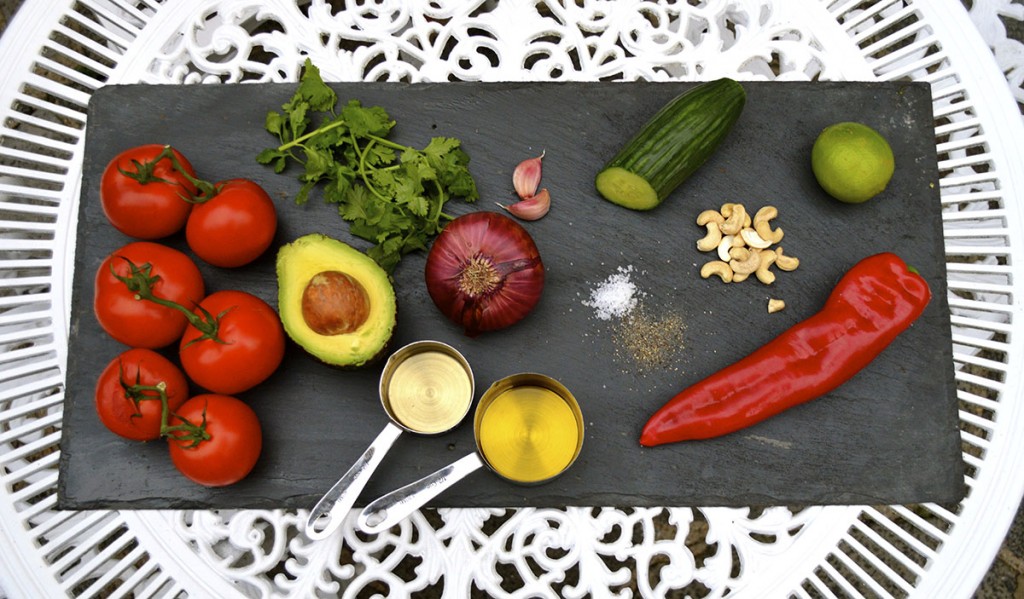 For me, Gazpacho is the perfect teaser and starter for a dinner party. It's packed with goodness and flavour, but remains light enough to leave you ready and raring for a main and dessert. Gazpacho is best made a couple of days in advance to give it time to chill and let all the flavours infuse. Although this is a chilled dish, it is important to take it out of the fridge about 15 minutes before serving to allow it to thaw out a little.
I've been growing my own tomatoes for a few months now and they've all just ripened in perfect unison just in time for my dinner party. However, if you are buying them from a shop or market I would try to go with large ripe ones- as these are the most flavourful and blend perfectly.
I like to garnish the dish with a swirl of olive oil and some toasted seeds and then serve with some gluten-free and dairy-free crisp breads. They are utterly delicious and simple to make.
Starter – Gazpacho with paleo crisp breads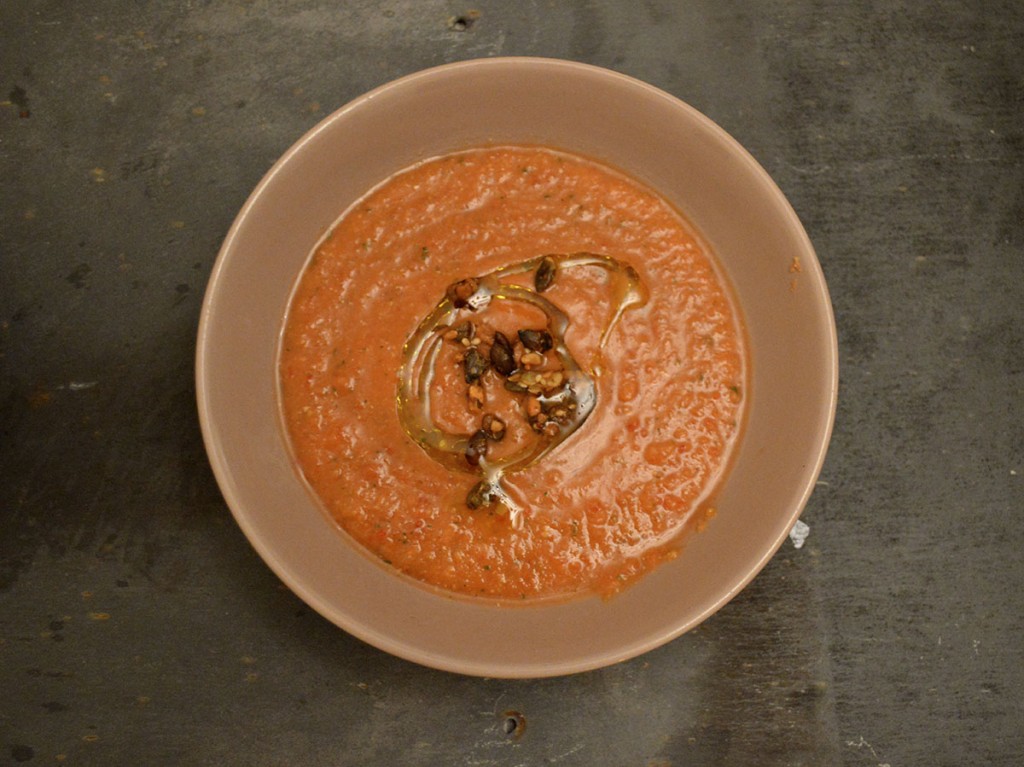 What you need:
Serves 4 large bowls or 8 taster bowls
8 Large and ripe tomatoes
1 avocado
6 -8 soaked cashew nuts
½ red pepper
1 red onion
3 cloves garlic
1 handful coriander
½ large cucumber
1 tsp apple cider vinegar
½ lime
3 tbsp extra virgin olive oil
Sea salt and pepper
Directions:
Chop tomatoes, red pepper, avocado flesh and cucumber and place in to blender with all other ingredients added on top. Blitz until smooth.
If it's too thick for you, add some filtered water until desired consistency.
Place in to a sealed container and chill in the fridge for at least two hours. I usually make mine 1  – 2 days before serving.
Top with extra virgin olive oil, olives, toasted pumpkin seeds or some greenery
Crisp Breads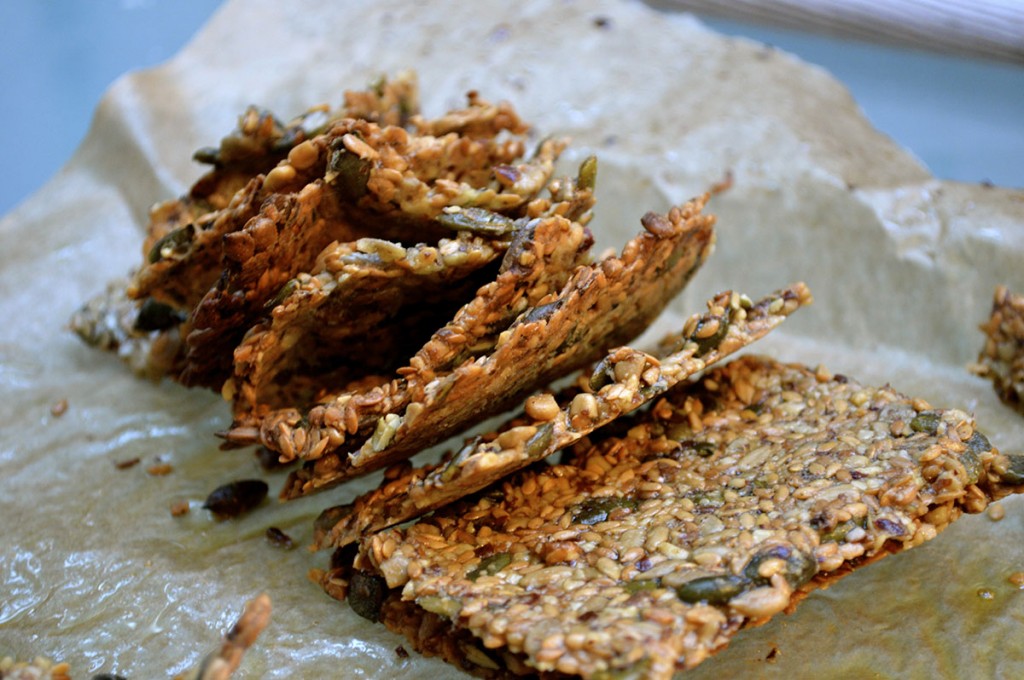 Preparation: 5 minutes
Cooking: 15 minutes
What you need:
Makes around 16 crackers
50g almonds
50g sunflower seeds
50g linseeds
50g pumpkin seeds
25g sunflower seeds
1tsp salt
1tsp cumin (Optional)
1 egg
1/4 cup /0.5dl olive oil
Directions:
Preheat oven to 180°C.
Place almonds in to food processor and pulse until coarse. Add in all the rest of the seeds, cumin and salt and pulse for 3-4 seconds (I like to keep mine relatively chunky).
Place mixture in to a large bowl and add egg and olive oil.
Mix well until fully combined.
Place dough on a baking sheet with greaseproof paper.
Place another layer of greaseproof paper on top and begin to roll the mixture out until thin.
Remove baking paper and roughly cut in to squares of triangles (the mixture will not be able to be cut once cooked).
Bake for 15 minutes (do not be alarmed if there appears to be a foam on top of the mixture when you take it out).
Store in a sealed container.
Main Course – Beef and Beetroot Curry with cauliflower rice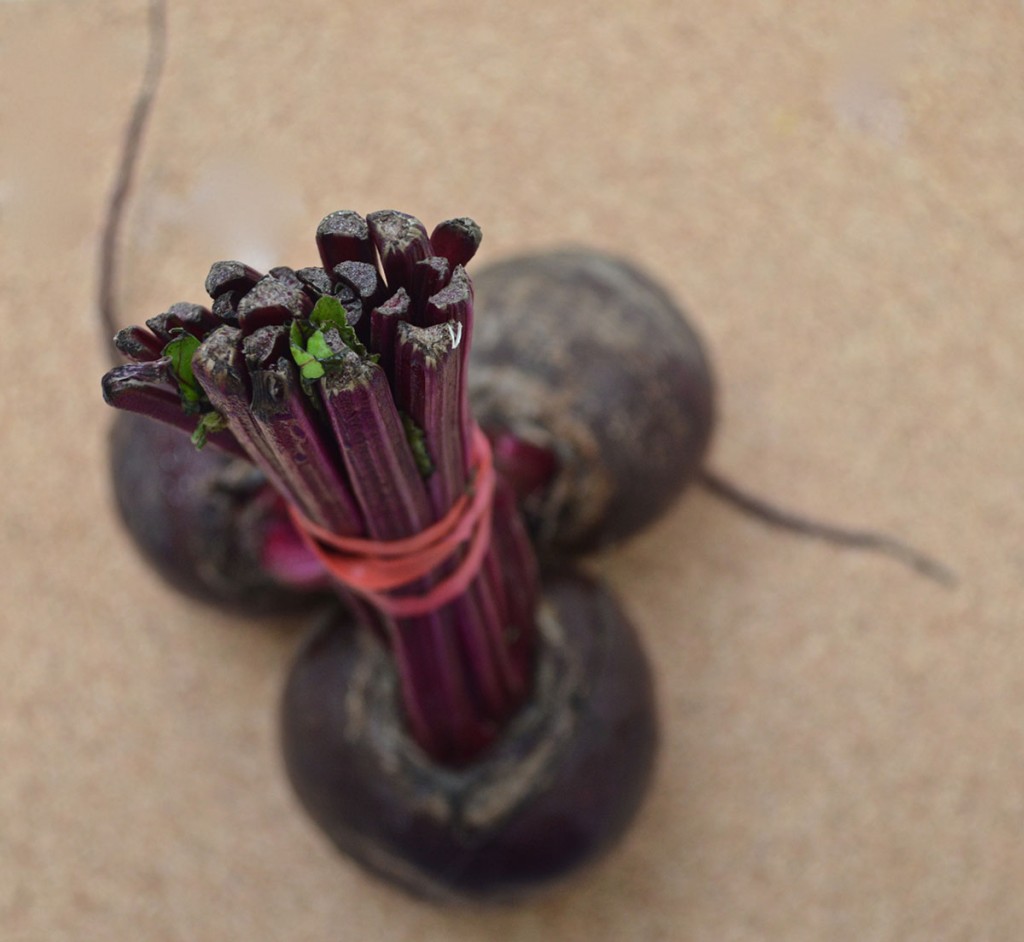 This is a warming and wholesome dish that is perfect for a dinner party at any time of year. I always find that it's a great talking point when you bring the boiling casserole dish out to reveal the bubbling beets and beef while all the intense aromatic smells permeate the room. The beetroot adds a smooth texture and sweet flavour and as it's not a spicy curry its perfect for anyone with a soft palate. If you are vegetarian you can substitute the beef for butternut squash or other vegetables.
There is a lot of preparation and cooking time for this dish, but the results are definitely worth it. I served ours with cumin cauliflower rice and a fresh mint and cucumber salad.
Beef and Beetroot Curry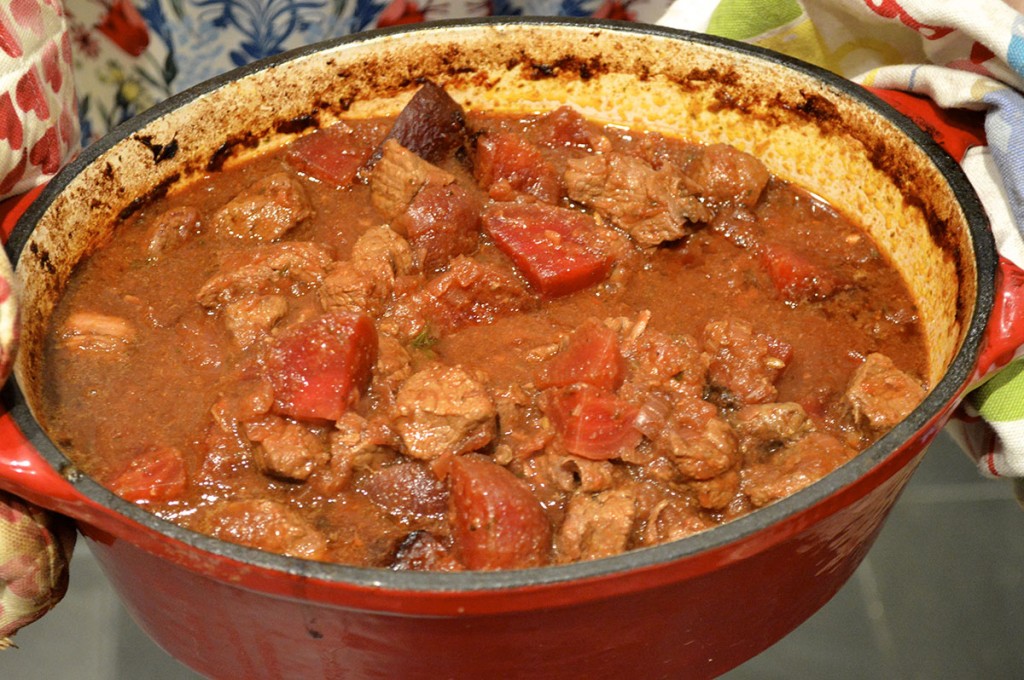 Preparation: 45 minutes
Cooking time: 3 hrs + (the longer you can bake it the better)
What you need:
Serves 6
750g raw beetroot (preparation needed)
4 inch cube ginger
3 garlic cloves
1 red chilli, including seeds
Handful coriander (plus extra to garnish)
6 cardamon pods
2 tbsp ground cumin
1 tbsp ground coriander
6 roasted baby tomatoes
2 tsp fennel seeds
¼ tsp ground cloves
3 tbsp olive oil
1 ½ kg stewing beef (grass fed, from butcher)
2 onions, chopped
2 tsp garam masala
1 cup beef broth or 3 beef stock cubes
Sea salt and pepper
Directions:
Preheat oven to 150°C and put your baby tomatoes in to roast for approximately 20 minutes.
Place the beetroot in to a pan of boiling water and simmer until tender for approximately 20 – 30 minutes. Test with a skewer or rub with your fingers; if the skins move, then the beetroot is cooked.
Once all are tender, remove from pan and allow to cool. Using rubber gloves (and sensible clothing) remove the skins and remaining stalks.
Chop the beetroot in to large chunks and set aside.
In a blender or food processor place your roasted tomatoes, ¼ of the beetroot, ginger, chilli, coriander, cardamom, garlic, tomato paste, cumin, coriander, fennel seeds, cloves and black pepper. Blitz to a paste.
Fry off the beef chunks in a deep casserole pan until browned in olive oil and remove from heat. Set aside.
Add the onions to the deep pan and juices from the beef and continue to cook until softened. Pour in the spice paste and fry for 5 minutes until fully combined and fragrant.
Add in the beef and stock and cover with boiling water (about 500 – 750ml). Allow to boil for 1-2 minutes and then turn to low simmer with the pan lid on for 2-3 hrs.
Mix in the garam masala and remaining chopped beetroot. Uncover and place in the oven for a further 1 – 2 hrs until the beef is really tender.
Season with sea salt and serve with a fresh mint and cucumber salad and cumin cauliflower rice dish.
Cauliflower Rice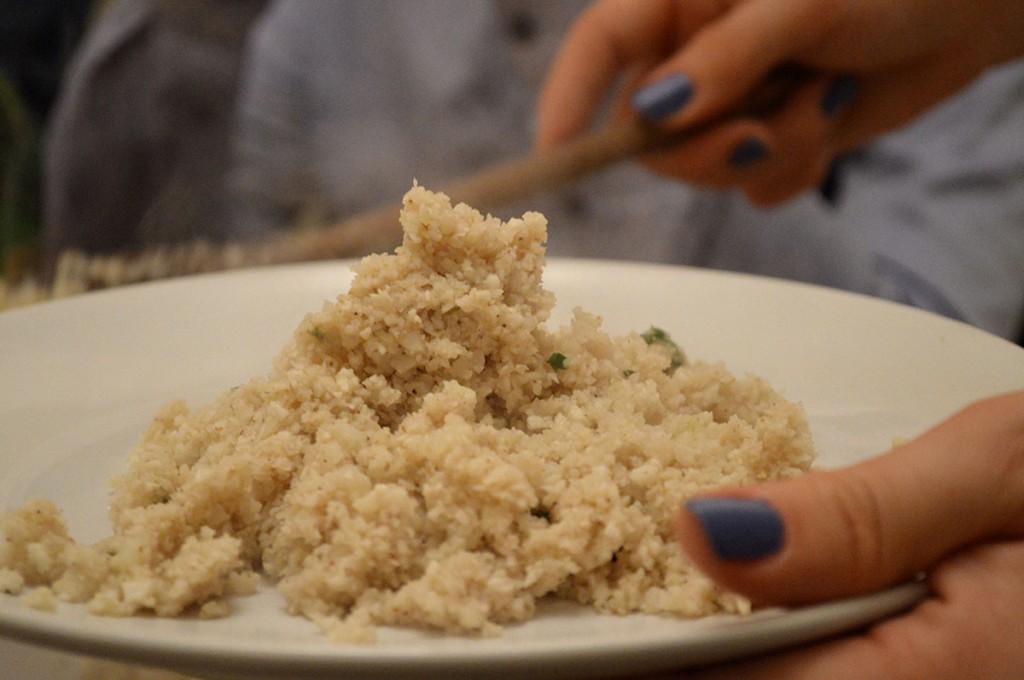 Preparation: 5 minutes
Cooking: 5-6 minutes
What you need:
Serves 6
3 large cauliflower
1 large red onion (or 2 small ones)
1 hadful of coriander
2 cloves garlic
1 tsp cumin
1 small green chilli
Coconut oil
1/2 tsp sea salt
1 medium egg
Directions:
Roughly chop 1 large red onion (or two small), 2 cloves of garlic, 1 small green chilli and 1 heaped tsp cumin.
Place into blender and pulse until finely chopped. Set aside.
Place chopped cauliflower into a blender and pulse until rice like consistency forms. Combine both mixtures.
In to a deep frying pan place coconut oil and the cauliflower mixture and cook for around 5 minutes, stirring occasionally.
Add one egg and stir in until fully immersed
Add chopped coriander and a sprinkle of salt (leave some spare for garnish)
Serve immediately
Dessert – Raw Orange Chocolate Cheat Cake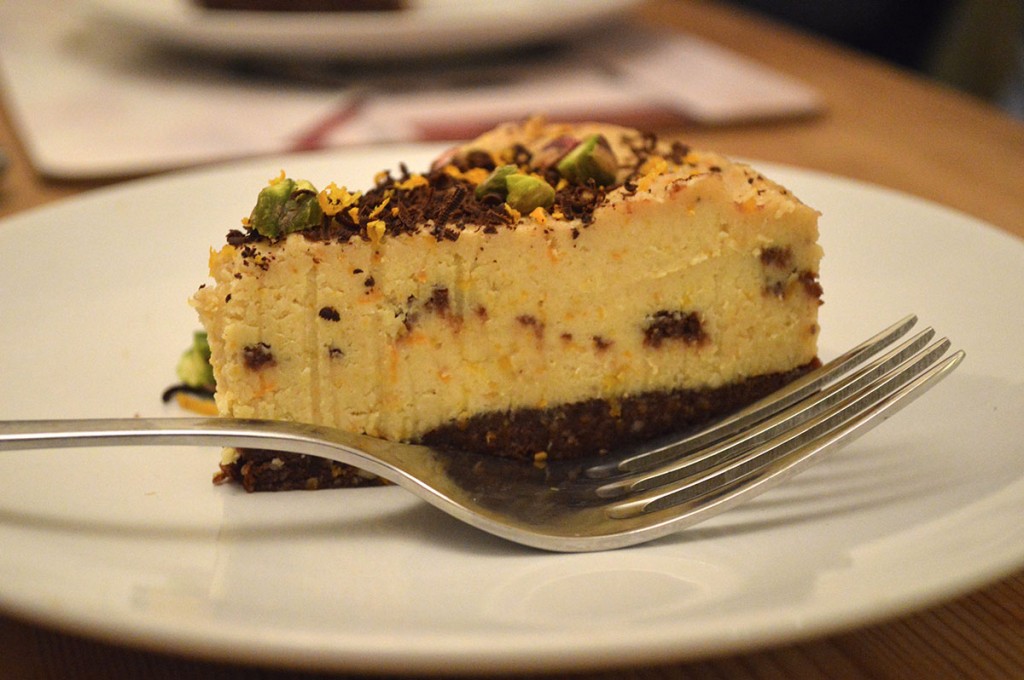 All my readers know that I am a huge chocoholic. Before I turned to the Paleo lifestyle I could inhale (literally) a chocolate bar (ok, a whole Terry's Chocolate Orange) without even noticing that I had done so. It was not good for me or my health, and definitely did not work with the fact I'm also a Type 1 Diabetic. Since going gluten-free, grain-free and dairy-free I have managed to suppress all my cravings to where chocolate is no longer an obsession or religion, but an enjoyable treat. I always use 100 per cent raw cacao -which is chocolate in its rawest form. You don't need a lot of it to get a huge chocolaty endorphin hit, and it has no sugar in it either. If the dish needs to be sweetened, I'll add in something natural like raw honey or medjool dates.
I have called this a cheat cake since it has a similar look and indulgent consistency to a cheesecake, but leaves you with no level of guilt. Make it your dinner party dessert centre piece and you can decorate it to bits while it still looks beautiful. It went down incredibly well with my guests and was whipped up the night before with a little bit of soaking cashew nuts pre-prep and then decorated on the day. No need for an oven, this is a dish is gluten-free, grain-free, egg-free and dairy-free and can sit in the fridge for days if not weeks afterwards – if there's any left.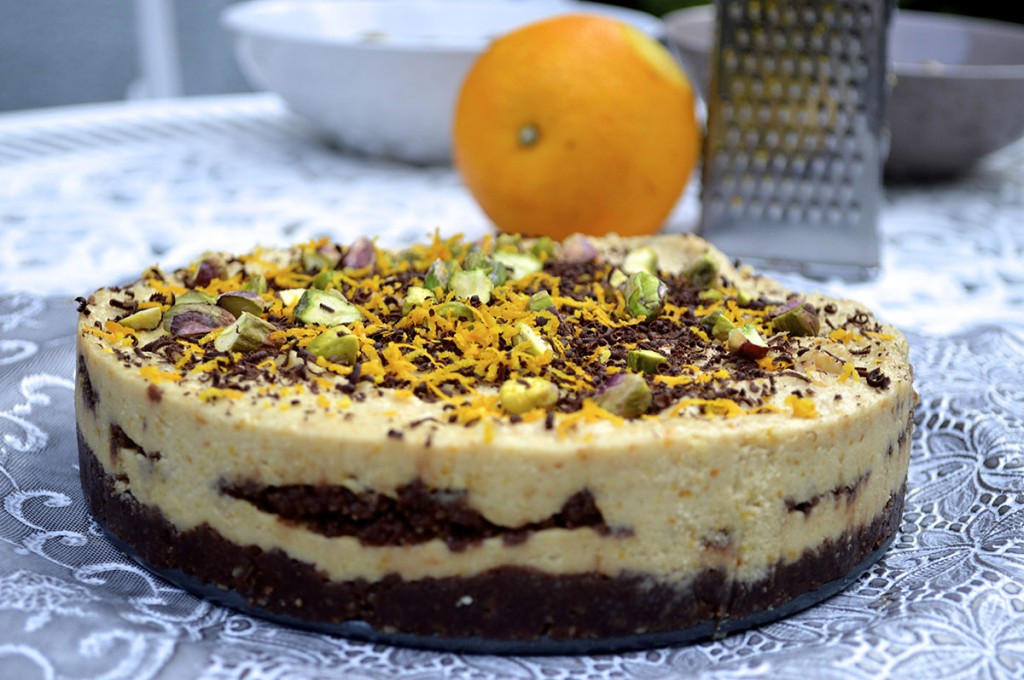 What you need:
Serves 10
Preparation time: You need to soak the cashew nuts for at least 4 hrs + prior to making this. You will also need to soak the dates for 30 minutes at least
Cooking time: To be in the freezer for 1 hr and then refrigerated overnight before serving (at least 12 hrs).
What you need:
7″ round cake tin
For the base:
1/2 cup almonds
1 cup Brazil nuts
4 medjool dates, soaked (in water 30 minutes + before making)
2 tbsps raw cacao
For the filling:
1/2 cup orange zest
2 cups orange juice (3 large oranges, squeezed)
1 and 1/2 cup coconut oil, melted
1/4 cup coconut cream, softened
1 cup cashew nuts, soaked (4hrs +)
1/2 cup raw honey
1 inch cube, ginger
Directions:
For the base:
In to a food processor blitz all the ingredients until well combined and sticking together.
Firmly press down about 3/4 of the mixture in to a greased cake tin.
Set aside the remaining 1/4 for later.
Place base in the freezer for about 30 minutes whilst you get on with the filling.
For the Filling:
Manually grate the orange zest and set aside.
In to your food processor or blender combine the soaked cashew nuts, coconut oil, coconut cream, orange juice, ginger, raw honey and blend until smooth  for 2-3 minutes.
Add the orange zest and pulse until fully combined.
Remove the base from the freezer and pour half the mixture over it.
Sprinkle the remaining base that you set aside over the mixture to create a rippled effect.
Pour the rest of the mixture on top carefully and spread evenly
Place in the fridge for one hour and then remove and refrigerate overnight.
Take out 10 minutes before serving and top with some cacao nibs, 100 per cent chocolate shavings, pistachios, orange zest, pomegranates, dried fruit, nuts or anything else of your choice.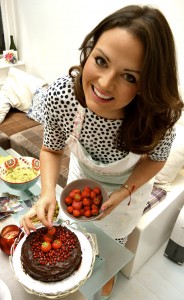 Paleo With Mrs P is a blog for anyone who is looking for healthy, wholesome recipes backed up with well researched nutritional information and food photography. It aims to inspire others who have health issues, as well as those just wanting to boost their energy levels by eating a nutritiously rich diet without the need for anything processed.
Like this article? Sign up to our newsletter to get more articles like this delivered straight to your inbox.