Exhausted by dinner-time but still want a healthy meal? Our blogger, Carole Beck, is sharing her favourite healthy 30-minute recipes every fortnight. This week she looks at porridge, and rustles up three bowls of oats ready in under five minutes
I'm a big fan of porridge. It's such a soothing morning food, and ripe for experimentation, with the smooth oats providing the perfect foil for all sorts of flavours.
You can eat it hot or cold too. All summer, I've been eating my oats cold, mixed with soya yoghurt and topped with berries and nuts or seeds. But now that the mornings have a bit of a nip in the air, I'm reaching again for steaming bowls of porridge, packed with spices and autumn fruits.
On the health front, oats are a real winner. They're rich in a particular type of fibre called beta-glucan, which can lower cholesterol. Plus oats score low on the glycaemic index, meaning that their energy is released more slowly, keeping your blood sugar steady for longer.
These are three of my favourite porridges, sweetened naturally without sugar or syrup.
1. Porridge with apple, cardamom and chia seeds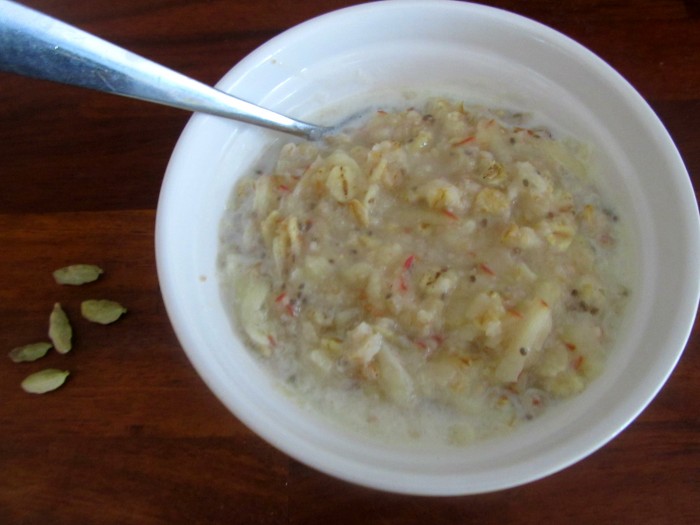 Serves 1
Time: 5 minutes
1 apple
2 cardamom seeds, crushed
Individual sachet of porridge oats, or 40g oats
Milk or water as per instructions on the sachet, or around 150ml
1 tsp chia seeds
Method
Open the sachet, pour the oats into a bowl and mix with milk or water according to the instructions.
Grate the apple, including the skin for extra fibre if possible, and stir into the porridge with the cardamom and chia seeds.
Cook the porridge for two minutes on high in the microwave. Stir, then cook for another minute.
Swirl milk on the top.
2. Banana and cinnamon porridge with walnuts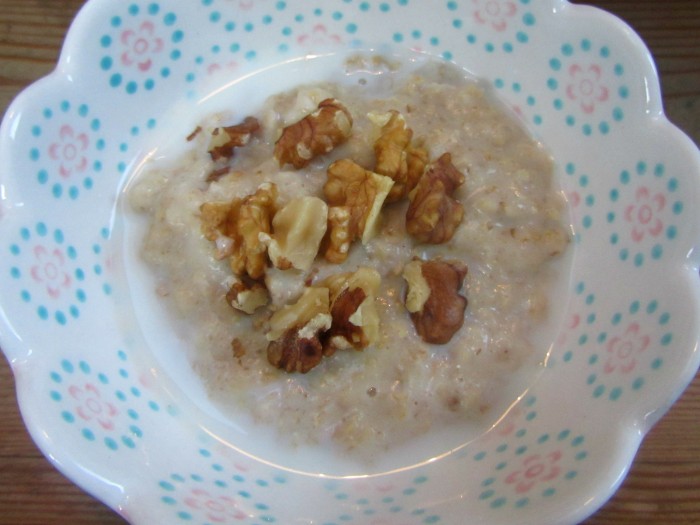 This is like a big, warm hug for breakfast – the banana softens completely, sweetening the oats naturally. It's my kids' favourite way to eat porridge. (Okay, okay, without the walnuts).
Serves 1
Time: 5 minutes
½ banana
40g oats
150ml milk
Sprinkle of cinnamon
5 walnuts, quartered (optional)
Method
Pour the oats into a small pan. Peel and slice the banana and stir into the oats.
Sprinkle on cinnamon and add the milk. Stir.
Bring to the boil and simmer for 4 minutes, stirring as often as possible.
Serve with a swirl of milk and top with the walnuts.
3. Fastest ever oats with yoghurt and frozen berries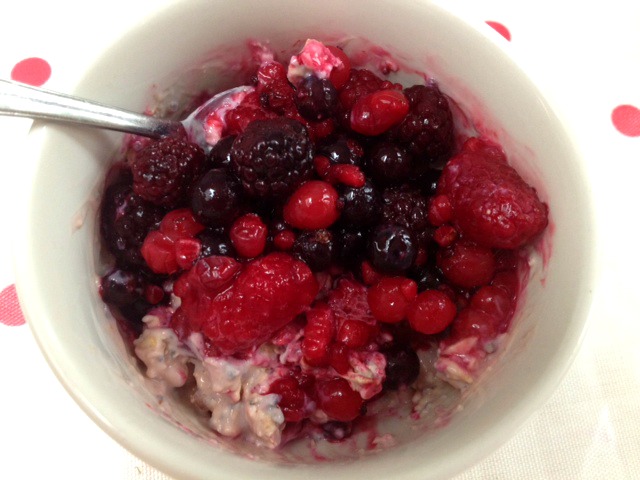 If you're short of time but still want to eat oats, or you don't fancy a hot breakfast, this is a great way to get your porridge fix in 60 seconds flat.
Serves 1
Time 1 min
1 40g sachet of porridge oats
3 to 4 tbsp flavoured soya yoghurt/ Greek yoghurt/ natural yoghurt
3 to 4 tbsp frozen berries, allowed to defrost overnight in a bowl in the fridge
Method
Empty the oats into a bowl.
Add the yoghurt and stir until all the oats are coated in yoghurt.
Top with the berries.
Read more from the 30-Minute Cook:
Salmon and miso soup and fast lasagne from The Crumbs Family Cookbook
Pan-fried prawns with mango salsa
5 healthy kitchen gadgets under £20
Indian thali
Lunchbox lentils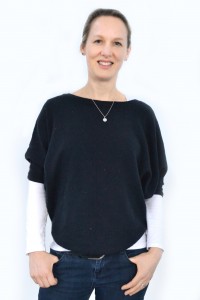 Carole is a health, parenting and food journalist, and has three children, aged eight, six and three. She lives in London, and writes a blog at Healthier Mummy about trying to lead a healthier family life. Follow her at @healthiermummy.   
Like this article? Sign up to our newsletter to get more articles like this delivered straight to your inbox.