Mariella Frostrup, Chair of the Menopause Mandate unveils their newest campaign, outlining 7 pledges to raise menopause awareness on World Menopause Day (18th October 2023)
World Menopause Day, held on the 18th of October every year, is a day to raise awareness for women during the at times, difficult stages of menopause, in order to break stigmas and highlight the need for more support in the UK healthcare systems.
Mariella Frostrup, a British journalist and TV presenter, has been positioned at the forefront of this issue for menopausal women as she heads the Menopause Mandate campaign as Chair.
The purpose of this non-profit organisation is to not only provide advice for women who are experiencing perimenopause and menopause, but also to raise awareness to our health services and governmental organisations by emphasising the need for more support.
they found that 90 per cent of women felt that their quality of life has suffered as a result of their menopausal symptoms
Earlier today, Frostrup appeared on the BBC Breakfast show in light of World Menopause Day to explain the efforts recently made by the APPG's Menopause Manifesto in the House of Commons, in support of the Menopause Mandate campaign.
As reported on the BBC this morning, 'the manifesto aims to tackle the lack of understanding amongst policy makers, the public, and employers.'
The Menopause Manifesto conducted a survey in which they found that 90 per cent of women felt that their quality of life has suffered as a result of their menopausal symptoms.
Frostrup highlighted during her interview on the BBC that the survey also found 96 per cent of women have self diagnosed their menopause, with only 12 per cent finding out about it from a health professional, adding 'that's not good enough in the 21st century.'
The Menopause Menifesto has outlined 7 ways in which the governmental and healthcare services are able to tackle this on-going struggle for women across the UK.
Here's what they have listed as the pledges below:
#1 Integrate menopause in the free NHS Health Check for women over 40.
#2 Establish a National HRT Formulary with standardised local prescribing guidelines.
#3 Incentivise menopause diagnosis in the GP Quality and Outcomes Framework.
#4 Require large companies to adopt menopause action plans with a better guidance for SMEs.
#5 Seek to license female-specific testosterone as an essential treatment option.
#6 Grant more funding for menopause research.
#7 Assess the gaps in specialist menopause care and increase NHS provision.
READ MORE: Vaginal dryness and incontinence? Expert reveals what causes these common menopause symptoms plus what can help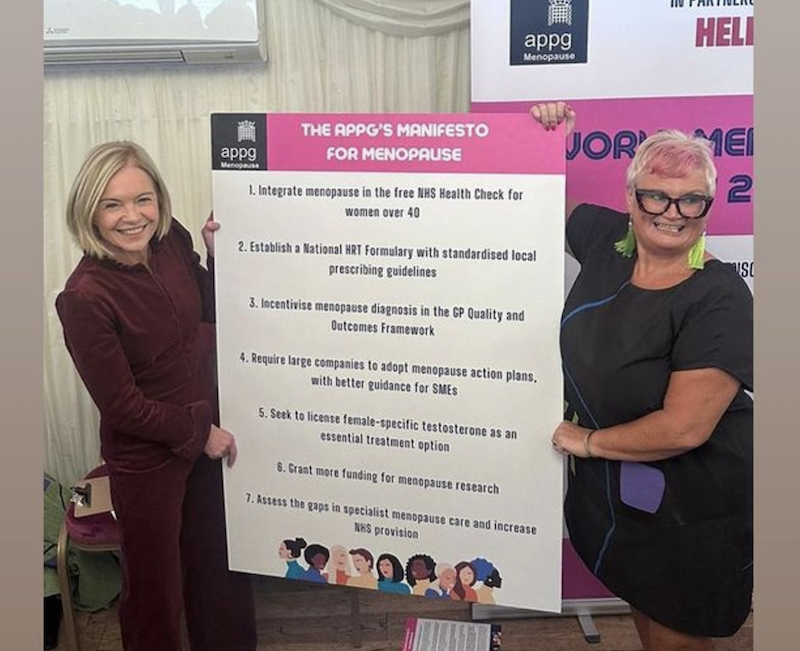 In response to what Frostrup thinks about the current state of menopause awareness following the presented manifesto in Parliament, she says, 'the fact we are having to ask for GPs to be better educated on menopause in this day and age seems to be pretty tragic in itself.'
Frostrup states that the main point on the MP's list is the 40+ health check, which would ensure that all women who are aged 40 and up will get information and support of what they will go on to experience at this point in their life.
'It seems utterly ludicrous that you go to a health check – and the one thing you don't find out about is the one thing you will absolutely go through', Frostrup adds.
We will continue to carry on doing so until basic human rights for women are respected
Another point made clear from the survey was that one in ten women are leaving the workplace, due to menopause symptoms affecting their work and having no help from employers.
'We can't afford that, we are in an economic crisis we need everyone to be able to perform to full capacity.'
When asked what she thinks about the demands being seen in practice across the country, Frostrup responds with 'absolutely, I think that all of them will become a reality.'
'This can make a huge difference to so many women's lives', Frostrup says, 'as one of the main things that [women] talk about is an absence of knowledge.'
'A lot of noise has been made in the last couple of years, but not a lot of tangible progress. We will continue to carry on doing so until basic human rights for women are respected when it comes to healthcare.'
Like this article? Sign up to our newsletter to get more articles like this delivered straight to your inbox.