Forget sloppy bowls of lentils.  Vegetarian is now as artisan and gourmet as meaty food.  Healthista Eats blogger Charlotte Dormon finds you London's best designer vegetarian that even a treat for non-veggies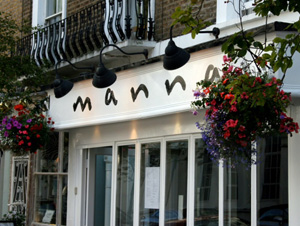 Whether it is a lifestyle choice, you're following a particular diet, or you just fancy trying something new – I can assure you that dining out on good vegetarian food makes you feel great.
I'm always asked about the best veggie places to try, so this week I want to tell you about Manna in London's trendy hangout, Primrose Hill.
Although I'm not a full-time vegetarian, I was for a number of years, and made it my mission to find the best places to eat – I still love going back to my favorites to enjoy a delicious meal. The best are now treating vegetarian food delicacy and creativity and bringing in influences from the vegetarian dishes from many different ethnic cuisines to bring you and exciting and unusual dining experience.
Manna is not just vegetarian, but also a totally vegan restaurant, and with the growing number of people now going both meat and dairy-free when eating out, it's the place to be.
Set in a quiet side street of Primrose Hill, this part of London is well-known for its beautiful walks and laid-back village vibe, and I would be shocked if you didn't see famous actress, model or musician walking their dog or sipping a latte. If you're more than lucky, you might see them enjoying a healthy bite at the table next to you in Manna (I know from experience, they do get quite a few!).
Manna is run by an American husband and wife team, Robin and Roger Swallow who are passionate about providing their guests with a gourmet vegan dining experience, carefully sourcing fresh, organic ingredients and cooking everything from scratch.  Having served their food to loyal fans for 47 years now, the proof's in the pudding (I can tell you after eating two of them!).
My friend and I sat down and started our evening with an organic Vodka Cosmopolitan.  Served with a twist of lemon, this went down well and was much needed after a busy day.  Manna has a wide selection of vegan wines, cocktails, and organic spirits as well as fresh juices and mocktails too – there is something for everyone if you don't or do fancy a tipple or two.
The menu is great at Manna – you're really spoilt for choice.  Luckily, we had our eye on the same thing, and began with the vegetable tempura, made with rice flour batter and gluten-free, great as I always miss out on this dish at every Asian restaurant I visit.  It was better than I expected and after my first mouthful, I wished we had got two, as sharing something this good is hard. The vegetables were cooked perfectly and the tempura batter had a subtle, light spicy flavour.  It came with two tasty dipping sauces and a small side of salad with a citrus dressing and micro-herbs (tiny herbs that have big built-in flavours). Even if I had stopped at that course I would have been satisfied.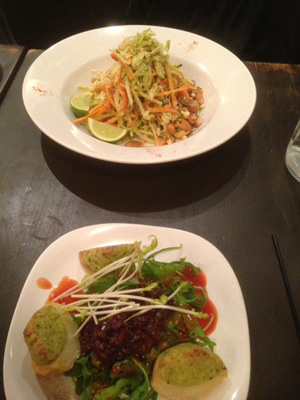 Next up was one of my other all-time veg favorites – artichokes hearts! Manna's are the best I've ever had in a vegetarian restaurant, as they bake them and fill them with vegan ricotta cheese (the chefs make the special vegan ricotta style 'cheese' from cashew nuts), mixed with fresh basil.  The artichokes are served warm and topped with fresh black olive tapenade and Bloody Mary coulis, with a little peppery rocket salad buried underneath. I am a big fan of this flavor combo and for anyone who is missing cheese – this dish is the one for you.
As I had been to Manna a few times before, I knew the mains were pretty big (not that I'm complaining) but I did not want to eat too heavily on this course and miss out on the finale – the infamous pudding selection.  So, we selected two salads to go alongside the artichokes – the raw Thai, salad, which came with lots of crispy thinly sliced veg and an almond and chili sauce, and the mixed green salad, which comes with a choice of vegetarian toppings. We picked beetroot, avocado and crunchy seeds.  I also ordered a side portion of their crunchy tofu.  For anyone who thinks tofu is bland and boring, you may think differently when you try it here.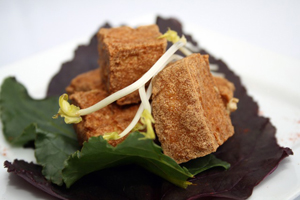 The salads were both fresh, super-healthy and well-dressed. Although I do like these two dishes, if you do go for salads over other mains, I would recommend adding a side dish of quinoa, or selecting an extra starter to go with it if you're hungry. Although I didn't have it on this visit, I'd suggest the vegan nachos if you're a fan of Mexican munchies – homemade corn tortilla chips stacked with fresh guacamole, salsa and dairy-free cheese. For me, it's the ultimate snack-tastic vegan indulgence.
Just when you think that everything good must come to an end – the pudding menu arrives (and this is where the magic happens). For vegans, you may want to run around the restaurant jumping with joy because there are so many puddings available for you.  For those who are lactose or dairy-free, you will want to move to North London, just so you can eat these heavenly treats forever.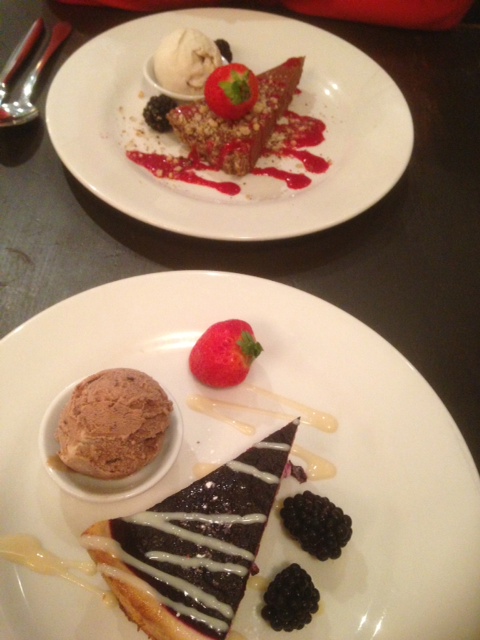 The dessert selection is vast but after considerable thought, I knew the vegan berry cheesecake was the winner (a rare treat in a restaurant for me).  The cake is served with vanilla coulis and a side of chocolate ice cream.  I must say, whilst eating this, the world stood still for a moment and I was in a happy place indeed.  As this dessert is both gluten and dairy-free, it is worth saving room for, or at least taking it home if you can't fit it in.
My chocolate-loving friend wasted no time deliberating – the raw dark chocolate torte was 'the one' and by the look on her face when it arrived, drizzled with raspberry coulis, vanilla ice cream and fruity sides – I knew it too.
You don't have to be vegan or vegetarian to enjoy the wonders of Manna.  If you are though, I think it's best you just book in today.
But  whether you are looking for a healthy gourmet meal, a gluten or lactose-free feast, or just a really tasty veggie-packed meal out, head to Primrose Hill and check out 47 years' experience in vegan cooking. You won't even think about missing meat.
Click here to visit Manna's website.
World Vegetarian Day is October 1st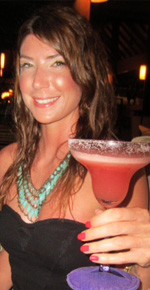 CHARLOTTE DORMON is Healthista's new Healthista Eats blogger.  She's not a chef, or even that much of a cook.  If it's recipes you're looking for – you're in the wrong place.  But whether it's Sunday lunch or Friday night cocktails, she's the one friends and family turn to when they want to know how to eat out and be relatively healthy.  Each week she'll now be bringing you the same insider knowledge.  We'll drink – and eat – to that.
Like this article? Sign up to our newsletter to get more articles like this delivered straight to your inbox.