For National Vegetarian Week (19th – 25th May) Healthista Eats blogger Charlotte Dormon tries LA dining in London at the Hyatt Hotel where Hollywood celebrity chef, Ali Parvinjah brings his signature raw vegan superfood menu
Although the number of vegetarians living in the UK is tiny compared to the meat-eaters, latest research has shown a 40 per cent increase in people signing up to The Vegetarian Society. But even if you're not a committed vegetarian or vegan, there's no doubt more  of us are choosing to eat less meat. It is not always easy to get a great vegetarian meal though.
My recent dinner experience with Los Angeles chef and health guru, Ali Parvinjah, at the glamorous The Montagu restaurant at Hyatt Regency London – The Churchill in London was definitely worth shouting about.  With over 14 years culinary experience of cooking for Hollywood's elite and megastar vegans, Ali has now come to over to the UK to bring us his signature vegan menu.
Ali isn't not just cooking his meat-free dishes to fit in with the clientele –  he and his regular celeb customers, many of which, like him, are not full vegans or vegetarians – fully believe in the benefits of reducing meat consumption eating a plant-based diet full of fresh vegetables and non-animal sourced protein.
Unlike most chefs who talk mostly about the flavours and ingredients of the dish, Ali understands the link between food and nutrition and is as passionate and knowledgeable about this subject as any nutritionist I have met.  As well as spending years mastering the taste and presentation of the dishes, he also wants people to feel good from his food by making sure they get a  boost of vitality from the nutrient-dense, organic and high-quality natural ingredients he chooses.
Making vegan food taste good is not that easy but he is like a wizard with a whisk, turning raw cashew, almond and hazelnuts into cheeses (raw and vegan, of course) as well as using them as a creamy base for savoury dishes like risotto and indulgent dairy-free cheesecakes, ice cream and chocolate pudding.
As I have come to realise whilst eating my way across London over the years, vegetarian/vegan does not always equal healthy.  Many dishes served (especially desserts) are usually made with wheat and laden with tons of sugar, cream, milk and gluten.  Luckily this menu is free from this as it is something Ali personally disapproves of and would not be tolerated if served to his LA guests.
As well as ditching the white stuff in favour of a squeeze of agave, Ali is also particular about the salt he uses to season (only small sprinkles of pink Himalayan are used – this natural salt is full of minerals and does not leave you gasping for immediate hydration after your meal) and avoids all refined oils in favor of organic cold pressed virgin coconut, seed or nut oils.
The Hyatt hotel itself is a beautiful and sophisticated venue and provides the perfect setting to enjoy Ali's fabulous menu.  With five star service, candlelight, champagne and a piano player to serenade you through the evening – vegetarian dining in London doesn't really get more romantic, or stylish than this.
During the evening whilst Ali chatted away about his years of experience with food and specialist cooking techniques used to create the various courses, I, along with my nutritionist friend Naomi, enjoyed a feast like no other.
To begin we both had two starters – Air dried cherry tomato, cashew cheese, wild rocket, chive with lemon vinaigrette and Rainbow heirloom beet tatar, macadamia cheese, hazelnut grapefruit micro amaranth with sherry vinaigrette.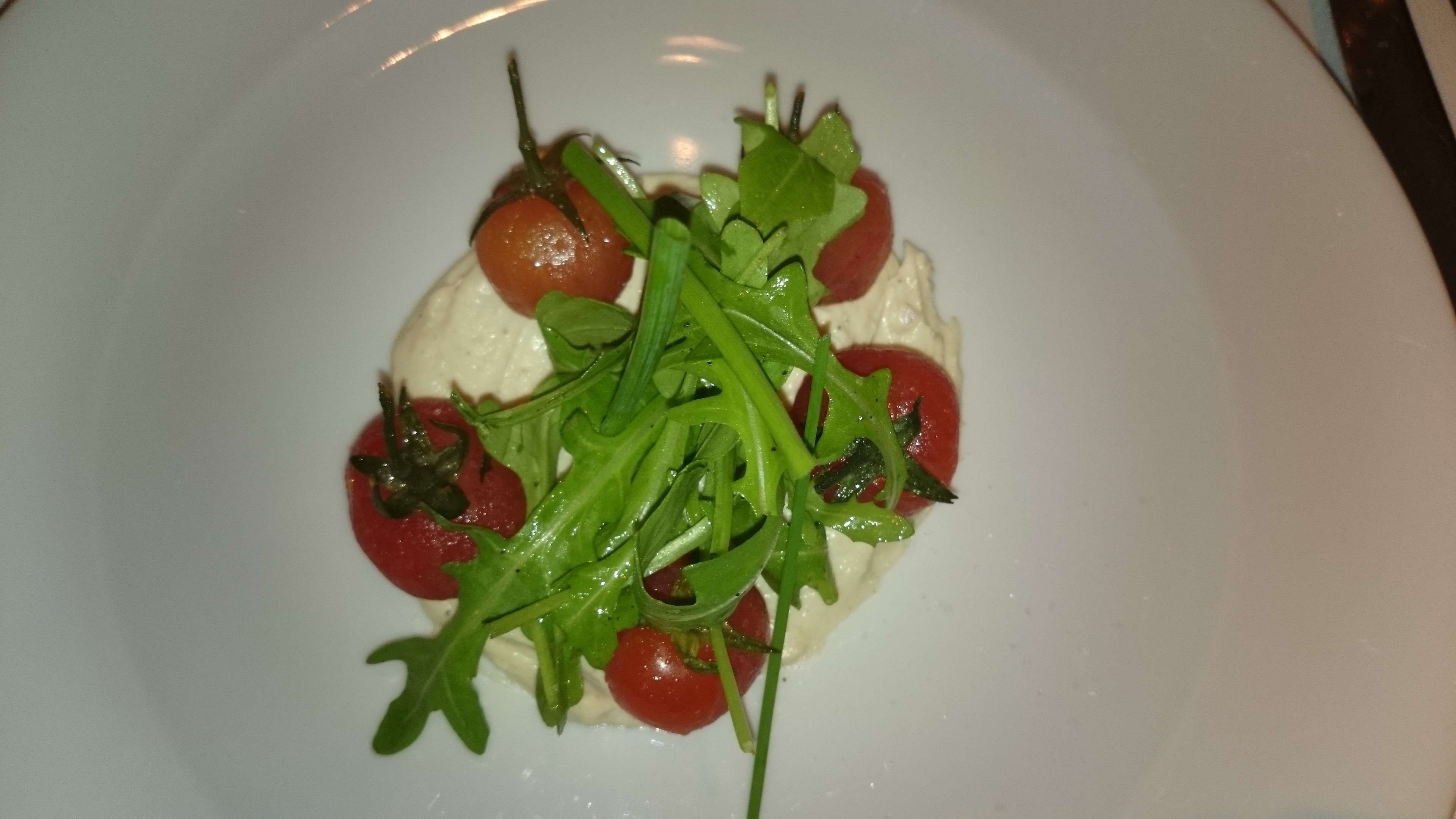 For mains we had the Blackened tofu, grilled sprouting broccoli, cardamom agave glazed carrots, mustard coconut emulsion with watercress. As well as the Black sesame, hemp crusted teriyaki Portobello mushroom filet with garlic cauliflower puree, wilted spinach ribbon and lemon vinaigrette.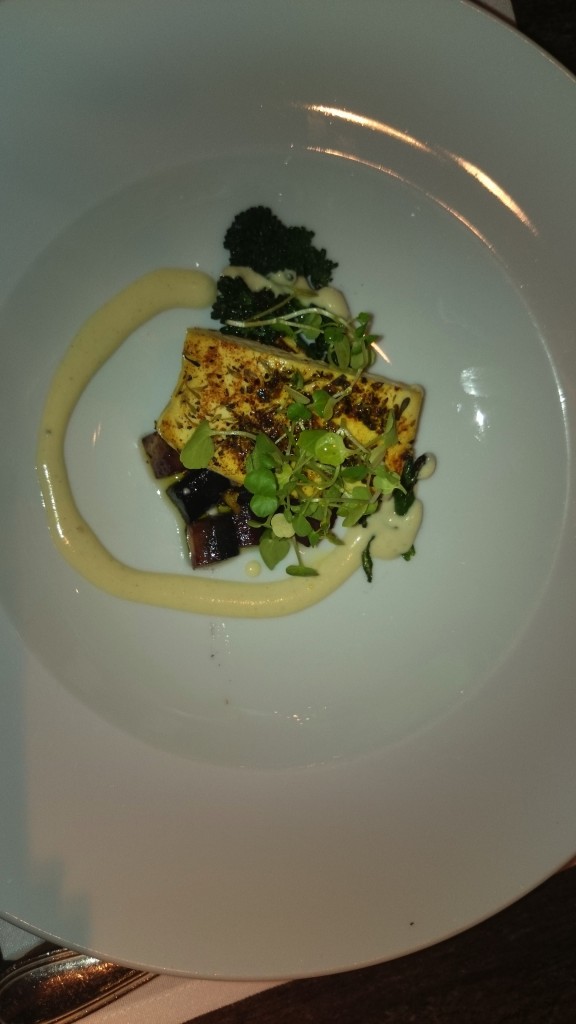 The puddings…..yes we did try three…I am not going to lie…you understand why when you go.  We shared the Raw cacao and vanilla bean cheesecake with maca caramel and baklava ice cream, raw pecan pie with espresso and hazelnut ice cream, fresh raspberries and coconut whipped cream, strawberry raw ice cream made with coconut cream and freeze dried raspberry sprinkles.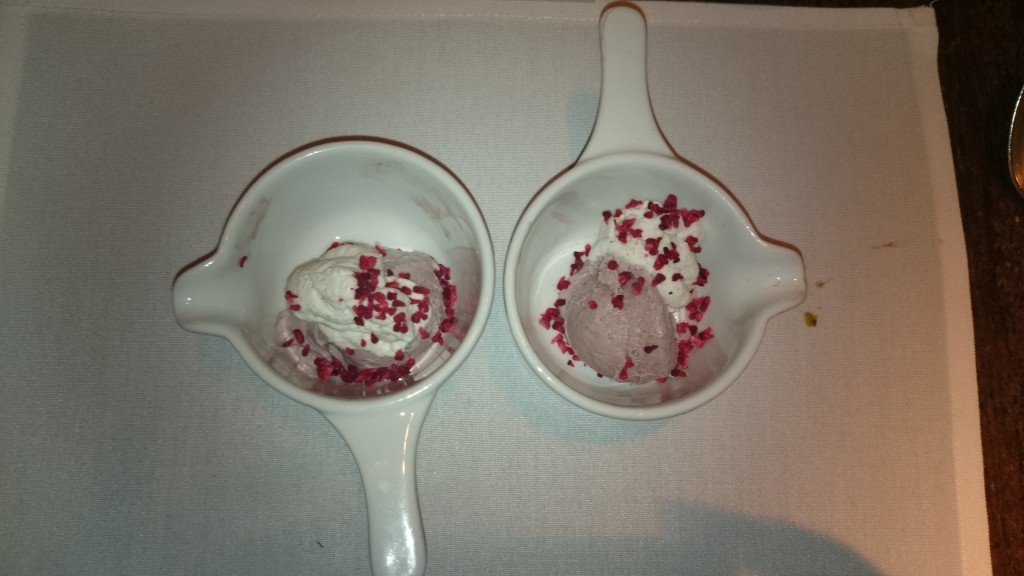 As for the finale, we tried the daily raw ice cream (cardamom today) with fresh market berries and almond biscotti.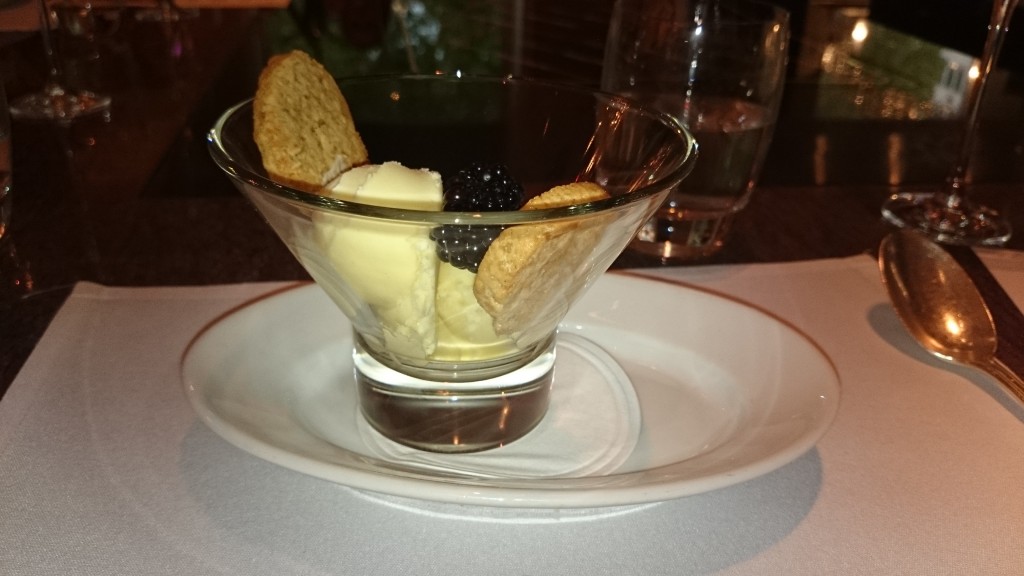 I could write pages on the incredible taste and delight of this food, but it would not be enough.  In summary, everything we tried impressed us and we fell head over heels in love with Ali's cooking.  He is both charming and full of excitement for his work and it was an honour to have had the chance to be cooked for and talked through each dish by the man himself.
The menu is exceptional and leaves you feeling refreshed, healthy and a little saintly.
The Churchill at the Hyatt menu is available for both lunch and dinner and is £25.00 for three courses or £20.00 for two or call +44 (0) 20 7486 5800 
READ MORE HEALTHISTA EATS:
HEALTHISTA EATS 10 best coffee hotspots in London
HEALTHISTA EATS The best grass-fed steak in London
HEALTHISTA EATS At the new Hot Pink Grill where you get healthy versions of naughty foods
HEALTHISTA EATS Designer vegan
HEALTHISTA EATS The 5 best gluten free afternoon teas
HEALTHISTA EATS Quick hot lunch  
How to eat PIZZA without the bloat
UK's first-ever gluten free restaurant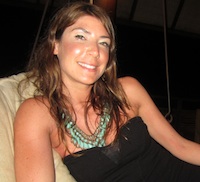 CHARLOTTE DORMON is our Healthista Eats blogger.  She's not a chef, or even that much of a cook.  If it's recipes you're looking for – you're in the wrong place.  But whether it's Sunday lunch or Friday night cocktails, she's the one friends and family turn to when they want to know how to eat out and be relatively healthy.  Each week she'll now be bringing you the same insider knowledge.  We'll drink – and eat – to that. Follow Charlotte on Twitter @lottielurvsu
Like this article? Sign up to our newsletter to get more articles like this delivered straight to your inbox.