Ooh, noodle soup is just the ticket as the weather turns.  Charlotte Dormon goes with the Pho in search of a healthy feast­ of noodles every which way
I crave noodles as much as people do chocolate, which is why I have fallen in love with Pho, a chain of Vietnamese restaurants that are keen to keep their customers both happy and healthy. Their range of a delicious authentic dishes are packed with nutritious ingredients and plenty of exciting Asian flavors.
The founders of Pho restaurants want to wow their guests with their selection of tasty street-foods which luckily for me, means a vast choice of tasty noodle-based dishes. Their chefs follow traditional recipes so guests can experience the same great foods and flavours as the locals would in the streets of Vietnam.
'Pho' is the name of the Vietnamese national dish: an aromatic rice noodle soup served with a plate of fresh herbs for you to garnish as you wish.  Whether you like to fire it up or keep it mild, you can pimp your soup to suit your style by addingl condiments, which are provided on masse, including chilli paste, fish sauce and garlic vinegar.
All stocks used for the soups are homemade and take up to twelve hours to prepare. This authentic preparation makes their dishes full of flavour, but also highly nutritious and low in fat.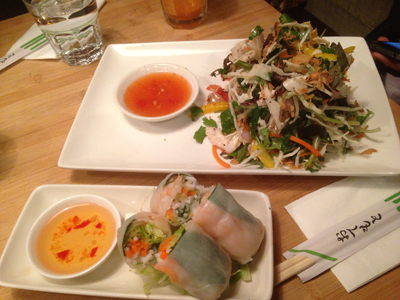 Vietnamese food is similar in style and flavour to Thai food – although from what I have now discovered, it is known for being that little bit lighter and less calorific than the Thai style dishes.
Before I tell you more about the food, I want to tell you some other reasons on why I think you should go with the Pho.  Firstly, the music; Pho has one of the coolest playlists in town, which is updated daily tracks that help create a really good atmosphere rather than disturbing your spicy feast. It certainly gets you in the mood for a great day or night.
Secondly, the décor is simple, but again, cool.  Lighting is low, but not so bad that you can't see your food.
Whether you are going with a group of friends, on a first date, or just in for a quick lunch, Pho delivers.  I went to Pho with my boyfriend, who like me is a fan of both Vietnamese food and the traditional noodle dishes.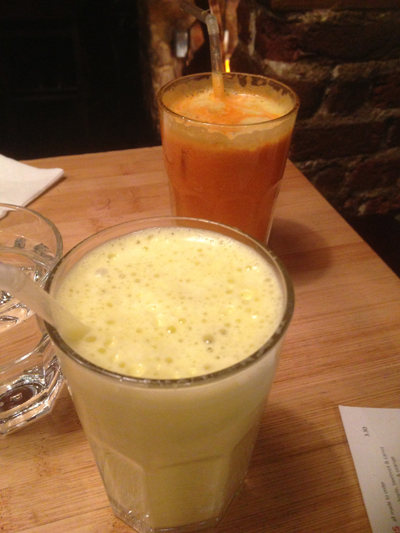 We both decided we were going vino free that evening and started with a refreshing glass of fresh juice – Apple mint and lime, and coconut, pineapple and apple. Pho's juices are made to order and do not contain any concentrates. If you do choose to have an alcoholic drink with your meal, I would advise sampling the Vietnamese vodka.  It is lower in calories than wine and they don't add extra sugar.
The staff are  knowledgeable and when asked to recommend some of the more 'waistline friendly' dishes, they knew exactly what dishes were suitable.  As well as the staff being health-aware, I am pleased to say that Pho prides itself on using no-packaged foods. Everything is made onsite and the majority of the menu is gluten, egg and dairy free.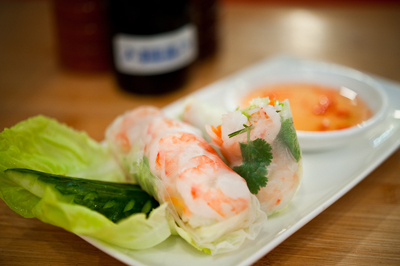 We had two starters to begin with, firstly the Goi cuon, fresh rice paper rolls (gluten-free) with herbs, vermicelli and pickle.  You can choose between three fillings – either tofu, chicken or prawn.   The rice rolls come loaded with protein and fresh salad inside.  There is also a spicy dip to go with them.  This dish is really tasty and low in fat, yet with the rice paper wrap, you still get a satisfying carb hit.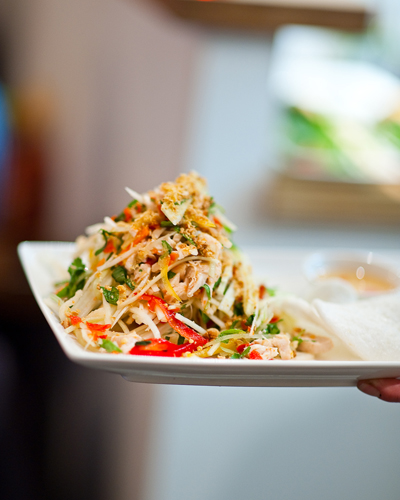 The other pick was the Goi ga, shredded chicken salad with Asian herbs, peppers and a chilli and ginger dressing. Pho does have a good salad selection, but the Goi ga, although a lower calorie choice, is bursting with the most intense flavours and plenty of aromatic chicken breast to fill you up.  If you are avoiding carbohydrates, this dish would be ideal as well as a good source of protein. It is packed with lots of veg and the dressing tastes so good.
For mains it was all about the noodles for me.  I dived into the Pho tom, a steaming broth of vegetable goodness, packed with tiger prawns and plenty of flat rice noodles to slurp up until your heart's content. Although a noodle soup is not the sexiest dish to eat in front of your loved one, it's worth dribbling down your chin for.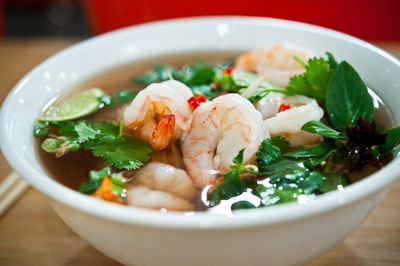 The soup not only looks so appealing, the smell and aroma is fantastic.  Served in a traditional bowl, with a wide wooden spoon and a side plate of fresh spices, including coriander, lemongrass and chilli.
This meal is rated highly for it's health credentials and if you are excluding carbs but want to enjoy this dish, you can ditch the noodles and just have your choice of meat, seafood or tofu and veg.  If you are really hungry, or just want to pack in more protein, there is an affordable option to add in these extras.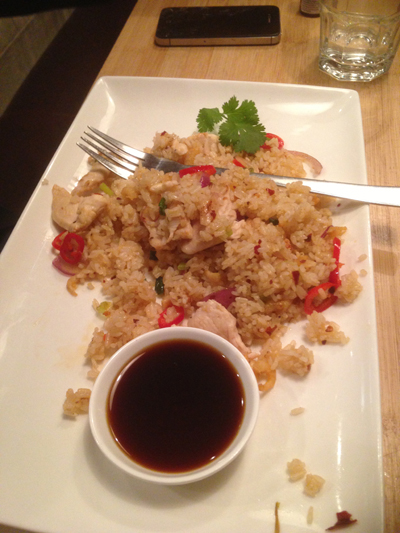 My boyfriend loves spicy rice dishes and with the help of our waitress, who advised us on the healthiest one, he picked the Com tam rang, aromatic spicy wok-fried broken rice with chicken and dried shrimp. Rather than a heavy, greasy fried meal typically served in restaurants, it was light and aromatic and didn't leave him feeling stuffed.
We didn't have time for dessert as we had a movie to catch, but if you fancy something sweet to end the night, the couple next to us had the Kem sorbet. The other puddings are certainly delish, but this light sorbet is made with fresh fruit and will be much better if you don't want a sugary, higher calorie hit.
Pho have created a great place to eat with a chilled-out, fun atmosphere and an affordable, authentic menu with plenty of healthy dishes to choose from.  For a pit-stop spicy noodle hit, I wouldn't head anywhere else.
Pho has seven restaurants across London and one in Brighton.  As well as dining in, they also do take-out so you can enjoy Pho on the go.  Visit Pho's website for more information
More healthy foodie columns from Charlotte:
HEALTHISTA EATS Designer vegan
HEALTHISTA EATS Caroluccio's
HEALTHISTA EATS The 5 best gluten free afternoon teas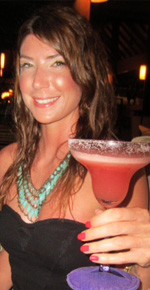 CHARLOTTE DORMON is Healthista's new Healthista Eats blogger.  She's not a chef, or even that much of a cook.  If it's recipes you're looking for – you're in the wrong place.  But whether it's Sunday lunch or Friday night cocktails, she's the one friends and family turn to when they want to know how to eat out and be relatively healthy.  Each week she'll now be bringing you the same insider knowledge.  We'll drink – and eat – to that.
Like this article? Sign up to our newsletter to get more articles like this delivered straight to your inbox.