In need of something hot, filling and full of goodness? Healthista's healthy eating expert Charlotte Dormon finds lunchtime satisfaction at Pod.
Imagine being hungry on a chilly day and wanting nothing more than wholesome warming stew to fill your tummy.  Luckily, you don't have to imagine anymore – I would like to introduce you to the healthy food pleasures of Pod.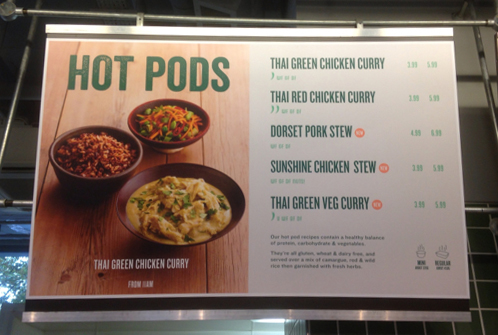 Although there are now 23 branches of Pod across London (and soon to be expanding further out), it's surprising how many people haven't heard of it. For it's loyal fans like me, however, Pod has become a winner for time-short office workers looking for something fast, filling and nutritious.
I first discovered Pod when rushing to catch a train at Liverpool Street station.  Panic had set in as hunger levels were rising fast and all I could see around was the usual coffee chains and supermarkets, and I knew they wouldn't have what I wanted. Then, from the corner of my eye I spotted this little new place called Pod.
Scanning the menu, my jaw dropped when I saw that not only did they have a seriously healthy choice of really yummy meals, but there was also plenty of choice for dairy and gluten free diets.
The whole Pod concept was once just a dream for stressed out City worker Tim Hall. After having a health scare, Tim decided he wanted change his poor eating habits for good.  Everyday he went on a mission to find something fast and naturally good for his lunch. On finding nothing and incredibly frustrated, he came up with the idea of creating Pod.
Since my first visit the menu at Pod has continued to grow and as a business, they just keep getting better; their food choices have improved as well as their environmental and green credentials.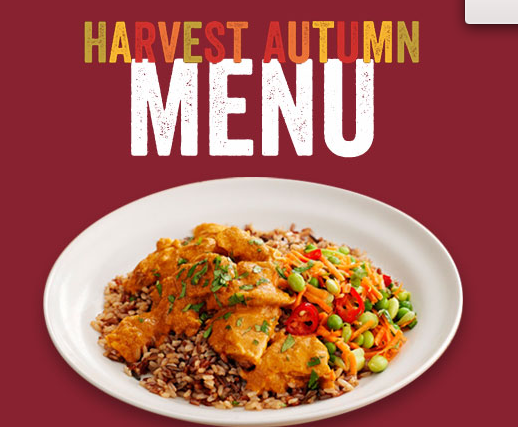 For me, Pod is great on many levels. The food tastes super and the dishes are designed to deliver goodness, which is great if you don't have time to cook and, like me, are particularly fussy about what goes into your body.
This week I took my friend Lottie (a Pod virgin) to have a quick working lunch. It was such a chilly damp day, we were hearted to see their new choice of super stews.
Hungry, I was looking for something to fill me up, so I chose the Dorset Pork stew – pulled pork in a luxuriously rich mushroom & onion sauce over low-GI mixed rice with a side salad and garnished with fresh parsley. The stew is both low in fat and calories and is wheat-free, dairy-free and gluten-free. I was perfectly satisfied and loved the little side salad to freshen it up.  Being so low in fat yet high in protein, I felt I could happily indulge and finish the meal with a gluten-free brownie and a cup of tea – it was a Monday after all.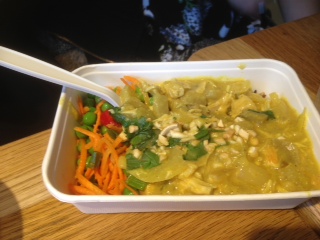 Lottie had the Sunshine Chicken Stew – lean chicken and seasonal vegetables stewed in a fragrant, nutty sauce, served with the low GI rice and topped with cashew nuts and coriander.  Lottie loved it, the vegetables were fresh and still had some crisp, and the chicken, although lean cuts are used, was full of flavor. The Sunshine chicken stew is also free from dairy, gluten and wheat, low in fat, high in protein but packed with feel good carbs.
Without any horrid bloating, our tummies were nicely full, low blood sugar levels had bounced back up and with Pod's fast-food service, we were able to eat some good food and be back to our desks within the hour, ready to conquer the rest of our busy day.
To save yourself from unhealthy food on your lunch break get into a stew at Pod.
READ MORE HEALTHISTA EATS
HEALTHISTA EATS Designer vegan
HEALTHISTA EATS The 5 best gluten free afternoon teas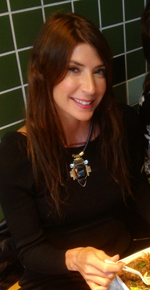 CHARLOTTE DORMON is Healthista's new Healthista Eats blogger.  She's not a chef, or even that much of a cook.  If it's recipes you're looking for – you're in the wrong place.  But whether it's Sunday lunch or Friday night cocktails, she's the one friends and family turn to when they want to know how to eat out and be relatively healthy.  Each week she'll now be bringing you the same insider knowledge.  We'll drink – and eat – to that. Follow Charlotte on Twitter @lottielurvsu
Like this article? Sign up to our newsletter to get more articles like this delivered straight to your inbox.