Our Healthista Eats blogger has found the best Lebanese restaurant in London – Amoul's – and shares five reasons why you should eat Lebanese food
Although I love many types of cuisine, when it comes to eating out and eating well, I score Lebanese food high on my healthy eats list. Compared to other cultures, the Lebanese eat a vast quantity of fresh, nutritious foods and meals that are diverse, invigorating and bursting with flavour.
Lebanese recipes are packed with some of healthiest ingredients around, including a variety of fresh herbs (garlic, oregano, mint, rosemary, sumac, coriander and parsley), spices (cardamom, cinnamon, black pepper and clove), brightly coloured fruits and vegetables (carrots, lemons, watermelon, orange, pomegranate, grapes, peppers, aubergine), salads (cucumber, tomato, olives, onion and lettuce), pulses (chickpeas and lentils),  grains, (rice, bulghur wheat and couscous), low-fat dairy (cow, sheep and goats yoghurt, feta and haloumi) slow-cooked or grilled fish, seafood, meats, nuts (pine, pistachio and almond) and seeds (sesame).
If you have a restricted diet – worry not when it comes to Lebanese food. I have always found that whether I am with someone who requests low-carb, vegetarian/vegan or gluten-free, there is a always a good choice of dishes they can enjoy.
5 reasons Lebanese food is a healthy choice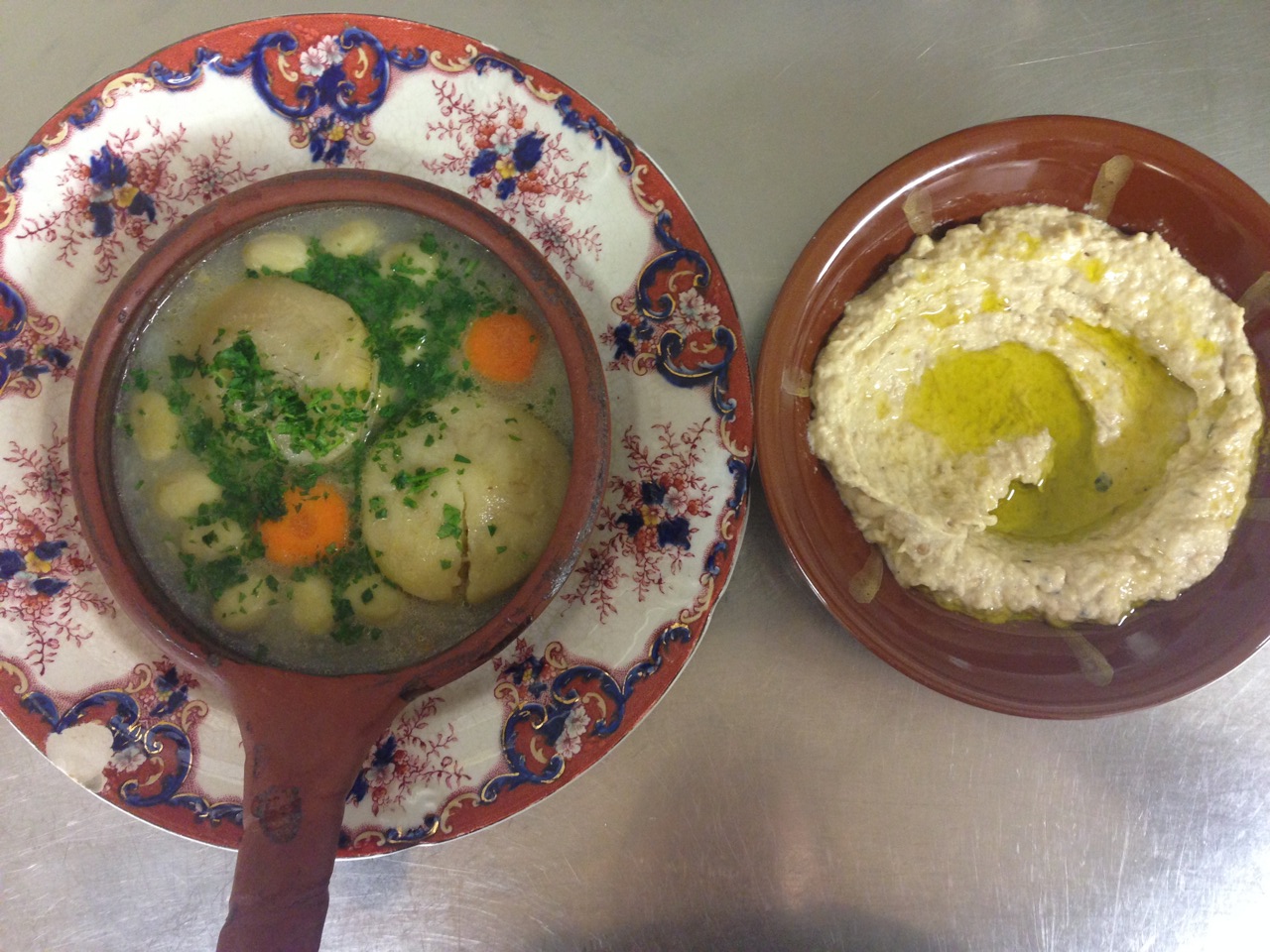 1. There's more to mint Mint is a common herb found in Lebanese dishes. While it may seem this plant it is just a garnish or flavour for your dish, it is actually helpful with digestion and full of carotenes and vitamin C.
2. Tahini's huge health benefits The traditional sauce Tahini is made from sesame seeds, which have the highest oil content of any seed. It can enhance a dish with its rich, nutty flavour, and sesame seeds – and therefore tahini – are rich in Omega 6 fatty acids as well as protein. Tahini is also a good source of copper, methionine, calcium and manganese.
3. Go lentils The use of lentils in Lebanese cuisine also contributes to the health benefits of this type of food. Lentils are high in fibre, protein and B vitamins. Plus, they have almost no fat content at all and are relatively low in calories.
4. Lemon as a body cleanser Lemon stars as an important ingredient in several traditional Lebanese dishes. It is used in the preparation of homous, tabouli, stuffed vine leaves and baba ganoush, among others. Lemon is full of potassium. It has antiseptic and antibacterial properties, which help keep the food fresh and your insides free from infection. Getting a daily dose of lemon can support digestion and reduce inflammation, and adding lemon to your diet is can aid in weight loss and is a booster for your immune system.
5. Eating out tip If you don't pick a restaurant that comes recommended, make sure you do some research to ensure you are getting something good. I would advise asking where they source their meat and vegetable (is it local? Delivered daily?) as well as asking if the oil they use on their salads is cold-pressed or extra virgin? (Poor quality oil is bad for your health for so many reasons and something worth investigating if you plan to eat there on a regular basis). It is also worth investigating if they make their breads and all food all on the premises. Just like Indian, Thai or British, all restaurant standards can vary and the food quality can be a diet disaster if not researched or chosen correctly.
My favourite Lebanese restaurant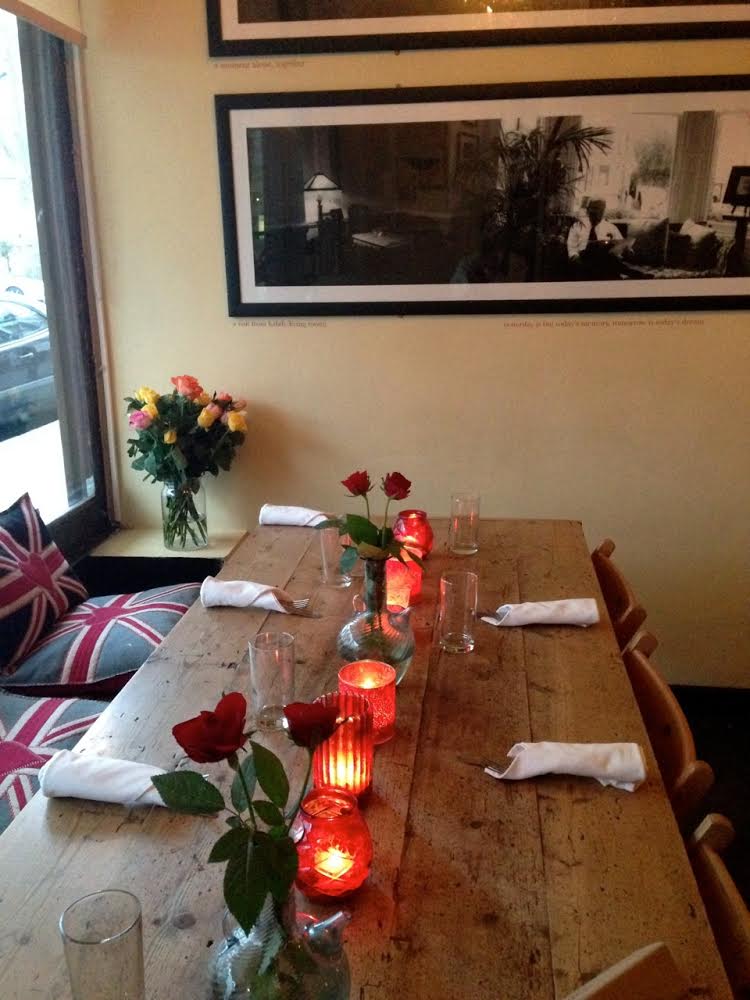 Owner and glamorous head chef Amoul has built a great reputation for her restaurant by serving the finest, traditional, home-cooked Lebanese food.
The restaurant is on a peaceful and pretty side road a moments walk from Warwick Avenue Tube station (if you don't fancy London transport, there's parking close by that's free of an evening and the whole weekend).
Amoul's Hideaway is one of the most chilled out restaurants I have visited in London.  It's got a homely feel and an incredibly relaxed atmosphere – so much so, that you almost feel like you are being hugged all over with it.
The café-style restaurant has a bohemian look about it, and the walls are adorned with interesting photography, glowing critic reviews from fashion and food magazines, artwork and paintings. Rustic tables are lit up with candles and atmospheric mood lighting. Although it's relatively small inside, there are plenty of tables for big groups to enjoy a lovely dinner and enough cozy corner tables in and outside for couples to have their space.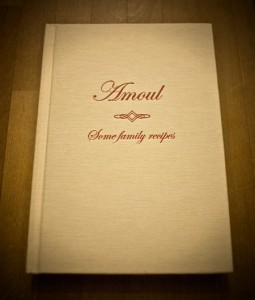 Amoul's food may appear rustic and simple, but its quality is exceptional.  She is obsessed by using only the best ingredients for her cooking and has all her vegetables delivered from the local market daily. Amoul also visits the meat market twice a week to personally choose all the meat for her dishes. She minces all the lamb  only using leg of lamb (a lot of restaurants buy mince in and that often means cheaper cuts of meat are used), as she says it is far leaner and better quality. The chicken and poussin are free range, and absolutely everything served to guests is prepared in her kitchen from scratch with no preservatives or additives ever used.  Extra virgin olive oil dresses all salads and rapeseed oil is used for cooking (this is a healthy oil and good for cooking in high temperatures).
To give her guests the best authentic Lebanese food experience, Amoul uses the recipes from her family in Lebanon that were passed down to her mother from many generations of aunties, grandmothers and cousins who loved to cook the very same dishes. Much of this is a far cry from the cliched tourist-friendly Lebanese that you see on the Edgeware Road – this is the real deal. Here are my favourites:
Starters and sides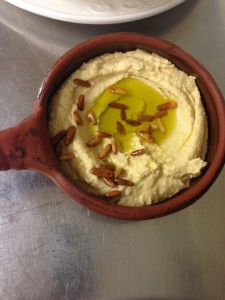 Homous: a typical Middle Eastern dish that we all know and love. It's made up with chickpeas, garlic and lemon. Amoul's is so good and way better than any shop bought and restaurant ones I have tried. She cooks her chickpeas in the traditional way, by soaking them overnight and boiling them slowly until they are soft and ready to eat – rather than using tinned, which is most common. She only uses extra virgin olive oil, unlike most homous that's heavy in vegetable oil, and she only uses a small amount.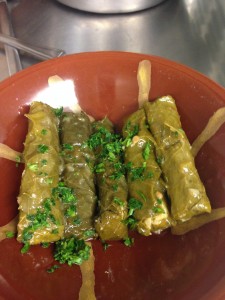 Vine leaves: stuffed with brown rice, tomato, parsley, vinegar, lemon and olive oil. As I don't eat the bread, I have these with tasty little rice wraps with my dips and salad.  They are far lighter and not drenched in heavy oil like the ones I have had in other restaurants.
Aridichawki belt: these are artichoke hearts with carrots cooked in vegetable stock, a warming dish that's a key winner at Amoul's for me. Artichoke hearts are such a nice thing to eat, and almost impossible to find. These are freshly cooked in a light vegetable and chicken stock along with some carrot, onion and broad beans.
Fattoush: lettuce, tomato, baby cucumber, sumac (a lemony herb), spring onions seasoned with lemon and olive oil – a refreshing salad that is perfectly partnered with breads and meats.
Baba ghanoush: chargrilled aubergine mixed and blended with tahini, onions, cumin, and olive oil – one of the best things I have eaten and Amoul's is just incredible.
Laboubleh Bzelt: French beans cooked with tomatoes, onion, garlic and spices. Green beans can often be one of the most boring things on your plate, but sexed up with some rich tomato and garlic, they're transformed.
Main courses
Samikeh Harra: Fillet of seabass baked and served with steamed spinach and a tahini and chilli sauce on the side and topped with toasted pine nuts. This is my personal favorite and I would say it is one of my all-time favorite healthy fish dishes. The baked seabass is cooked perfectly and is a nice light option after scoffing all the mezze starters. The tahini sauce is gently spiced and has a creamy consistency, but contains no gluten or dairy and works well with the fish and spinach.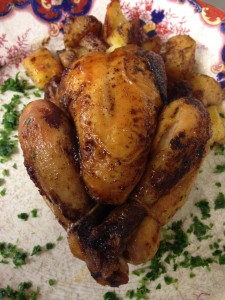 Poussin: Marinated with spices and herbs and roasted, it is served with its own roasted potatoes and garlic sauce on the side. This is my boyfriend Oliver's favorite dish. The poussin is full of flavour, the roast potatoes are crunchy on the outside and light and fluffy in the middle and the garlic sauce makes the whole dish award-winning.
Djaj Ma Bassal: Chicken and onion stew, which is Amoul's signature dish, is slow cooked chicken with strips of onions served with rice and a lemon wedge on the side. I love this dish. It is the perfect nourishing, warming meal packed with good healthy ingredients and outstanding flavour. There is very little fat and slow cooking is a healthy way to cook meat.
For vegetarians there is also a meat-free Mouss'aka and Aubergine Fattah with layers of Aubergine and garlicky yoghurt topped with crispy flat bread and pine nuts. I have not eaten this dish, but my friend Alex, who is not a fan of meat, has tried both and totally adored them. You can also find many other traditional Lebanese dishes made with pumpkin, spinach and feta, that are suitable for vegetarians and those that choose to eat meat-free.
If you fancy a pudding at the end, I hear Amoul's homemade ice cream is quite dreamy. I have always been too full to vouch for this, but have instead enjoyed the fresh mint tea to finish off my meal.
Amoul's is a great place to visit for lunch or dinner and great with a group of freinds.  You can eat as light, or as large as you wish.  If you just want to get out for a quick bite but not spend or eat too much, just enjoy a few of the mezze starters. I personally like going along with friends and sharing the baba ganoush, fattoush, vine leaves and couple of glasses of chilled white wine – it works very well.
Want to try making your own Lebanese dish? Test yourself with one of Amoul's own recipes.
CHICKEN AND ONION STEW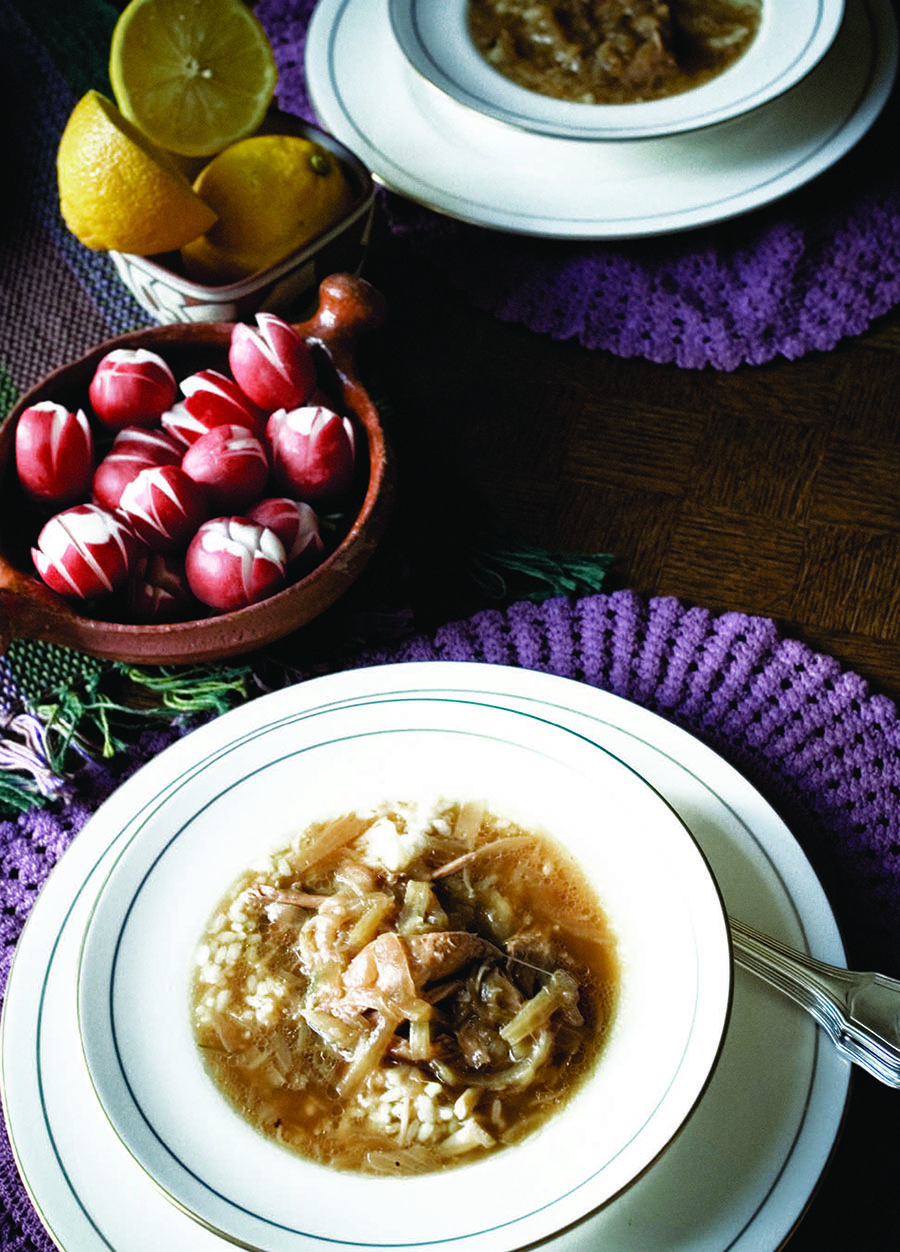 'I love this stew, which was my mother's speciality,' says Amoul. 'When I grew up and moved to Beirut, I was surprised that no one there knew it. Since then, I've come to think that it was actually my mother's invention, and wasn't made in any other home.It reminds me especially of the winter months in Marjeyoun, the town in southern Lebanon where I grew up. Walking home from school, I could smell the stew all the way down the road. My mother used to keep it on the stove, which was an Aga-like appliance used to warm the house in the winter months. These were often very cold because Marjeyoun is in a mountainous region of Lebanon and faces Mt Hermon, one of the country's highest mountains.
'This stew is served with short grain Egyptian rice. A squeeze of lemon and some radishes on the side complement it well'.
Ingredients:
1 whole chicken, or 2 breasts and 2 thighs
Juice of 1 lemon
1 teaspoon salt, plus salt for washing the chicken
1 kilogram onions, sliced thinly
2 tablespoons vegetable oil
2 large cinnamon sticks
1 whole nutmeg
Directions:
1. Wash the chicken with lemon and salt, then rinse and put in a pot. Cover with water and bring to the boil. Using a slotted spoon or small sieve, remove the foam that collects at
the top of the pot.
2. Once all the foam has been removed, add the cinnamon sticks, nutmeg and one teaspoon of salt to the water. Keep the chicken over medium heat until it is well-cooked (about 30 minutes, although this will depend on the size of the chicken). If the water evaporates, add a little more. I usually remove the bones of the chicken and add to the stock.
3. Meanwhile, put the oil in a frying pan over medium heat, and when it is hot but not smoking add the onions and saute until well-browned.
4. Remove all but one tablespoon of the onions from the pan and put on top of the chicken. Continue frying the remaining spoon of onions until dark brown then add one or two large spoonfuls of the stock and mix until the water has turned dark brown then add this mixture to the chicked and simmer for 20 minutes.
Serves 4-6
Amoul's Hideaway – Open Tuesday – Saturday for dinner, weekends for breakfast and all day Saturday.  Prices for dishes start at £5.40 – £17.00.
Little Venice, Maida Vale, London (Warwick Avenue Tube). Address: 4 Formosa Street, London W9 1EE, (T) 0207 286 6386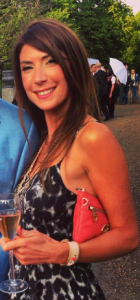 CHARLOTTE DORMON is our Healthista Eats blogger.  She's not a chef, or even that much of a cook.  If it's recipes you're looking for – you're in the wrong place.  But whether it's Sunday lunch or Friday night cocktails, she's the one friends and family turn to when they want to know how to eat out and be relatively healthy.  Each week she'll now be bringing you the same insider knowledge.  We'll drink – and eat – to that. Follow Charlotte on Twitter @lottielurvsu
Like this article? Sign up to our newsletter to get more articles like this delivered straight to your inbox.