What do personal trainers eat for breakfast? No, this isn't a playground joke. Charlotte Dormon visits The Good Life Eatery – the ultimate morning hotspot for those who like to eat fit.
This week Lucy, a gorgeous personal trainer friend of mine suggested we meet for brekkie and a catch up on life, love and all things new in fitness.  Having trainers as friends works well for me; not only do they inspire and motivate me to get off my lazy ass and get exercising, but they also tend to be rather obsessed with following a good diet, which makes eating out with them easy. We met at a place called The Good Life Eatery in Chelsea – a café with some seriously tasty health credentials.
The café is co-owned by Shirin and Yasmin, two healthy foody friends with a background in both catering and business. They've managed to bring the concept of LA-style 'clean and lean' eating to us nutrition-starved Londoners.
I became out of control with excitement when I looked through the Eatery's menu. I can't honestly remember when I last chose from such a fantastic range of cold-pressed juices, super-food smoothies and wholesome dishes for breakfast in London, as well as such a plentiful choice to suit gluten-free, veggie and vegan diets. The have the best way of extracting juice from the fruit and veg, which ensures as many of the natural enzymes and vitamins are also included and not destroyed during the process.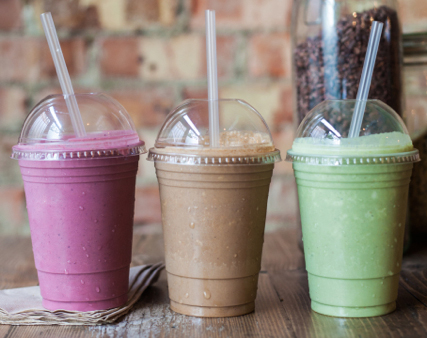 We started off each having the Incredible Hulk smoothie – a nutrition-packed combo of hemp protein, basil, coconut milk, pineapple, banana, almond, vanilla and super-greens powder with wheat-grass, barley-grass, kelp and spinach.
You'd think some of those ingredients would make it taste pretty unpleasant, but the smoothie was delicious, with no lingering bitterness from greens, and was happily filling. I am a big fan of smoothies, but I make them at home as I find the average high-street chain/café smoothie is just too sweet, and sends my blood sugars into overdrive. But with the good fats from the coconut and protein from the hemp, this smoothie will keep you on an even keel. The Hulk was like a meal in a glass and if I hadn't already ordered the mains, I would say this could have done the job.
I followed the Incredible Hulk with the Skinny Benedict, which is exactly my sort of style; food you love to eat as a breakfast treat, but made waistline friendly. Freshly squished avocado and cherry tomatoes on a poached egg and wholegrain bread (they do gluten-free), topped with light saffron natural yoghurt sauce – a much healthier, lower fat option for those who love this dish. The combination of the avocado, egg and tomato was really good (lots of good healthy fats – much needed to help maintain happy blood sugar) and is certainly a great option for those who are looking for a bigger breakfast.
Lucy had the Clean & Lean (she had spotted some high-profile personal trainers she knew from some exclusive gym chomping on this when we arrived, so it made sense for her to follow suit) – a mix of sweet potatoes, quinoa, kale, poached eggs and pesto sauce.  This protein-packed mixture of ingredients combined well with the low GI carbohydrate sweet potatoes, and got a thumbs-up for both taste and nutritional goodness. In her words, "a perfect post-workout breakfast".
I had a fuzzy head from a bad night's sleep and had a busy day ahead of me, so I ordered a coffee with soya milk to perk me up.  Not only was the coffee such good quality, they also use BonSoy soya milk, which is known in the nutrition world as being far superior from the rest.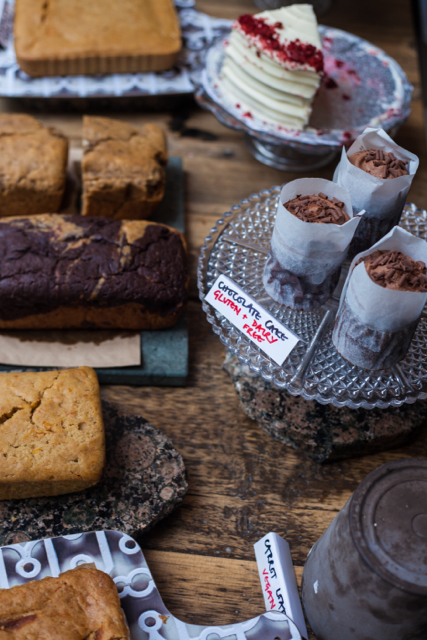 I know this is beginning to sound greedy but with fat chance of finding anything this good to me later that day to eat, I got a juice and some raw choc brownies to take away. I chose the Green Love Juice, a blend of kale, spinach, green apple, coconut juice and super greens. Lucy got herself the Drink Your Salad, a blend of spinach, lettuce, kelp, cucumber, parsley, celery, ginger and lemon.
Around 4pm, we rang to compare notes and we were both really impressed.  Like smoothies, good green juices are hard to come by and I am a big believer in drinking greens to get a fast-health fix.  They alkaline the body (which is good for all aspects of health) and are better for those wanting to cleanse, lose weight or need to avoid fruit sugar.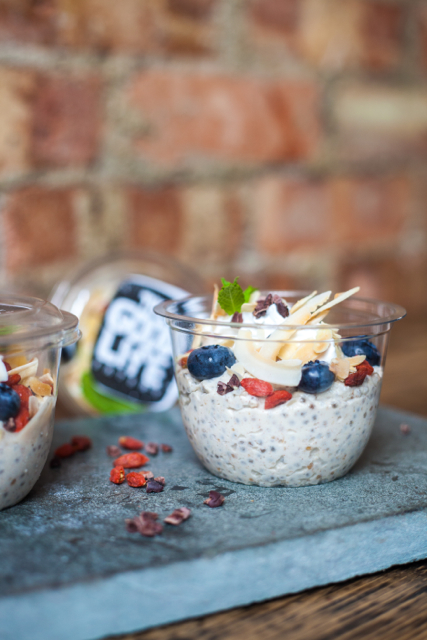 Lucy also took away the Raw Oats muesli. The muesli is made with gluten-free raw oats, which are soaked overnight and then sweetened with fresh berries, freshly grated apple and coconut milk.  It has a light dusting of cinnamon and a few seeds. This way of eating muesli is far better than having it out of a box with milk, as the soaking allows you to digest the oats and absorb the nutrients far better.  Oats are a great source of fibre to aid digestion, and are the best grain to eat for breakfast as they release the energy slowly and keep you fuller for longer. Although Miss PT did not eat it for breakfast, she enjoyed it with her juice as a light lunch.
My brownies were a delight with a herbal tea in the afternoon and as they are made with raw cacao, they lifted my mood and boost brain power (raw cacao contains more natural chemicals than the regular choc to enhance dopamine). They kept me going long into adventures out that evening.
The Good Life Eatery has got the feel-good factor on every level, from its bouncy, enthusiastic staff to the nutrition-packed food menu. This place is one of a kind and I hope (and pray) they populate across the rest of London very soon.
As well as 'better for you brekkies' they do lunch and early evening dinner. Visit their Facebook page for more details. Their website is coming soon
READ MORE HEALTHISTA EATS
HEALTHISTA EATS Designer vegan
HEALTHISTA EATS The 5 best gluten free afternoon teas
HEALTHISTA EATS Quick hot lunch 
HOW to eat PIZZA without the bloat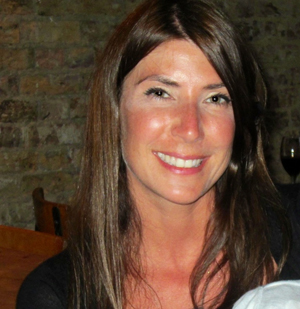 CHARLOTTE DORMON is our Healthista Eats blogger.  She's not a chef, or even that much of a cook.  If it's recipes you're looking for – you're in the wrong place.  But whether it's Sunday lunch or Friday night cocktails, she's the one friends and family turn to when they want to know how to eat out and be relatively healthy.  Each week she'll now be bringing you the same insider knowledge.  We'll drink – and eat – to that. Follow Charlotte on Twitter @lottielurvsu
Like this article? Sign up to our newsletter to get more articles like this delivered straight to your inbox.