We've compiled eight enticing gifts to awaken the senses from body lotions and scrubs to innovative sexual treats and relaxation-inducing gadgets.  Enjoy!
Eyecicle –  £150.00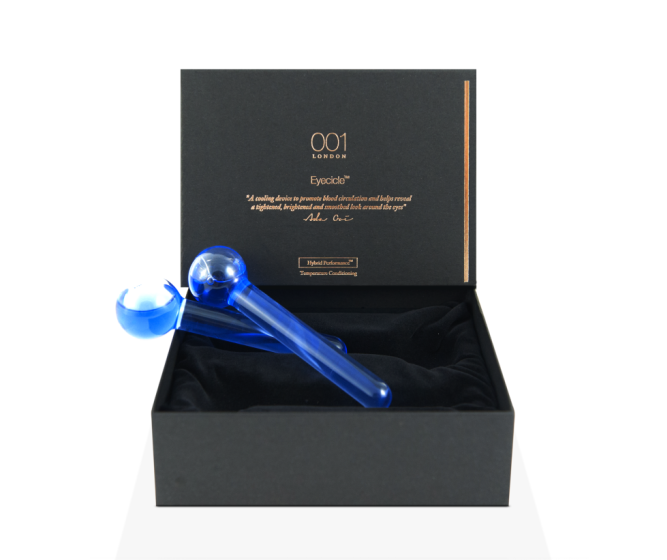 We all have girlfriends who complain about their dark bags or crow's feet. It's not surprising considering the skin around our eyes is unbelievably, ten times thinner than the rest of our face.
Beauty expert and aromatherapist Ada Ooi, who is the founder of the award-winning 001 Skincare brand states: `Our eyes are often the first place to show signs of ageing, yet it's the one area we tend to neglect the most.`
Well, now we have a timeless facial treatment dedicated to the eye area which can be easily used at home. Eyecicle is the £150.00 artisan glass Temperature Conditioning beauty device that you pop into the fridge for 30 minutes and then use as a massage tool to roll, point and swipe on the seven different pressure points around your eyes. It comes with a full guide to using it to massage your eyes back to de-puffed beauty.
New research shows that our skin ages when our skin's surface hits 37 degrees plus, which happens often due to exposure to office lights, light generated from computer screens, UV radiation and heat radiation, leading to skin inflammation and thermal ageing.
Temperature Conditioning combats this problem by decreasing our temperature to 29 degrees which makes our blood vessels immediately expand and contract, stimulating blood circulation.
The coolness and acupressure motions activated by the Eyecicle stimulates blood flow and sends nutrients and oxygen to the skin cells around the eyes which flush out toxins and increases metabolism needed for skin cell regrowth and renewal.
You will be left with plumper, smoother and brighter skin around the eyes. So, say goodbye to puffy eyes and dark bags and hello to the brighter and firmer days in 2015.
Elle Macpherson Wet and Dry Brush – £23.95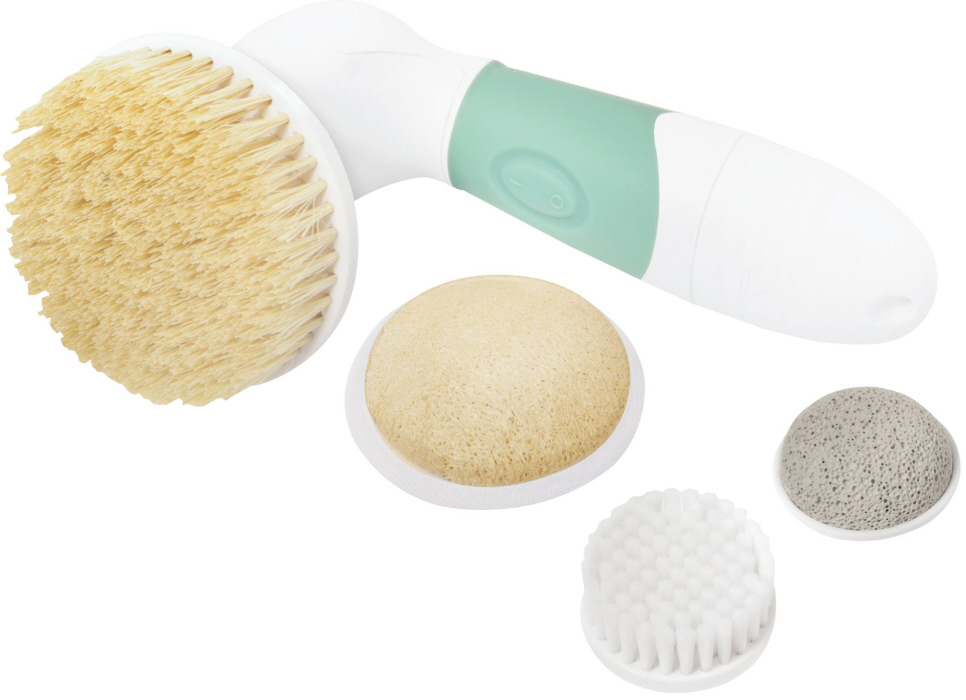 This set is essentially four gifts in one because it includes four different exfoliating components so that you can focus on the areas you want (or need) to the most. The head rotates itself, essentially exfoliating and massaging your body, so there's no need to tire your arms out.
Following last year's success with beauty gadgets, Elle Macpherson produced the Wet and Dry Body Brush explaining `A key part of my regime is exfoliation`, and no wonder considering it increases circulation, removes dead skin cells and helps renew them; great benefits for any person.
The four different brushes included are a pumice stone, cactus dry brush, loofah, and a facial cleaning brush meaning you can exfoliate your body top to bottom, indefinitely, for £23.95
The pumice stone originates from volcanic rocks and is generally used to remove hardened dead skin from the heels and bottom of the feet.
Cactus dry brushes, which are made from the firmest bristle, help remove toxins, reduce the appearance of cellulite, renew skin cells and boost circulation.
Loofah's are made from the fibrous properties found in the Luffa cylindrica plant and removes dead skin cells.
A facial cleaning brush is used to remove oil and dead skin cells, producing more collagen to lead to firmer skin.
Since it's waterproof, it's even usable in the shower and bath, so go ahead and pamper yourself or a loved one to healthy and radiant skin.
Dreamwash Shower Smoothie –  £9.95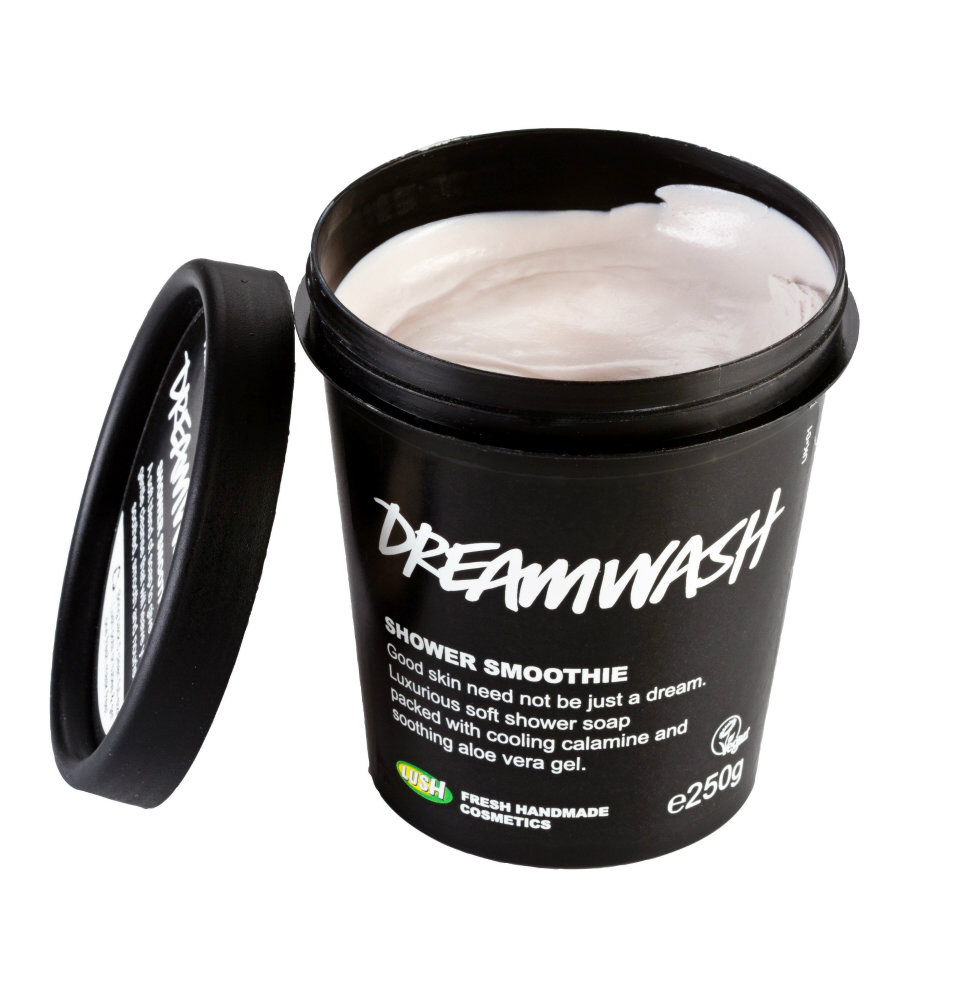 Lush cosmetics have created a special unique body wash which soothes, restores and rehydrates sore or sensitive skin.
The blend consists of Fair Trade Organic Aloe Vera gel, Calamine gel and Rose Absolute, as well as Tea Tree, Lavender and Chamomile Blue oils (to name a few).
These ingredients combined act as an anti-inflammatory, anti-septic, anti-bacterial and relaxing agent. With all of the above ingredients and benefits in one bottle, it's difficult to be anti-lush for  £9.95.
Treat someone to the silky, calming shower smoothie for moisturised, healthy and dreamy skin.
Desirable Moments
Twenty-One – £49.95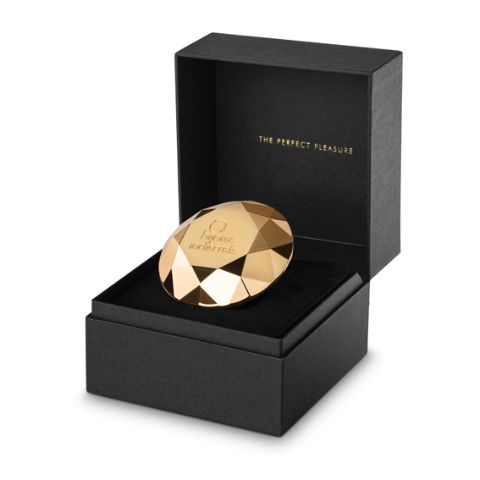 If you know someone who is embarrassed or put off by big sex toys here's a new invention that solves both problems.
It could easily be mistaken for a grand piece of jewellery but oh no, this sophisticated number is in fact Twenty One, the vibrating diamond by Bijoux.
The glamorous toy includes three vibration levels and seven different patterns for you to choose from to grant intense stimulation or a sensual massage. The many sides of the diamond helps stimulate and penetrate different areas so every part of your body can gain pleasure.
A satin storage pouch and USB charger are included meaning you can wrap it up discreetly and never have to worry about batteries.
Twenty-one will provide the three S's – Sensation, Stimulation, and most importantly, Satisfaction. For £49.95, this feminine and petite golden diamond is going to be the new best friend for every woman.
One year of Lust – £75.99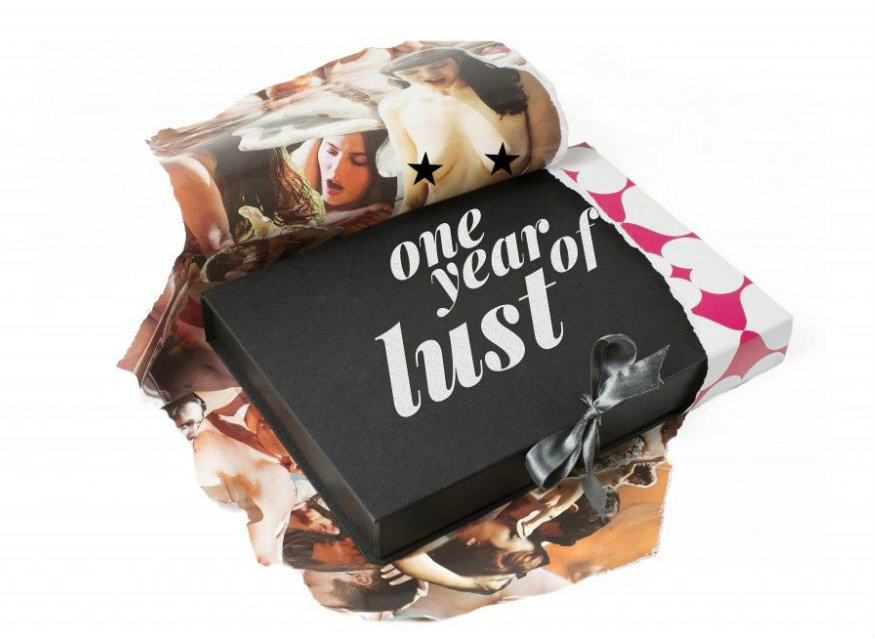 Looking for an original and pleasurable gift? Look no further than One year of Lust – one year's subscription to the Xconfessions website, founded by feminist porn director Erika Lust where two original adult short films are released every month for you (and possibly your lover) to enjoy.
A little discreet black box arrives at your door in a wrapping paper that is not quite as innocent as it initially appears. Within the box will be an access code for a year's access to the Xconfessions website. You will have access to all the past films and stories as well as the new pleasures Xconfessions has to offer this year for £75.99.
If you have any fantasies that you wish to be played out, you can send in anonymous requests on the website. Erika chooses two of the best options every month and produces elegant and erotic films which portray sex in a positive and non-demeaning way that is suitable for both men and women.
Simply pop in your email address and create your very own anonymous account. You can thank us later.
Time to Unwind
This Works Sleep Plus+ Pillow Spray – £25.00
Do you know friends that have difficulty sleeping? Well we have found the perfect gift – the Sleep Plus Pillow Spray by ThisWorks is clinically proven to help people have a great nights sleep.
Using Microencapsulation tehnology, ThisWorks produced a blend of Lavender, Wild Camomile and Verivert which lasts for eight hours and is motion-activated so when a person moves during sleep, the fragrance is released.
With a natural remedy to restore sleep patterns, there's no need for endless hours of turning in bed or prescription pills.
A whooping 94% of people tested stated they had less disturbed sleep and 100% said they'd recommend Sleep Plus to a friend, and so do we. Have a positive difference on the night owls' life and buy peaceful sleep in a bottle for just £25.00.
Basil and Mint Body Scrub by Shiffa – £55.00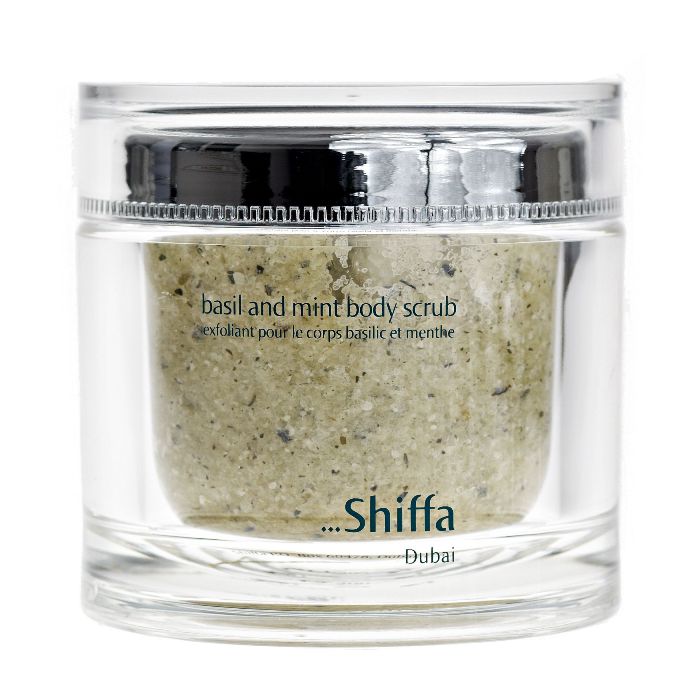 This energising and mineral-rich Dead Sea salt body scrub targets cellulite and detoxifies the body of dead skin cells, helping purify skin.
Shiffa was founded by Dr Lamees Hamdan who wanted to produce a luxury product that had a positive effect on skin and general well-being. Using high-end Middle Eastern ingredients such as Egyptian basil, orange, grapefruit and peppermint, this £55.00 natural scrub will cleanse and nourish the body resulting in firmer, radiant and softer skin.
The fragrance is an invigorating balance of mint and basil to help you or a loved one relax and unwind. Take a long soak in the bath and feel refreshed and revitalised.
If you like this, why not try Shiffa's Basil, Mint and Black pepper body wash for £25.00
Holistic Silk Organic Lavender Candle – £32.50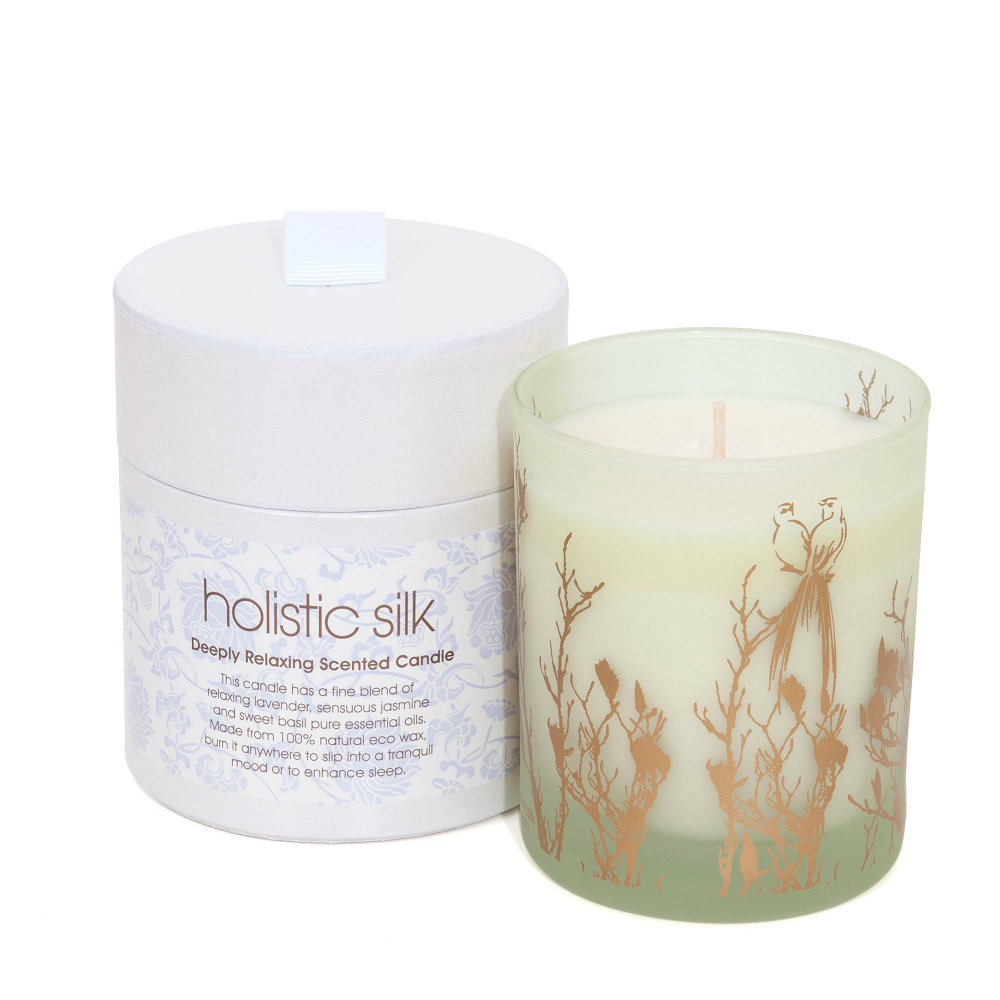 Made from lavender, basil and jasmine essential oils, this 100% natural eco wax holistic candle produces a deeply soothing scent which aids relaxation and enhances sleep.
The candle is retained in a cylinder glass holder which is detailed with simplistic but beautiful gold branches and birds which adds to the calming atmosphere and acts as a perfect décor attribute.
We all need help de-stressing and a little bit of `me time` so give someone 50 hours of relaxation as a gift this Christmas for just £32.50.
Read more in Healthista's Christmas Gift Special:
8 gifts for health tech-lovers
Like this article? Sign up to our newsletter to get more articles like this delivered straight to your inbox.