From guilt-free treats for the taste buds to playful kitchen gadgets that will revolutionize meal times,  we've got every base covered for the food obsessed this holiday season.
One thing's for sure, Christmas centers around food and plenty of us can't wait to get our hands mucky in the kitchen, or spend our time drooling over the season's nibbles. Sound like someone you know? (or perhaps everyone) We've tracked down some health-inducing gifts to excite the foodie within us all.
Taste Sensations
Doisy & Dam Chocolate Bars – (3.50 per 100g bar)
Do we even need to ask whether you know a chocoholic? No Christmas would be complete without a melt in your mouth chocolate bar, but it needs to be choc of a certain calibre to deserve gift status. Well, we found something special… Say hello to Doisy & Dam, the superfoods wrapped in velvety dark chocolate.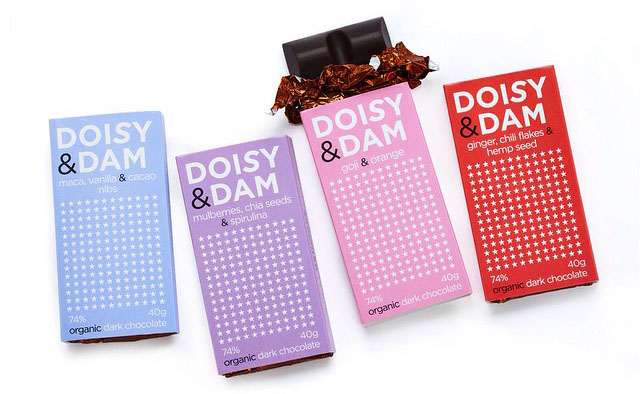 These chocolate bars like no other. Doisy & Dam have laced each one of their luscious bars with notorious superfoods such as chia seeds, goji berries, hemp seeds and maca to deliver delicious dark chocolate that will actually boost your health. They are lovingly handmade in the UK using top notch organic ingredients to maximize nutritional properties and they are one hundred per cent vegan. Finally an excuse to eat chocolate.
We of course had to run a taste test to make sure they were fit for purpose, and we can assure you this dark chocolate is melt-in-your-mouth-stop-your-heart-fantastic. We couldn't pick a favourite so here's the rundown.
The Ginger, Chilli flakes & Hemp Seed bar has a fiery kick with the chilli working well to enhance the spicy-ness of the ginger, and still it's oh so sweet. The Maca, Vanilla & Cacao Nibs bar is a creamy vanilla dream, with crunchy cacao nibs ensuring it delivers on texture and taste. For the citrus fiend the Goji berry & Orange bar is a fruity delight speckled with chewy goji berries. And last but not least, the spirulina in the Mulberries & Chia seeds bar adds a welcomed "greeny" taste will leave you hankering for more.
Whose eyes would not light up at the sight of these gloriously pastel packaged choccy delights?
Find Doisy & Dam Chocolate bars at doisyanddam.com for £3.50 per 100g bar or £1.75 for a 40g bar (free delivery on UK orders over £20)  
Amanzi Tea – Mulled Wine tea & Roasted Almond tea – (£9.99 per tin)
When the air turns chillsome nothing quite fixes it like a hot cuppa. But we're not talking your bog-standard builder's brew here. Amanzi tea has blessed the world with a range of luxurious loose leaf Christmas teas with fun flavours. This is the cozy way to detox.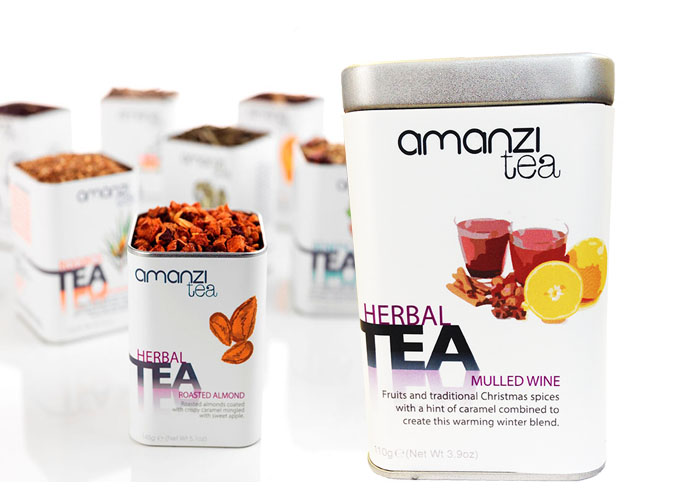 Packaged in frightfully modern cubed tins of minimalist design, these Christmassy teas not only smell good enough to eat but they stand pretty on the kitchen counter. We found two irresistible flavours that are bound to blow your friend's woolly socks off.
First up, making an appropriate debut, is Amanzi's Mulled Wine tea. Suitable for the mulled wine fanatic who wants to limit the alcohol, this tea smells heavenly and tastes it too. The addition of hibiscus blossoms, elderberries, rose hip peel and mistletoe combine to make a fruitfully aromatic spiced tea. You can really taste the cloves and there's touch of caramelized apple. With all the festive spice minus the wine, this is a delicious way to warm someone's Christmas spirit when it's a tad too early to be hitting the booze.
Next we have a tea for the sweet toothed. Amanzi's Roasted Almond tea is in a world of it's own. Complete with toasted flaked almonds, beetroot pieces and cinnamon bark it made us weak at the knees with an aroma like that of a nutty apple pie. And it tastes divine. Rest assured, almond works wonders in tea and gave this brew a marzipan-y flavour. Deliciously sweet, we can guarantee this won't disappoint.
Amanzi is a London-based boutique tea shop and bar but you can order a tin for £9.99 online or over the telephone here for the deliveries in and out of the UK.
ElectrIQ Frozen Fruit Dessert Maker – £24.98
'Tis the season to over indulge, and that can often be followed by guilt. But not this time. Reignite your pal's fruit love-affair and steer them away from an ice-cream binge with The Frozen Fruit Dessert Maker by Electriq.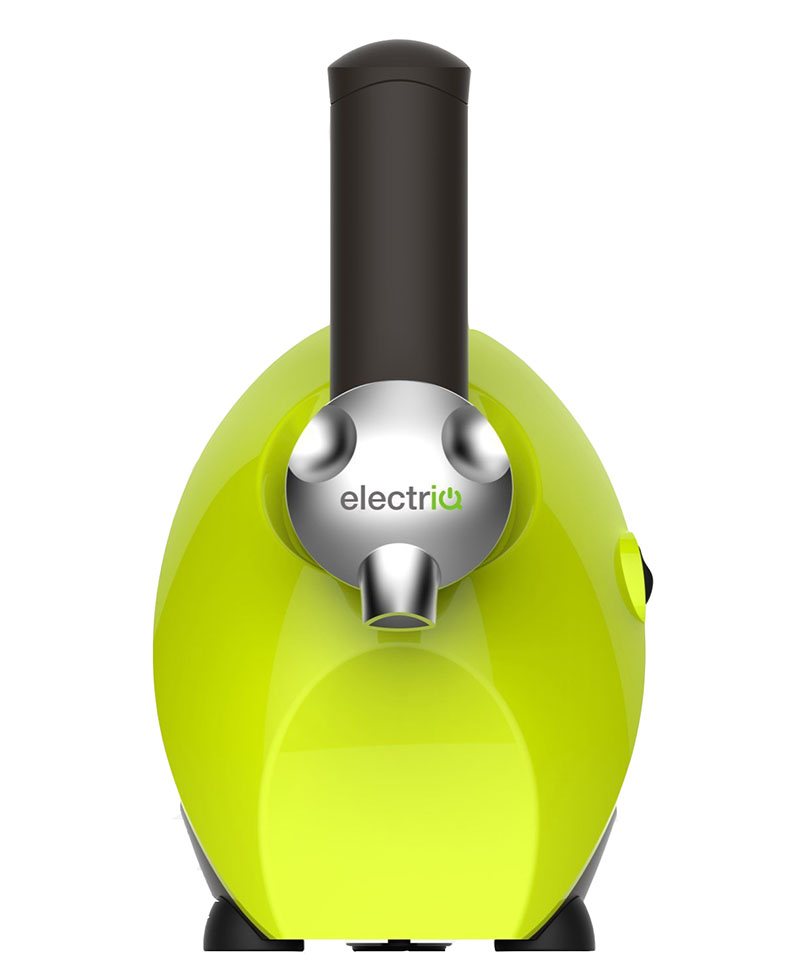 This gift is great for fruit lovers, vegans, lactose-intolerants and the health-conscious who begrudge depriving themselves of something sweet. And it's pretty simple. All your loved one will need is their favourite fruit and frozen.  Next step is to simply plunge their desired frozen fruit down into the dessert maker's grinder and voila – Out will come coils of fruity ice cream without the fat.
This is the perfect gift for something who often falls victim to that post-dinner sugar craving (don't we all) but wants to keep on track with feel good foods that won't upset their digestion. You get to enjoy the satisfying mouth-feel of soft scoop ice-cream whilst packing in vitamin rich fruits, and the process itself is gimmicky and fun. Think Mr Whippy but with fruit.
So how does it recreate that smooth ice cream texture? The steel blades of the grinder are dotted with little holes so that air can get incorporated into the fruit as it churns. Frozen bananas work particularly well for a thick creamy result and you can mix and match any fruit you like.
Top with nuts, sugar sprinkles or make it slightly naughty with chocolate curls. This nifty little contraption comes in a luminous lime green and won't take up much space on the kitchen counter. We guarantee it will make them feel like a kid again – What a bargain for £29.98.
Find the ElectriQ Frozen Dessert Maker here for £24.98.
Harcas Spiral Vegetable Slicer £14.97 
Know a veggie addict who wants to curb the carbs? Then they may just love the Harcas Spiral Slicer – a funky handheld mandoline that turns your veg into pasta in seconds. Some kitchen gadgets are a whirl for thirty minutes, then you put them in a draw and they never come out. This slicer however will easily become your friend's go-to-gadget because it makes dinner that much more interesting.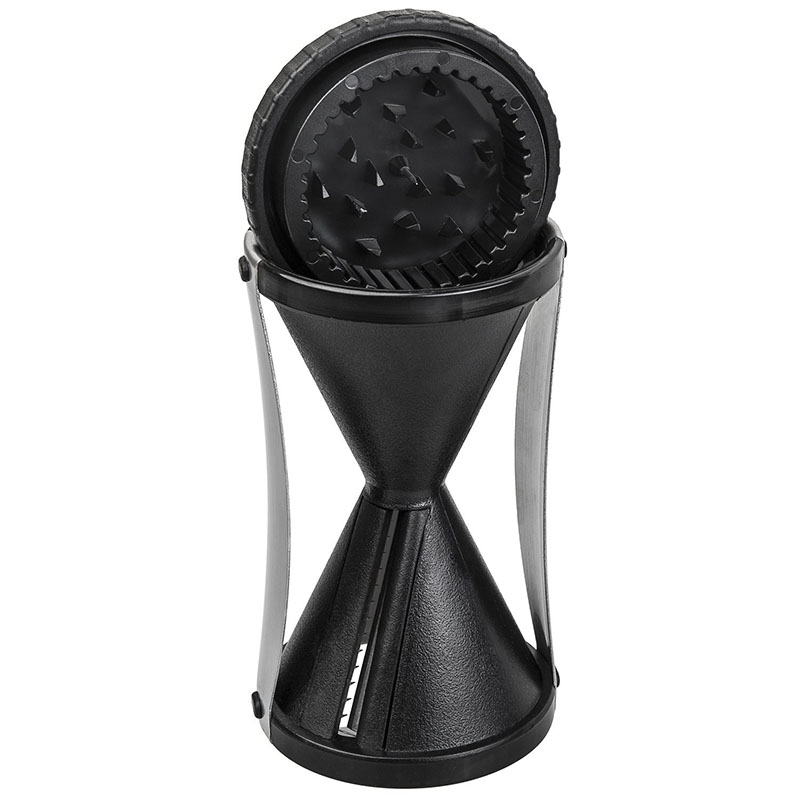 This is for someone who likes to play chef and get creative with their veggies but wants less hassle.  Working much like a pencil sharpener, you can push and twist raw courgettes, carrots, small sweet potatoes and parsnips into either end to produce varying thicknesses of vegetable spaghetti in seconds. Easy peasy. It can add a bit of fun to meal times, and the stringy consistency of pasta (good for holding sauces) can still be enjoyed without the insulin spike of the wheat-y original. Know anyone raw? It's especially great for spicing up raw food diets by adding new textures.
And no need to worry about clumsy people, there are finger guards built in to avoid any catastrophes. Yes it's a tad gimmicky but it's sure to become an integral tool in the kitchen, allowing someone to be versatile with their veg. The Spiral Slicer offers that added bit of help getting back into (and enjoying) clean eating after some festive decadence, and for under fifteen quid is a kitchen friend well worth the spends.
You can find the Harcas Spiral here from Amazon for £14.97. 
Amber Rose, Sadie Frost and Holly Davidson – Nourish: Mind, Body & Soul – £13.99
So do you know a foodie who's buckling under life's demands and is just about ready to go into meltdown? Then you can rescue them with inspirational book Nourish. This handy little life-guide is the perfect gift for someone in much need of advice and motivation to get their life (and health) back on track.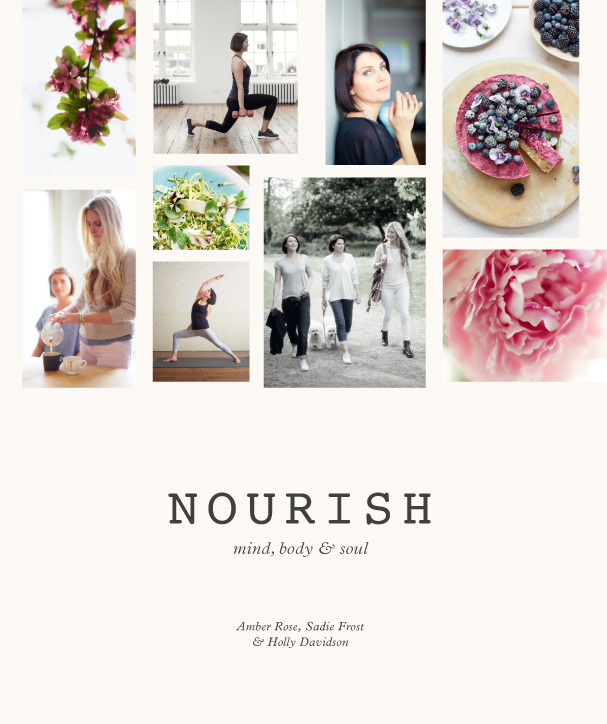 This book has it all, from advice on meditation, yoga and exercise to recipes that will heal the immune system. A book focused on relaxation and balance, the stunning photography throughout reflects this making it a wonderful addition to any book shelf. It all looks rather blissful.
The book is broken into three manageable chunks. Amber focuses on nutrition, Sadie shares her knowledge of meditation & yoga and Sadie gives tips on making time for exercise.
So what about the cooking? And it's not just for the keen cook, but also something for the ambitious newbie.The recipes are simple and involve pretty much basic ingredients that won't be difficult to get your hands on. No fear of bizarre ingredients or exhausting-ly complex cooking methods being found in here. Plus they all look positively scrummy and utilize food groups that are abundant in nutrients essential for immune health. For breakfast they could chow down on Poached Eggs with Cauliflower Toasts, Kale & Dukkah, impress friends at dinner with Lemon & Sumac Chicken, and perhaps round off the day with guilt free Spiced Chocolate and Sweet Potato Brownies…
Find Nourish: Mind, Body & Soul here on Amazon for £13.99.
Philips Compact Juicer £64.99
Know someone who's feeling a bit sluggish? Why not put a spring in their step by gifting them a life time's supply of real juice? Juicing is everywhere and if you aren't jumping on the juicing bandwagon then you are missing out. Sipping on a fresh juice is like pumping vitamins directly into your veins. Think super energy hit. Think super nutritious.  It's fair to say that The Philips Compact Juicer is a good friend to have.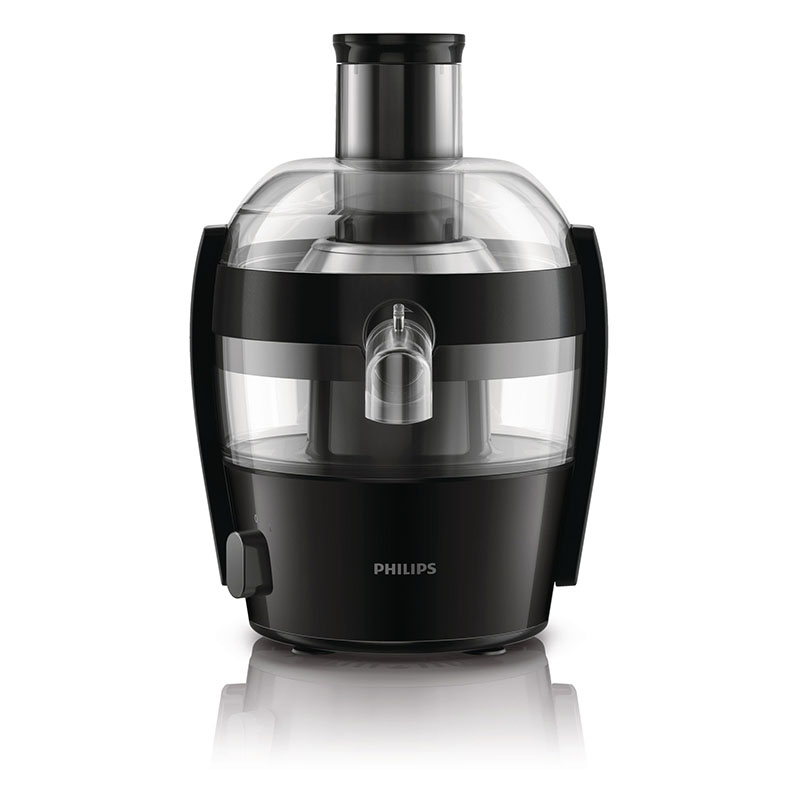 A juicer could be quite an intimidating gift just due to it's bulk-where an earth are you going to put it? But Philips Compact Juicer is just as the name suggests-'compact'. And don't think it can't run with the big boys. This juicer makes up for it's teeny stature with sheer gusto, and is able to munch it's way through some pretty tough fruit and vegetables. In fact, it was quite surprising how much power it kicked out. We were able to feed through some rather hefty chunks of sweet potato, seasonal squash, beetroot and carrot with ease.
It's condensed size means it doesn't take up much space and more importantly, the dreaded part of most juicing-clearing up the pulp, isn't a painstaking task with this machine. You can just unlock the arms on either side of the juicer, lift out the layered components piece by piece and you'll be happy to know that this the easiest to clean juicer we've ever tried.
Primrose's Kitchen Christmas Hamper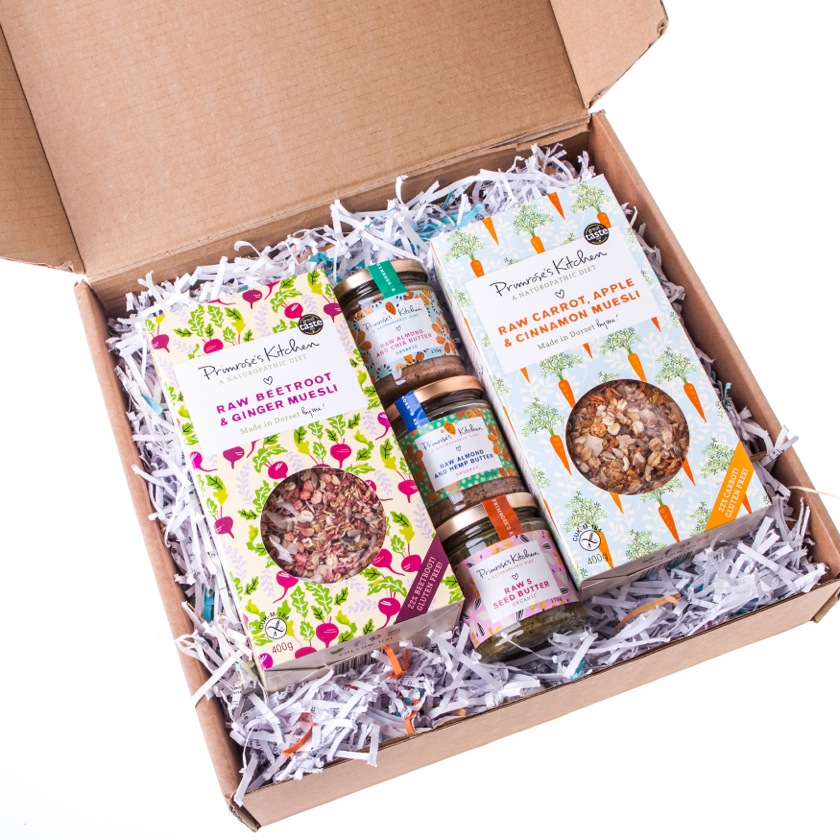 Primrose's Kitchen have rustled up an eco-friendly hamper that is sure to delight any of the health-conscious. This hamper is an introduction into Naturopathic eating. Primrose's motto is 'Be Natural, Eat Natural, Live Natural' so rest assured this edible hamper is one hundred per cent chemical free, and it's contents taste incredible.
Inside the box (where it won't remain for long) you will find two intriguing blends of raw mueslie: Carrot & Cinnamon and Beetroot &Ginger. These raw veggie breakfasts have been ranked highly for their deliciousness and have both been honoured with stars from Gold Tasting Awards. Bursting with festive flavour thanks to the cinnamon and ginger, these oats are wheat and gluten free and containing notable super seeds chia and milk thistle to nourish the body.
If that wasn't enough of a treat, there's added excitement in the form of mouth-watering raw seed and nut butters. First up is the Raw Organic 5 Seed Butter, an enticingly green blend of your top five seeds- pumpkin, sunflower, chia, hemp and linseed. We couldn't and we wouldn't wait to delve right in with our spoons. Yes, you can spread it on your baked goods or dollop it into your porridge, but we found it's just as easily swallowed straight from the spoon. Then there's the double whammy of two Organic Raw Almond butters, one with hemp and the other with chia. Almond is the star of the show due to its alkalizing effects on the body. You can either bake with these, add them to dressings or once again, just simply a teaspoon may do the trick. This hamper is a gift that will soothe the body and the taste-buds.
Find Primrose's Kitchen Large Christmas hamper here for £25. Find out more about Primrose Kitchen here
Wholefoods Raw Hamper – £80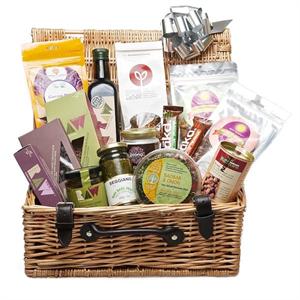 Maybe you're looking for a hamper on a bigger scale? Wholefoods have squeezed a feast of uncooked goods into a wicker basket for the budding Raw-ist. Stocked with edible delights such as tangy apple cinnamon rolls, Baobab & Onion Kale Crisps, Wasabi almonds,Buckwheat Granola and plenty more there'll be no tummy rumbles from your raw friend for a while. You can completely spoil someone for £80.
NutriBullet – £84.99
If gadgets could talk the Nutribullet would be envied face of the kitchen counter top, and there is one particular reason why.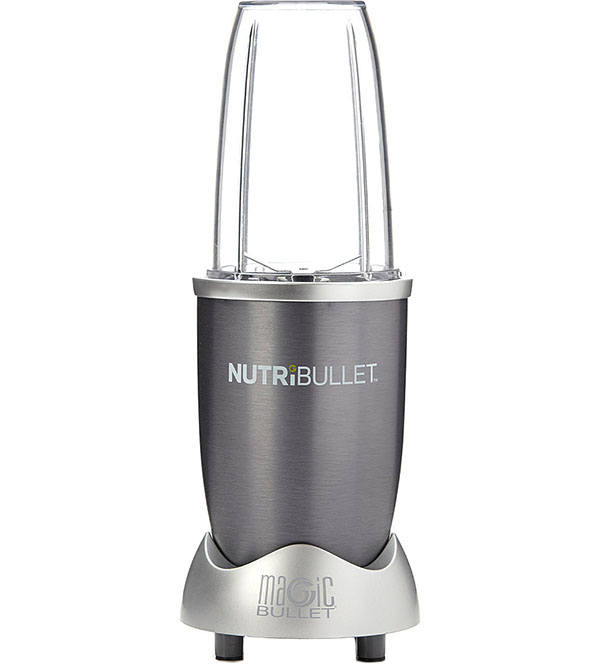 Do you ever ponder on the pulp left behind in your juice maker? You should. Hidden away within the tiny seeds of strawberries, kiwis or apple skins are vital nutrients that often get thrown away. These parts a tricky to break down for your average smoothie maker or juicer. But not for the Nutribullet. You wouldn't believe it judging by it's size but this tough machine is built with bullet cyclonic action (yes this is serious stuff people) and turbo extractor blades that reach a whopping ten thousand RMP. At this speed the blades can pulverise all of the fiddly bits that are packed with goodness into a lusciously thick smoothie that's easy to digest, meaning your body can get to work absorbing every last drop of nutrition more effectively. The strength of the blades gives room for much experimentation. Chuck in ice or frozen fruits for a slush-puppie, blend nuts into a smooth creamy butter or even mill oats into flour for a wholesome breakfast shake. The tool for optimum nutrition extraction. It's all about the juice when you're giving your digestion a break and embarking on a cleanse, but at other times your body could really do with the fibre. The Nutribullet  This is blender that not only multi-tasks like a pro . You can blend pretty much anything you like.
Find the Nutribullet here for £99.95
More in Healthista's Christmas Gift Special:
9 gifts for healthy tech-lovers
Like this article? Sign up to our newsletter to get more articles like this delivered straight to your inbox.