Looking for a little pampering? Genny Wilkinson-Priest gives The Chelsea Day Spa's Detox Diva treatment a test run
I'm from New York where what qualifies as pampering in London is considered basic maintenance on the island of Manhattan. Spot on your face? Book in for microdermabrasion, stat. Too much red wine and coffee? Get those teeth whitened at the weekend. Is that a hint of root growth? Not on the Upper East Side it's not.
So yes, there was once a time when I had facial every six to eight weeks. The kind of facial that would last an hour-and-a-half, where I was led into a serene state with soft hands, tinkly music and the scent of Jasmine flowers.
Then BAM. All of a sudden I had four kids, and a mortgage on a London house. I neither had the time, nor the money for New York-style upkeep.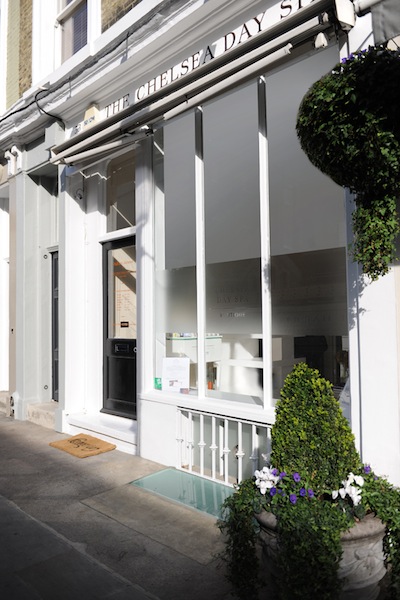 So it was with great excitement that I got the chance to review Chelsea Day Spa's Detox Diva: a one-hour HydroPeptide Facial, followed by a one-hour Lymphatic Massage.
Come to Mama!!
I was a bit late arriving at the Fulham spa (there is another branch of the posh part of King's Road) but was greeted warmly nonetheless. The spa, like most others you will have visited, is decorated in that slightly clinical pristine white. The lounge itself seems larger than the treatment rooms put together, but the overall effect was one of serene, discrete comfort – just what you'd expect from a West London spa.
The spa just celebrated its fifth birthday, and offers a range of services from the now commonplace gel manicures and hot stone massages, to  eyebrow tint and strip waxing. There are some more unusual offerings on the menu as well: a 'Clarity Infusion for Acne' which promises to destroy acne causing bacteria, and 'When Harry Met Sally' which purports to get you ready for a hot date with a HydroPeptide Facial, Lymphatic Body Massage and Chelsea Manicure and Pedicure.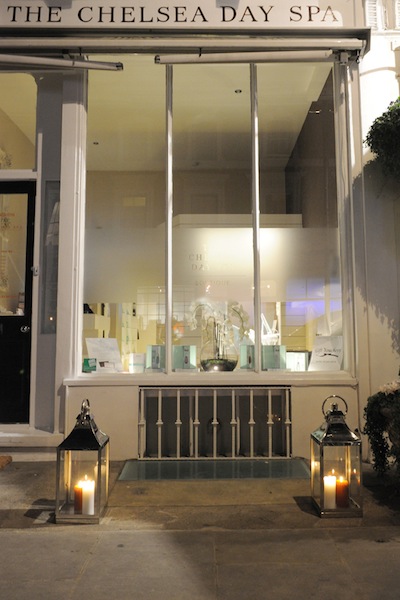 It's a saccharine marketing gimmick to name a treatment package after a movie (there is also 'Pretty Woman' and 'Breakfast at Tiffany's') but kudos to the owners for trying to inject some humour into what is otherwise just a facial, massage and manicure.
They do offer a 'New York Manicure,' which of course caught my eye. I used to get a manicure and pedicure every week. That's right EVERY WEEK in New York City, costing me a measly $30. The Chelsea Day Spa offers both for £40. So it's a bit of a misnomer, but I get their point – they are trying to bring the astronomical cost of nice nails down in a city that still considers the mani/pedi combo an indulgence.
Back to my massage and facial. My therapist was the lovely Noemi, who took me through the benefits of lymphatic massage. I said before I'm not a person to get many massages, but when I do it's invariably for relief from overdoing it on my yoga mat. The kind of massage where the therapist gets her hands deep underneath and into the muscle tissue. The kind of massage that makes you wince and not particularly enjoy it … but you know it's good for you.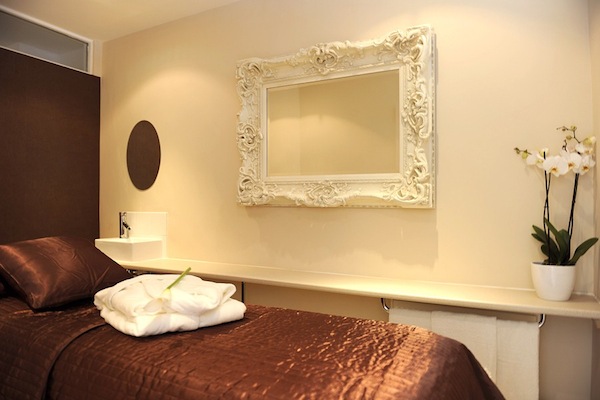 But a lymphatic massage is different – its gentle, long strokes are meant to stimulate the movement of lymph through the body, thereby removing metabolic waste and toxins from it.  Because the lymphatic system has no pump, its functions are dependent upon muscle contractions, diaphragmatic breathing, and body movement.  If you don't exercise a lot or drink enough water,  it's common to develop a sluggish lymphatic flow.
Noemi said regular lymphatic massage will leave one feeling lighter, and fresher. Indeed I did feel better for the day following my massage. Though I couldn't tell if this was due to the massage or the simple fact that this mother-of-four was allowed to lie still in a warm room for an hour.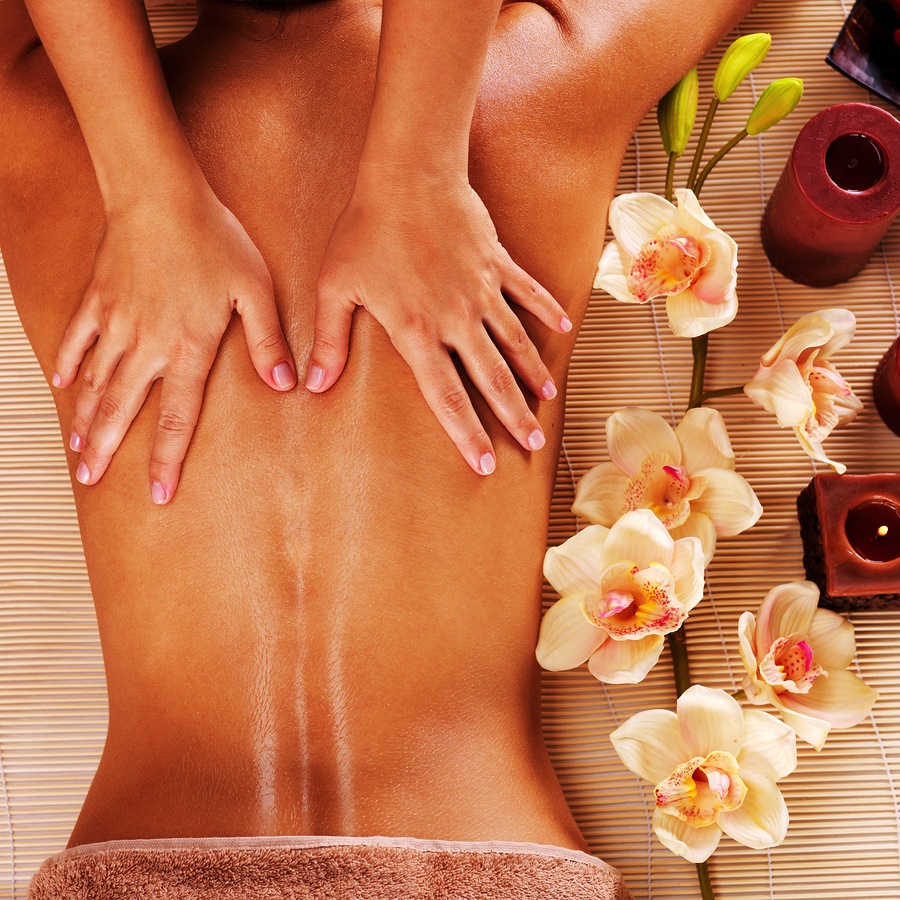 Noemi told me I had no cellulite (yay!) but low muscle tone (not so much yay.) She told me I needed to exercise more. (So I guess that whole 1-1/2 hours of yoga every day isn't doing much for me. )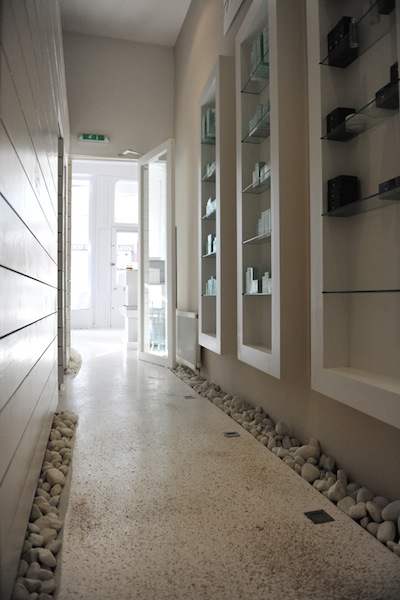 Never mind. Next was the facial using HydroPeptide products. Now I'm not one to get all excited about beauty products (unless it's Eve Lom, more on that in another story) but this stuff was pretty good.
It's touted (in the press release) as a collagen-boosting, skin thirst quenching facial that sloughs away dead skin to reveal your natural glow. I can't vouch for my collagen stores but my face felt softer, but not greasy. Fresh but not stripped of itself.
Noemi also preformed some deep tissue massage on my face – at times I felt like she was pulling my eyebrows up into my scalp, which actually felt quite nice and is a whole lot less painful than a surgical brow lift, but of course the effects don't last nearly as long.
All in all, I'd recommend The Chelsea Day Spa. It's not ridiculously priced (for London), the staff is friendly and knowledgeable and the premises clean, relaxing and upscale.
A 1 hour HydroPeptide Facial plus a 1 Hour Lymphatic Drainage Massage is now £150 (usually £200) at The Chelsea Day Spa, Hollywood Road branch. For a full price list, please see thechelseadayspa.co.uk. 
The Chelsea Day Spa
69a King's Road
London SW3 4NX
020 7351 0911
The Chelsea Day Spa Boutique
53 Hollywood Road
London SW10 9HX
020 7351 4555
More from Genny Wilkinson-Priest
EXPLAINED: Astanga Mysore yoga
Think you can't do a headstand?
'I did intense yoga until I gave birth'
Like this article? Sign up to our newsletter to get more articles like this delivered straight to your inbox.