Champagne that makes you skinny? Well, not exactly but it won't be making you fat – with sparkling skinny wines from 60 calories a glass, Thomson & Scott has definitely got the Healthista seal of approval
As the bells of the weekend chime in, you may find yourself celebrating your freedom with a bottle of Champagne or Prosecco. But have you ever stopped to think how many calories are in a each glass? The average glass of sparkling wine will set you back 100 calories (and do you normally only have one glass?), fortunately Thomson & Scott's Skinny range of Champagne and Prosecco slash that by 40 per cent. Thomson & Scott was founded by BBC broadcaster turned French wine expert Amanda Thomson, who in an interview with The Daily Mail said 'the British have a history of loving champagne, but in today's more calorie-conscious market, I've found a producer who delivers… with no added sugar.'
the British have a history of loving champagne
More: The rise of Mindful Drinking

What is Thomson & Scott and where can you buy it ?
Thomson & Scott's Skinny Champangne and Prosecco are vegan and organic and they have been creating a buzz around the UK for the past few years. Currently, it is sold in premium outlets in the UK: London's Selfridges, Jeraboams, Harvey Nichols, and Brown Thomas to name a few.It's also available online from the Thomson & Scott website and from Amazon and the number of restaurants and bars, it is being served at is steadily increasing.
How does it taste ?
On Tuesday 21st February, Healthista went along to the COMO Metropolitan London on Park Lane to see what all the fizz was about. The event celebrated the launch of the Skinny range being served at the hotel now. The event was a grandiose soirée held in the Met Bar of the COMO, a great way to unwind after the madness of London Fashion Week. They served some delicious canapés and all of their sparkling wine range was available to taste, Skinny Champagne, Skinny Champagne Rosé & Skinny Prosecco. As soon as we entered the room, we were offered a glass of skinny champagne – and it was truly delectable. It was fresh, bubbly and fruity – we didn't miss the added sugar. After, we tasted the Skinny Champagne Rosé; it was even sweeter than the brüt – and by the end of the glass we were all converted.
the Skinny Champagne Rosé was even sweeter than the brüt, by the end of the glass we were all converted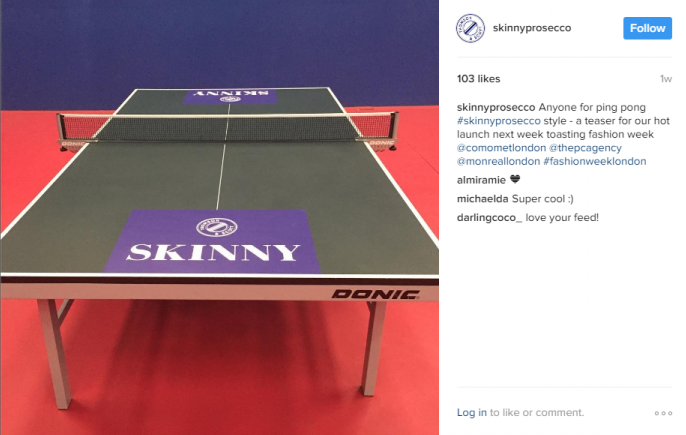 Aside from the champagne, our favourite feature of the night was the table tennis area right in the middle. Partly because we love to keep active, but also because there were some beautiful models wearing a sneak peak of the new Monreal London active wear collection.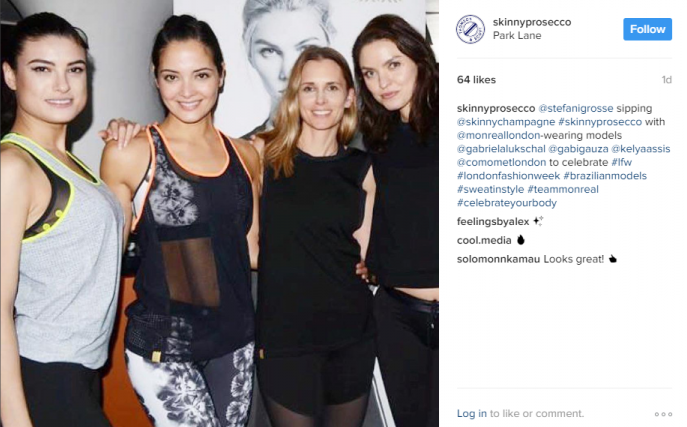 So in between trying to bat the ball over the net, we couldn't help but covet their fashionable fitness wear. All in all, it was a wonderfully healthy champagne filled evening and I'm sure our waists will thank us for it.