Charlotte Dormon puts Carluccio's to the test for dairy-free, gluten-free, low-salt and more…we'll have what she's having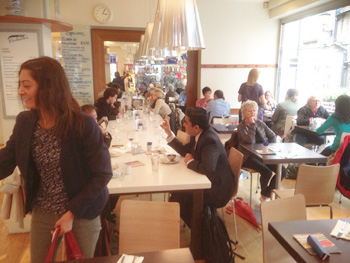 Italian cuisine has always been popular. Not considered 'textbook healthy' when compared to other Mediterranean cuisines, but Italian cooking is adored by fans for the endless tasty pasta classics, amazing breads and flavorsome meat dishes.
Carluccio's isn't a new craze. It is familiar to us all, considering there is now one on nearly every UK high street. I can't lie to you, I've had some disastrous experiences in a couple of them over the years, but I am pleased to say, when heading there for lunch with a colleague this week, I was suitably impressed by their efforts to accommodate my dietary requests.
After arriving cold and wet from the heavy rain, I was in desperate need of something hot, filling and full of carbs.  Once seated, we asked to see the gluten-free lunch options and ordered tea.  Within moments we were handed a full three-course menu, which included mouth-watering classics, such as carbonara, vongole and pesto pasta.   Although Italians do love their cheese, we requested both lactose and gluten-free. This was fine with our waiter and after going through the options, he was more than happy to pass on our requests to the chef.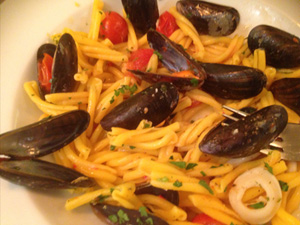 With only an hour to spare we didn't have starters, but I ordered the gluten-free Frutti Di Mare (pictured: seafood pasta with squid, mussels and prawns) and my low-carb and dairy-free guest had the pan-fried sea bass with fennel, capers and olives.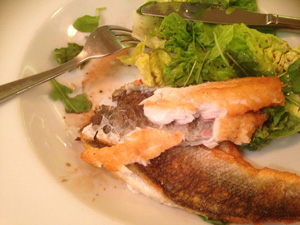 Although the fish dish was served with potatoes, the waiter switched them for a green salad and made sure the dish was diary-free ('No problem at all' was the reply, and 'Also no problem' when we asked for no added salt either). Soya milk was available for the tea and they had gluten-free bread as a side if we needed it.
Things were going well – there was a great atmosphere, cheery staff and a menu with plenty for those on low-carb diets, watching the waistline, or like us, more specific dietary needs.
On arrival both dishes looked good and thankfully tasted really great. The seafood pasta was suitably filling and full of flavor.  The sea bass was light, crisp and not oily at all, plenty of crunchy green salad and seasoned well.
Carluccio's is taking their customers' needs into consideration. Overall, this chain has stepped up to demand, and seems to have made a real effort to put together a menu that considers gluten-free dietary requests (they were one of the first Italian chains to do this), but they also have a number of modern and creative Italian dishes, with tasty ingredients that suit those wanting to eat out and stay in shape – for example, the soft goat's cheese, roasted peppers, sun dried tomatoes and pine nuts on mixed leave salad.  Although they don't put details on the menu, you can see all nutritional information online.
Carluccio's may only be a high-street chain – I know only too well how hard it is to find somewhere convenient to meet food-intolerant family or friends for quick plate of pasta and a glass of vino – but with this chain keeping their dining costs affordable and with new restaurants opening more frequently across the UK (even in shopping centres and train stations!) next time you're in need of a tasty Italian, do drop by.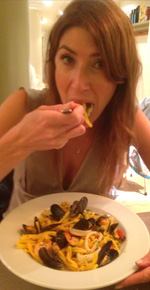 CHARLOTTE DORMON is Healthista's new Healthista Eats blogger.  She's not a chef, or even that much of a cook.  If it's recipes you're looking for – you're in the wrong place.  But whether it's Sunday lunch or Friday night cocktails, she's the one friends and family turn to when they want to know how to eat out and be relatively healthy.  Each week she'll now be bringing you the same insider knowledge.  We'll drink – and eat – to that.
Like this article? Sign up to our newsletter to get more articles like this delivered straight to your inbox.