Okay, we'll put our hands up and admit that this isn't the most slimming of options, but at this time of the year, we all want a bit of hearty over healthy every now and again. If it's the perfect Sunday roast you're after, Charlotte Dormon has just the place, The Duke of Cambridge – Britain's first certified organic gastropub.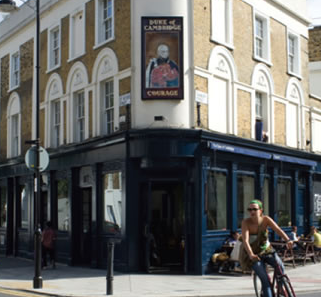 The great British roast dinner – it's certainly, like afternoon tea, one of the meals we are most famous for serving up well in this country.  For most of us, Christmas day wouldn't be the same without it, and for me in particular, the Sunday roast is the one meal I miss most of all my mum's home cooking.
I'm not one for spending hours slaving over the stove, so I do welcome the alternative option – a long walk followed by a visit to nice pub. Just sitting back with a glass of red wine, relaxing and enjoying a roast dinner. Bliss.
I was delighted to discover The Duke of Cambridge, to add my collection of favorite weekend eating hotspots. This pub in Islington is Britain's only certified organic gastropub, and a real find for those who like hearty, British, organic food.
But why eat organic? A number of studies have shown that not only is the nutritional value of organic produce higher than non-organic but I find organic fruit and­ veg simply taste better too.
Anything that is certified by the Soil Association is guaranteed free of all chemicals and additives which means  the food is unadulterated and contains no hydrogenated fats, artificial sweeteners, colourings, monosodium glutamate or other nasty additives.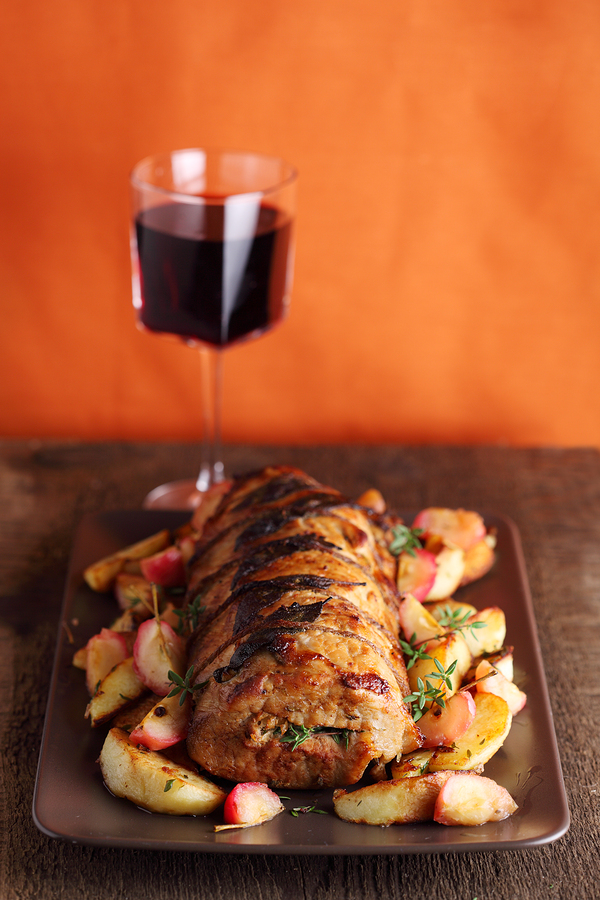 With that information in mind, I was most interested and impressed to hear that every ingredient used, every glass of wine poured and every meal served at the pub was entirely organic.
My boyfriend Oliver and I had no idea what to expect, but as soon as we walked in I felt the pub had a relaxed and homely atmosphere – and not at all 'different' looking when compared to any other good gastropub of it's kind, just because it's certified organic.
As far as the clientele are concerned,  sophisticated foodies  of mixed ages had come by for a leisurely lunch – thankfully, not the under 30s Sunday hangover crew fuelling up on stodgy food and a hair of the dog…
The pub staff all seemed calm, friendly and organized, and when questioned knew exactly where all the produce was sourced, the names of the suppliers and information on all ingredients within the dishes. They are all clearly passionate about the cause.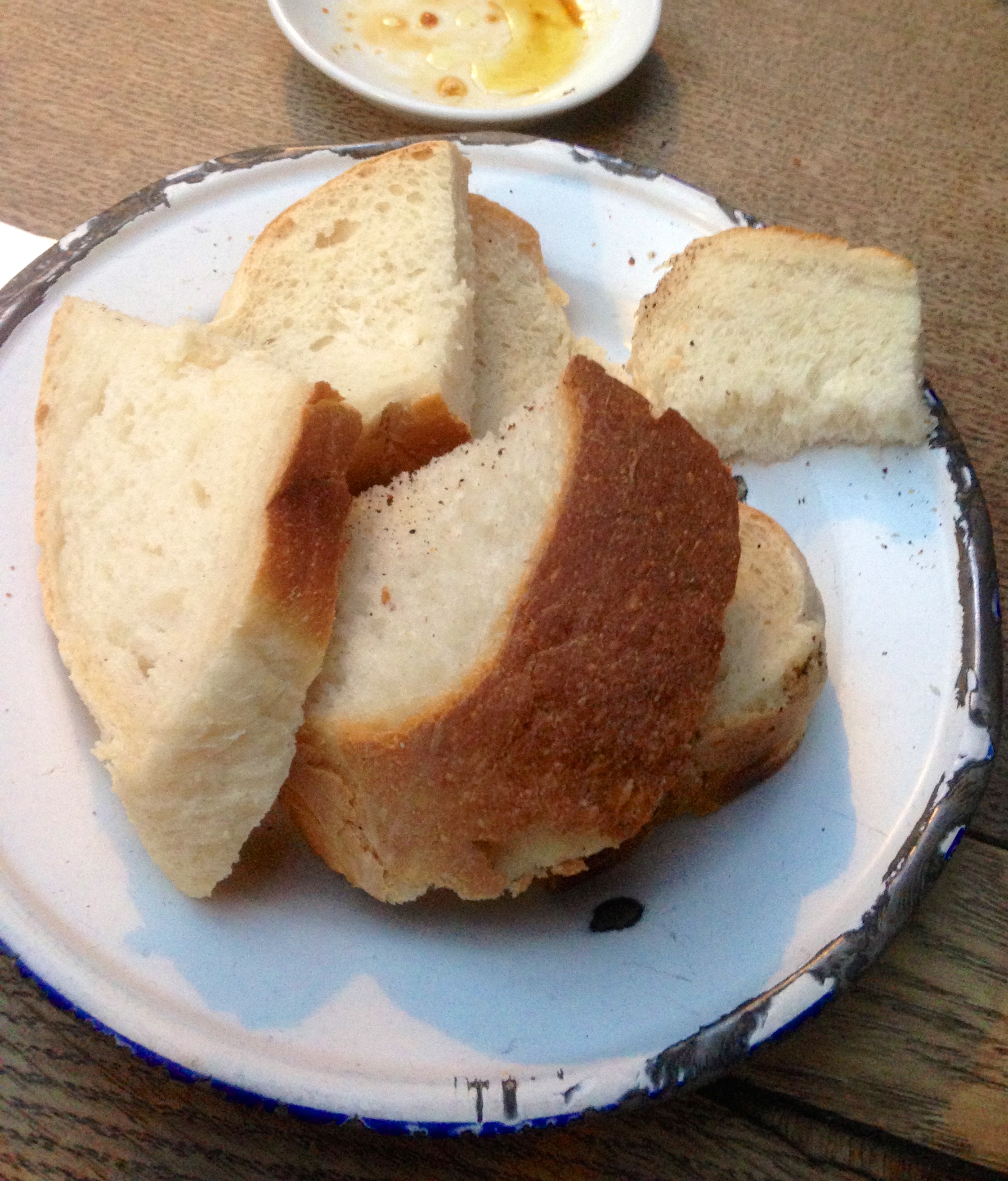 After deliberating over the menu of the day – they change their menu twice daily – we made the choice to step back from starters (in favour of pud), ordered a basket of their homemade bread with Italian olive oil and although I like us to both have a different main so we can try each other's, we decided sharing was not an option and both went for the roast pork.
The bread looked wonderful, it had a nice crunchy crust layer on the outside and soft and fluffy on the inside.  It came served in big rustic quarters and according to Oliver, tasted 'sensational'. The chefs make it from scratch and bake it onsite every morning, so if you are into your bread, then this one seems to be worth going carb-crazy on.
The roast pork was a huge portion and came piled high with roast potatoes, cabbage, cauliflower, parsnips, carrots, apple sauce, crackling and lots of piping hot gravy.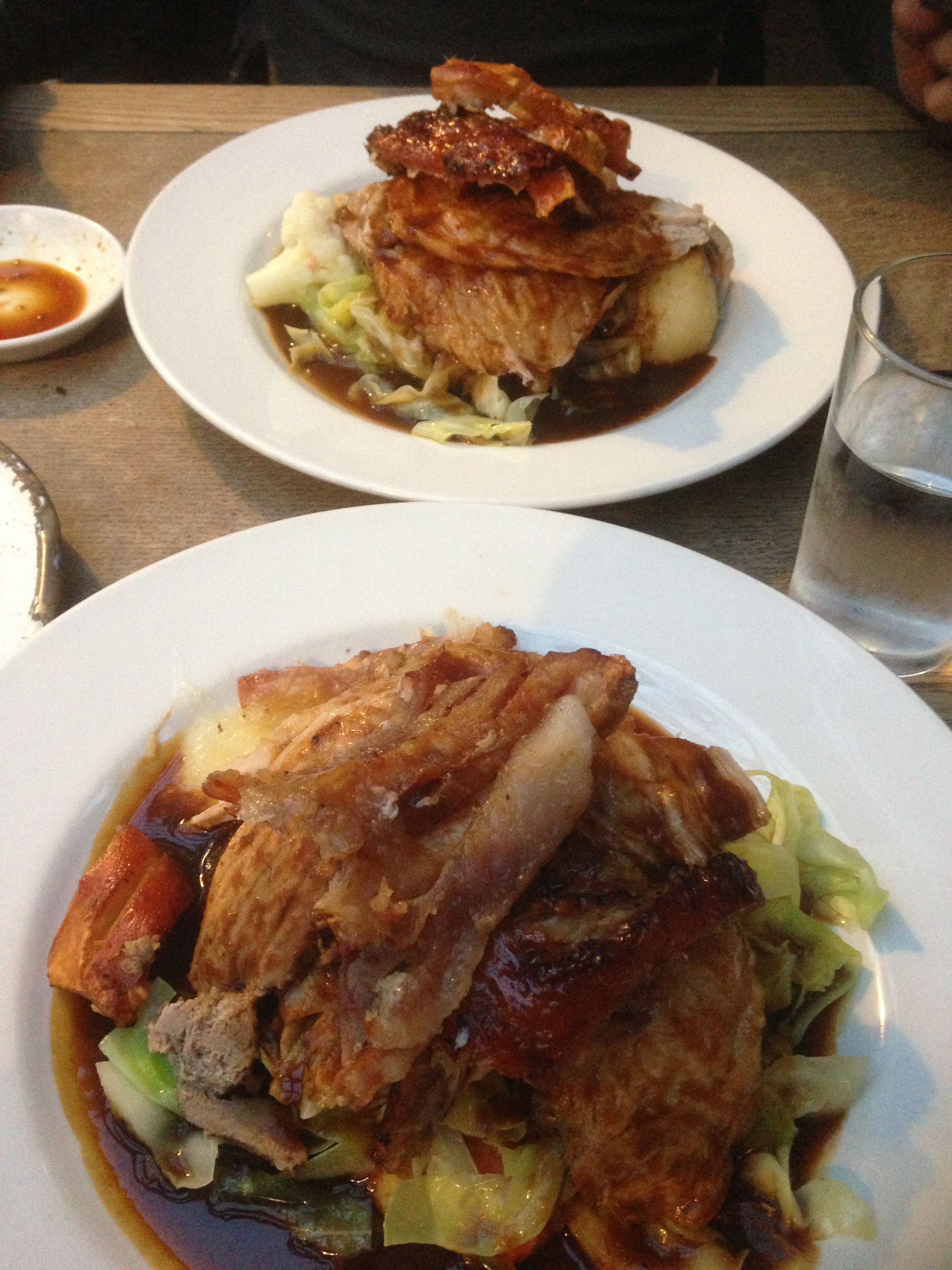 The dish was a delight and we both agreed how good it felt knowing that all the food we had been enjoying was of good quality. Some people shun the roast as they feel it is calorific or unhealthy, however, I would consider it as one of the most nourishing of all meals.  If cooked in a healthy way and with quality ingredients, then meat, vegetables, homemade gravy and potatoes can provide a great deal of good nutrition.  If you can pick somewhere that serves up this type of food, then it is a great comforting way to eat at the weekend.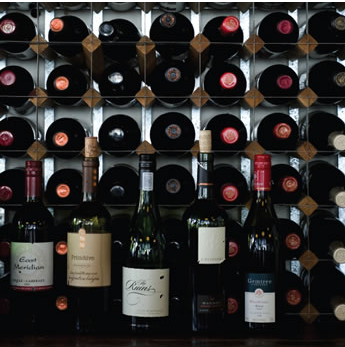 The list of organic wine is vast and has a type to suit every taste, including red, white, sparkling and champagne.  We tried a glass of the Argentinian Malbec, a smooth red, which went down with the roast very well.   They also have a good list of organic British brewed beer and lager (there is also a gluten-free one), all types of organic spirits (the Scottish Whiskey selection is rather impressive), dessert wine and sherry.
Once we had polished off the pork, Oliver had the difficult choice of choosing which pudding (hard life) to go for.  They are all without doubt the classic British favorites, but he went for the apple crumble with cream.
I know it is not healthy as such, but apple crumble is probably one of the best puddings to have if you are going to have one because the oats and apples are both a a great source of fibre.  Oats contain B vitamins which are good for mood and essential minerals like magnesium and silica for bones and apples (especially if organic) are a good source of vitamin C – a much better choice than something like treacle tart or sticky toffee pudding, which has a much higher fat and sugar content.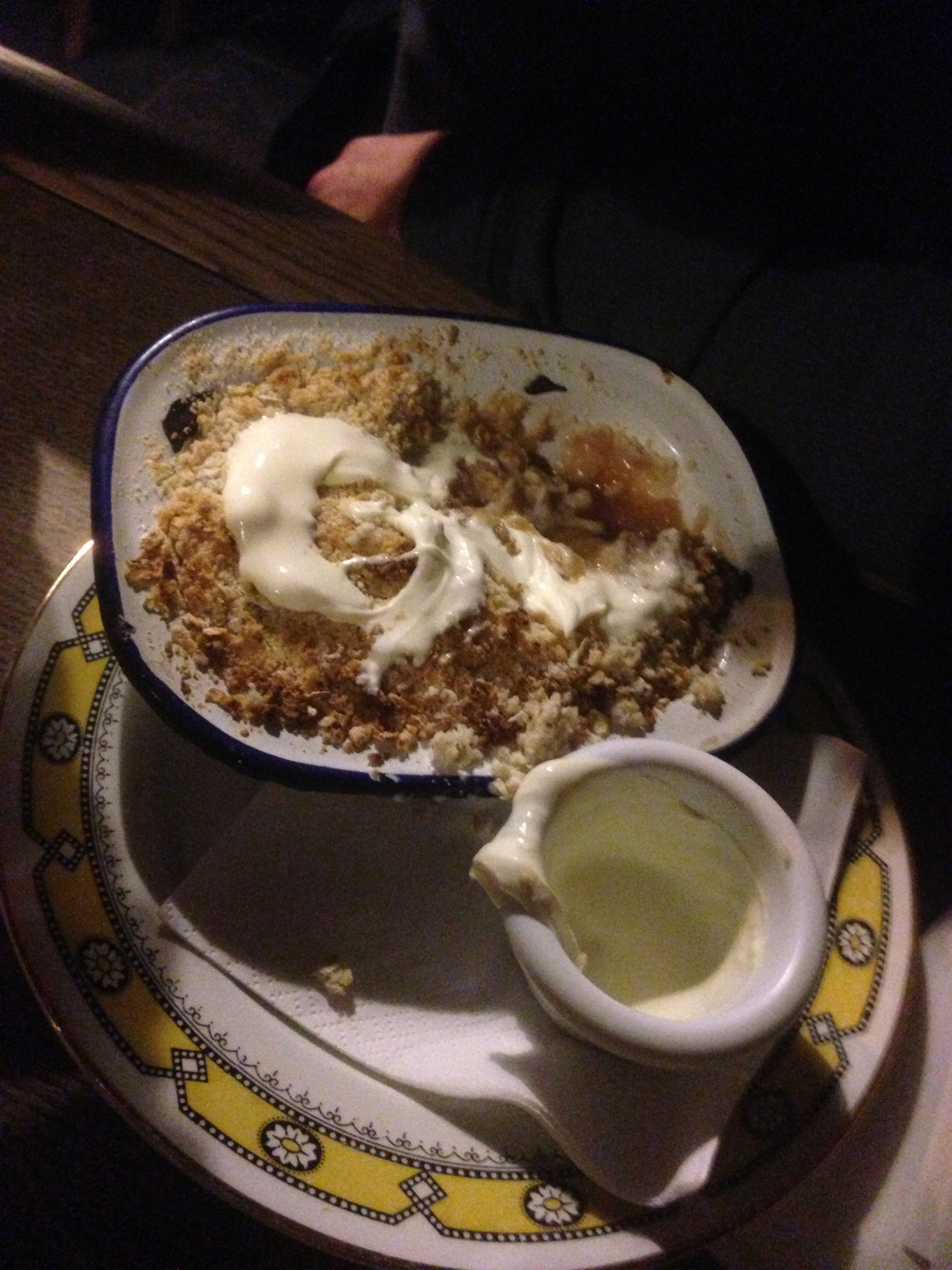 As I am gluten-free, I had to miss out on this dish, but although I don't advocate pigging out on puddings on a regular basis when eating out, Sunday is the day I think we should all be allowed to indulge.
The crumble was rustic, wholesome and picture-perfect – it would have fitted into a food shoot for Country Homes & Gardens magazine, no problem.  It was plentiful without being stodgy and the apple pieces weren't too sweet, flavored with lots of cinnamon.  It smelt heavenly and luckily for Oliver, he said it was amazing.
Well, as far as I am concerned, the Duke has done a good job on every level.  Not only do they deliver great grub, but also as a business, their dedication to champion organics and sustainability, whilst still flying the flag for British farming, is great to see.
The Duke of Cambridge has a number of educational and charity fundraising foodie events and cooking classes throughout the year, so keep an eye on the website to see what they are up to.  If you plan to go for lunch (which I hope you do) it gets busy throughout the day, so I do strongly advise booking a table before you go. They also serve a full lunch and dinner menu on a daily basis, or you can just drop in for bar nibbles and drinks.
The Duke of Cambridge Pub is just a short walk away from Angel tube. Cost for roast dinner is around £13.00- 15.00 per head, puddings are priced from £7.00 and wine starts from £5.00 per glass.
More HEALTHISTA EATS blogs:
The fittest breakfast in London
5 best gluten-free afternoon teas
6 best gluten-free pizza joints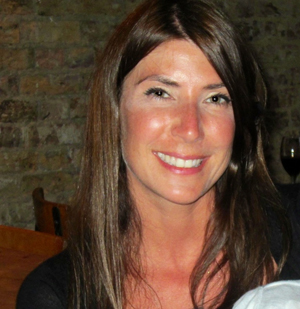 CHARLOTTE DORMON is our Healthista Eats blogger.  She's not a chef, or even that much of a cook.  If it's recipes you're looking for – you're in the wrong place.  But whether it's Sunday lunch or Friday night cocktails, she's the one friends and family turn to when they want to know how to eat out and be relatively healthy.  Each week she'll now be bringing you the same insider knowledge.  We'll drink – and eat – to that. Follow Charlotte on Twitter @lottielurvsu
Like this article? Sign up to our newsletter to get more articles like this delivered straight to your inbox.