Kim Kardashian has revealed the secret to her golden glow. The reality TV star uses Vita Liberata, a Brazilian tanning brand – Suzanne Baum tried it and a host of other self-tanners to find the best ones for every tanning need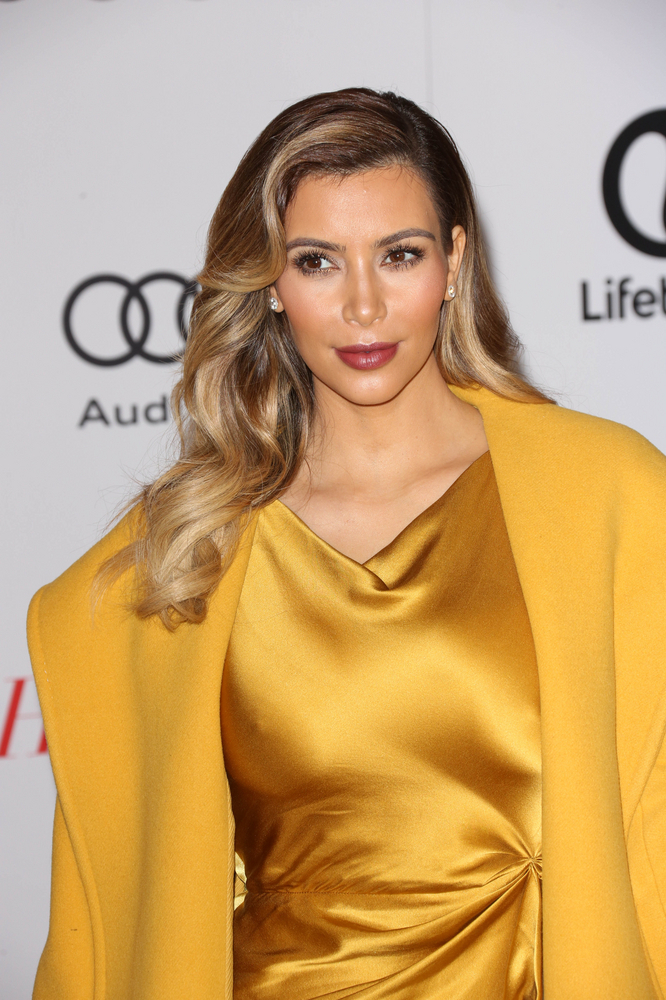 1. Best for HOLLYWOOD GLOW
Vita Liberata Phenomenal 2 – 3 Week Tan Medium 125ml £26.25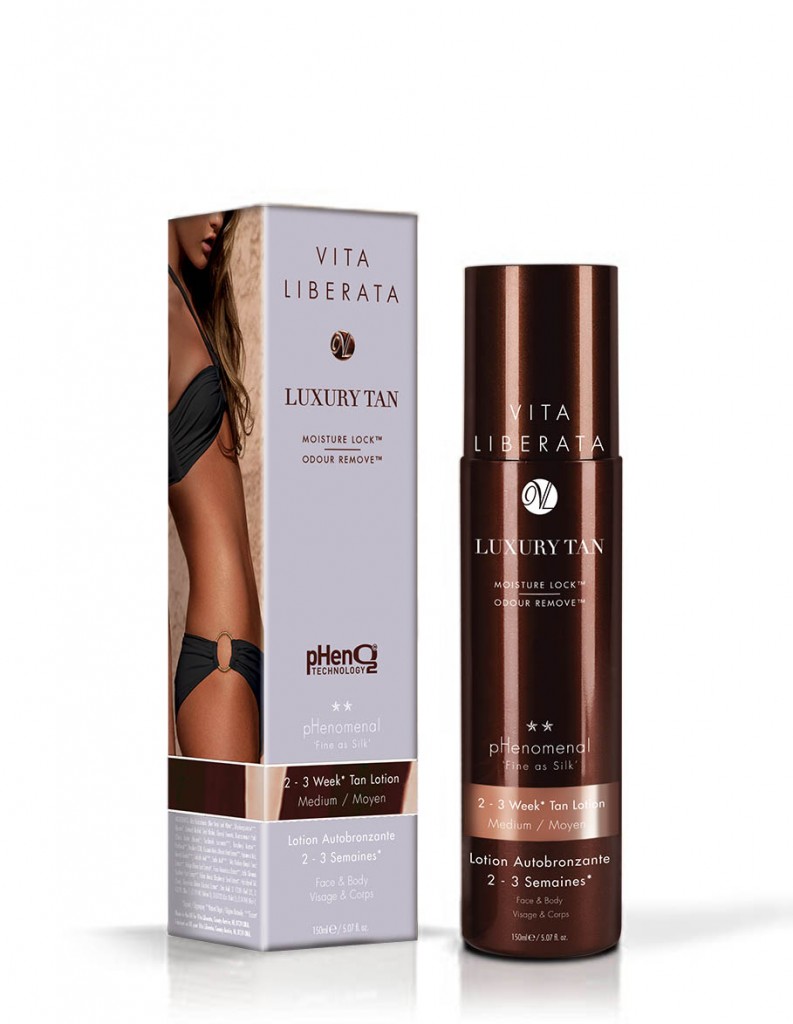 This product lived up to the hype. There's no gross self-tanny smell, you only need a small amount and the result – we used the medium, though Kim chose the dark bronze – was like you have just been on holiday. Fiona Locke, one of Vita's tanning experts, who gave Kim Kardashian a spray tan shared some tanning secrets with Mailonline. '
'We always advise our Hollywood clients as well as everyone to drink lots of water, eat lots of fresh fruit and vegetables like spinach and arugula (rocket in the UK), which will keep your lysine levels high (the active tanning ingredient DHA works better when your Lysine levels are high),' Locke said.  'To prepare your skin for tanning, all of my Hollywood clients are advised to thoroughly exfoliate to get rid of the dead skin cells. It is also really important to use soaps containing no creams or essential oils and definitely do not moisturise prior to tanning.' Vita is also used by the more real, but no less gorgeous Sian Toal, one of our favourite bikini models, see her interview with HealthistaTV here.
2. Best for INSTANT TAN
Skinny Tan 7-Day Tanner (150ml)  £26.99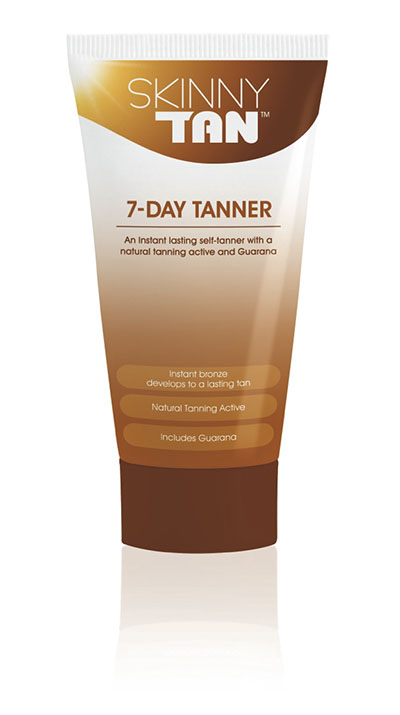 The best thing about this product is actually its smell as the coconut scent makes you think of a tropical island. Skin is instantly bronzed once this tan soaks into the skin and over a seven day period gradually turns into a darker shade so it's best not to overdo it on the first application.  The product claims to have a slimming effect as it contains Guarana, a caffeine derivative that has been used in many popular cellulite smoothing creams.
3. Best for SUBTLE TAN
Elemis Total Glow Bronzing Body Lotion 200ml (unboxed)
 £34.50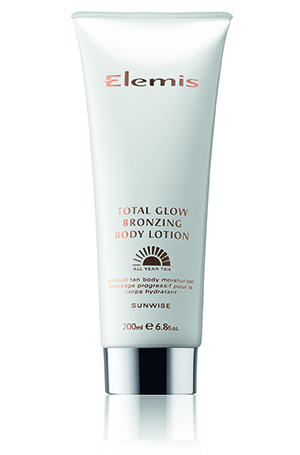 This self-tanner is a perfect pick me up to dry and pale skin as it contains nourishing ingredients of green tea extract and elderberry seed that help to rehydrate the body. The end result is a bronzed colour as the bottle says and this was achieved after just one application. Two to three hours after applying the lotion I felt instantly sun-kissed and the result was subtle.
4. Best for ORGANIC INGREDIENTS
TanOrganic Self Tanning Oil
 £24.99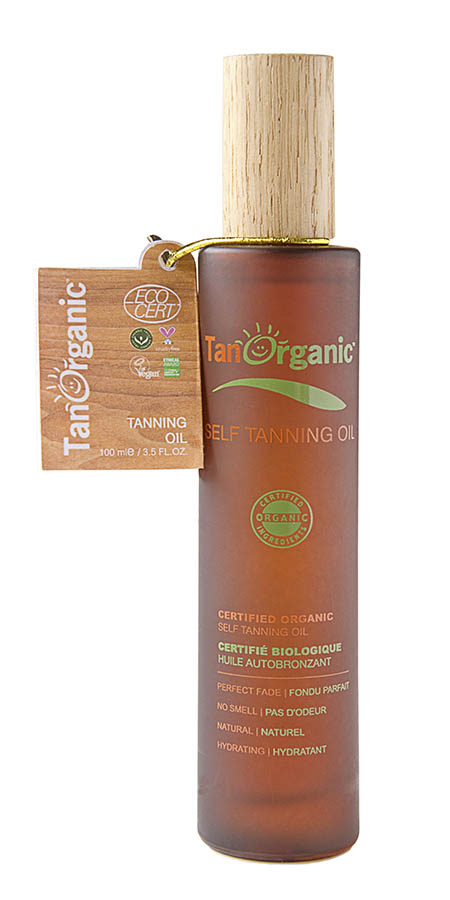 Just launched in the UK, TanOrganic is the world's only eco-certified self-tanning brand and contains no parabens, perfumes or toxic preservatives. The oil glides smoothly onto the skin and leaves a natural looking glow rather than a deep brown colour so is really natural. However, if you like the product but would prefer a darker shade reapply daily to get the right effect. It has a gorgeous citrusy scent and being oil based thoroughly cleanses the skin and nourishes at the same time. I found it simple to apply and the colour the following day was one of the best fake tans I have managed to achieve.
5. Best for GRADUAL TAN (and price)
Sunkissed – Gradual Tanning Lotion Light Bronze (250ml)
 £4.99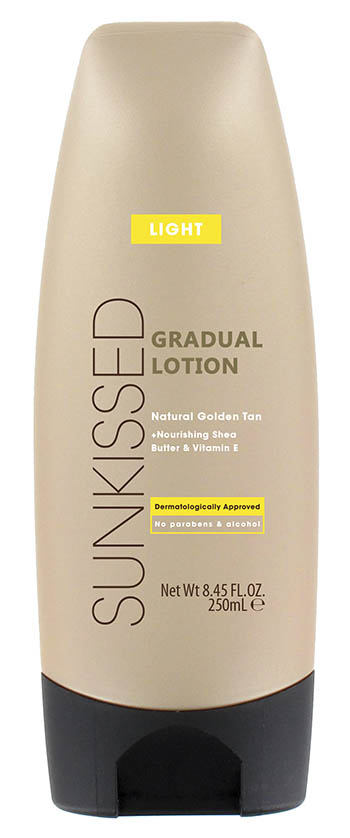 As one of the cheapest fake tanning products around this is very impressive as it gives you a beautiful healthy looking tan in just two to four hours. It is also nice to apply as being non-sticky there is no residue left on the skin and this self-tan moisturises skin with Shea Butter and Vitamin E, leaving it soft, smooth and smelling gorgeous. Available in Light Bronze and Medium Bronze, it is just as good as the more expensive brand names and you can use it as a moisturiser and build it up over a few days.
6. Best for FAST GLOW
Time Bomb Holiday In A Bottle, Sun Kissed    £28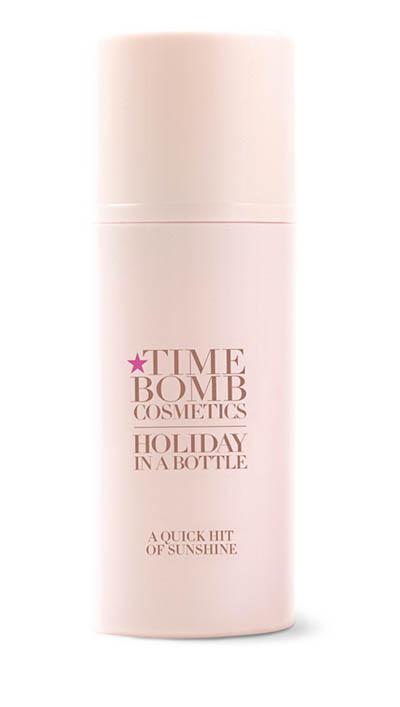 From the fabulous Time Bomb skincare range, this product boasts at giving you an instant hit of 'just been to the beach' colour without the smell of fake tan. As someone who is very pasty looking I am always conscious of going a shade of orange when it comes to fake tanning but this product left me with such a naturally sun-kissed colour I wish I'd of discovered it months ago!
Although not cheap only a tiny amount was needed to cover my face and neck so it can be used sparingly. I loved the fact the tan didn't feel greasy on the skin or leaving staining marks. What's more, the packaging is divine so this can make a nice present or sit proudly in your bathroom.
7. Best for MOISTURISING
MooGoo How Now Brown Cow   £15.50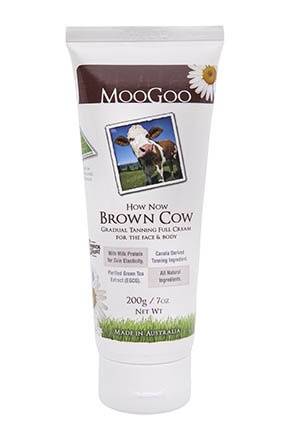 This gradual tanning cream gives a subtle, gradual glow while moisturizing the face and body. It is packed with canola oil, glycerine and sugar-based natural ingredients that give skin a tan, rather than an orange colour. It was easy to apply and dried within minutes meaning you can get dressed straight away. The spray nozzle made it easy to use and the bronze colour that developed over a few hours remained in place for four days even though I showered twice in between. We love this product because the brand is so open about exactly what goes into it and the whole process of production – it's as natural as self-tanners can get.
Like this article? Sign up to our newsletter to get more articles like this delivered straight to your inbox.