Healthista's testers have found this summer's best natural body scrubs to leave your skin moisturised and self-tanner ready (and we've separated the PR hype from the testing reality)
1. Best for SUPER DRY SKIN:
Smiths of Jersey Regenerating Honey and Sea Salt Body Scrub, £17.17:
PR says: 'The Smiths of Jersey Regenerating Honey and Sea Salt Body Scrub is 100 per cent natural and made with marine extracts, natural honey and mineral-rich Atlantic salt. They claim that it is a soothing and toning scrub to gently massage away dead cells and help to eliminate impurities. The scrub is made with shea butter, organic sweet almond oil and vitamin E to leave your skin soft and smooth'.
Tester says: 'I normally never use body scrubs, but this body scrub was so delicious. It was a honey and sea salt body scrub and came in a small glass jar. I used my hand to scoop out the scrub, which was fairly solid. Once I rubbed this around in circular motions on my arms, legs, stomach and back, the scrub immediately soaked into my skin and was super easy to spread across all areas of my body. The scrub was extremely heavy duty and I could tell was scraping off dead skin as I was rubbing it. I used it on dry skin right before I got in the shower and once I started wiping it off, my skin felt so smooth and light. I felt like a layer of skin was seriously just scraped off. This also smelled so good and I felt like I was at a spa.  I used this on my legs too and shaved my legs right after. Needless to say my legs have never been this smooth. I loved that this body scrub has almond oil and mineral-salt in it because that seemed really repairing to my skin. I followed this scrub with a natural body oil.'
2. Best for SCENT 
Thalgo Polynesia Exotic Island Body Scrub,  £40: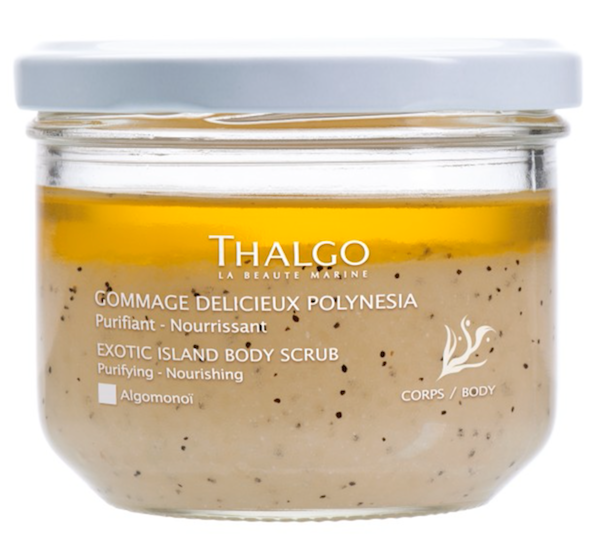 PR says: 'Inspired by Polynesian traditions, this scrub is infused with Bora Bora sand, sea salt and coconut shell that promises to exfoliate the body. The jojoba oils and monoi leave skin feeling soft and velvety and it smells like a delicious, tropical vanilla. The product also leaves your skin feeling pearlescent and glowing after use'.
Tester says:
'I used this on somewhat damp skin, not soaking wet, but not totally dry. It was really grainy and heavy-duty and left my skin feeling soft with a silky, almost with an oily finish. It smelled AMAZING, like vanilla and honey. The only con was that it was a little oily and messy to apply because it required stirring, so I did it in my bathtub.'
3. Best for FEET, ELBOWS AND KNEES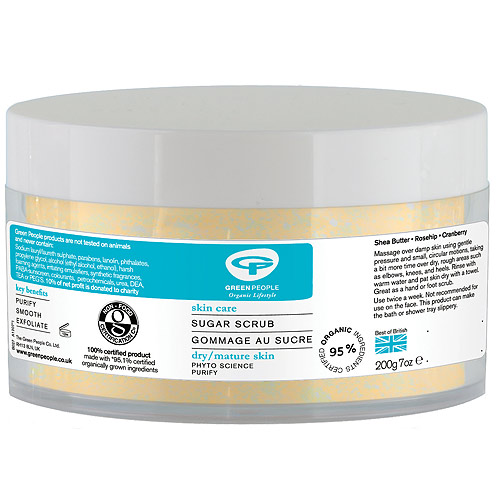 PR says: 'Green People's Organic Sugar Scrub  contains natural and organic ingredients that will deeply exfoliate and smooth skin all over. The scrub contains skin-softening oils, like rosehip, pomegranate and coconut, along with organic shea butter, to penetrate the skin effectively.'
Tester says:
'Wow, this stuff is a serious exfoliator. The sugar granules are quite coarse so it can feel  harsh-ish on the skin, which I quite liked as it felt like it was really doing the job and was also quite invigorating in the same way a fairly hard bristled body brush really wakes you up. Mind you, it has an oil base so I found it quite hard to use in the shower as it tended to slide off before I could get into the circular motion to get it scrubbing the skin. It's best used in the bath I found and left my feet, elbows and knees looking like they had been given a new layer of skin. The effect was incredibly brightening. It left an oily film in the bath so give it a wash or the next person after you might slip! (I learned this the heard way).'
4. Best for VALUE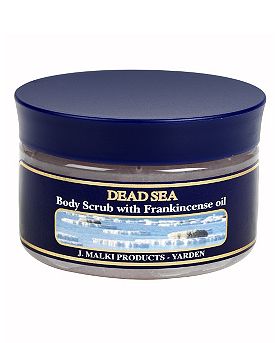 PR says: This body scrub is a chemical-free combination of 100 per cent dead sea salts and frankincense oil to help increase circulation, smooth rough skin and create a soft, moisturizing feel. This scrub claims to purify skin and also helps heal skin conditions. It contains big, moisturizing and exfoliating beads to rid layers of dead skin.
Tester says:
'I love the colour and smell of this scrub – it's quite a natural smell and isn't too artificial or perfume-like. The scrub is the perfect consistency, fairly thin and runny so it spreads easily but is jam-packed full of exfoliating beads so it feels as though it's really getting rid of those dead winter layers when you rub it into your skin. The beads are big enough to remove the skin but not so harsh that they hurt, and my skin definitely felt a lot smoother and silkier after I'd used the scrub. The Frankincense oil did stay on my skin after I'd washed the scrub off (and all over the walls and floor of the shower) so I had to use a body wash to get rid of any excess, but it came off easily enough and what had been absorbed into my skin added to the silky feel I felt after I'd used the product.'
5. Best for INVIGORATING TIRED LEGS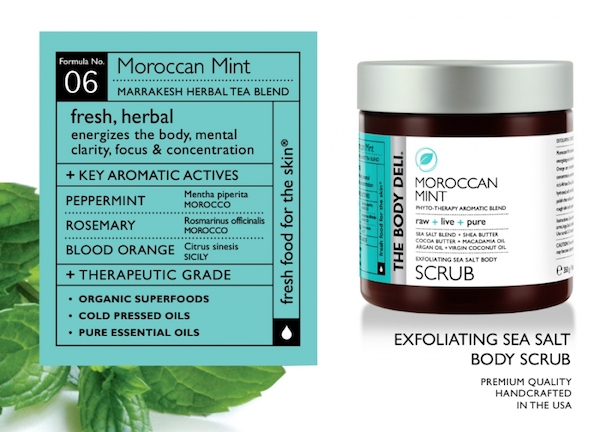 PR says:
This body scrub from
The Body Deli
is a delicious blend of organic superfoods, cold pressed oils and pure essential oils. This formula is a blend of mints used in iconic Marrakesh teas. The scrub energises the body and increases mental clarity, focus and concentration. It includes aromatics such as: peppermint, rosemary and blood orange. The scrub promises to remove dry, flaky skin and leave skin feeling soft and smooth. It includes ultra-fine sea salts and plant butters to help moisturize. The scrub is organic and contains raw ingredients, like jojoba, avocado oil and argan oil.
Tester says:
'This is by far the best body scrub I have ever used. I used this scrub in the shower from the moment I opened it, I got an overpowering minty scent that immediately cleared my sinus passages. The scrub itself was thick and beady, but not too thick that it was hard to scoop out. It was a perfect consistency that exfoliated my skin, but also moisturized like a lotion. After rubbing it on my skin, it immediately felt cool and I could feel my skin getting soft even before I washed it off. I can honestly say my skin has never felt more invigorated and clean. Although it did have a slight oily finish that I washed off with body wash. My skin felt super smooth for the rest of the day.'
Like this article? Sign up to our newsletter to get more articles like this delivered straight to your inbox.