Fancy Gluten Free Pizza tonight? HEALTHISTA EATS blogger Charlotte Dormon gives us a bite of the best. 
Pizza has always been seen as a rather calorific indulgence, but if you order the right one, you can certainly make your pizza eating experience far healthier (this does mean avoiding the Four Cheese or American Hot though!). For those who follow a wheat or gluten-free diet, eating pizza out has been pretty much a no go – until now. With more restaurateurs understanding that wheat and gluten is a problem for many, a number of them are now making pizza menus that free-from diners can also enjoy. Put an end to your cravings with these perfect pizza-eating hangouts.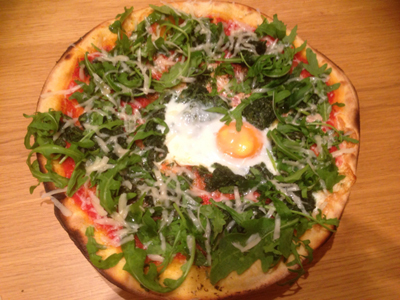 There is one thing I can tell you about The Salusbury, and that is to be careful.  The reason why?  Once you have been here for pizza, you'll want to go back again, and again. The Salusbury is a delicatessen and food store in the trendy area of Queens Park and is well known by locals for their amazing stone-fired, authentic Italian sourdough pizza selection.  Last week I went in after a busy day at work to enjoy my favorite pizza – the Florentina.  When a Florentina is good, it is really good and after going gluten-free five years ago, this was the first time I had been able to enjoy this pizza out. The talented chefs make their own dough using an assortment of naturally gluten-free flours, such as corn and rice.  The base is thin, crispy and baked in a wood fired oven.  With great skill and a lot of practice they have perfected this base, so much so that guests prefer this one to the regular wheat flour version.
The pizza is out of this world and even better than I had expected.  It is beautifully presented, smells fantastic and you would never in a million years know it is gluten-free. The thin and crisp base was covered with lots of tomato and a very generous serving of toppings.  The spinach and had been cooked perfectly, and the egg was nice and runny so it could be smothered over the pizza.   I didn't want mozzarella, so as a low-fat alternative I requested fresh Parmesan instead.
For those that love thin-crust, authentic Italian pizza, this is the place to go.  They use really fresh ingredients and have a huge selection of extra toppings to choose from including Parma ham, roasted vegetables, artichokes and feta cheese. The Salusbury Food Store is laid back and would be a great place to come after work for a bite to eat, or for a weekend lunch with friends – but not so great for a date maybe.  They also have gluten free cakes and a good wine selection. Visit www.thesalusburyfoodstore.co.uk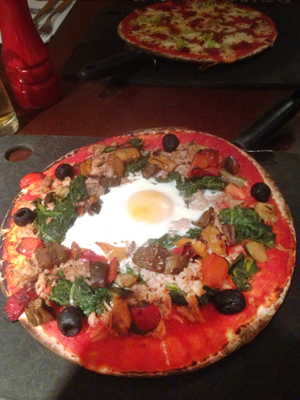 This famous pizza chain has recently had a healthy makeover, offering low calorie salads and pizzas for under 500 cals.  Popular as it is, they have recently made a big noise in the media by advertising their gluten-free menu, which is now available everywhere.  I hadn't been to eat at my local Pizza Express for many years, but since they have pulled their socks up and put gluten-free as a priority, I decided it was time to give them another go. I called on one of my gluten-free girlfriends, Sharan to join me, so we could compare notes.  She is a brilliant cook and always whipping up weekend feasts for friends, so I knew that I could rely on her professional opinion. I ordered the Florentina (again!) and added tuna and roasted vegetables as an extra topping, but ditched the cheese.
Sharan was in the mood for an American Hot and as she has been working-out all weekend, the girl deserved it. For a date with friends, family, work colleagues or a potential lover, Pizza Express is a good place to head.  They always have a fun and lively atmosphere, prices are affordable overall and now have a good gluten-free and diet-friendly menu.  If you fancy the pizza and beer combo (I do!) then you will be happy to hear that gluten-free lager is now available.  As we settled into our seats the tunes were pumping, staff happy and upbeat and yes, the pizzas on arrival looked excellent.  The bases are not as thin and crisp as the Salusbury, but the servings are generous, taste good and I'd certainly order them again.  Pizza Express has restaurants across the UK. Visit their website for a gluten-free menu.
3. Otto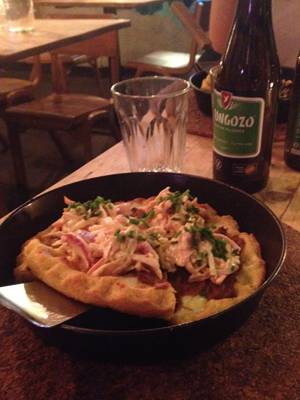 On the outskirts of Notting Hill lies Otto, a laid back, trendy little hangout with a young, hip and happening crowd – offering a tempting choice of thick crust cornmeal pizzas that deliver a very different pizza style. Thick crust pizzas are a bit of a marmite – you either love them or hate them. But Otto seems (judging how busy they are) to have a lot more lovers than haters.
Set up by two young chefs, they traveled to America and during their visit, discovered this unique cornmeal crust pizza in Oregon. They decided that it was so good they needed to recreate it in the UK, so others could enjoy it. Although I'm more of a traditional thin crust pizza fan, I had heard great things about Otto from some gluten-free friends and wanted to check it out. I took my boyfriend along, a long-term pizza fan.
Before I could even think about ordering, he had already made his mind up on the BBQ pork, which came topped with smoked mozzarella, house-made BBQ pulled pork (believe it or not, it's healthier than pepperoni), celeriac coleslaw and chives. I fancied trying a vegan option and chose the Balsamic Red Onion & Sweetcorn. They make their own cashew nut cheese, a vegan-friendly alternative.  The pizza was topped off with tomato, roasted onions, fresh sweetcorn and chives.
On delivery the pizzas were small, and I was worried that my hungry boyfriend would not be impressed.  As suspected, I was right. He turned his nose up and told me that he would certainly be ordering a pudding at this rate.  Not getting off to a great start, but I took my first bite and was pleasantly surprised.  Although the base was different to anything I had ever tried, I like polenta (also made of cornmeal), so enjoyed the dry texture. And although the pizza really was on the small side, it was filling. The homemade vegan cheese was impressive and worked well with the other strong flavours.  I can't say I'd order it again though, and I would probably suggest when you do go, to order one of their daily specials (this is updated on website everyday and they often have a veggie one to choose from). I saw the butternut squash, kale and cranberry come out, which looked a lot better.
However, my boyfriend's pizza was a whole world apart from mine, and I must admit, I was beyond jealous. The pork was melt-in-the-mouth soft and tasted slightly sweet with a lovely hint of smoke and spice. The crunch of fresh coleslaw complimented it perfectly and worked well with the thick corn crust.  Although we did not have puddings (he didn't need one after all!), there are many gluten-free options, and I heard from the waitress that people travel across London to just come and eat the gluten-free Cookie Sandwich. This dreamy dessert is freshly made to order and served straight out the oven hot with a large filling of vanilla ice-cream (Healthistas, please note, this pudding is for special occasions only – if you do indulge, you may need to have a big walk to work it off).  If you are hankering after a deep-crust pizza and fancy trying something other than the usual Italian, Otto will be able to offer you just that. Visit Otto www.ottopizza.co.uk
4. B-Soho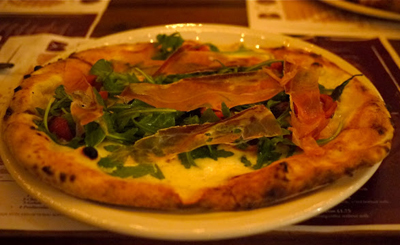 If it's a fun night out you are looking for, B-Soho is the destination.  The atmosphere is electric and with big tables available it is ideal to get a group of friends together for a birthday (or just a 'Friday night, work is over' celebration!). With a huge cocktail list, live music and 2am closing at the weekends, you'll have one heck of a gluten-free pizza party.
The chefs make all pizzas from scratch and cook them in a traditional Napolitano brick oven that is heated to 900F.  All bases are super thin and cook for just 90 seconds, resulting in a pizza that is both crispy and chewy and also so nice and light, that you'll be ready to hit the dance floor, not slump on the sofa. Although I wouldn't be keen on coming here if I had a serious pizza craving, I really liked the fact they are so light and crisp (which is exactly what you want if you are planning on heading out partying for the night), and not so carb-heavy.  I chose the Donna Vegetariana, which came with mushrooms, aubergine, courgette and tomato and topped with fresh buffalo mozzarella.
Others in the group chose a whole varied selection, and we all enjoyed this light pizza bite – which left plenty of room to drink…  As laughter increased and fun filled the air, I managed to polish off my pizza with ease.  The vegetables were roasted and were full of flavor and the cheese was chewy and tasted so good with the roasted veg. The base was certainly the thinnest I have ever come across (which is the traditional style of pizza in Naples).  If you're looking for a place to party and go out with friends, I would highly recommend this lively Soho pizzeria in central London. It'll get your weekend off to a great start. Visit www.b-soho.co.uk
5. Prezzo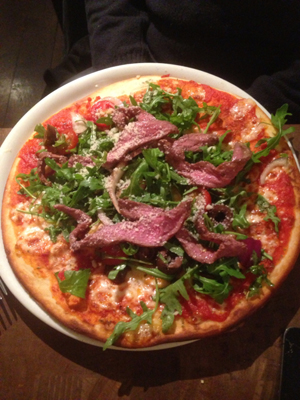 Just like Pizza Express, Prezzo has restaurants across the UK and are expanding rapidly. They have changed their menu to offer more healthy salad options and have a range of pizzas that suit those on a low-cal diet. As my boyfriend has more pizza experience than I do, I took him for another date to try out the new gluten-free menu.
I chose the lobster and king prawn from the Executive Pizza menu, which is basically a selection of posh pizzas/non-traditional versions. There were king prawns and lobster, béchamel sauce, grilled courgettes, cherry tomatoes, roasted peppers, red onion, rocket and mozzarella. I love prawns and lobster, and after realizing I'd promoted myself to Exec level, my boyfriend ditched the regular menu and did the same. He had the steak and rocket pizza with sliced rare steak, red onions, cherry tomatoes, black olives, grana padano cheese, balsamic and olive oil dressed leaves and mozzarella. Although they don't tend to do the Executives as gluten-free, if asked nicely, they will.
The pizzas looked really good on arrival and although not as tasty as some of the independent pizzerias I had visited, they were cooked well and served with plenty of toppings. I also thought it was great that they had such a vast choice, and something a little more exciting than all the traditional Italian types. Bases are stone-baked (gluten-free bases are not home-made), and the texture was good and chewy yet crispy too.  The lobster and prawn was tasty (a little dry as I asked for no béchamel sauce and my usual swap of high-calorie mozzarella to lower calorie Parmesan, but drizzled with a little chilli oil – it was perfect for me) and my boyfriend really liked the rare steak combined with the peppery rocket and sweetness of the cherry tomato. Prezzo had a nice atmosphere. I would say it would be ideal for families (the couple next to me had a daughter that was gluten-free and said it was great to be able to all eat the same thing), and the staff seemed very friendly and efficient.  Visit www.prezzorestaurants.co.uk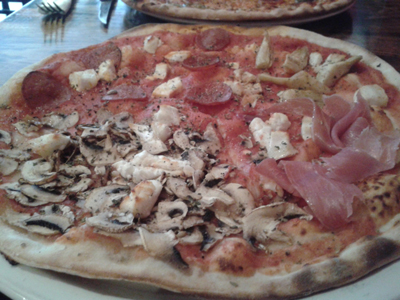 Heading for a Saturday lunch with an old friend, I wanted somewhere relaxed and non-expensive to eat, and as she was local to the area and knew I was on the hunt for gluten-free, she suggested StingRay Café in Tufnell Park. I had never been to Tufnell Park, or StingRay before, so was eager to try it out.
The general vibe at the café is very laid back. It reminds me of places I have visited in Cornwall and Brighton, where you would find arty, creative, student types sipping coffee and enjoying their laid-back seaside life. StingRay is very popular and gets very busy at the weekends, so it is a good idea to book before you go.
We opted for a pizza to share as she assured me that that would be enough. We couldn't decide on one from the wide ranging menu, so we decided to customise our own.  We chose a tomato base with Serrano ham, mushroom, goat's cheese, pepperoni and artichoke.  The happy chefs make everything from scratch and I can assure you portions are seriously huge. The pizza base was crispy, yet nice and chewy too and it is great to have such variety to pick and choose from. Although the café is busy, the staff are really good and you don't feel rushed at all. Whether you go on your own to eat and read a book, or for a laid-back pizza lunch with a friend, StingRay will certainly leave you with a full tummy, a happy wallet and feeling suitably chillaxed.  Visit: www.stingraycafe.co.uk
READ MORE HEALTHISTA EATS
HEALTHISTA EATS Designer vegan
HEALTHISTA EATS The 5 best gluten free afternoon teas
HEALTHISTA EATS Quick hot lunch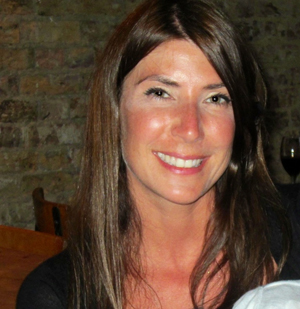 CHARLOTTE DORMON is Healthista's new Healthista Eats blogger.  She's not a chef, or even that much of a cook.  If it's recipes you're looking for – you're in the wrong place.  But whether it's Sunday lunch or Friday night cocktails, she's the one friends and family turn to when they want to know how to eat out and be relatively healthy.  Each week she'll now be bringing you the same insider knowledge.  We'll drink – and eat – to that. Follow Charlotte on Twitter @lottielurvsu
Like this article? Sign up to our newsletter to get more articles like this delivered straight to your inbox.