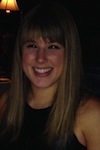 Gluten-Free Diaries blogger Alexa Tucker goes shopping at Whole foods, Camden for the best gluten-free kitchen buys – all on a £60 budget! 
I caved this week. I ate a Pret toastie. And I'm not going to lie–it was absolutely delicious. I feel satisfied enough to go two more months without one. I went to Barcelona on Friday, so after a weekend of cheating here and there, I decided I was going to be super good about sticking to my plan. Lucky for me, I didn't come home to empty cupboards that would tempt me into going for not-so-wheat-free food while grocery shopping hungry.
Being gluten-free doesn't mean you can't have a fully stocked kitchen, and it also doesn't mean that the items in a fully stocked kitchen have to cost you an arm and a leg. Last week, I turned to Whole Foods Market in Camden to help me fill my cupboard with yummy and nutritious items—for £60. Camden's Whole Foods Market marketing specialist and resident gluten-free expert, Tiffany Ingle, took me through the aisles and helped me pick the tastiest, least processed, and most budget-friendly items from the shelves.
Take it from me–it's possible to go GF on a budget.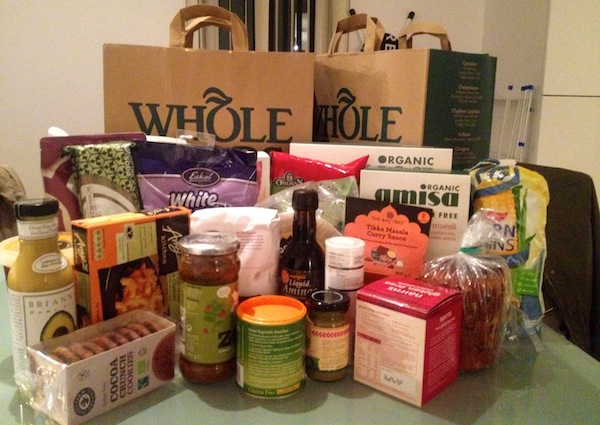 Cooking and Baking:
Doves Farm Gluten Free Plain White Flour Blend, £1.99
When it comes to gluten-free flour substitutes, the choices can be overwhelming. This is your do-it-all—you can mix it with different types of flour if you like, like gram flour or rice flour, but it takes some of the guesswork out of baking (using gluten free flours can be tricky, because it sometimes gives you a different consistency.) A healthier alternative is ground almonds, though it's a bit pricier.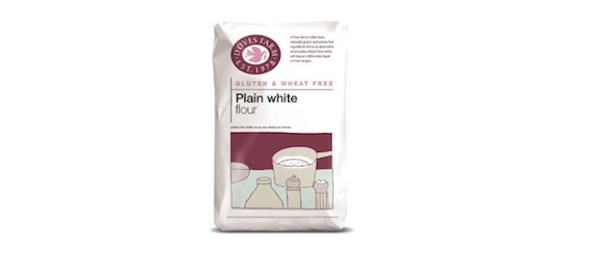 Doves Farm Corn Flour, £1.79
The main purpose of having corn flour around is to thicken sauces. You can use it in baking, too—experiment by mixing it with all-purpose flour for thicker batters. Next time I splurge on GF pancakes, I'll be using a mixture of this and the all-purpose flour.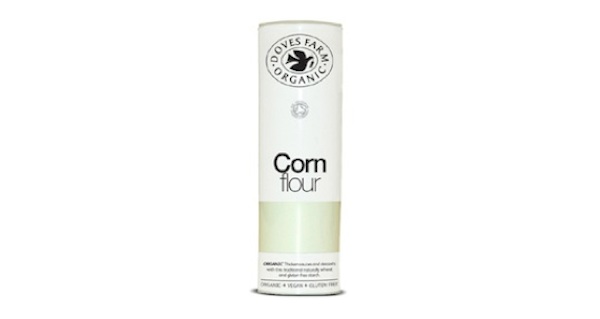 Linwoods Milled Flax, Sunflower, Pumpkin & Sesame Seeds & Goji Berries, £5.99
This stuff literally does everything. Use it instead of breadcrumbs, stir it in your porridge, even bake with it in place of flour (it'll give you a pretty dense result, so you can always use half of this, and half all-purpose GF flour.) The gogi berries are a nice touch, but they don't make it too sweet to use in savory or salty dishes.

Marigold Swiss Vegetable Bouillon Powder, £1.89
The ever-popular Oxo stock cubes have flour in them, so make sure you're not reaching for them without realizing you're gluten-ing up your dish. This powder also comes in a canister, so you can use as much as you want and reseal it without worrying about it spoiling.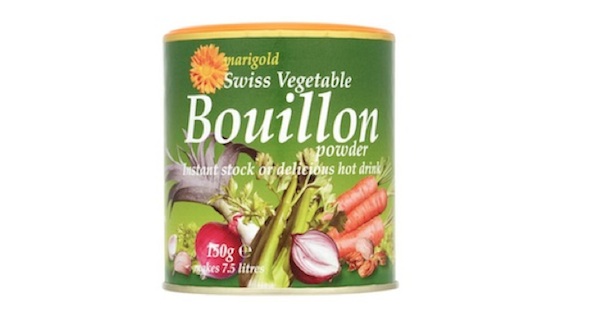 Breakfast Foods:
Perkier Gluten Free Seeded Multigrain Bread, £4.50
I adore Perkier bread—it makes being gluten free a whole lot easier. I put this in the breakfast food section because I think gluten free bread is best toasted (but who's to say you can't do that for your lunchtime sandwich?) This bread is as close as I've gotten to normal multigrain bread, and though it's not as soft and slightly more crumbly, it's still pretty close.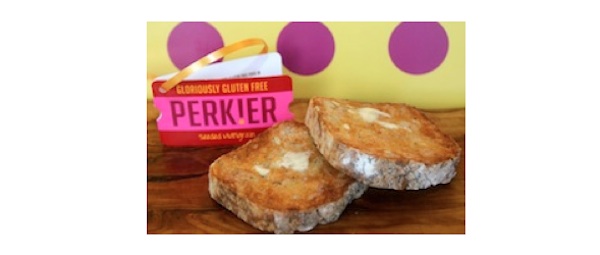 Amisa Fruity Oat Muesli, £2.99
Instead of mixing granola (which can often contain gluten) in your yoghurt, try muesli. Muesli is raw, so there are also no nutrients lost from cooking the oats. If you do want a granola from time to time, Ingle recommends drizzling one cup of muesli with ½ tablespoon of agave nectar and ½ tablespoon of coconut oil. Spread it over a baking tray and bake at 180 degrees Celsius for 12 minutes, mixing it up halfway through.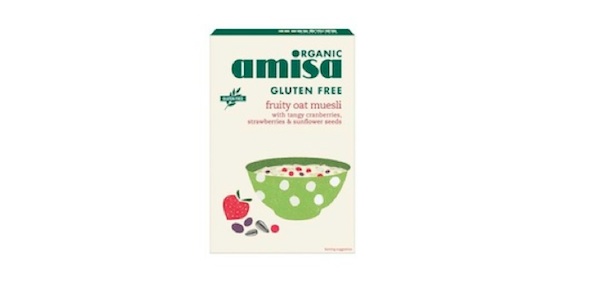 Amisa Organic Pure Porridge Oats, £2.69
I know I just shared an Amisa product with you, but trust me, there's a reason: they're just that good. Although oats themselves don't have gluten in them, porridge can often be contaminated with wheat, making it not as gluten-free as it should be. If you're erring on the side of caution, pick an oatmeal that says it's gluten-free.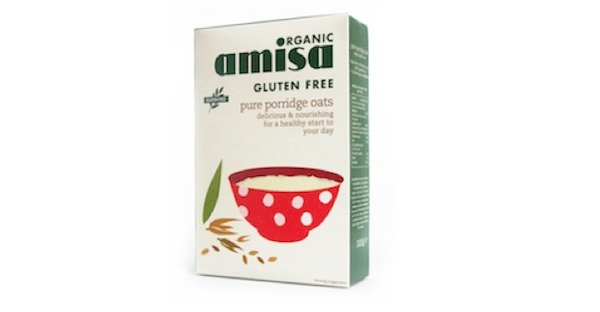 Italian:
Orgran Multigrain Pasta with Quinoa, £2.99
This pasta is a great alternative to gluten-free pastas made from rice flour, which have a film that can be tough to get off after cooking and don't store very well. Plus, the quinoa adds a boost of protein.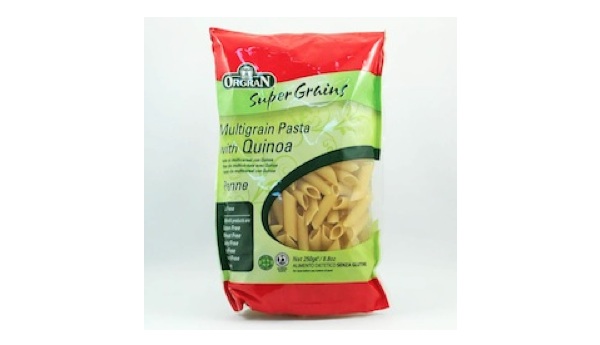 Zest Tomato, Basil, and Oregano Pasta Sauce, £1.99
There's no need for gluten in pasta sauce, but like so many other products, it's often in the recipes of foods on the shelf unnecessarily. It can be frustrating to have to worry about gluten in pasta sauce when it really doesn't need flour, but this pasta sauce is so tasty, I'd buy it even if I weren't GF.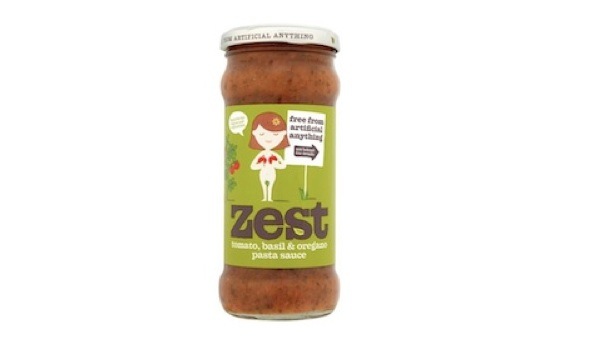 Amisa Gluten Free Deep Pan Pizza Bases, £3.99 (2 pizza bases)
Because we all need a pizza splurge every once in a while. Mix a little bit of corn flour into the Zest pasta sauce to use it on the pizza.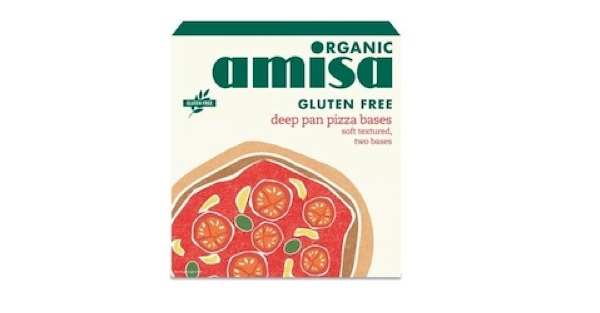 Other Ethnic Food:
Thai Taste Green Curry Paste, £1.79
Got a thai craving? Use this paste in a pad thai or mix a teaspoon or two with some coconut milk for a more curry-like texture. Careful—it's spicy.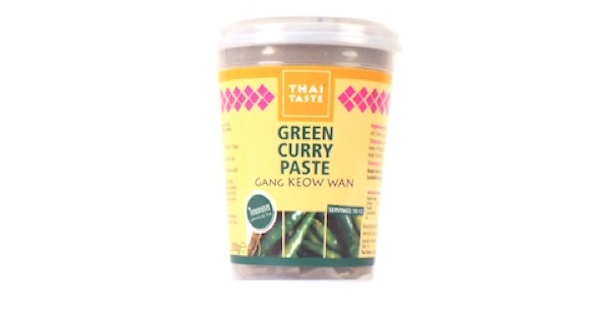 King Soba Brown Rice and Wakame Noodles, £1.79
You've got to have something to go in the aforementioned pad thai or under the curry. If you're not a wakame fan (it's a bit like seaweed or nori), King Soba has regular brown rice noodles as well. They also have a sweet potato and buckwheat variety—it's a bit hard to match those flavors in an ethnic dish, but I'll definitely be finding a way to try them soon.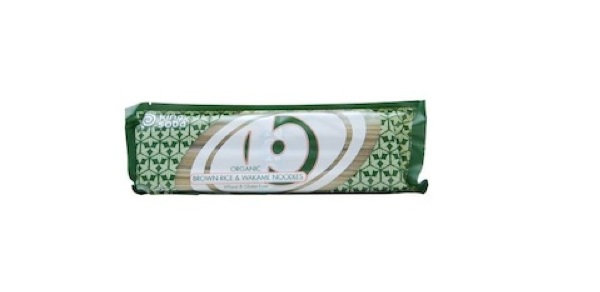 Marigold Liquid Aminos, £2.99
Liquid aminos are a great substitute for soy sauce, which has wheat in it. It's got a similar flavor, far less sodium, and way more, you guessed it, amino acids.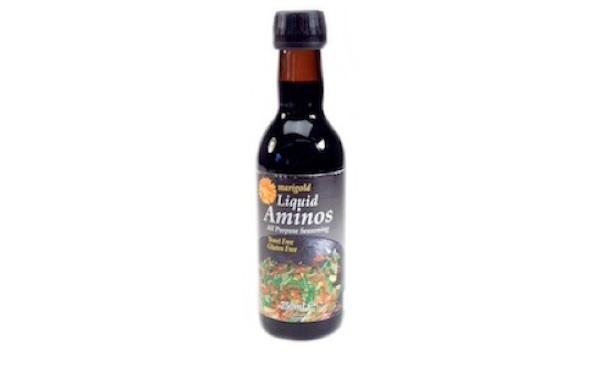 The Bay Tree Tikka Masala Curry Sauce, £2.89
I l-o-v-e Indian food, so it's such a bummer that my favorite, tikka masala, isn't GF. It's great to have this around when I've got a hankering for a saucy, flavorful dish—plus, by eating it at home, I'm not tempted by my second favorite Indian thing, naan. (You'll be the first to know if I find a good GF version of that.)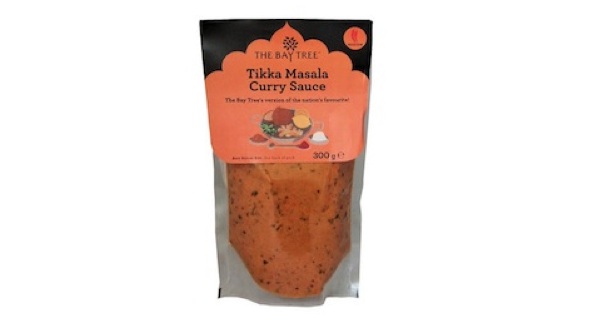 Cool Chile Co. Soft Corn Tortillas, £2.49
I think we could all use a trip to Mexico—even if it's just in the kitchen. Corn tortillas can be really hit or miss, and these ones are a hit. They're not crumbly or tasteless, like corn tortillas can be. Fajitas, anyone?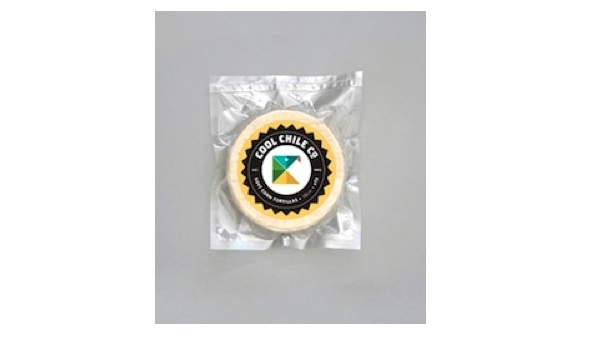 Snacks and treats:
Nairn's Gluten Free Oatcakes, £1.99
Crackers are a pantry staple, especially if you entertain or have kids. These are a little bit softer than a regular oatcake, but they've still got a nice oat-y flavor.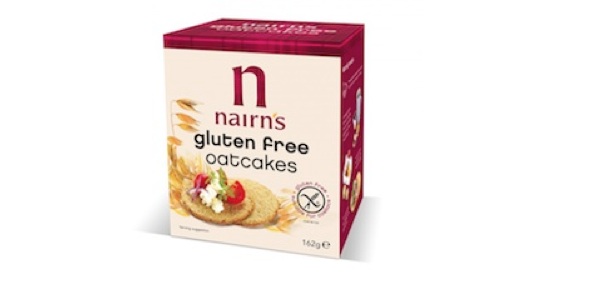 Manomasa Sea Salt & Cracked Black Pepper Chips, £1.49
These are so tasty—I can't stop eating them as I write this. They're like a tortilla chip/thin cracker hybrid, and they've got a wonderful, seedy texture. And the flavor is ah-mazing.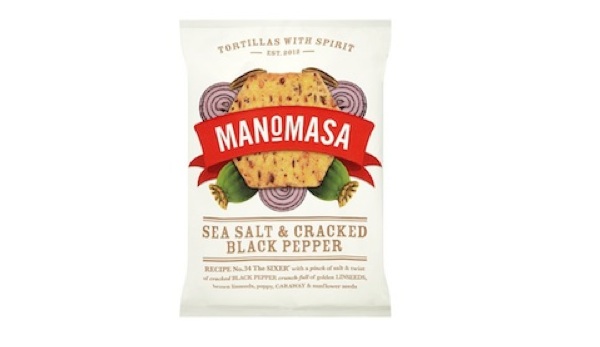 Real Foods Corn Thins, £1.69
Tired of rice cakes? Me too. Corn thins are similar, but the texture is a bit grainer and they've got more flavor. Top them with anything you'd put on a sandwich to skip out on bread (even if it's gluten free bread, this is a better option.) It's like an open-faced crunchy creation.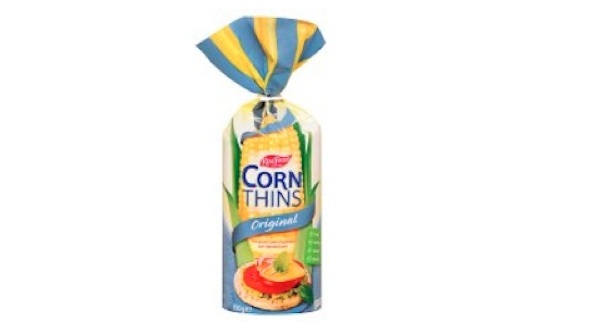 Doves Farm Cocoa Crunch Cookies, £1.69
I may be a little further into these cookies than I should be at this point, but that's because they're so darn good. They're super crunchy and not too sweet, perfect for dipping in afternoon tea or enjoying on their own.

Eskal White Marshmallows, £1.99
Yup, regular marshmallows have gluten. I actually prefer these ones to their original counterparts—they're a bit more vanilla-y, and more natural. Great to have around for the kids, if you've got 'em.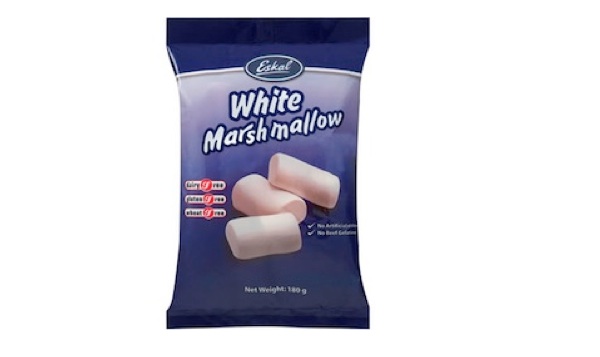 The Rest of The Best: 
Brianna's Dijon Honey Mustard Dressing, £2.99
This dressing is primarily a super-tasty alternative to the usual olive oil and balsamic vinaigrette I make for my salads, but it's multitasking. I like a bit on grilled chicken (is that odd?), and the bottle suggests it on ripe avocados.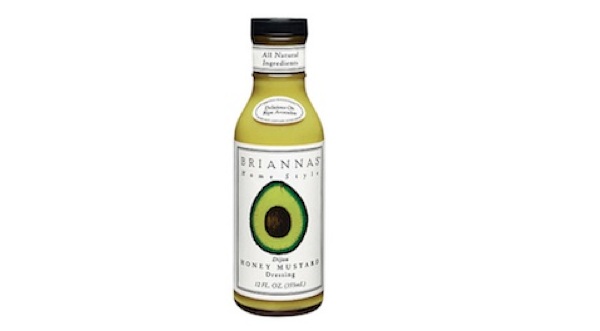 Watmuff & Beckett Potato, Carrot & Ginger Soup, £2.99
I know, I know—if there are a few substitutions on this list that you didn't even know had gluten in the original, soup is probably one of them. I didn't know either. But, there's hope—this soup's got a lovely, creamy texture and it isn't loaded with preservatives like canned soup.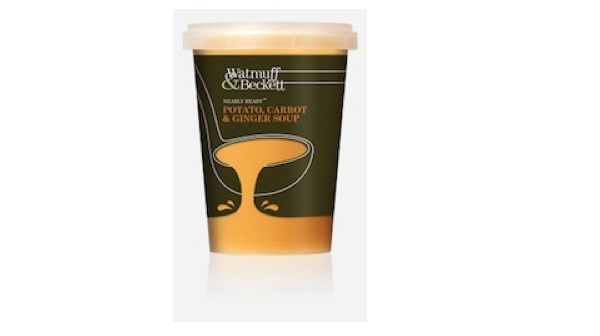 Amy's Kitchen Rice Mac & Cheese, £2.69
We all need a little comfort food from time to time, and chances are, if I'm that in need of comfort food, I'm not in the mood to prepare it myself. This frozen mac & cheese is perfect for those days, and it doesn't taste like your average freezer-burned, flavorless frozen meal—it's indulgent and as gourmet as the freezer aisle gets.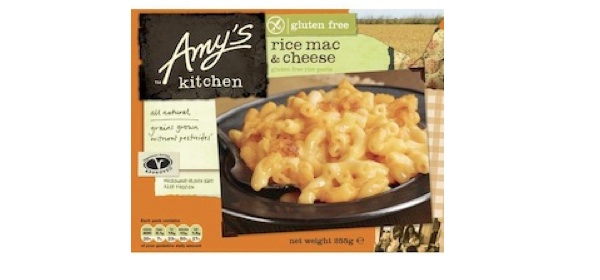 The grand total: 23 items, £60.28.
You can find these products at Whole Foods stores throughout the UK.
Which one are you dying to try?
Alexa blogs at 100littlevictories.com.
Like this article? Sign up to our newsletter to get more articles like this delivered straight to your inbox.