Here's the scoop on five of 2014's award show darlings' fitness, diet, and beauty regimens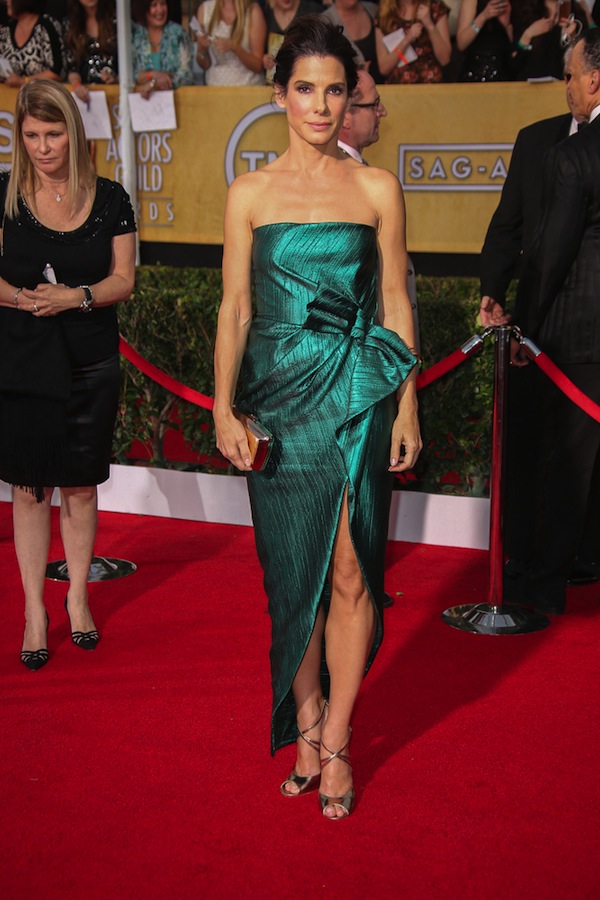 1. SANDRA BULLOCK Leading Actress nominee, Gravity
It's hard to believe Sandra Bullock is going on 50 when you look at those legs, those arms, that back…her whole body, really. Her trainer Simone De La Rue's program, Body by Simone, features cardio like dance and jump roping including 10-minute high intensity intervals, plus strength training.
Simone, whose other clients include Anne Hathaway and Naomi Watts, also loves utilizing resistance bands with handles for bicep curls and triceps extensions and 7 inch Pilates balls. Her signature Pilates ball move? Simone told Women's Health, 'The pony kick. You get on your hands and knees with the ball in the crook of one knee. Bring your heel towards the glute as you swing your leg up behind you, and then bring it back to the knee.' It'll work your hip, thighs, and buns. Check out Body by Simone: The 8-Week Total-Body-Makeover Plan for more tips. Just look at the book cover—how can you not trust a trainer that looks like that?
Sandra's been said to nosh on meals of black beans, brown rice, and steamed veggies. Chicken and fish are often on the menu, and snacks include apples, kiwis and bananas. Even celebs can have weaknesses, though—Sandra's is her sweet tooth. To keep herself on track, she allows herself one cheat day a week to avoid feeling deprived.
Let's be real; Sandra looks 20 years younger than she is. One of her fave anti-aging products is Artistry's L/X Crème. She says her entire morning routine takes her just eight minutes. Believe her?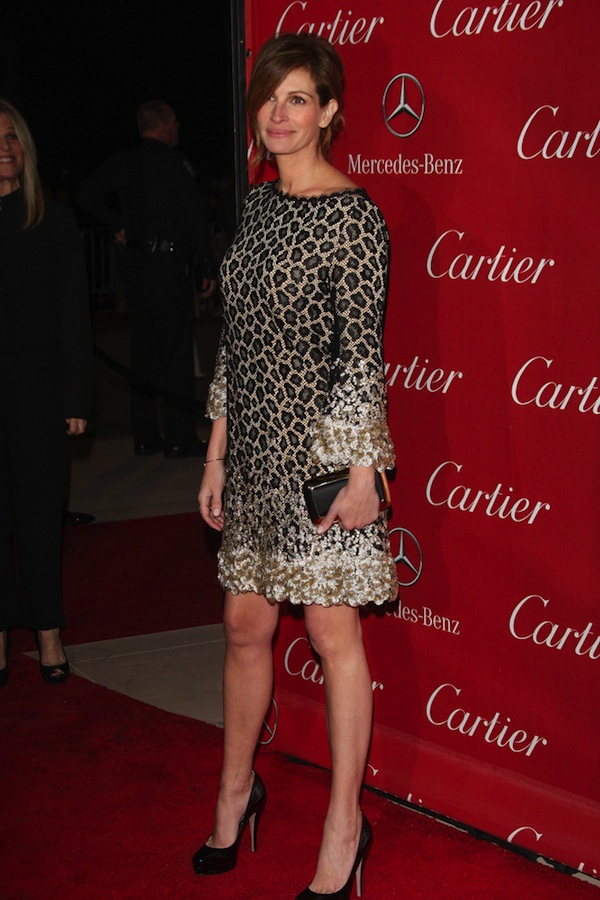 2. JULIA ROBERTS Supporting Actress nominee, August: Osage County
Celebrity trainer Kathy Kaehler has been one of the women behind Julia's body for years—she even prepped her for the Oscars in 2001, where she won best actress for Erin Brockovich. Kathy's approach to keeping Julia in shape is water workouts. She puts her through running, cross-country skiing moves and arm exercises in deep water. 'Swimming and water exercises are great ways to build up endurance and stay fit,' she's said. Check out some of Kathy's books and DVDs for more tips—Julia's favorite while traveling has been The Kathy Kaehler Fitness System DVD for years.
For her diet, Julia has turned to nutritionist Carrie Wiatt, fondly known as the 'Queen of Lean' in Hollywood circles. The author of oldie-but-goodie Eating by Design: The Individualized Food Personality Type Nutrition Plan has had carb-fan Julia eating meals made of 50-60 per cent carbohydrates, 20-25 per cent proteins, and 20 per cent fat. Her go-to complex carbs are fruits, vegetables, and grains. Another tip: make meals flavourful to keep them 'exciting and enticing, but not fattening,' Wiatt says. Adding roasted garlic to things is one of Julia's favorite tricks.
Julia uses Lancôme's Absolue Premium Bx Advanced Replenish Cream before pmakeup. Arguably Julia's most lusted after feature, her luscious locks are taken care of by hairstylist Serge Normant. His tip for Julia's signature curls? 'It's best to wrap one piece one way [around a curling iron] and the next [in the opposite direction]. Mix it up,' he told People Magazine. Julia is a fan of using Serge's Meta Sheer Dry Oil Finishing Spray on the ends of her hair to keep it shiny.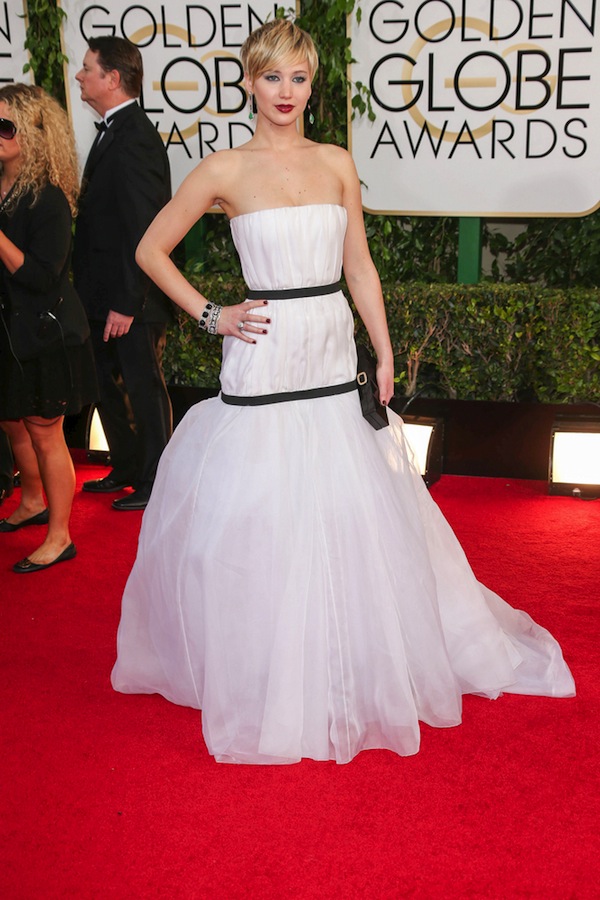 3. JENNIFER LAWRENCE – WINNER Best Supporting Actress, American Hustle
J-Law never disappoints on the red-carpet. Of her pre-awards show routine, her UK-based trainer, Dalton Wong says she starts each day with warm water and lemon and sips on water with added liquid chlorophyll throughout the day to keep her body balanced. She also drinks peppermint tea and chamomile tea before bed. When she's traveling, Jennifer drinks dandelion tea and eats asparagus to reduce water retention, according to Wong.
When getting her body strong and fit for The Hunger Games, her on-set strength and conditioning coach Joe Horrigan said she did agility drills and sprint work on the track, as well as stationary bike work.  As far as diet goes, Jennifer Lawrence is famous for saying, well, she hates them. When she's prepping for a movie, she focuses on limiting her calorie intake in general, rather than cutting out certain types of food. She also reduces saturated fats.
Jennifer has made headlines several times over the past year for cutting her lovely locks. Her hairstylist, Mark Townsend, explained that Jennifer wanted to chop off all of her damaged hair from coloring for movies.
Jennifer's go-to makeup artist, Jillian Dempsey, was behind Jennifer's beautiful Oscars makeup, as well as many other stand-out beauty moments for the starlet. Some of Jillians go-to products for Jennifer are Laura Mercier Caviar Stick Eye Colour and Dior Addict Lipstick in Beige Casual. She also shares this tip for making your eyes look bigger: line your lower lids with a brown eye pencil and smudge it a bit (she likes the staying power of Make Up For Ever Aqua Eyes.)  Keep top-lid makeup minimal.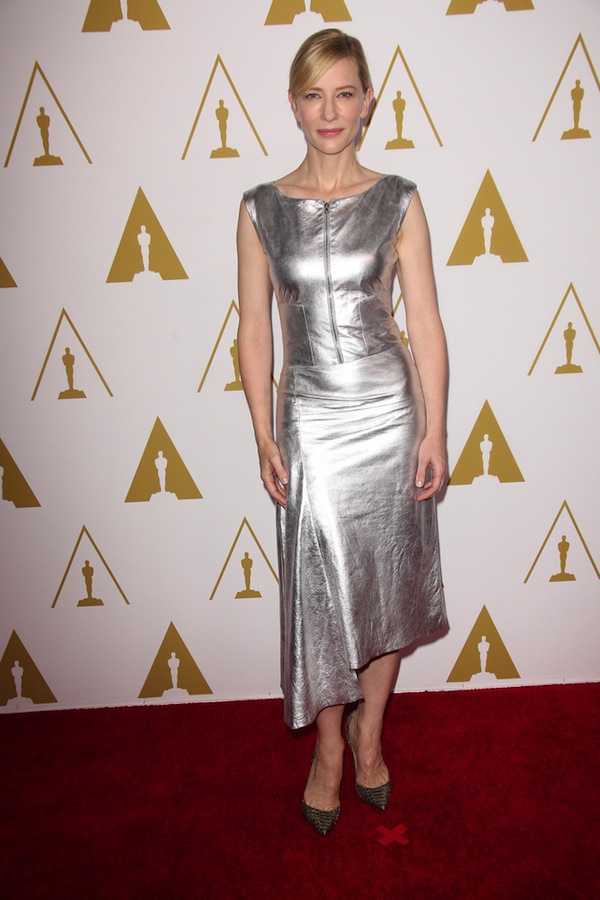 4. CATE BLANCHETT – WINNER Best Leading Actress, Blue Jasmine
Not only does Cate Blanchett have a great body, which she credits to eating healthy, pilates, and spending a half hour on the elliptical four times a week, but that skin. She's always been an avid SK-II product user; she's even a spokesperson for it now. She likes the Essence and the LXP Ultimate Perfecting Serum, according to an interview with Refinery29. She's also revealed that she uses Viviscal tablets to increase the strength of her hair and enhance growth, as well as the Frederic Fekkai glossing line to keep her strands shiny. FYI, our editor Anna Magee met Fekkai a few years ago and her gave her a little tube of Frederic Fekkai Advanced Brilliant Glossing Cream (£33.90 amazon).
It proved to be the most unfathomably effective frizz controller she had ever tried – use a tiny bit after your blow dry and say goodbye to frizz and flyaway. Tiny, tiny bit is the operative term here – it's 'bloody expensive' she says, but thankfully her last tube has lasted about two years.
Though she tends to keep mum on her exact workout and nutrition routines, it has been said that she's a fan of health guru Nishi Joshi, who has also worked with Sadie Frost, Patsy Kensit, and Gwyneth Paltrow (like we even needed to mention her surname.) He also comes with Diana, Princess of Wales' glowing approval.
Joshi's detox program includes tips like eating only fresh, organic, locally grown products, drinking water at room temperature, and having weekly colonic irrigations. Controversial alternative medicine? Yes. Celeb-approved? Yes. For more secrets and reasoning behind his no-dairy, no-wheat, no-red meat (among other detoxing bans) program, check out his book, Dr. Joshi's Holistic Detox: 21 Days to a Healthier, Slimmer You–for Life.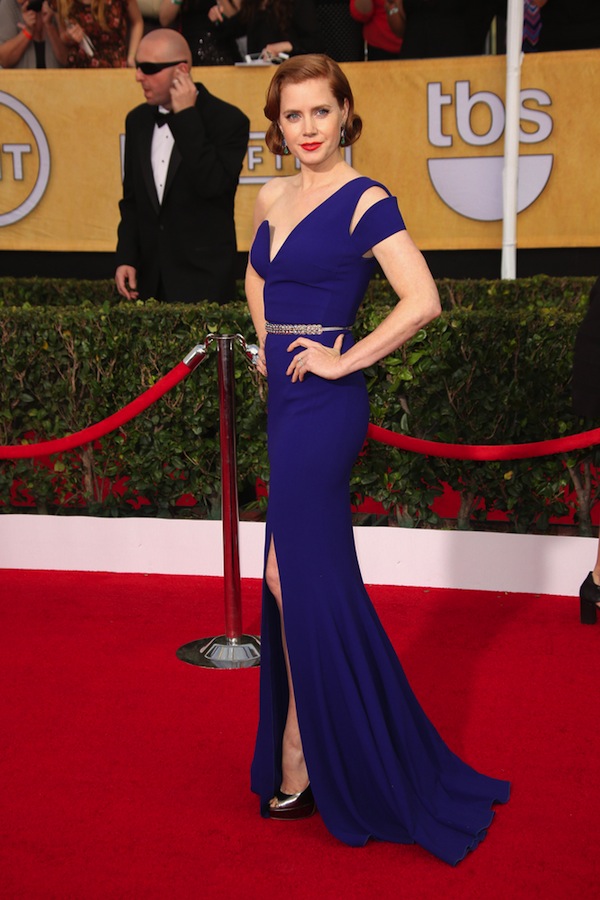 5. AMY ADAMS Leading Actress nominee, American Hustle
Amy Adams credits her gorg figure to simply eating healthy and portion control. She swears she's not into dieting, but she does share one shape-up secret—pole dancing classes. She originally took part in the exotic dancing courses to drop her baby weight. 'I'll do anything to get off that treadmill,' she's said. We are right there with you, Amy.
One of Amy's beauty secrets we were shocked to hear—she's not a bona fide redhead. Her locks are naturally light strawberry blonde. If you're in the market for Amy's gorgeous, fiery locks, her colorist, Tracey Cunningham, whose other clients include Jennifer Lopez and Cameron Diaz, recommends, 'Ask for a rich strawberry blond with warm tones, and bring in a photo of Amy. It's the best way to ensure you and your colorist have the same vision for the outcome.' She says the hair color looks best on light-eyed, light-skinned ladies. Pale has its perks.
Amy also raves about the power of makeup. 'I have no features without makeup,' she told Allure. 'I am pale. I have blonde lashes. You could just paint my face—it's like a blank canvas. It can be great for what I do.' Adam loves Laura Mercier products, including the Bronzing Pressed Powder in Matte Bronze, Baked Eye Colour in Terracotta, and Cream Cheek Colour in Praline.
Which of these celeb's secrets will you steal?
Alexa Tucker blogs for 100littlevictories.com.
Like this article? Sign up to our newsletter to get more articles like this delivered straight to your inbox.