Ever since Joe Cross's documentary Fat, Sick and Nearly Dead came out in 2010 juicing has become the trend of the moment. But juice can be notoriously time-consuming and tough to stick out.  Christina Paugger tried a 7-day juicing plan from super-blogger nutritionist Madeleine Shaw using a new fast and compact juicer – now she's hooked
The nutritional health coach Madeleine Shaw says 'Juicing for me is a way of life' and I agree with her. About eight weeks ago I hopped on the juicing wagon by doing a seven-day juice cleanse. At the time I constantly felt fatigued and had to battle several colds in the space of only a few months. As I had a penchant of Haribo sweets (I used to eat about half a bag a day) and basically lived on fast noodles with plastic cheese every night. At the time, my skin was flaky and dry and I suspected it had something too do with my appalling diet.
So I decided that it was probably time to detoxify my body and ditch my unhealthy habits. Inspired my the documentary Fat, Sick & Nearly Dead (DVD) (UK & EU Release) I went online to find some good juicing recipes to follow for my detox week. I used Jason Vale aka The Juice Master's juicing recipes.
That first seven-day juice fast had me only drinking freshly pressed raw vegetable and fruit juices. Those first seven days were tough as I was hit by hunger pangs constantly  throughout the third and fourth days. Yet, by the end of the week I felt revitalised and energetic and I wanted to carry on. All my sugar cravings had disappeared and my skin looked so much better so I continued having one juice a day because it boosted my energy levels, tasted delicious and made my skin look beautiful.
Drinking one fresh pressed juice a day is what Philips' new campaign Real Juice is all about. They have asked bloggers throughout the UK to simply drink one juice a day and report on what difference it makes to their wellbeing. Their aim is to get the British public to stop buying bottled juices and start making their own fresh vegetable and fruit juices. Their argument is that incorporating one fresh juice a day into our diet is simple and can help people reach their aim of eating the recommended five portions of fruit and vegetable a day. Philips teamed up with Madeleine Shaw, a nutritional health coach and blogger, who developed a recipe plan for the Real Juice campaign. Here's what happened when I try it.
Day 1: Good and Green Juice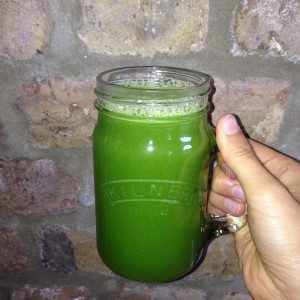 –       6 kale leaves
–       2 carrots
–       1 apple
–       1 pear
–       1 peeled lemon (or less according to taste)
On the first day of my one-juice-a-day-week I decided to go all in and try a green juice. When shopping in supermarkets I see juices that are usually orange, red or yellow in colour, but hardly ever green. Hence, seeing a green juice for the first time can be an experience in itself. Because I didn't have kale that day I replaced it with spinach. The Good and Green had just the right amount of sweetness and the added lemon gave it a refreshing note. I drank the juice at lunchtime and felt vitalised for the rest of the day. Day one: success.
Day 2: 4pm Pick Me Up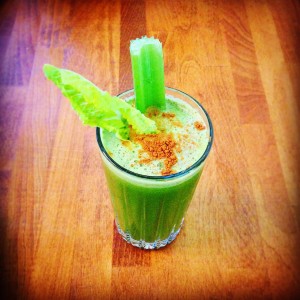 –       1 handful of spinach
–       5 romaine lettuce leaves
–       ¼ of a cucumber
–       4 stalks of celery
–       1 peeled lemon
–       1 apple
–       2cm of ginger
–       ½ teaspoon of ground cinnamon
In order to see how drinking a juice affected my body I tried to have the juices at different times of the day. So, on day two I went for the 4pm Pick Me Up to beat the afternoon slump. I have to admit, this juice is true to its name, only 20 minutes after drinking it I felt like I had a new rush of energy and did a post-work HIIT 20 minute BeFit workout on YouTube when I got home. The 4pm Pick Me Up is good for those of you with a sour tooth. Those sour Tangfastics Haribo jellies I used to love have now been replaced by my new favourite healthy, sour treat.
Day 3: Classic Cleanse Juice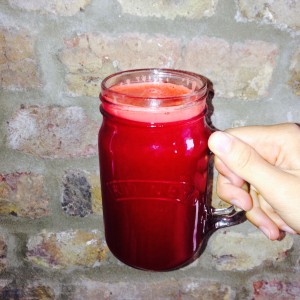 –       3 medium carrots
–       1 small beetroot
–       1 apple
–       2 stalks of celery
Blood red juice made a brilliant choice for our Halloween special. I personally love beetroot and it made the juice ever so slightly sweet rather than turning it into a sugar bomb. It was particularly interesting to see that the juicer performed extremely well even on hard vegetables such as beetroot (I have seen so many choke on harder vegetables). This juicer is small but seriously powerful.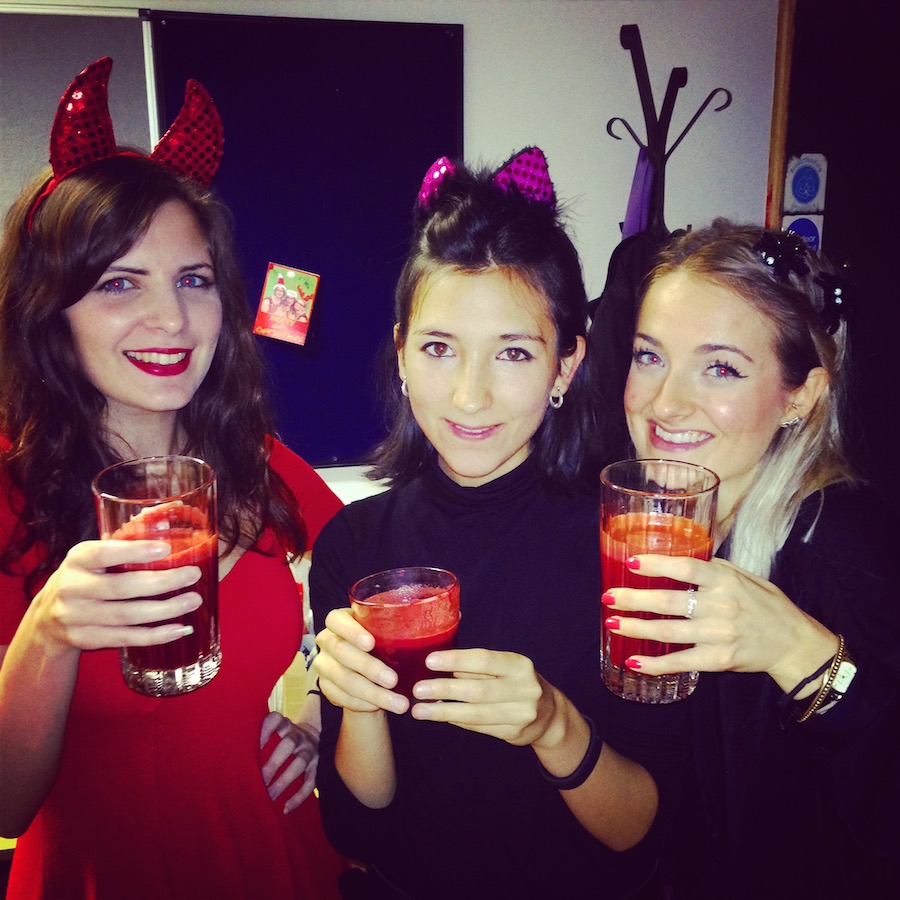 Day 4: Beat the Bloat 
–       ¼ pineapple
–       2 granny smith apples
–       handful of mint
–       1 peeled lime (or less according to taste)
I drank the Beat the Bloat Juice after a 20 minute Jillian Michaels workout and it was just what I needed. It tasted nice and sweet and the combination of pineapple and mint was a revelation, the flavour was intense.
Also, if you hate cleaning juicers, the Philips Compact Juicer is easier to clean than any other juicer I have tried (juicing junkies in the office agreed). It only takes five minutes to wash up all the parts and it's easy simple to reassemble. Plus the pulp is always really dry, a sign that it's getting every last drop of liquid goodness out of the vegetables and fruit you're juicing.
Day 5: Glowing Greens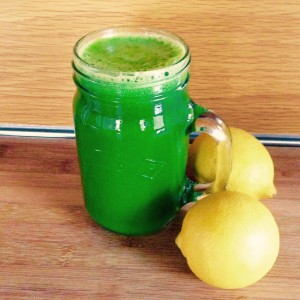 –       3 stalks of celery
–       2 handfuls of spinach
–       1 pear
–       ½ a cucumber
–       1 peeled lemon (or less according to taste)
–       1 handful of parsley
This juice is a real beauty to look at with its saturated green colour which it gets from the parsley. If you don't like parsley this is probably the wrong juice for you because that's the ingredient which dominates the taste. The glowing green is thirst-quenching, and unlike some of the other recipes it is not sweet. It's great when you crave something savoury, it feels a little bit like drinking a fresh and crisp garden salad.
Day 6: Super Skin Juice 
–       7 stalks of celery
–       1 apple
–       ½ cucumber
–       1 handful of spinach
–       5 large romaine lettuce leaves
–       1 peeled lime (or less according to taste)
Lime rejuvenates the skin, protects it from infections and the vitamin C and flavonoid content help make skin glow. I always envy people who have a naturally glowing skin, so I was keen on pumping this juice into my system. It tasted a little grassy and the celery certainly dominated its flavour so if you're not a big fan of celery add some ginger and another apple to help to mask the grassiness.
Day 7: Watermelon Cooler 
–       ¼ of a watermelon
–       1 peeled lime (or less according to taste)
–       1 handful of fresh mint
This juice instantly put me in a summer mood, because it reminded me of a refreshing cocktail you would have on a hot day summer day. The combination of mint and lime tasted divine. Plus, the watermelon is a real fat buster and helps to reduce the accumulation of fat in our fat cells.
3 tricks to make your vegetable and green juices taste better
Juicing newbies might find some vegetable or green juices too grassy-tasting so we've put together some tricks to add taste without sugar or calories

1. Add some ginger  it will neutralise all the bitterness from dark green vegetables.
2. Add some lime making your juice slightly sour works well in combination with most green vegetables and is also a natural preservative, which means you can store your juice for a few hours in the fridge.
3. Add a little fruit apple, beetroot, orange, pear or carrot if you find that your juice is not sweet enough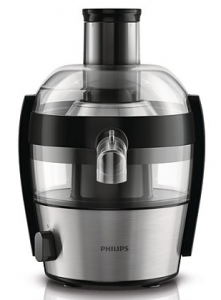 Philips HR1836/01 Compact Viva Collection juicer
Price: £80
Like this article? Sign up to our newsletter to get more articles like this delivered straight to your inbox.