Say goodbye to the old chalky, white dry shampoos of the past and say hello to the new wave of products to lengthen your time between washes. Healthista reports on the six best new dry shampoos for all your hair care needs
Oily hair and not enough time for a shower? We've all been there. But getting trapped in a dry shampoo cycle of products that either leave a chalky residue or completely dry out your hair can be awful. So to save you the trouble, Healthista went on a hunt for the best dry shampoos that were translucent, got the job done and made us fall head over heels for them. Here are our winners for all six categories of dry shampoo must haves regardless of your hair type.
Best for SCENT: COLAB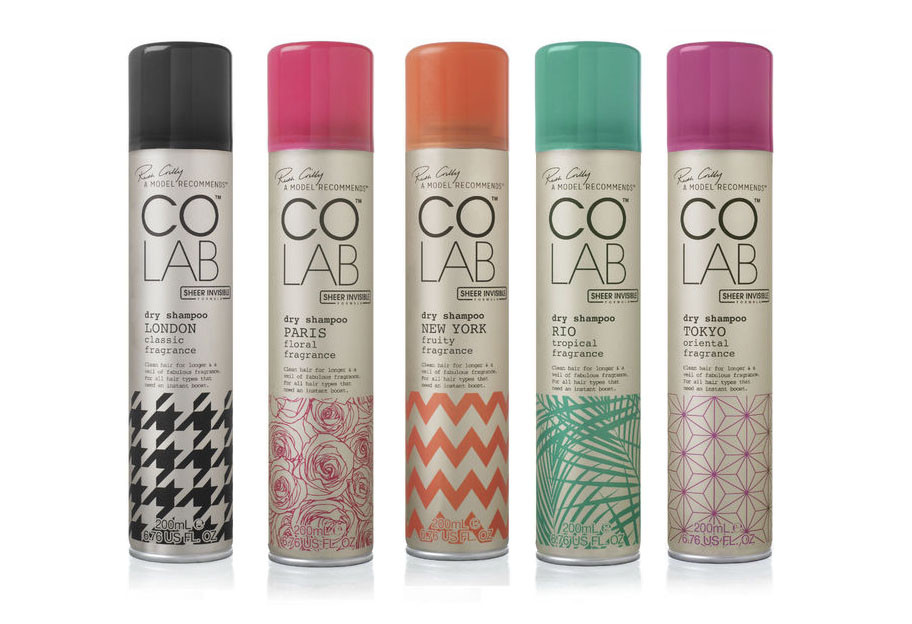 This dry shampoo is all about the scent. COLAB was just launched this year with a line of five dry shampoos each with a different gorgeous scent named after classic cities around the world. Created by Ruth Crilly, a model and blogger from 'A Model Recommends,' the formula was developed as a way to mix catwalk style with the everyday.
'If there's one true handbag essential for hair, then it has to be COLAB,' says founder Crilly. 'All the style refreshing power of a dry shampoo but with a sheer, invisible finish and gorgeous fashion-led fragrance.'
Not only do the dry shampoos smell incredible, they're all completely translucent and have no stickiness to them. It's a great way to give your hair a quick spruce while also leaving a veil of fragrance, especially with their travel size bottles perfect for on the go. Our favorite scent was 'Paris' with floral hints of jasmine, rose and patchouli, but there are so many other choices, including London, New York, Rio and Tokyo, that anyone could find a scent that suits them.
COLAB retails at superdrug at £2 for a 50ml travel bottle and £3.50 for a 200ml bottle.
Best ORGANIC: Tabitha James Kraan Organic Dry Shampoo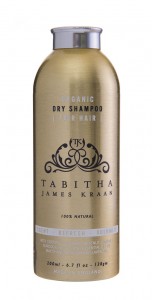 Looking for a dry shampoo that's completely natural and certified organic? Tabitha James Kraan Organic Dry Shampoo is your answer. This powdered miracle worker helps to cleanse and restore the natural balance of oil production in your hair while leaving a soft, smooth finish.
Developer Tabitha James Kraan, an organic hair care pioneer, swears by organic hair products to get the best results. 'No conventional product comes close to getting the results I can achieve by working naturally with the hair,' Kraan says.
Tabith James Kraan Organic Dry Shampoo comes in two shades as well, one for light hair and one for dark hair. Sprinkle a bit of the powder into your hair and thoroughly massage it into all of your roots and scalp. Then brush it through for a rejuvenating treatment that removes oils without drying the hair out and leaves a scent of rose and myrrh. Want more volume? Blow dry with cold air while you're brushing it out. Our intern Candice absolutely loved this product, because it was so gentle on her bleach-damaged hair and it gave her just the right amount of volume.
Tabitha James Kraan Organic Dry Shampoo retails online and in salons at £27.95 for a 200ml bottle.
Best for DARK HAIR: Alterna's Bamboo Style Cleanse Extend Translucent Dry Shampoo

Chalky, white residue trapped in your dark locks: every dark haired dry shampoo user's worst nightmare. Not anymore. Alterna's Bamboo Style Cleanse Extend Translucent Dry Shampoo is our top pick for the dark haired gal. This high end dry shampoo not only absorbs oils and gives you a bit of body, but it leaves your hair looking like you just had it washed and styled at a salon. Better yet, it's completely organic and has no trace of parabens, gluten, phthalates, paraffin or multiple other harmful chemicals. Dark haired ladies (and any other hair color, too), this dry shampoo is for you.
Healthista's editor Anna Magee tried out this dry shampoo after one of her morning workouts. With a bit of sweat still in her hair, she used Bamboo Style Cleanse Extend and was so impressed with the results. After letting it dry for about a minute and brushing it out, her hair felt instantly cleaner, was silky and soft and had a bit of bounce and body to it. What was the best part? Absolutely no white residue was left clinging her dark hair. We've all heard a million times how much healthier for your hair it is to extend the time between washes, and this cleanse extend dry shampoo will keep your hair looking fresh, clean and bouncing between washes, whether you have dark hair or not.
Bamboo Style Cleanse Extend Translucent Dry Shampoo retails at high-end boutiques and salons at £23.
Best STYLING: Trevor Sorbie Dry Shampoo

Obviously your dry shampoo needs to refresh your hair without a wash, but sometimes we want a little more. Trevor Sorbie's Dry Shampoo is our favorite for a styling product that also gets rid of oils. By spraying the product into your roots and working it in with your fingertips, it soaks up the oil and adds texture that helps with all sorts of styling. All the hair care products from Trevor Sorbie are tested in their salons, and the dry shampoo is no exception. While this product is salon approved, the price tag makes it seem like a steal instead of a salon used product at only £5.70 for a 250ml bottle.
Trevor Sorbie's Dry Shampoo added lots of volume and created just enough grip to help with holding a style without leaving a sticky residue when we tried it out. The scent is divine as well, not too strong but helps to mask any odor from unwashed hair. My hair still looked clean even on day five of not washing and it added the right amount of volume to my style as well. We would absolutely recommend this product.
Trevor Sorbie Dry Shampoo retails online and in stores at £5.70 for a 200ml bottle.
Best for VALUE: So…? Dry Shampoo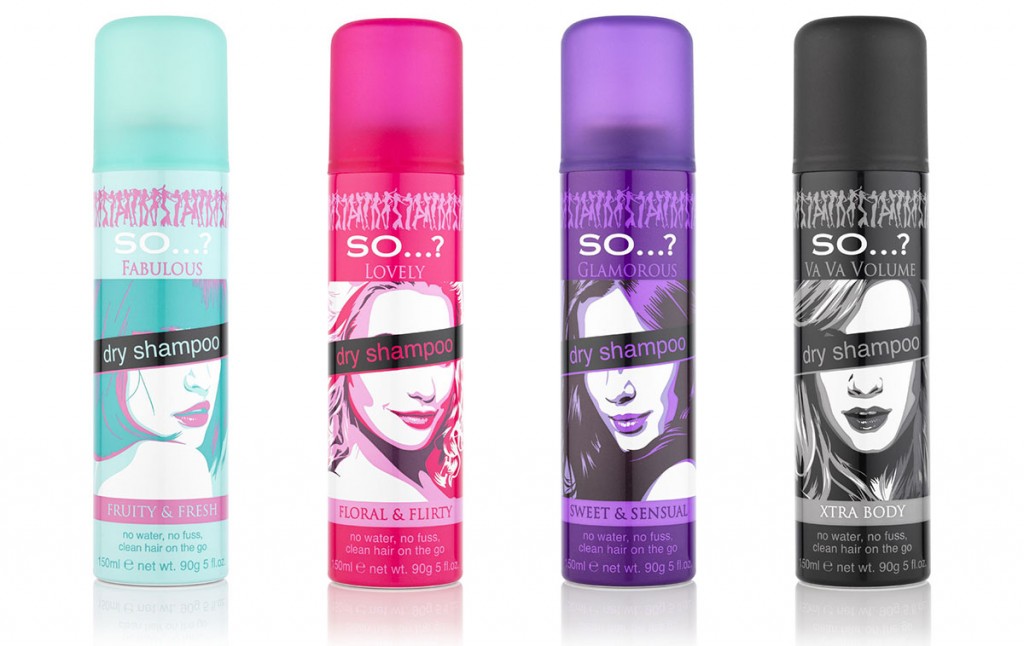 A bargain dry shampoo that gets the job done, the line from So…? revitalizes your hair for a satisfying price. Unlike other cheap dry shampoo products, this one didn't leave that chalky, white mist that seems to cling to your roots and it soaked up all the oiliness that builds up after a few days of not washing your hair. A good amount of product comes out when you spray it and after rubbing it in the hair isn't left looking flat. We tested the Va Va Volume extra body dry shampoo from So…? after a cardio workout and were impressed with how well it got rid of all the oiliness hair gets.
The line comes with four different quick fix dry shampoos:  Lovely with a floral & flirty smell, Glamorous with a sweet & sensual smell, Fabulous with a fruity and fresh smell and Va Va Volume for extra body. One bottle on its own is only £2.50, but you can also get a box set of all four for only £4.99. So if you're looking for a dry shampoo but don't want to spend loads on it, So…? is right for you.
So…? Dry Shampoo retails at superdrug at £4.99 for a box set of four.
Best QUICK FIX Joico Instant Refresh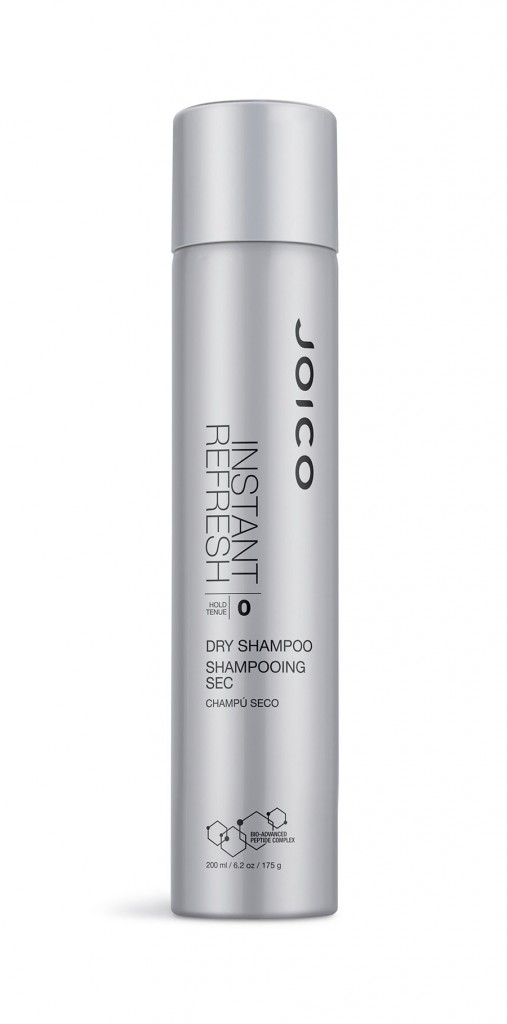 This dry shampoo is the best quick fix for freshening up hair without anything else getting in the way. JOICO Instant Refresh is a completely translucent spray that is purely a dry shampoo with no extra styling or hold affects that leaves hair feeling and looking clean and fresh. The spray leaves no white or sticky residue, and soaks up oils quick, leaving your hair feeling like it just got a full on wash rather than a quick spritz. The product is filled with aluminum starch, willow and manuka extracts that absorb excess oil and help stretch your time between washes.
This is the dry shampoo to throw in your purse or gym bag to use on the go because it won't change anything about your hairstyle while cleaning up your roots and stripping away the oiliness we can all get throughout the day. It's a go to for freshening  up your look.
Joico Instant Refresh retails online at £11.95 for a 200ml bottle.
Want more of top products we love? 
READ: 6 scents to transform your mood
READ: 10 BEST healthy cookbooks 
READ: 7 BEST new organic beauty brands
READ: 5 BEST new diet and fitness apps
Like this article? Sign up to our newsletter to get more articles like this delivered straight to your inbox.