Looking for healthy places to eat in London? Healthista Eats blogger Charlotte Dormon discovers the best hotspots for eating healthily this Autumn – from Gluten Free bakeries to Spanish cuisine 
When it comes to eating out, and eating well, London never fails to deliver.  As well as the capital now offering us the best in fine dining and Michelin star chefs; we also have an abundance of exciting street food stalls, pop up restaurants and glorious independent eateries springing up all over the place and they just keep getting better and better.  Over the last couple of months I have been putting my London healthy eats hot list together, finding out all the best places to enjoy everything from gluten-free muffins to vegan Spanish paella. This is great news for those of us that like to eat out healthily, the recent and growing trend towards 'clean' eating, veganism and vegetarian, has made it far easier and available for those with food sensitivities or specific health-related dietary requirements to be well catered for.
Over the last couple of months I have been putting my London healthy eats hot list together, finding out all the best places to enjoy everything from gluten-free muffins to vegan Spanish paella. 

Breakfast
Gorgeous gluten & dairy free muffins – Beyond Bread Bakery
For those of you who can't eat gluten, you'd better hold on to your seats, as your taste buds are about to go on a wild pleasure ride. Just when you thought gluten-free eating in London couldn't get any better, along came Beyond Bread Bakery – the UK's first ever 100 per cent gluten-free café and artisan bakery.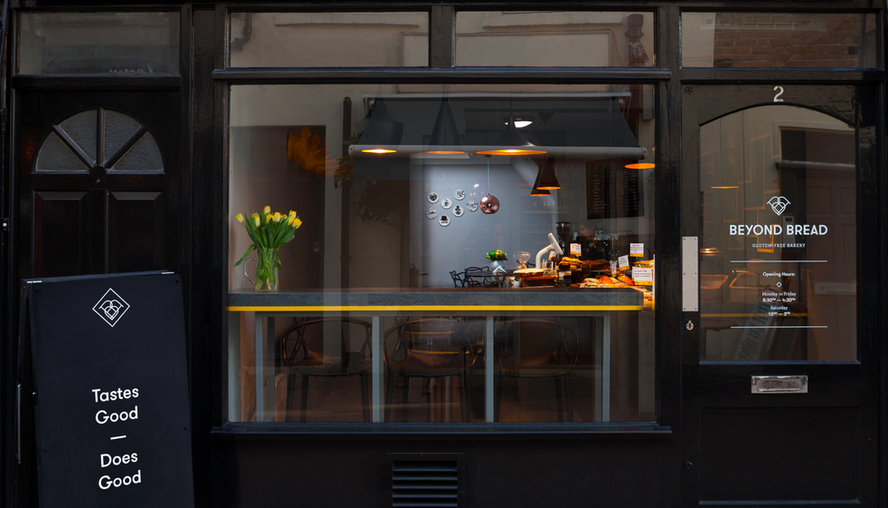 Since it opened its doors earlier this summer, this place has proven to be the answer to my carb-craving prayers. It has a seductive cake and pasty collection and an impressive line-up of freshly baked loaves, including sourdough, regular white, whole grain and seeded – not to mention the tempting option of a crusty French baguette, or Italian focaccia. I can guarantee that when you go, you'll be drooling like a hungry puppy in just a matter of minutes.
When you can't eat gluten and want a dose of carbs, breakfast can often be quite limited, but over here you'll be spoilt for choice.


The incredible walnut muffins!
There are scrambled egg rolls, toasted sandwiches and various pasty options to select from. I personally really enjoy their homemade gluten-free granola pots. The granola is made with toasted gluten-free oats, crunchy nuts and seeds and sweetened with a small amount of maple syrup. It comes served with lashings of dairy-free coconut yoghurt and red berries.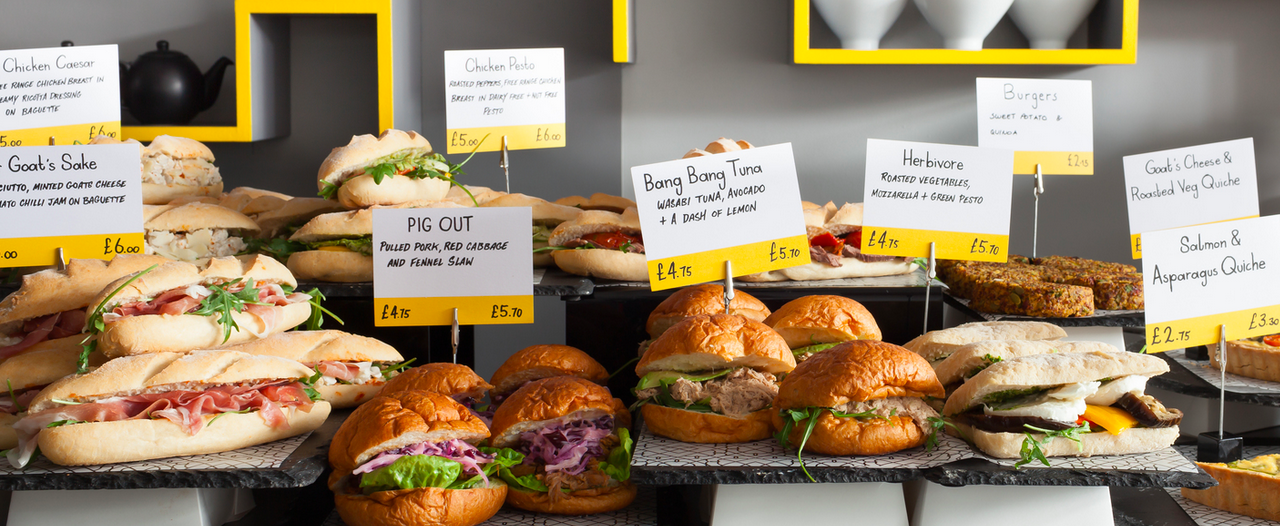 As well as the granola, I am rather obsessed with their gluten and dairy-free oat, walnut and raisin muffins. Yes, of course they should be limited to the odd treat and occasion – but when compared to most (particularly most shop-bought) gluten-free muffins, the ingredients used, such as wholegrain oats and walnuts, make them a much healthier option. My tip is to go to get one around 9am when they are just out of the oven – they smell gorgeous and are deliciously warm and fluffy.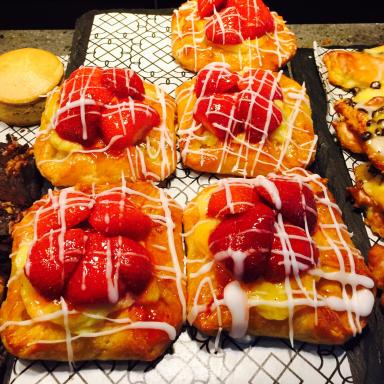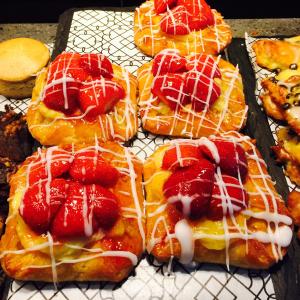 Beyond Bread has a small café area where you can sit in and order food, as well as soft drinks and excellent-quality coffee.
Address: 2 Charlotte Place, London W1T 1SB
Brunch
Perfectly poached eggs & spicy avocado on toast – Soho Kitchen & Bar 
Avocado is one of the most popular healthy food items right now. Every fitness instructor and nutritionist – not to mention wellness Instagrammer – around the globe seems to be advocating a good daily dose of avocado, often as a breakfast or brunch serving suggestion. Eggs are also one of the all-time great eats, as they are high in protein, rich in brain-boosting vitamin B and omega-3 fats. If you start your day with these two foods, you really can't go too far wrong. Fat and protein keep blood sugar levels balanced and work together to help keep you fuller for hours.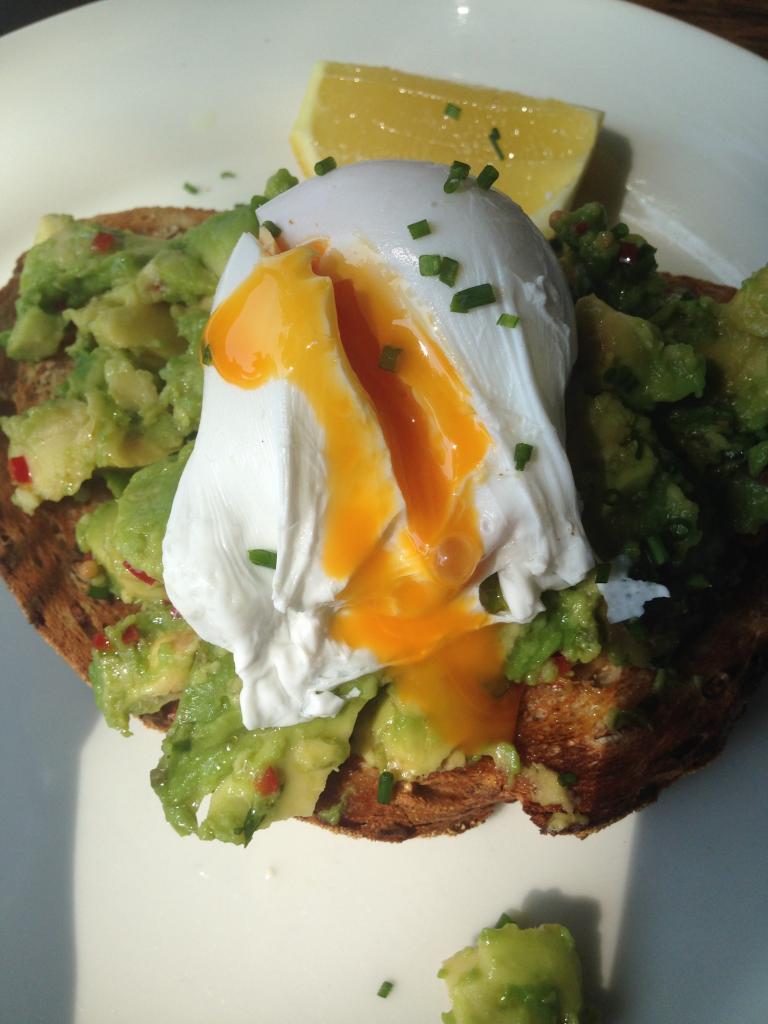 If I have a long, busy day planned, then I'll choose a breakfast containing protein and fat, such as avocado and eggs – I'm guaranteed to feel fine for hours without getting 'hangry'
Despite London's Soho area having some of the best places to eat brunch, the Soho Kitchen & Bar has outdone its rivals with its eggs and avocado option. The avocados used are excellent quality – just the right sort of ripe, with a smooth creamy consistency – and beautifully brought to life with the addition of zesty lime, hot black peppercorns and fresh red chillies. The portion is generous and the two eggs are poached to perfection. The dish comes served on sourdough wheat toast, but you also have the option of gluten-free if requested.
The Soho Kitchen & Bar is a relaxed yet lively place to enjoy eating out. The egg and avocado dish is available on the menu all day – so if you like to eat brunch-style food later on, then you have this as an option.
Address: 19-21 Old Compton Street, Soho, London, W1D 5JJ
Lunch
Hot & steamy homemade chicken soup – Soupe du Jour
Chicken soup is a wholesome, classic dish that most of us adore as a healthy comfort food throughout the winter. If made with good-quality chicken, proper stock (which must be made from bones), and fresh vegetables, it can also be a beneficial remedy for those recovering from illness. In fact, so much so that scientific research has proved it to be something of an immune-boosting miracle for those suffering with a cold or flu virus. In Jewish families it's even known as 'Jewish Penicillin'!
Cold or no cold, if you are a fan of homemade soup but, like me, don't have time to make it at home, you will soon fall in love with the fantastically healthy Soupe du Jour.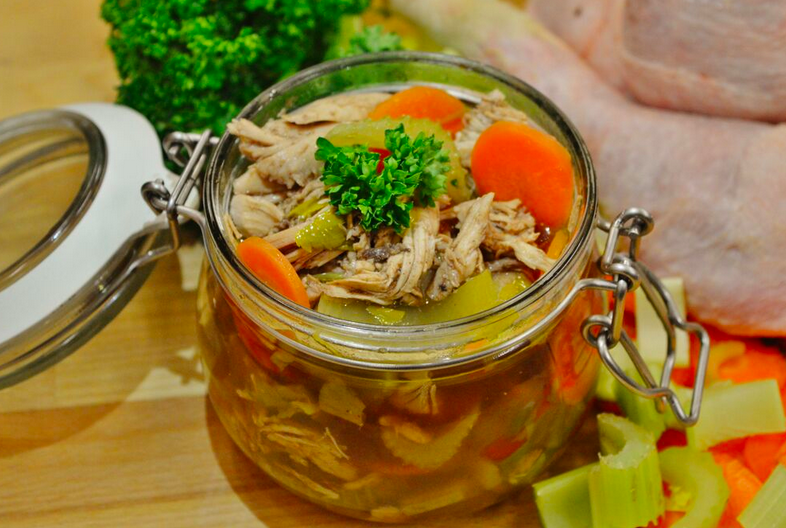 Good soups are hard to come by, but what makes the Soupe du Jour selection so special comes down to the ingredients they use, and the way they cook them. The produce is always locally sourced and in season, meaning that it's as fresh and nutritious as possible. Honey and agave syrup is used instead of sugar, and lemons and limes are used in place of vinegar. Many shop-bought soups are notoriously bad for loading up on poor-quality salt, but Soupe du Jour only adds in the necessary amount of natural sea or mountain salt to add flavour to their cooking. 
They have a menu with around five or six soups to choose from, most of which are wheat, gluten and dairy-free, and there are options for both vegan and vegetarian customers. The classic chicken – which is my absolute favourite – has a flavoursome clear broth packed with chunky pieces of free-range chicken, mixed root vegetables and seasoned with a scattering of fresh herbs and black peppercorns.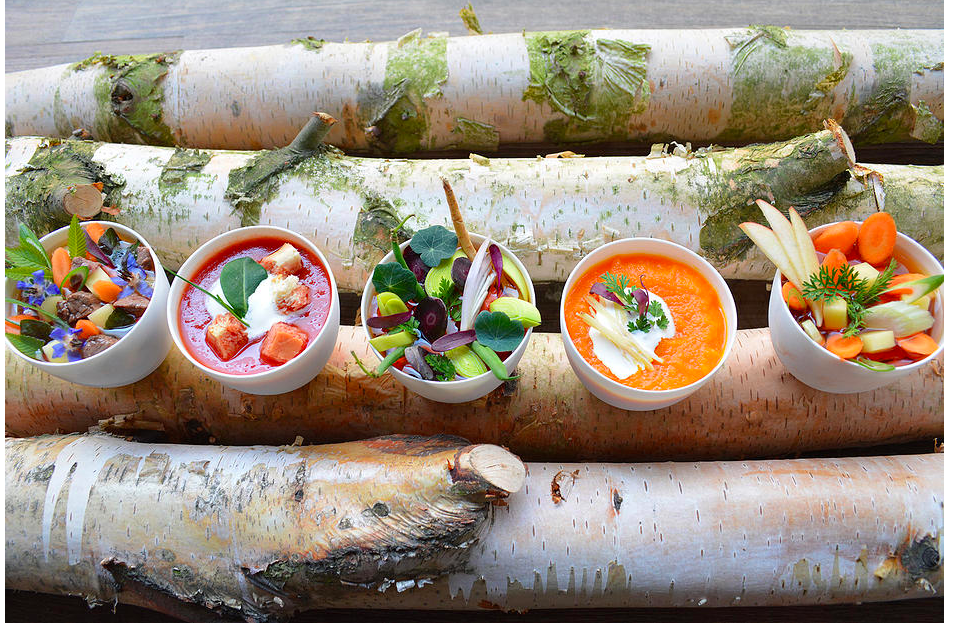 All of the soups are served with a slice of handmade German bread or homemade gluten-free bread and the option to purchase their flavoured homemade butters to make it even better.
If you want to up your protein intake, Soupe du Jour also gives you the option of paying a little extra for an additional portion of chicken, chorizo or tofu to be added to your soup.
I'm a big fan of Soupe du Jour. I think the team behind it have done a great job in offering their customers a lunchtime meal that everyone loves, but giving them better-quality food that is both healthy and satisfying.
Address: 34 Lexington St, London W1F 0LH and 38 Houndsditch, London EC3A 7DB.

Dinner
Vegan-friendly Spanish tapas and paella – Iberica
It's not often that you feel well catered for as a vegan diner when you eat outside of a vegan or vegetarian-only restaurant – least of all in a traditional Spanish restaurant, where meat, cheese and fish play such a big role in most of the dishes on the menu.
It's not often that you feel well catered for as a vegan diner when you eat outside of a vegan or vegetarian-only restaurant
Tapas works well as a meal for those who prefer to graze and eat smaller portions.  It's also great as a meal to enjoy with friends, as you can try out a few different dishes that can be easily shared throughout the course of an evening.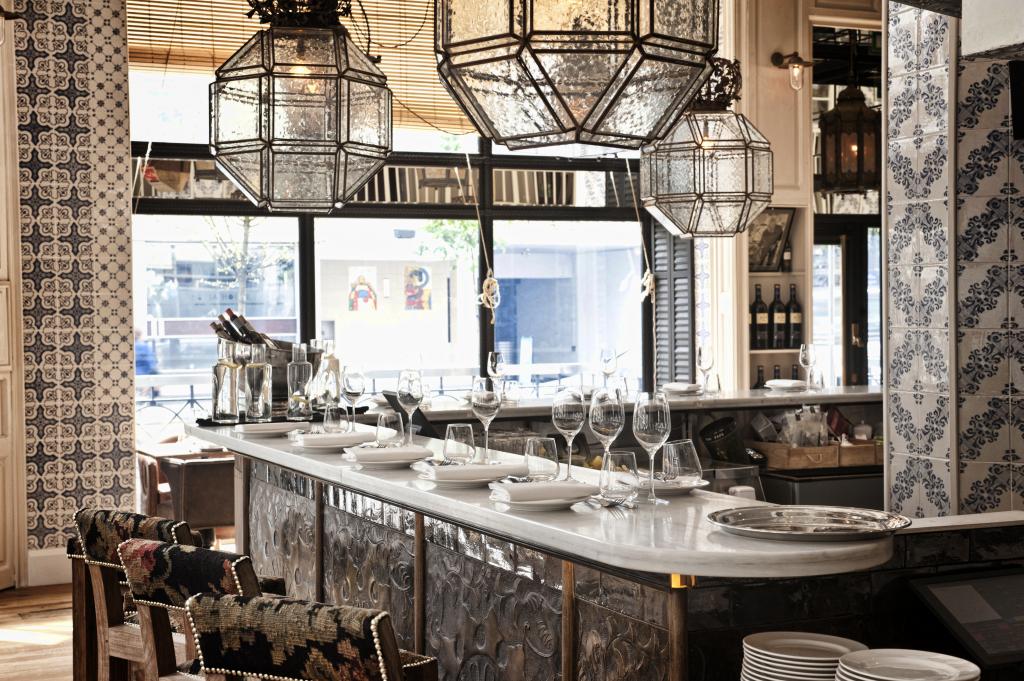 When I last went out with Healthista editor, Anna Magee, she was following a strict vegan diet. Being one for healthy eating, she was slightly dubious when I suggested Spanish, as her previous experience had been a table full of bits of stale white bread topped with deep-fried cheese and fatty bits of chorizo. I explained that her experience was similar to many others, which is why I wanted to de-mystify the 'unhealthy' Spanish tapas fear that scares many people (calorie-conscious women in particular) away from eating in these restaurants. Yes, of course there are still a lot of deep-fried, fatty sausage and meat platter options out there (it's the quality of the meat you need to be checking for), but there are also plenty of Spanish restaurants serving much healthier, leaner and cleaner food options.
One of those that tick my 'much better' box is Iberica – a high-end Spanish restaurant chain with branches that spread out to some of the most desirable parts of London, including Marylebone, Canary Wharf and Farringdon. Each is nicely decorated with comfortable, modern and fresh interiors. Big windows let natural daylight fill the room and the well-placed lighting is up-lifting. They're certainly a far cry from the traditional Spanish, dimly lit, terracotta-painted restaurants I remember visiting in my early years.
menu options can be adapted to suit those with a specific food allergy or intolerance. The chefs are also happy to make changes where possible to suit their vegan and vegetarian customers.
Anna and I happened to be those particular customers. We rang in advance to book a table and explained our situation. On our arrival we were pleasantly surprised when the waiter presented us with our own personally prepared vegan-friendly menu to look through, which offered us a choice of tapas, paella and pudding. It was incredibly thoughtful of Iberica to do this and made choosing our food so much easier.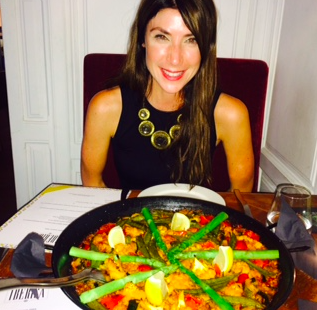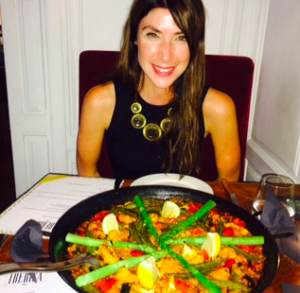 Despite being impressed they were able to cater for vegans, Anna was still dubious that the food might be 'really fatty and too heavy'. However, as each course arrived and was polished off, there seemed to be no complaint of this.
Over the course of the evening we were presented with a delightful selection of tapas, including hot padron peppers, gazpacho soup, aubergine dip and salads. These were followed by traditional Spanish paella freshly made with rice and vegetables, including asparagus, green and red peppers, onions and mushrooms. I am a big fan of Spanish paella and am always on the hunt to find myself a good one when I'm away on holiday, so was most pleased to find something so delicious in London that was also suitable for vegans.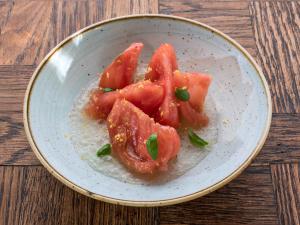 The vegan-friendly Spanish meal we shared at Iberica proved to be a success, the service was good and prices quite reasonable. I would consider it a good dining-out option for a meat-free healthy evening meal.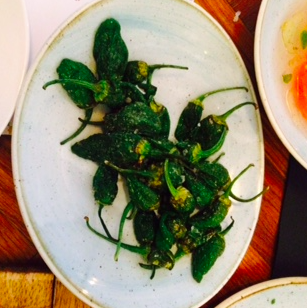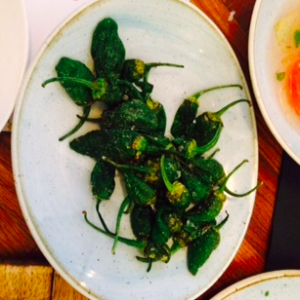 Address:  Please see website for all addresses across London and Manchester
One for the Weekend
Ladies-only Lunch & Spa pampering – Grace Belgravia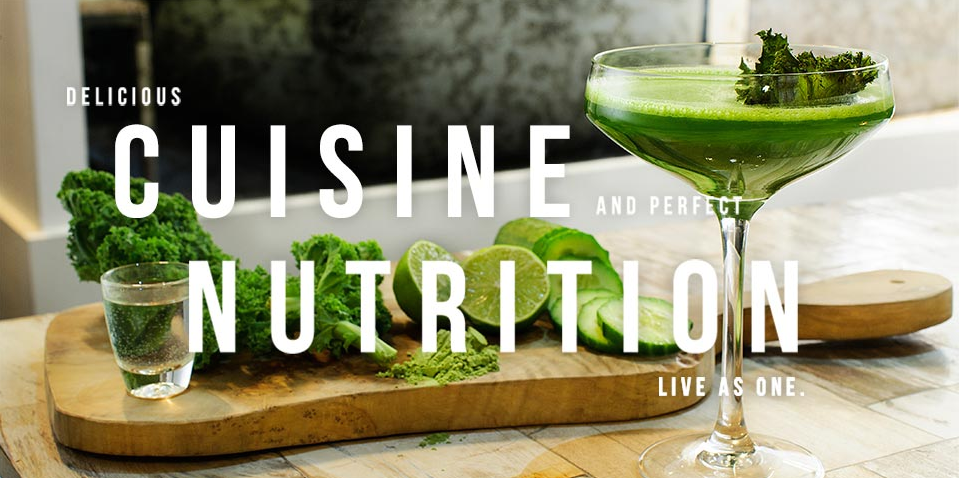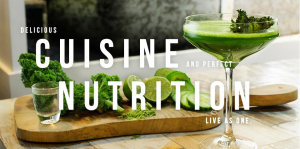 In an ideal world – which is the world I usually dream about when I'm commuting to work on the ghastly Bakerloo line most mornings – I would be wealthy enough to afford to visit the most amazing luxury spas around the world all the time.  Unfortunately for me, my current bank balance doesn't allow for such frivolous spa adventures at present, so for now I'm content with treating myself to the occasional and well-deserved Sunday massage or facial when I'm feeling in need of some pampering and rest.
The other weekend after feeling exhausted from a crazy few months of London stress and piles of work, my friend Sarah and I decided to book ourselves in for a day of de-stressing at women-only members' club, Grace Belgravia. 
Grace Belgravia is one of London's most luxurious and glamorous health and wellbeing clubs. Its high-profile gym-bunny members include everyone from famous Victoria Secret supermodels to British glamour-puss Liz Hurley.
From Monday to Saturday, Grace has a strictly members-only policy, but on Sundays they relax the rules, allowing others to book in for their Sunday Spa & Lunch package, where you can use the gym and club facilities, enjoy lunch in the restaurant and either a spa facial or massage treatment.
Given that this is not your average run-of-the-mill London gym, I had no idea what to wear when I visited, as I was sure everyone there would be strutting around in something expensive and haute couture. After having a couple of clothes-changing tantrums, I decided upon the Sport Lux look (according to those I know in fashion it is so 'now' and so chic), pulling out my best garments from the Sweaty Betty collection, along with a smart black handbag and huge black sunglasses – which are essential for all types of posing and fabulous occasions.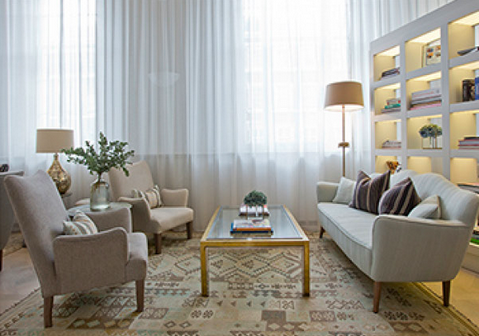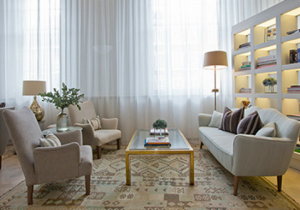 Central Belgravia, where Grace is located, is already quite magnificent – it looks like it's built exclusively for super-rich people. Every house is absolutely huge, and each one is painted bright creamy-white with glossy black painted doors and pristine gardens, with rows of brand new Bentleys, Rollers and Aston Martins parked outside. Yes, I knew I liked it here and I hadn't even been inside yet.
After walking up a fancy glass staircase to the reception of the club, I was greeted by a friendly receptionist who ushered us over to their lounge area to have a glass of cucumber-infused water whilst we waited for our therapists. 
Grace is stunning in every way.  It's no wonder why anyone that could afford to, wouldn't want to become a member. Gazing around at the white marble floors, luxurious furniture, artwork and beautiful interior décor, I felt more like I was in a five-star London hotel than a health and fitness club.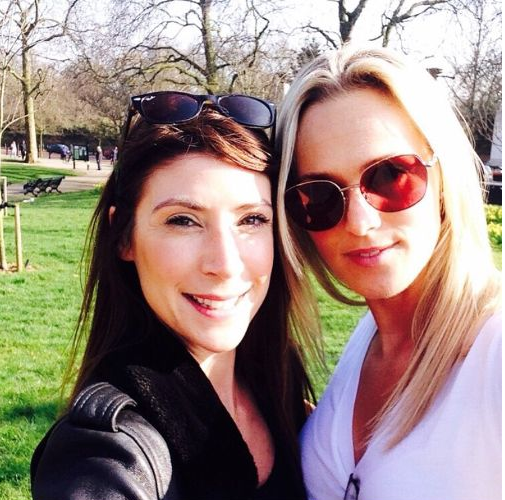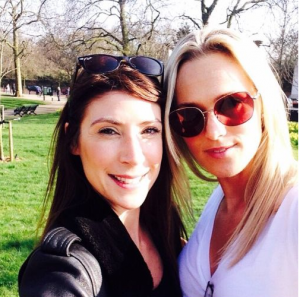 There are many good day spas located in hotels in London where you can go and use their gyms and have treatments, but what swung it for me (as well as wanting to see exactly what this glamorous health club for women was all about) had been the healthy food served at their restaurant and the cold-pressed juice available. My bugbear when you go to a lot of hotels is that the restaurant is not particularly geared towards improving your health. Grace, on the other hand, as well as offering fitness and spa facilities, has a restaurant and café menu created by their head chef in conjunction with the Grace nutrition team. This collaboration of in-house expertise means the dishes are designed to satisfy good health and taste alike. 
Before we tried out lunch, we went off to the spa area to get pampered with a Grace QMS facial. The treatment lasted 60 minutes and every moment of it was wonderful.  As well as being the relaxing experience I was in need of, my skin was getting the ultimate makeover. I had an assortment of deep-cleansing lotions applied and antioxidant masks designed to help hydrate and boost my tired face back to life. 
As well as giving me my glow back, I was impressed by the amount of massage time you got during the treatment – which is not often the case when you get a facial. Whilst the masks were left on, the therapist worked at the stress knots in my neck and shoulders, which was much needed after being lodged in front of a computer screen all week.

The restaurant was full with women of all ages, all looking happy and relaxed whilst reading the papers or a book, working away on their laptops, or catching up with a friend over lunch. Before coming to Grace, I thought it was a little strange that a club in this day and age had a strict women-only policy. Yet after a few minutes of settling into our surroundings, it suddenly occurred to us just how nice it was for a change to not have a load of men around. It was actually a rather lovely feeling knowing you could relax and enjoy being in this private female-only oasis where men can't exist for a while.
The food menu was even better than I had imagined. It was all the sort of healthy-style meals I love to eat out – beautifully presented and made with the best high-quality, natural, nutritious, flavoursome ingredients. 
We didn't have starters, but picked our mains from the salad menu. There are four great salads to choose from (all of which are gluten-free), which are served with a grilled or baked protein booster of your choice, including sea bass, salmon, chicken and beef. Sarah opted for the Raw Pad Thai Salad with a peanut, coconut and chilli dressing, with the addition of seared beef, and I had the Rainbow Chopped Salad, with cider mustard dressing, and seared queen scallops as my protein addition. We also had a portion to share of the baked sweet potato fries.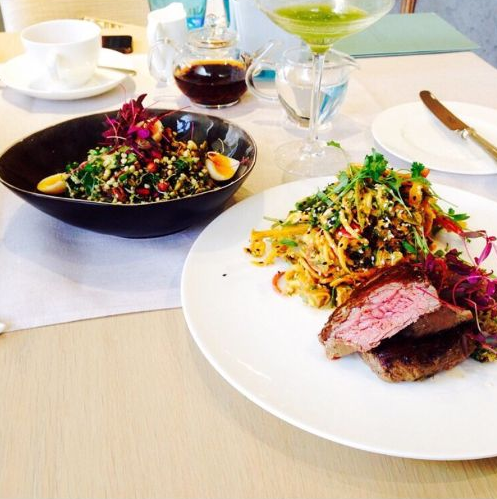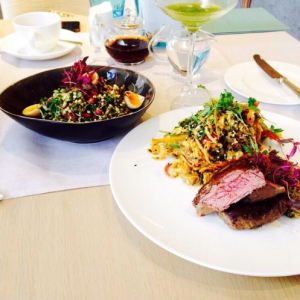 Sarah's beef fillet and Pad Thai dish was exquisite. The freshness of the Thai spices combined with raw salad and warm beef were terrific. My salad was equally impressive, full of tasty sprouted pulses, crunchy toasted pecan nuts and soft warm quail's eggs. It was a satisfying and highly nutritious dish with a lot of different tastes and textures. 
To drink, we had a delicious super-food alcoholic cocktail: mine a Kale Martini and Sarah's a Berry Mojito. Both drinks tasted wonderful and did not give us the usual sickly-sweet sugar rush you can get from most cocktails. A Kale Martini may not seem the most appealing, but I recommend giving it a go – it's definitely my new favourite way of drinking greens.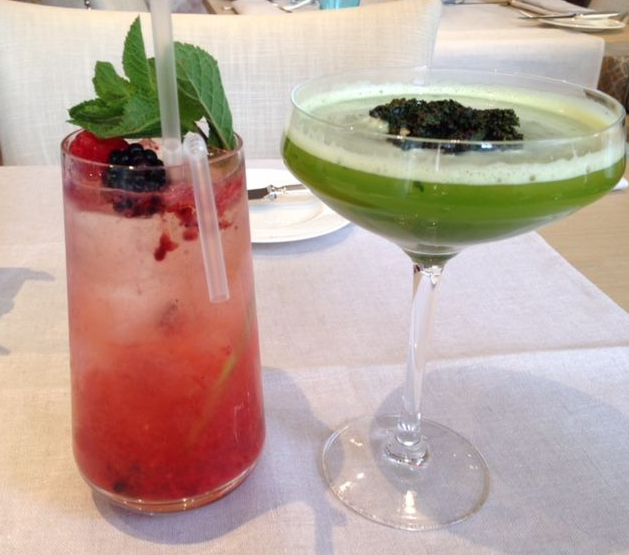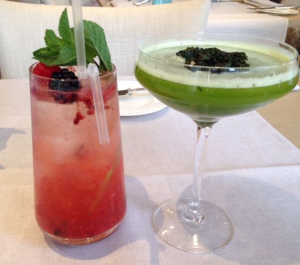 For pudding, there are some good options, particularly for those avoiding sugar, wheat, dairy and gluten. Normally we would share something, but with all the choices being so light and healthy, we opted for one each: the Raw Chocolate and Mint Pudding served with a pistachio and chocolate sorbet and blackberries, and the chilled Summer Berry Pudding, served with blueberries and raspberries. Heavenly is the one word that sprang to mind: it's almost a complete miracle how they make their desserts taste be so yummy, yet so good for you.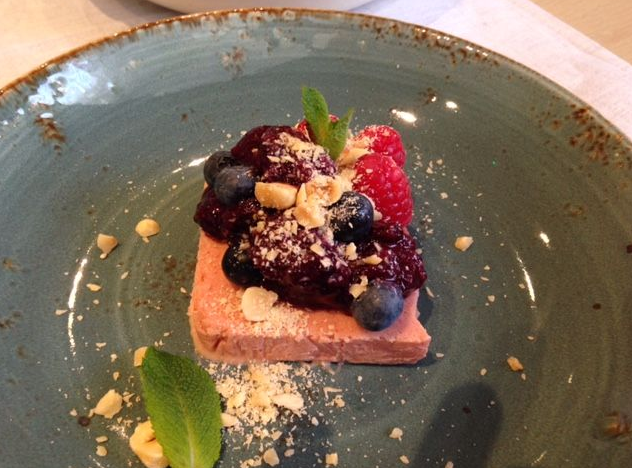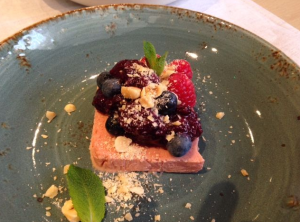 We finished our meal in the lounge area of the club, where we enjoyed a fresh mint tea. It was a lovely way to spend a Sunday afternoon, leaving us both feeling relaxed, happy and glowing with good health.
Grace Sunday Spa package is £290 per person, including spa treatment, lunch and full use of club facilities.    
Address: 11c West Halkin Street, London, SW1X 8JL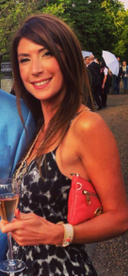 CHARLOTTE DORMON is our Healthista Eats blogger.  She's not a chef, or even that much of a cook.  If it's recipes you're looking for – you're in the wrong place.  But whether it's Sunday lunch or Friday night cocktails, she's the one friends and family turn to when they want to know how to eat out and be relatively healthy.  Each week she'll now be bringing you the same insider knowledge.  We'll drink – and eat – to that. Follow Charlotte on Twitter @lottielurvsu.
Like this article? Sign up to our newsletter to get more articles like this delivered straight to your inbox.