Ooh we love a good cleansing balm around here.  The act of massaging the face with a rich balm then removing it with a washcloth soaked in water is one of life's simple pleasures – a few seconds sweet-scented escape at the end of the day. Massaging the skin with a cleansing balm is a great way of boosting circulation to the face too which can increase radiance.  We have no scientific proof of this but people we know who use cleansing balms all seem to have great skin.
The idea of a massage balm removed with a wet cloth was first made mainstream by the legendary facialist Eve Lom and her multi-award winning facial cleanser that comes with a muslin cloth for removal.  Though Lom's is now a true cult product, there are new cleansing balms that contain natural, gentle ingredients like Lom's and work in a similiar way, leaving you with the same lush ritual cleansing experience but also providing extra benefits of their own – and most are a good bit cheaper too.
BEST FOR : OVER-BURDENED SKIN
1) Know-It-Oil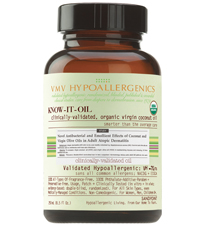 Why is it so great?  Know-It-Oil is made of only 100 per cent organic virgin coconut oil.  It might seem counter-intuitive to use an oil as a cleanser but Liz McCarthy, founder of abeautifulworld.co.uk stole the secret from a model whose face was congested and breaking out from too much product layering (and passed it on to us).  Her instructions:  Put (or pour) a small amount of Know-it-oil into the palm of your hand and gently apply to your face in small circular motions.  Gently tap skin with your fingertip to help encourage the oil into the skin and increase circulation.  Use a moist warm cloth, and place over your face (cover with another dry towel to seal in the heat), leave for 30 seconds to one minute.  Gently wipe away make-up and excess oil, and pat your skin dry.  Skin will look bright, clean and hydrated with a light layer of oil left of the face to moisturise.
Where is it found? It's available exclusively through A Beautiful World.
Price: £16.00
BEST FOR: SUPER-SENSITIVE SKIN
2) Eau Thermale Avène Ultra Rich Cleansing Gel with Cold Cream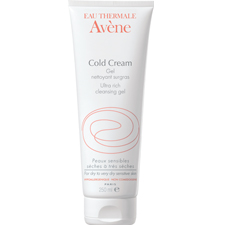 Why is it so great?  This gel is soap-free, enriched with cold cream and formulated with a low pH which makes it great for super sensitive and super dry skin. Since it won't dry you out, leave you greasy, or irritate the skin it's great for daily cleansing and moisturizing for all skin types.  You apply it to slightly damp skin and really massage it in – it's thick and feels luxurious on the face – and then remove with a warm damp cloth.  It can be used all over the body as a cleanser for super sensitive skin.
Where can I buy it? The Eau Thermale Avène range is available from Boots
Price: £8.00
BEST FOR: ALL SKIN TYPES
3) Clarins Pure Melt Cleansing Gel with Marula Oil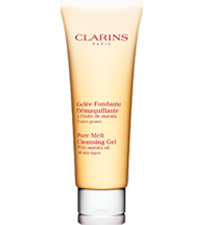 Why is it so great?  Made to suit all skin types this multi-tasking cleanser begins as a honey-coloured gel that you massage into dry skin and then changes into a transparent cleansing oil and finally a light cleansing milk when you add a few drops of water.  You then remove it with a damp face cloth. It contains a potent mix of coconut, marula and palm oils for deep cleansing without drying. In terms of ritual experience in facial massage, this is a delight at the end of the day and never drying on the skin though likewise, it leaves no oily residue.
Where is it found? It is available at both Boots and Amazon.
Price: £19.50
BEST FOR: LUSH CLEANSING
4) OSKIA Perfect Cleanser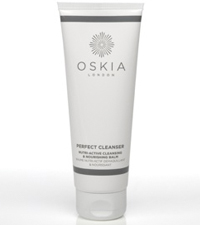 Why is it so great?  We adore this new skincare brand, Oskia London, formulated by a team of docs, derms and make-up artists to marry high-functioning proven ingredients with those that are also  paraben-free so they work on skin surface but are gorgeous to use.  The cleansers enhanced with vitamins A and E, Omega 3 and 6, prebiotics, and minerals and starts as a balm (smells divinely therapeutic, like an expensive spa and not too strong) and then turns into a light milk when water is added, providing lightweight but deep moisture while also getting skin really clean. Great for all skin types, it helps fight blemishes, brightens complexion, calms and soothes irritated skin, and rehydrates moisture-hungry skin.
Where is it found? Amazon, and directly from the Oskia London website.
Price: £32.50 (or £8.00 for travel size)
BEST FOR: USE ON SENSITIVE EYES
5) Orico STREETWISE – Hydrating Make-up Remover for Face and Eyes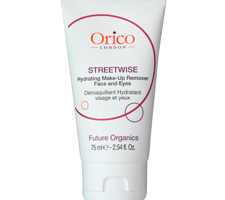 What makes it so great?  The Orico line is certified organic and the Streetwise cleanser is specifically designed to remove all the make up, pollution and dirt left on skin by our busy, modern, urban lives. It's also fortified with a veritable laundry list of skin's natural BFFs such as vitamin E, aloe vera, and coconut oil. It's also got a mild citrus scent from orange and tangerine oils that helps wake up you and your skin and also smells kind of spa-ish. It can be used to remove eye make-up too – our tester has super-sensitive eyes and used it on hers with absolutely no reaction.  It too is massaged in and removed with a damp hot cloth.  Afterwards skin literally shines clean.
Where is it found? Directly from The Orico website
How much? £12
Like this article? Sign up to our newsletter to get more articles like this delivered straight to your inbox.