Want beautiful skin? Get out of the bathroom and into the kitchen. Healthista's rounded up the best cookbooks for a healthy, glowing complexion – part of our winter skin edit
Everyone wants flawless skin. However, most people only focus on topical products to get it. The reality is, beautiful skin starts from the inside. Cleansers, toners and creams might help, but eating the right foods, and avoiding the wrong ones, is essential to healthy skin. We've picked out some of the best cookbooks on the market to help keep your skin clear and glowing.
MORE IN OUR WINTER SKIN EDIT: 
Expert advice: What to eat for great skin – video
9 best beauty products for tired skin
Liz Earle Skin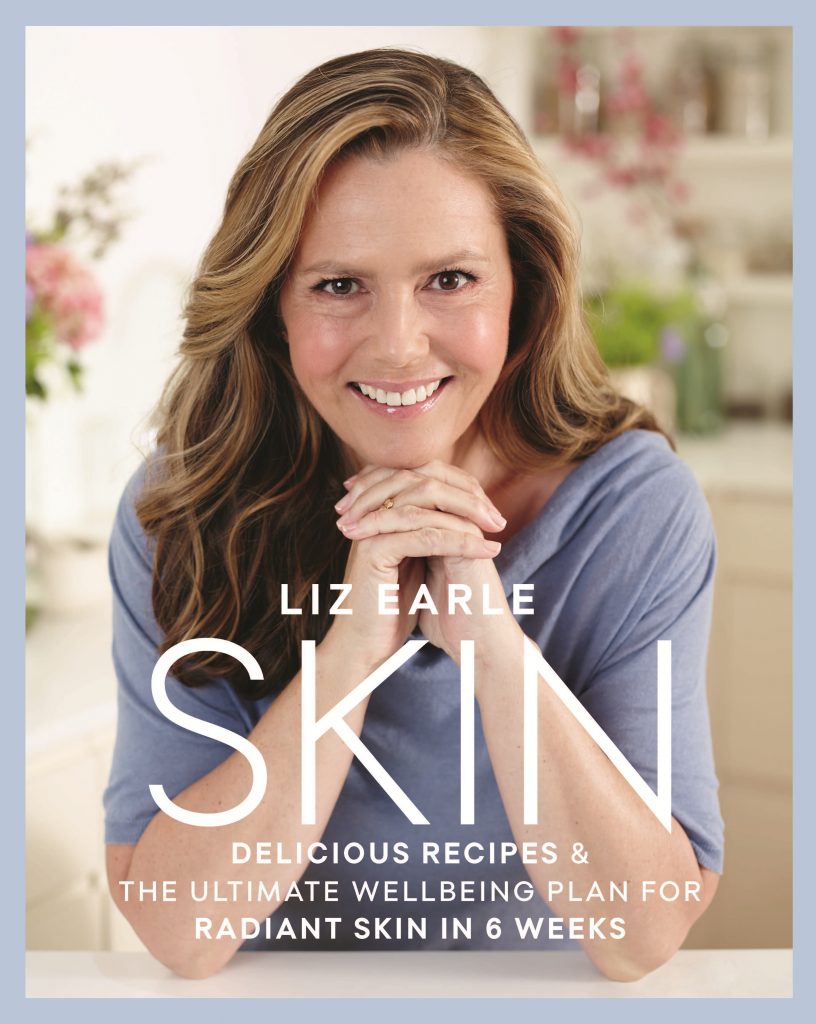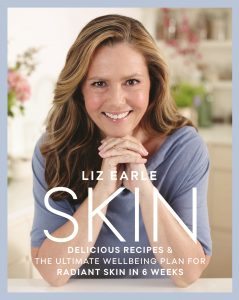 Who better to write a cookbook for beautiful skin than natural skin cosmetics guru Liz Earle? In her newest venture, the beauty maven claims you can 'eat your way to better skin.' The book contains a six-week guide to a better complexion, as well as 80 recipes. Scattered throughout are Earle's best tips and tricks for achieving radiant skin.
Why we love it:
Earle breaks down her wealth of knowledge into six digestible parts, each focusing on a different aspect of skincare. Separated by week, each part contains detailed information, advice, and even recipes related to the category. Earle makes recommendations for both the 'inside' and 'outside' of the body to obtain the best results. The information in the guide goes far beyond common knowledge, so you're sure to learn more than just a thing or two about skincare. And in the recipe section, almost every dish is accompanied by a photo, so there's no guessing what the end-product should look like.
Best for: Make-it-yourself ingredients
Earle is known to prefer natural ingredients, both in her food and her beauty products, and Skin is no different. From yoghurt to almond milk to nut butter, she offers homemade options for those who want to keep the recipes as natural as possible. It adds more time to the preparation, but the added freshness is worth the extra effort.
Don't miss: The breakfast section
Breakfast is the most important meal of the day, as they say, so why not make it the tastiest? With recipes like homemade muesli, banana and nut butter oat pancakes and baked avocado eggs, it won't be hard.
Skin: Delicious Recipes & the Ultimate Wellbeing Plan for Radiant Skin in 6 Weeks
 (Orion Spring), £8.99
Eat Beautiful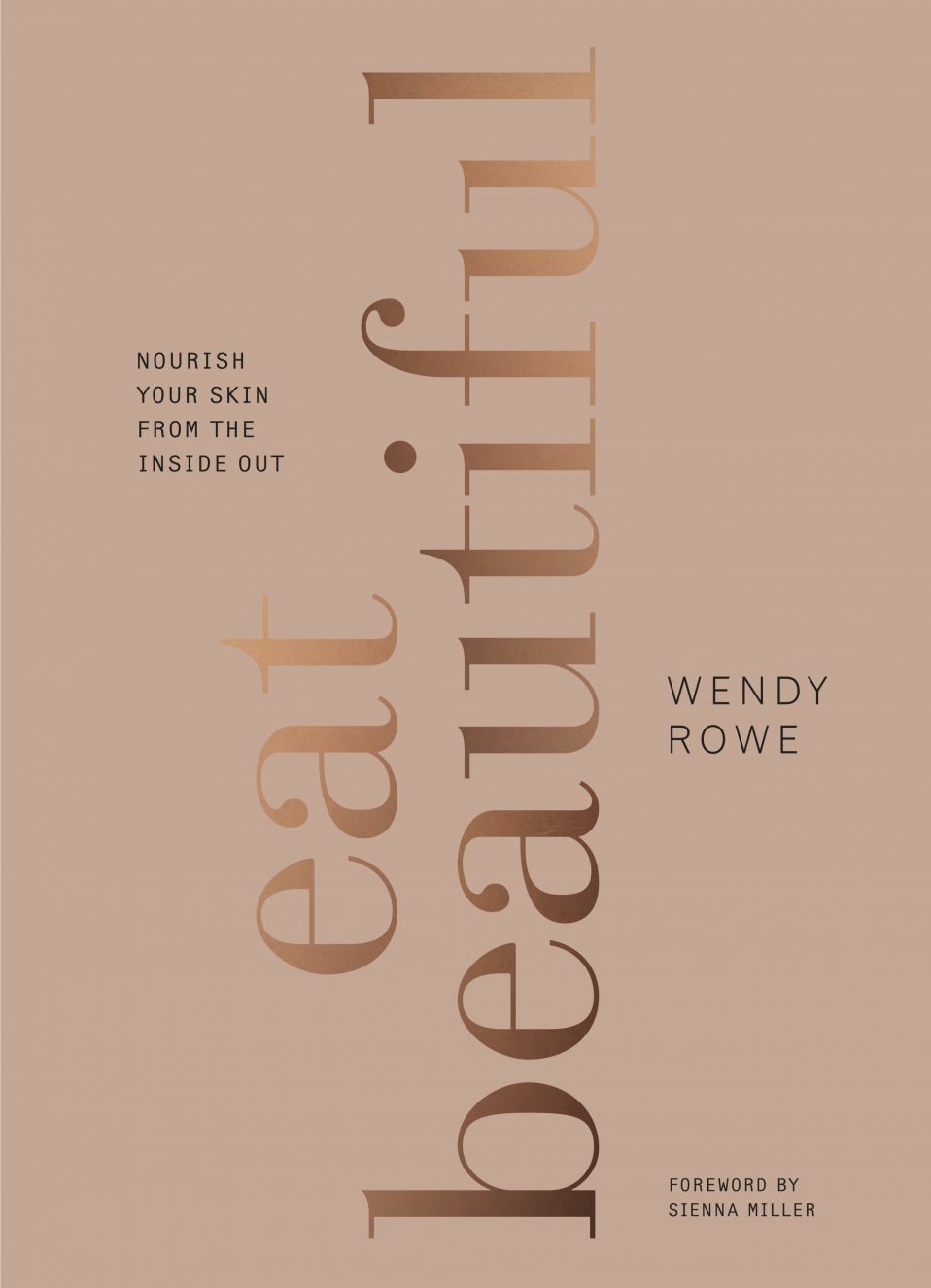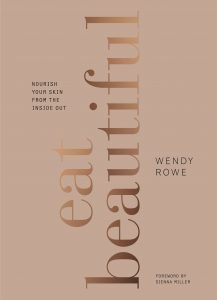 If there's anyone who knows their stuff about skin, it's a makeup artist. Wendy Rowe has been in the industry for more than 20 years. She's worked with countless magazines, brands and stars, and she's also the artistic consultant for Burberry's makeup line. In Eat Beautiful, Rowe consolidates her accumulated knowledge into an aesthetically stunning food and beauty book. She covers skin 'betrayers' and skin 'saviors,' offers a list of items to keep in your kitchen and bathroom, and, of course, features loads of delicious recipes for healthy skin.
Why we love it:
Rowe takes you through the seasons and focuses on certain ingredients for each: allergy preventing foods for spring, hydrating foods for summer, immune-boosting foods for autumn and warming foods for winter. Your stomach will be satisfied and your skin will be glowing all year round.
Best for: The Nutrition Nerd
Rather than tell you what foods to eat for beautiful skin, Rowe shows you why. Eat Beautiful contains an A to Z of skin-loving foods and a breakdown of the specific benefits, macronutrients, vitamins and minerals of each. Whether you're dealing with acne, psoriasis or just a bad hangover, you'll know which foods to eat to help cure it.
Don't miss: Quinoa with Pesto Chicken
Located in the 'spring' section, the quinoa with pesto chicken is the perfect skin-friendly alternative to a slice of pizza. The quinoa repairs skin cells and improves skin elasticity while organic, free-range chicken repairs sun damage and alfalfa sprouts detoxify and relieve fluid retention.
Eat Beautiful: Nourish your skin from the inside out
 (Ebury Press), £13.60
The Good Skin Solution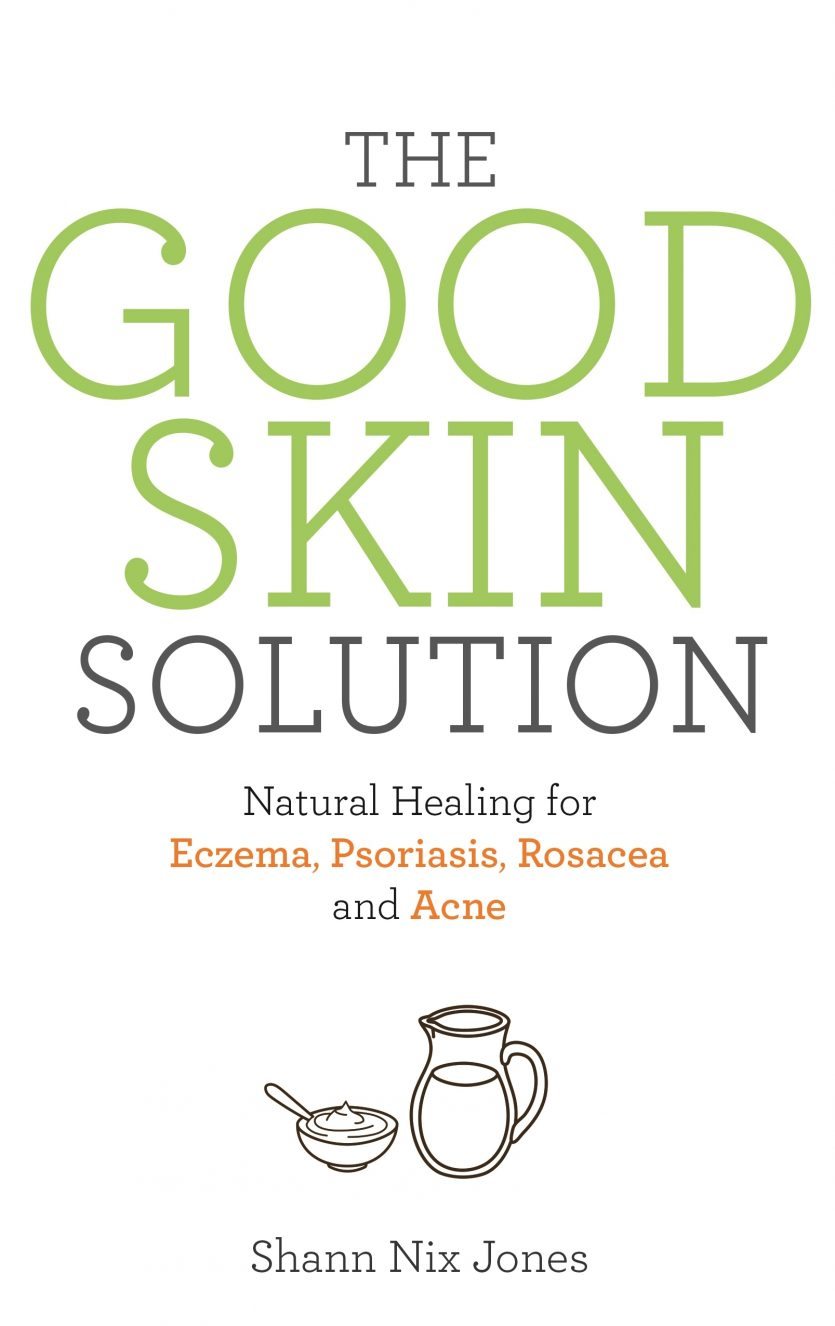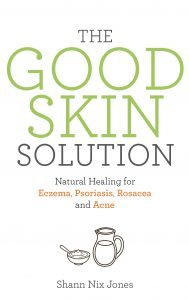 Shann Nix Jones never imagined living on a farm in Wales. But when she met her now husband, Rich, she took a leap of faith and left her job as a radio talk show host in San Francisco. On Rich's self-sustaining farm, Nix Jones learned how to help sheep give birth, treat sick animals and cook meals from scratch using their homegrown ingredients. When her son, Benji, developed bronchial problems and eczema, Rich suggested they get a goat and feed Benji the milk. So they did just that. Soon, Nix Jones was making soap, cleanser, lotion and kefir with goat's milk. Nix Jones fed Benji the kefir and applied the products to his skin, and his eczema cleared up. Soon after, Rich became infected with MRSA from a surgery. Although she was told there was no cure for it, Nix Jones decided to try and do the impossible. She researched different essential oils and created a special blend just for Rich. She diluted the solution and applied it to his body, along with the goat's milk kefir in order to simultaneously kill the bad bacteria with the oils and repopulate the good bacteria with the kefir. Miraculously, Rich's MRSA disappeared, and he was healed. Rich and Nix Jones created a brand, The Chuckling Goat, to sell their kefir products, which are now available to purchase in mainland UK.
In her second book, Nix Jones dives deep into how to cure skin conditions such as eczema, psoriasis, rosacea and acne. Since these conditions are autoimmune disorders, she believes they are most effectively treated by healing the gut. She explains the details of your microbiome and suggests certain foods to eat and avoid while dealing with these conditions. It's not your typical cookbook, but she does include recipes for homemade bone broth and kefir smoothies, which are both known to help heal the gut.
Why we love it: Instead of focusing solely on topical solutions to skin conditions, Nix Jones goes right to the root of the problem: the gut. She uses extensive research to describe the microbiome in an understandable way and help explain the biological causes of certain skin conditions.
Best for: Healing skin conditions
If you suffer from eczema, psoriasis, rosacea or acne, this is the book for you. Although they are different conditions, Nix Jones suggests that they all arise from the same problem: an imbalance in the microbiome. By upping your intake of certain foods, and avoiding others, you can get your gut in balance and improve your skin.
Don't miss: The bone broth
Bone broth seems to be all the rage nowadays. The main benefit of drinking it is gelatin, a bio-available source of collagen. Collagen gives the skin strength and elasticity, replaces dead skin cells and lines the gut. Instead of overpaying for bone broth in a health food store, try making your own with Nix Jones' recipe on page 177. All it takes is the leftover meat and bones from a chicken, some vegetables, and salt and pepper.
The Good Skin Solution: Natural Healing for Eczema, Psoriasis, Rosacea and Acne
 (Hay House UK), £10.68
Radical Beauty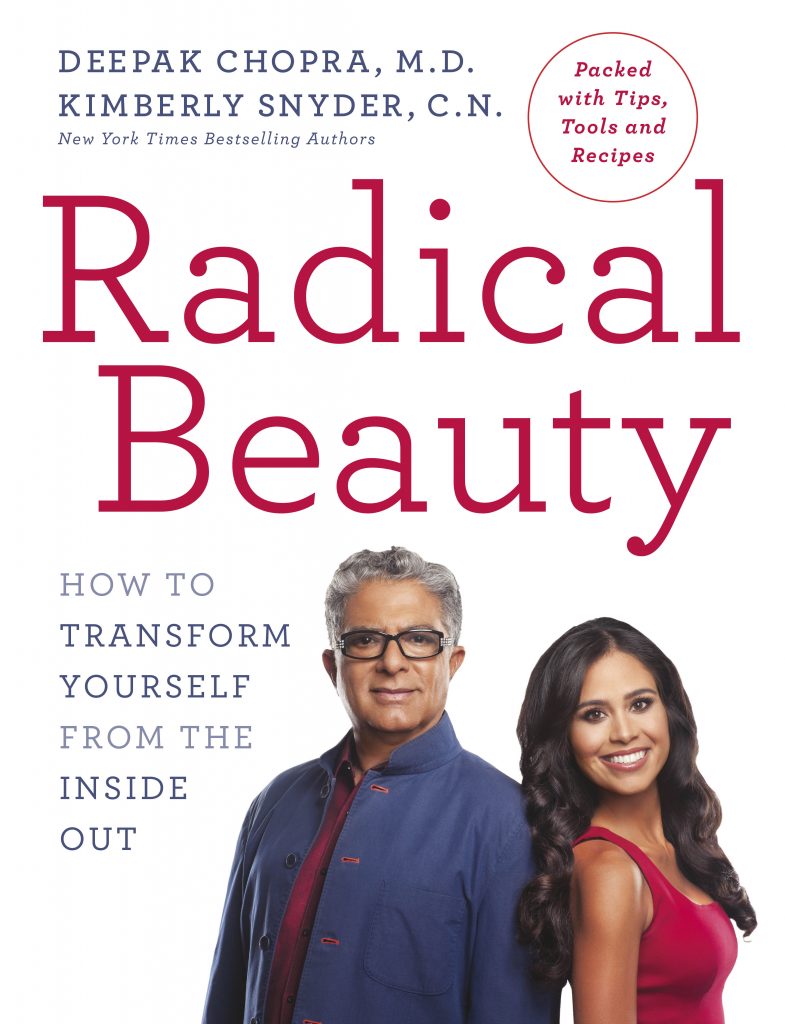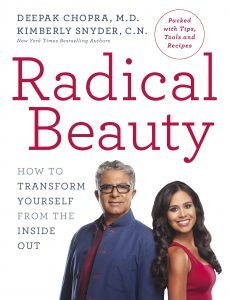 Integrative medicine pioneer Deepak Chopra and celebrity nutritionist Kimberly Snyder team up to create the ultimate beauty guide. Separated into six pillars, Radical Beauty teaches you how to enhance your beauty in every sense of the word. The first pillar is 'internal nourishment,' which is all about what to put inside your body to create a glowing outside. The second is 'external nourishment,' which discusses the best ingredients to apply to your skin. Pillar three, 'peak beauty sleep,' offers tips and tools to enhance your sleep experience for physical benefits. Pillar four, 'primal beauty,' focuses on how to live more in tune with nature in order to bring out your natural beauty. 'Beautiful movement,' pillar five, suggests certain forms of movement and breathing to promote both inner and outer beauty. The last pillar, 'spiritual beauty,' emphasises the importance of self-love and mindfulness.
Why we love it:
Radical Beauty's advice is useful, practical and all-encompassing. Chopra and Snyder show readers how to shift their daily thoughts, habits and routines in order to enhance their beauty naturally. The recipes are uber healthy, but the spices add delicious flavour to the dishes. They also don't contain any dairy or refined sugar, which are two of the most common skin irritants.  
Best for: Simple ingredients
Chopra and Snyder recommend a diet made up of mostly whole, plant-based foods, so their recipes don't contain any wacky ingredients. Chances are, you'll already have most of the ingredients in your kitchen, and you can easily find the rest at your local grocery store.
Don't miss: The Skin Smoothing Green Bounty Salad
Made with mixed greens, pepper, beetroot and walnuts, this simple salad will have your skin glowing in no time.
Radical Beauty: How to transform yourself from the inside out (Rider)
, £14.88
Like this article? Sign up to our newsletter to get more articles like this delivered straight to your inbox.