Exhausted by dinner-time but still want a healthy meal? Our blogger, Carole Beck, tried two fast and spicy fish suppers from Fast Suppers, the cookbook from healthy fast food chain, Leon

I felt in the mood for some fish this week, so cooked a couple of seafood dishes from the new cookbook Little Leon: Fast Suppers: Naturally fast recipes, one of the latest titles in the smaller-sized Little Leon series.
In case you haven't heard of it, Leon is a fast food restaurant offering, in their words, 'naturally fast food'. It hopes to change the face of fast food by bringing fresh, wholesome cooking to the high street.
I hadn't tried many of their recipes before but was impressed with their preparation shortcuts. Normally I would rule out recipes with long ingredients lists for a midweek evening meal, but these offer some extremely useful time saves.
For example, instead of spending hours shelling monkey nuts to make the Easy Pad Thai  – okay, so it seemed like hours the last time I made pad Thai – the recipe suggests using unsalted roasted peanuts, roughly chopped.
Admission time here: the only unsalted roasted peanuts I could find on my emergency shopping trip were the dry roasted variety. But these did give the required texture and also great flavour, so no harm done. But a health food shop might be a better place to start your search.
I also made a Keralan Fish Curry. It had another long ingredients list that made me draw breath, but isn't as time-consuming as it looks. Yes, there are onions to chop but they need slicing rather than dicing. And you have to skin garlic and ginger and deseed a chilli – but instead of chopping, you just bung them whole into a blender to whizz into a fragrant paste. Definitely my kind of curry.
EASY PAD THAI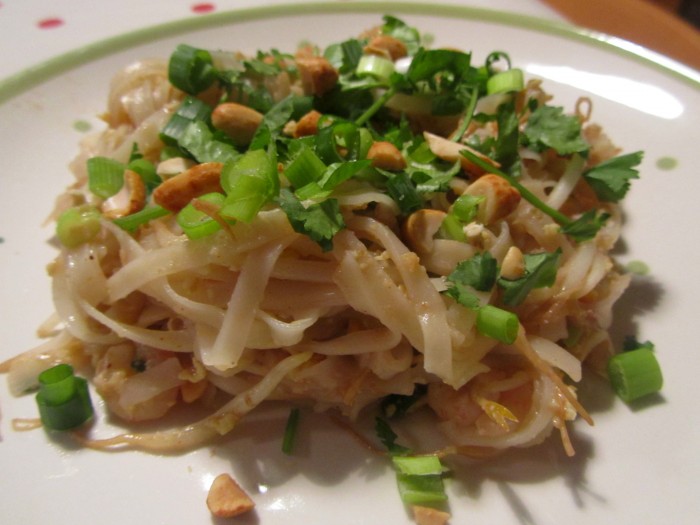 The blurb above the recipe freely admits that this isn't an authentic pad Thai like you'll find in the backstreets of Bangkok. And while it might take a while to prepare all the ingredients, there's very little cooking to do. I found it a fast and tasty midweek option and also fancy enough to serve for friends.
Serves 2
Preparation time: 10 minutes
Cooking time: 5 to 10 minutes
Ingredients
150g rice noodles
1 tbsp vegetable oil
3 cloves of garlic, peeled and chopped
150 to 200g raw peeled prawns
2 free-range eggs, lightly beaten
2 handfuls of beansprouts
2 spring onions, trimmed and chopped
2 tbsp dried prawns
2 tbsp unsalted, roasted peanuts, roughly chopped
3 tbsp fish sauce (nam pla)
2 tbsp lime juice
2 tbsp granulated sugar
¼ tsp chilli powder
½ tsp tamarind puree
To garnish:
2 spring onions, chopped
1 tbsp fresh coriander, leaves picked
A few slices of cucumber (optional)
½ tbsp roasted unsalted peanuts, roughly chopped
2 lime wedges
Method
Soak the rice noodles in warm water for 5–10 minutes, or until they're just malleable. (The instructions on the packet will probably say to soak them for 15–20 minutes, but this will make them too soggy for the fi nished dish.) Drain, rinse and set aside.
Heat the oil in a wok over a high heat. Add the garlic and stir-fry quickly until just turning golden. Add the fresh prawns and stir-fry for a minute or two. Then add the noodles and stir through before adding the eggs, bean sprouts, spring onions, dried prawns and peanuts, stirring after each addition.
When everything is well combined, add the nam pla, lime juice, sugar, chilli powder and tamarind purée. Stir thoroughly, then serve at once, garnished with spring onions, coriander, cucumber and peanuts, with lime wedges on the side.
KERALAN FISH CURRY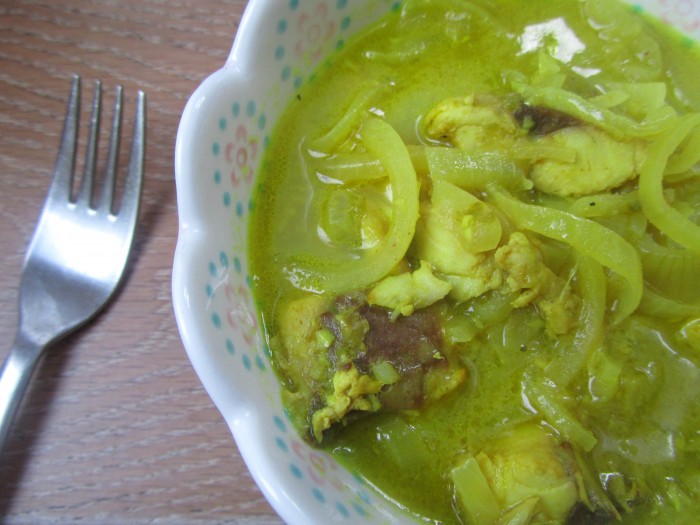 I've never before cooked a curry with mackerel fillets, so was interested to see how it turned out. I think it's a great option if you want to top up on your fill of omega-3 essential fatty acids and are bored of the usual salmon. Look out for unsmoked mackerel fillets in the frozen aisle.
I loved the rich flavour of this curry, but if you're not keen on mackerel, the authors suggest using prawns or white fish instead.
Being a veggie fan, next time I'll stir in a green vegetable, like spinach, kale or peas, for an antioxidant boost.
Serves 4
Preparation time: 10 minutes
Cooking time: 20 minutes
Ingredients
1 green chilli
1 tsp rapeseed oil
1 tsp ground coriander
½ tsp turmeric
5 cloves of garlic, peeled
2.5cm of ginger, peeled
1 tbsp coconut oil (or rapeseed oil)
½ tsp fenugreek seeds
4 small onions
100ml coconut milk
400g mackerel fillets, cut into 5cm pieces
Sea salt and freshly ground black pepper
Method
Deseed the chilli and put it into a blender with the rapeseed oil, coriander, turmeric, and peeled garlic and ginger and whizz to form a paste.
Heat the coconut oil in a pan and sauté the paste and the fenugreek seeds.
Peel the onions, slice finely and add them to the pan with the coconut milk and 300ml of water. Season really well with salt and pepper. Bring to the boil and keep it at a gentle boil until the sauce reduces, which should take about 5 minutes.
Cut the mackerel into 5cm pieces and add to the curry. Simmer gently until the fish is cooked through, which should take somewhere between 5 and 8 minutes.
Disclosure: Carole was sent a free copy of the book for review purposes.
The recipes have been reproduced with permission from the authors.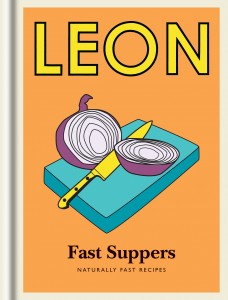 Little Leon: Fast Suppers: Naturally fast recipes (Leon Minis), by Henry Dimbleby, Kay Plunkett-Hogge and John Vincent, £6.99, published by Conran Octopus.
Read more from The 30-Minute Cook:
Indian thali
Super salmon
Lovely lentils
5-minute meals
3 fast butternut squash recipes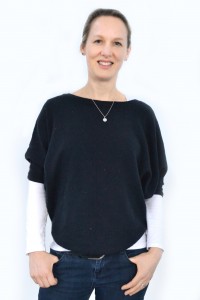 Carole is a health, parenting and food writer and editor, and has three children, aged eight, six and three. She lives in London, and writes a blog at Healthier Mummy about trying to lead a healthier family life. Follow her at @healthiermummy.   
Like this article? Sign up to our newsletter to get more articles like this delivered straight to your inbox.