Exhausted by dinner-time but still want a healthy meal? Our blogger, Carole Beck, is sharing her favourite healthy 30-minute meals every fortnight. This week: two meals in minutes from the new cookbook Top with Cinnamon by Izy Hossack, being hailed as the new Nigella
There's a new baking goddess on the scene, and she's only 18. Student and food blogger Izy Hossack – tipped by the Times as the next Nigella Lawson – is a sweets sensation, with puds and cakes galore in her new cookbook Top with Cinnamon, named after her blog, which she started when she was just 15 years old.
But she's not just all about puddings. Her book contains savoury, super-healthy options too – and I found that many were ready in minutes. I cooked a couple to see how they would turn out.
Herby kale pesto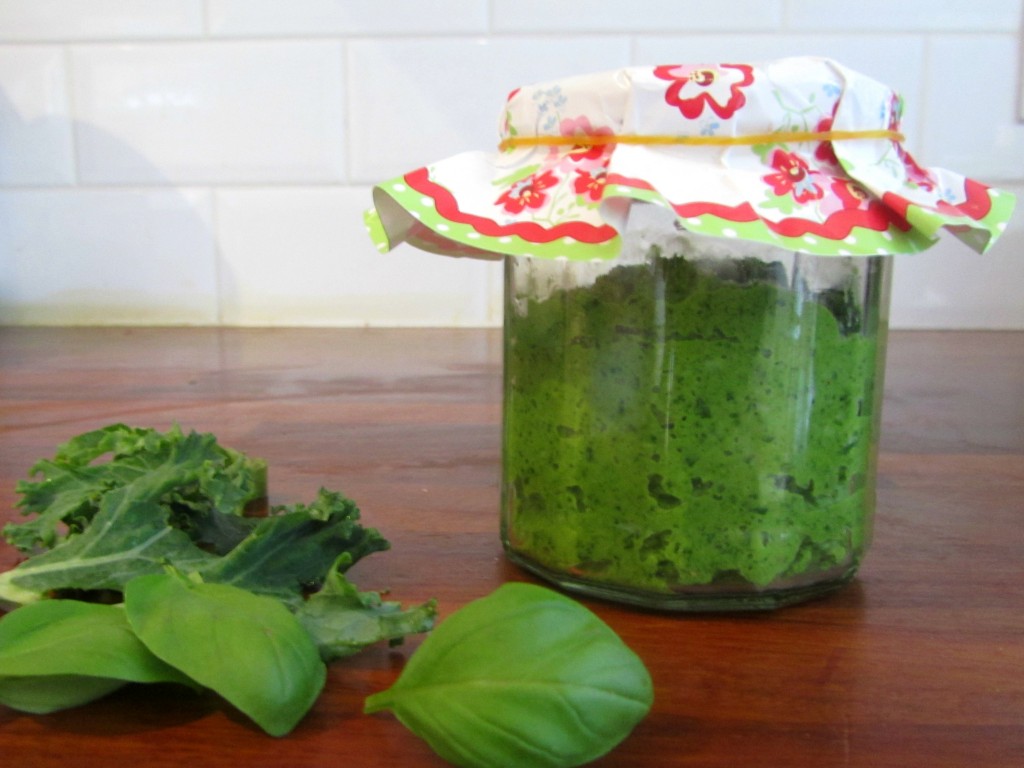 Makes 1 jar/ 175ml
Izy says that this is a pantry staple for her, and I was really intrigued to taste it. After all, any recipes which use this iron-rich leafy green veg are great in my books.
The results were earthy and very fresh-tasting (like a raw vegetable juice) pesto, ready in about 10 to 15 minutes. It was delicious. As well as using it on pasta, I'm planning on spreading it on some salmon and baking in the oven. If you're not keen on kale, Izy suggests substituting rocket, spinach, watercress of extra basil.
Ingredients
1 lemon
1 garlic clove, peeled and minced
100g (3½oz) kale, chopped
a large handful of basil leaves
4 tbsp olive oil
2 tbsp grated Parmesan
a large pinch of salt
30g (1oz) walnut halves
Method
Zest the lemon and cut it in half. Add the juice of one half to the bowl of a food processor with the zest.
Add the minced garlic along with the remaining pesto ingredients. Blend until a paste forms.
Use immediately or store in a lidded container in the fridge or freezer.
Prawn and corn soup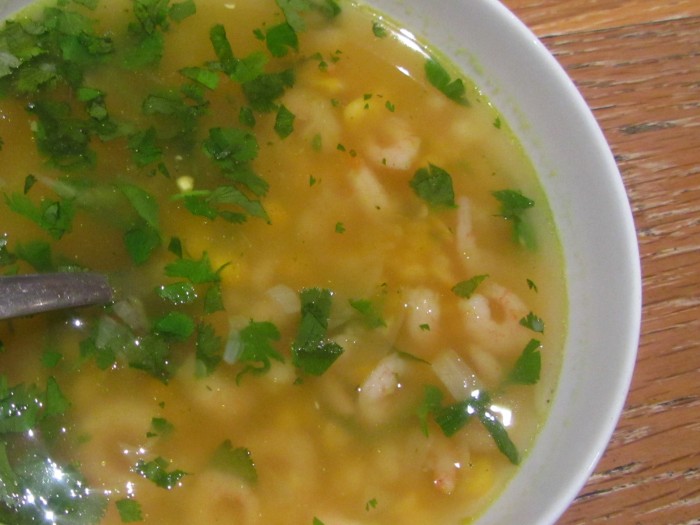 Serves 3 to 4
I'm really into clear Asian broths at the moment. I love their speed and the way they feel somehow cleansing. For this one, you mix fish sauce with stock, creating a soup which has depth – but is also almost effortless. I'm afraid that while the recipe says it serves 3 to 4 – I liked it so much that we polished this off between the two of us. For a more filling soup or to carb-load post-gym, throw in some noodles too.
Ingredients
2 shallots, peeled and finely chopped
1 tbsp vegetable oil
5 garlic cloves, peeled and minced
1 litre (34 fl oz/ 4 cups) low-sodium vegetable or chicken stock
2 tbsp fish sauce
200g (7½ oz) can sweetcorn, drained
220g (8 oz) cooked, peeled and cleaned prawns
2 tbsp fresh coriander, chopped
Method
In a large pan, fry the shallots in the oil over a medium heat until translucent, then add the garlic and cook for 1 minute. Add the stock and fish sauce and stir together. Leave to cook for 10 minutes while you prepare the corn.
Place the corn in a blender and pulse a few times, leaving some larger and some smaller pieces. (Alternatively place the corn in a bowl and use a hand-held blender to lightly mash the corn.) Add to the pan with the prawns and heat through for 1 minute. Serve sprinkled with fresh coriander.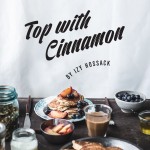 Recipes taken with permission from Top With Cinnamon: Stylish Sweet and Savoury Recipes
by Izy Hossack (Hardie Grant, £20.00).
Carole was sent a copy of the cookbook for review purposes, but all thoughts are her own. 
Read more from The 30-Minute Cook:
Salmon and miso soup and fast lasagne from The Crumbs Family Cookbook
3 speedy pressure cooker suppers
Dinner salads
Super salmon
Indian thali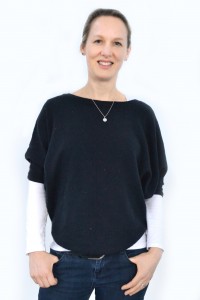 Carole is a health, parenting and food writer and editor, and has three children, aged eight, six and three. She lives in London, and writes a blog at Healthier Mummy about trying to lead a healthier family life. Follow her at @healthiermummy.  
Like this article? Sign up to our newsletter to get more articles like this delivered straight to your inbox.