Exhausted by dinner time but still want a healthy meal? Our blogger, Carole Beck, is sharing her favourite healthy 30-minute meals every fortnight. This week, three super-fast, superb-healthy butternut squash recipes
I love butternut squash in the autumn. It's meaty and filling, and the perfect partner for spices, helping you feel all warm and toasty from the inside out. It's also really good for you – it's packed with free radical-fighting antioxidants vitamin C and betacarotene and helps balance blood sugar as its sugars release slower than say, potatoes.
But the one bugbear with this vegetable is that it's enormously frustrating to prepare from scratch – you need a huge, sharp knife, lots of patience and maybe even some plasters to mop up wounds as you peel away the layer of hard, tough skin.
But there are cunning ways to cheat the on-the-night peeling:
1. Bung it in the oven for an hour earlier on to soften it, making it far easier to peel
2. Tackle the chopping before you need it, perhaps first thing in the morning
3. Buy a bag of frozen pre-chopped butternut squash instead
Once you've overcome the chopping hurdle, here are three ways to get it on the table in a speedy fashion:
CHICKPEA, BUTTERNUT SQUASH AND KALE CURRY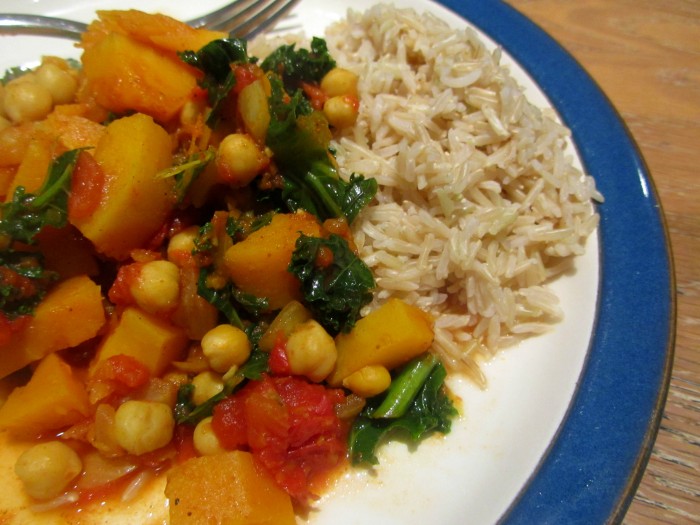 While I love making a curry completely from scratch, I think there's definitely room in life for a jar of curry paste too – especially on a Tuesday night when you're standing there in your kitchen, exhausted and hungry. This curry is packed with healthy pulses and veg.
Ingredients
1 onion, chopped
2 tbsp curry paste, mild (or medium if you prefer)
1 tin chickpeas
1 tin chopped tomatoes
Half a butternut squash, chopped, or half a bag of frozen butternut squash
2 handfuls of chopped kale
200ml cold water
Method
In a saucepan, fry the onion for a few minutes, then add the curry paste and allow to cook for a couple of minutes on a low heat until fragrant.
Stir in the tinned tomatoes, chickpeas, butternut squash and water.
Bring to the boil and then simmer, covered, for about 15 minutes until the butternut squash is soft.
Remove the lid. Stir in the kale and simmer for five minutes.
FAST BUTTERNUT SQUASH SOUP

1 butternut squash, chopped (or the equivalent of frozen veg)
3 to 4 shallots, chopped
1 carrot, chopped
1 stick celery, chopped
1000ml vegetable stock
1 clove garlic crushed
1 tsp ground cumin
3 tsp ground coriander
Fresh coriander to serve
Greek yoghurt/ crème fraiche to serve
Method
Fry the shallots for a few minutes until softening. Add the garlic and fry for around a minute, before stirring in the vegetables, stock and spices.
Bring to the boil and simmer on a low heat, covered, for 20 to 25 minutes until the vegetables are softened. Blend.
Serve with a swirl of yoghurt and a garnish of chopped coriander.
SPICED BUTTERNUT SQUASH CHIPS
Okay, so these aren't really chips – rather perfect roasted veg. But if you serve them up instead of carbs as a side dish, I think you can get away with this new name.
Ingredients
Half a butternut squash, chopped into chip-size lengths
1 tsp olive oil
1 tsp cumin seeds
Sea salt and pepper for seasoning
Method
Pre-heat the oven to 200°C. Lay the butternut squash into an oven-proof dish. Pour on the olive oil and stir together until it's all coated.
Sprinkle on the cumin seeds, and stir. Season.
Place in the oven for 25 minutes until soft.
Read more from The 30-Minute Cook:
Dinner salads
3 speedy pressure cooker suppers
Herby kale pesto plus prawn and corn soup from 'the next Nigella'
Lovely lentils
Salmon and miso soup and fast lasagne from The Crumbs Family Cookbook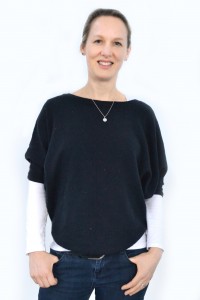 Carole is a health, parenting and food editor and writer, and has three children, aged eight, six and three. She lives in London, and writes a blog at Healthier Mummy about trying to lead a healthier family life. Follow her at @healthiermummy. 
Like this article? Sign up to our newsletter to get more articles like this delivered straight to your inbox.