Healthista Eats bloggers has found the chocolate treats that come without the bloat – all dairy free
Life's hard for a chocoholic who is dairy intolerant. An estimated 15 per cent of the UK population is intolerant to lactose (the sugars in dairy) and those who also have a cow's milk intolerance also struggle to find chocolate that they can safely eat.
If you have a dairy or lactose intolerance you may think that quick and convenient chocolate products are beyond your reach and the only chocolate you can eat is dark and bitter. However, we have found three of the best dairy-free chocolate eats that are all creamy, delicious and so moreish!
1. CHI Chocolate Coconut Milk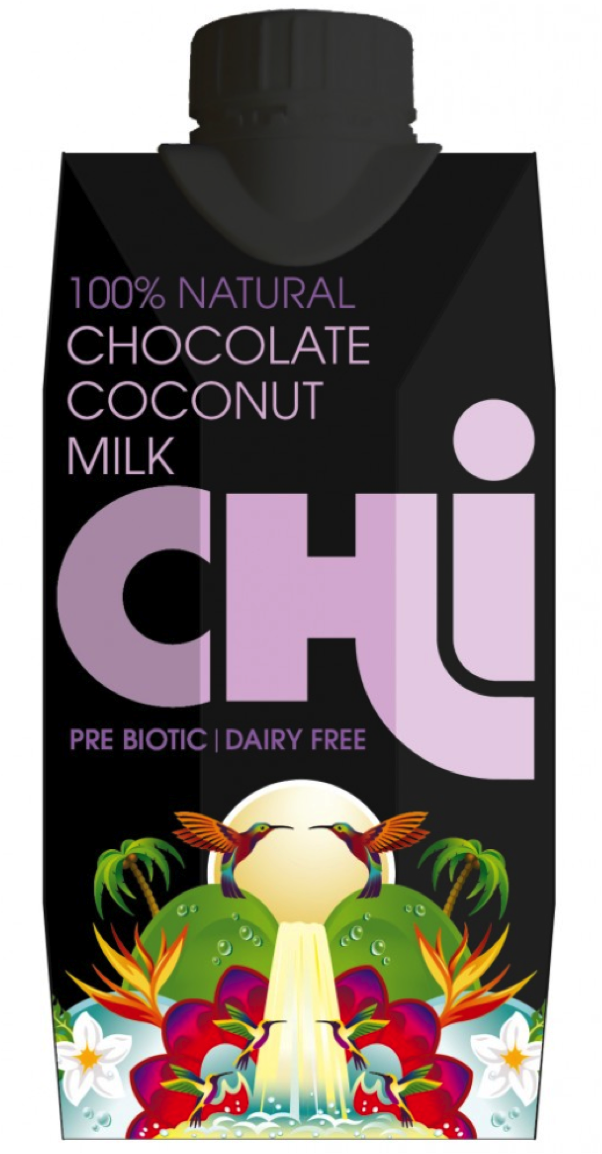 CHI has created the first ever dairy-free chocolate coconut milk; it's healthy, it's convenient and it's insanely good. By combining high quality coconut cream with the finest cocoa, CHI has made an indulgent 100% Natural Chocolate Coconut Milk. Healthy has never been so heavenly.
This amazing new chocolate treat is the perfect alternative to a high calorie chocolate milkshake, or coffee shop hot chocolate – it delivers the same delightfully indulgent, chocolatey experience but minus the dairy. 
CHI Chocolate 330ml serving
– Cal – 162
Ingredients – Water, Coconut cream 8%, Unrefined sugar, Fat reduced cocoa powder 1%, Inulin, Natural flavouring
Chi Natural Chocolate Coconut Milk is currently available from Whole Foods, Amazon, Planet Organic and other health food stores nationwide, RRP £1.79 for 330ml.
2. Pudology Banoffee Pud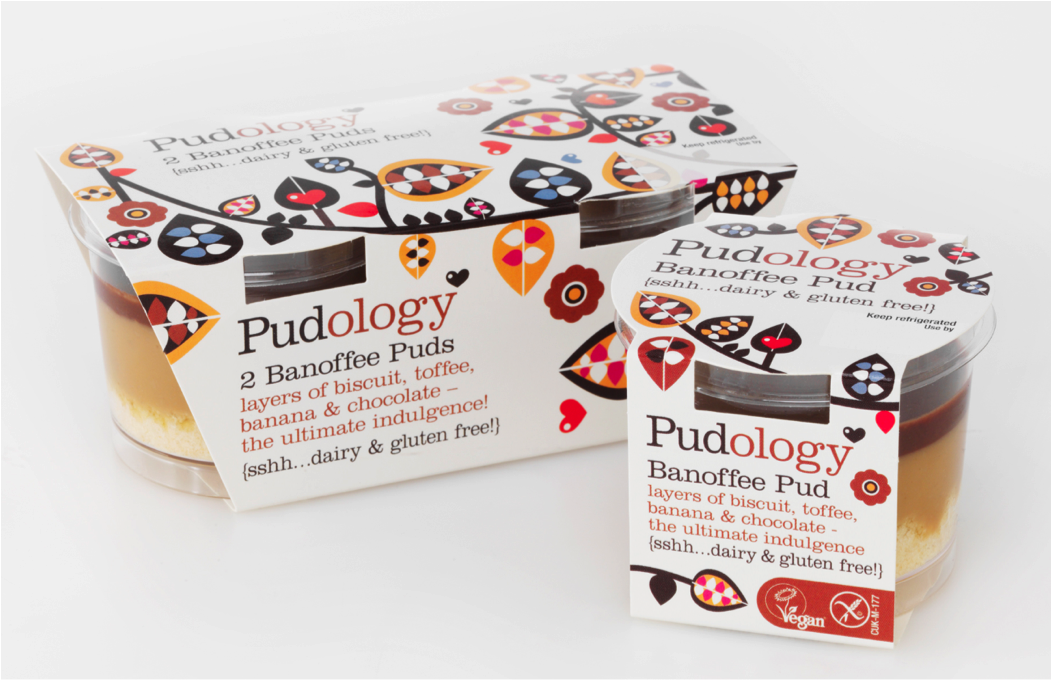 For the ultimate dairy-free, chocolate indulgence, Pudology Banoffee Pud hits the spot. With gooey layers of rich chocolate ganache, secret recipe toffee sauce, sweet banana and crunchy gluten-free biscuit, this really is heaven in a pot. You would never guess that such a gorgeously creamy and irresistibly chocolatey banoffee pudding is actually dairy free, what's not to love?
Why not have a Pudology Banoffee Pud as a dairy-free alternative to your normal chocolatey dessert on a Friday night and experience the free-from taste revolution for yourself?
Pudology Banoffee
– Cal – 276 per 85g pot (325 per 100g)
Ingredients – Coconut Milk (52%), Dark Chocolate(38%) (sugar, cocoa mass, cocoa butter, emulsifier: soya lecithin, natural vanilla flavouring) Water, Sugar, Madagascan Vanilla Extract(0.6%)
Pudology Banoffee Pud is available from selected Sainsbury's and Waitrose stores nationwide, or online from Ocado. RRP £3.45 for 2 puds.
3. Nature's Plus Hot Cocoa with Marshmallows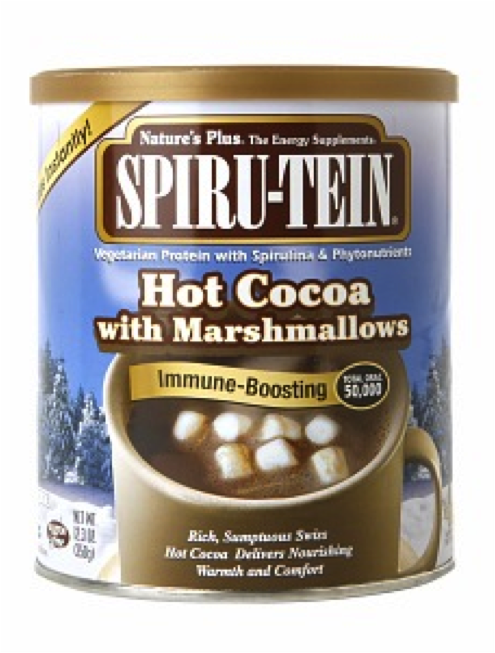 Chocolate doesn't get better than when it's hot, frothy and in a mug topped with marshmallows. Nature's Plus Hot Cocoa with Marshmallows is an instant, dairy-free hot chocolate that's thick, rich and creamy with gourmet chewy mini marshmallows and best of all – it's actually good for you!
If all this sounds too good to be true then think again – Nature's Plus specialize in natural health supplements that are the brand of choice for Californian health conscious celebs. They have taken all their expertise in nutrition and put it into their delicious dairy-free Hot Cocoa – transforming it into the ultimate immune health promoting drink that actively defends against winter illness.
Hot Chocolate
– Cal – 80 (per 35g serving without milk)
Ingredients – Natural immune complex, natural flavour, marshmallow (gluten free), non GMO plant protein blend, evaporated cane crystal, sunflower oil, maltodextrin, potassium citrate, calciulm citrate malate/carbonate, sodium phosphate, vanthum gum, vitamin C, sodium chloride, vitamin E, vitamin  A palitate, zinc sulphate, calcium pantothenate, riboflavin, cholecalciferol, niacinamide, thiamine HCI, vitamin B12, pyridoxine HCI, potassium iodine
Nature's Plus Spiru-Tein Hot Cocoa with Marshmallows is available from Amazon, www.naturesplus.com and Independent Health stores. RRP £15.75 for 10 servings.
READ MORE HEALTHISTA EATS
HEALTHISTA EATS Designer vegan
HEALTHISTA EATS The 5 best gluten free afternoon teas
HEALTHISTA EATS Quick hot lunch 
HOW to eat PIZZA without the bloat
Have a HAPPY NEW YEAR with these skinny cocktail recipes we stole from London's hottest bar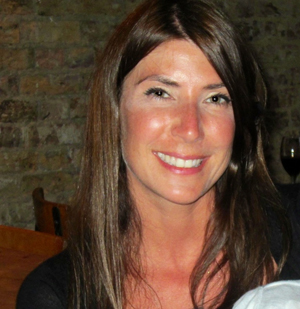 CHARLOTTE DORMON is our Healthista Eats blogger.  She's not a chef, or even that much of a cook.  If it's recipes you're looking for – you're in the wrong place.  But whether it's Sunday lunch or Friday night cocktails, she's the one friends and family turn to when they want to know how to eat out and be relatively healthy.  Each week she'll now be bringing you the same insider knowledge.  We'll drink – and eat – to that. Follow Charlotte on Twitter @lottielurvsu
Like this article? Sign up to our newsletter to get more articles like this delivered straight to your inbox.