Oooh it's cold! There's nothing we love more than a good cup of tea, and so, to get you through the winter cold, we have rounded up the best healthy teas to keep you warm and happy
1. Kromland Farm
Kromland Farm has been cultivating rooibos since 1902 and South Africa's indigenous Khoisan people have been enjoying its rich flavour for millennia. In fact, it was a Khoisan farmer that first shared with Kromland Farm the secrets of this uniquely sweet and soothing tea, and they've been making it to the same recipe ever since.
Why we love it:
Kromland Farm is a 100% organic, single-estate rooibos tea grown on a pioneering farm in the area of South Africa noted for producing the world's finest quality rooibos. Low in tannin and high in antioxidants, rooibos (redbush) is a full-flavoured herbal tea only grown in South Africa and cultivated in its remote Cederberg Mountains. Gently hydrating, it has long been valued for its natural goodness and is thought to help with nervous tension, allergies and digestive problems.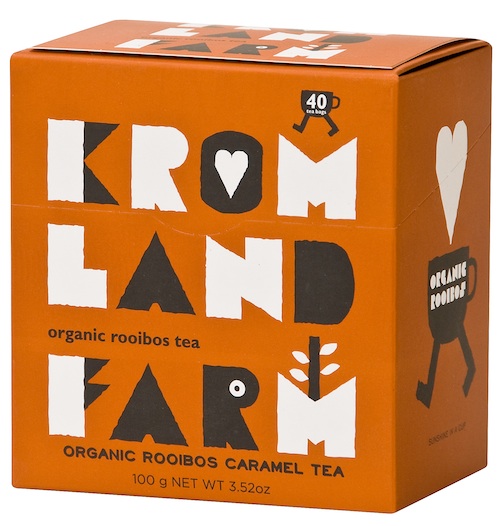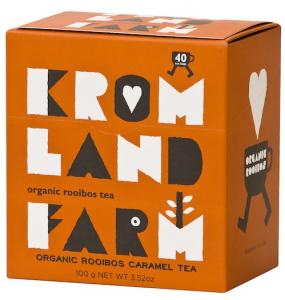 Our favourites:
Organic Rooibos Caramel (£10.89)– The creamy taste of caramel makes this tea a wonderful festive treat. As soon as you put the teabag in the water, the rich sweetness of caramel is deliciously potent. It has that lovely smooth caramel flavour which makes it feel very indulgent. This tea is even vegan friendly and naturally caffeine free, making it the perfect substitute to your usual brew.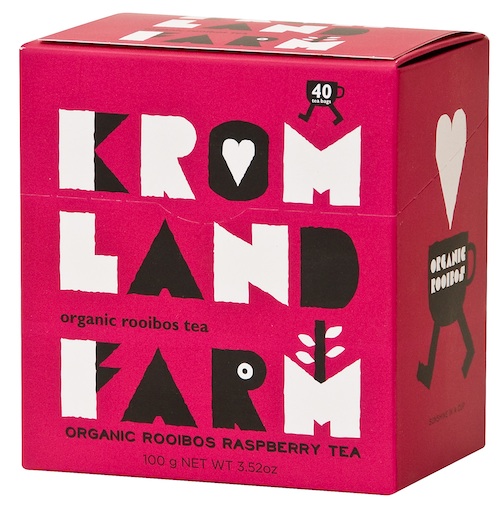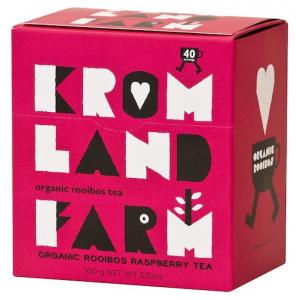 Organic Rooibos Raspberry Tea (x4) (£2.77)

– If you like your tea to have a fruity twist, this is perfect for you. The raspberry flavour of this tea is sharp and torte but still maintains it's sweetness. If you don't like your tea to be too sweet but like the idea of fruity flavours, this is a great option.
2. Pukka
Pukka tea is all about using the finest organic herbs to create teas that help to make you feel good. The teas all use organically grown and ethically sourced ingredients and are all Fairtrade. Sebastian Pole, co-founder and Herbal Director at Pukka Herbs formulates all the Pukka products and runs his own herbal practice in Bath.
Why we love it: 
Sebastian Pole is a registered member of the Ayurvedic Practitioners Association, Register of Chinese Herbal Medicine and the Unified Register of Herbal Practitioners. This is all with the aim of using the principles of Ayurveda (the ancient art of living wisely) to help create positive change and positive health through his knowledge of herbs, thus allowing him to create such wonderfully uplifting teas.
Great for: Green lovers
We're suckers for green teas and the range of greens in this brand is just amazing. Green tea contains catechin polyphenols which are powerful antioxidants neutralising harmful free radicals meaning green tea not only tastes amazing, it also does amazing things for your health.
Our favourites: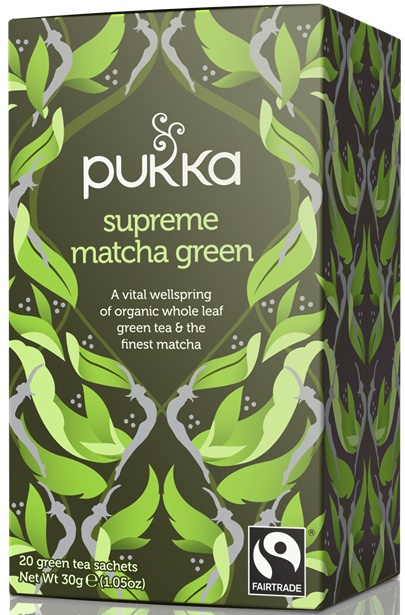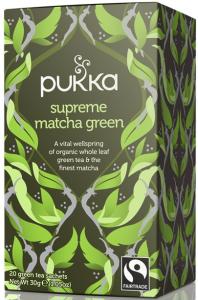 Supreme Matcha Green (£2.39)- We particularly love the Supreme Matcha Green which contains the super-ingredient matcha powder which has a smooth flavour that gives your average green a little lift. This tea is produced to preserve the highest amount of antioxidants which helps you maintain good health.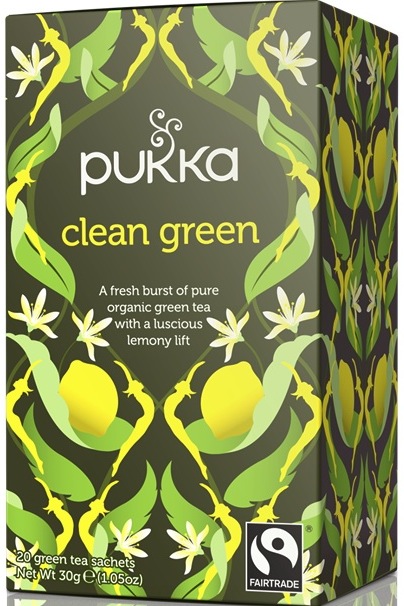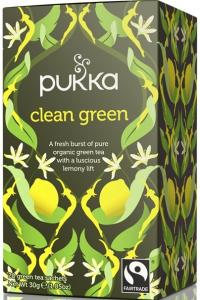 Clean Green (£2.39)– This tea has a strong floral flavour, with the sweet fennel seed and dandelion making quite an impact on the taste buds. The lemony flavour is subtle and perfectly soothing for a sore throat or a winter's cold. Overall, this tea is wonderfully refreshing and tasty.
3. T plus
T plus drinks are the first and only green tea in the UK market to offer the antioxidant benefits of green tea combined with added vitamins. T plus is the brainchild of tea lover and entrepreneur James Dawson. His aim was to create a new 'super tea' that makes living a healthier life that little bit easier and the result is a brilliant range of natural and innovative teas that taste great.
Why we love it:
At t plus they have made it their mission to give your body the goodness that it deserves as their teabags are the first to contain added essential vitamins. Combining antioxidant green tea leaf with fruit-packed flavour, the t plus range harnesses all of the natural benefits that the amazing leaf has to offer, whilst ensuring that each teabag is packed with vitamins, whole fruit pieces and herbs meaning they not only taste great but are great for your health also. All t plus teas are packed with 100% natural ingredients and contain no artificial colourings and no chemicals.
Great for: Body benefits

The t plus drink range comes in four delicious flavours that are each tailored for specific bodily effects. Choose from lemon and peach (multi vitamin), raspberry and pomegranate (boost), detox and orange and blueberry (immunity). Each flavour will provide your body with vitamins that will enable the wanted effects. It is an easy way to give your body a tasty dose of whatever it desires.
Our favourite:
Raspberry and Pomegranate (£3.69)– When reading the fruity flavours of this tea, there was no doubt in my mind that it would appear a rich red colour. Therefore, I was shocked when I poured the boiling water in my cup and found my tea to be very much green in colour. I love green tea so was extremely happy that it still resembled my favourite type of cuppa but the flavours of the raspberry and pomegranate were a very welcome addition. Normally I find that raspberry can overpower other flavours in tea but for once the pomegranate was the flavour to shine through. I absolutely love pomegranate and have never tried it in a tea so was very please with the exquisite fruity flavour that was not too sweet.
4. Tetley Super Fruits
Major tea brand Tetley has introduced its exciting new Tetley Super Fruits – helping you combat tiredness and support your own immune system by leading the way in fruit tea innovation. The new range is available in two naturally delicious, caffeine-free varieties, Tetley Super Fruits Immune, with added Vitamin C, and Tetley Super Fruits Tea Boost, with added Vitamin B6. These fruit teas are supported by European Food Standards Agency approved health claims, offering the nation the benefit of added vitamin goodness during the much-loved tea break.
Why we love it:
Tetley Super Fruits Immune's added Vitamin C will help protect and keep your cells healthy. Each cup provides more than 17 per cent of the recommended daily Vitamin C intake for an adult, essential for healthy cell function and the maintenance of healthy tissue. On the other hand, Tetley Super Fruits Boost is perfect for a sluggish morning or a busy afternoon in the office as it's packed full of Vitamin B6 to help the body use and store energy.
Our favourite: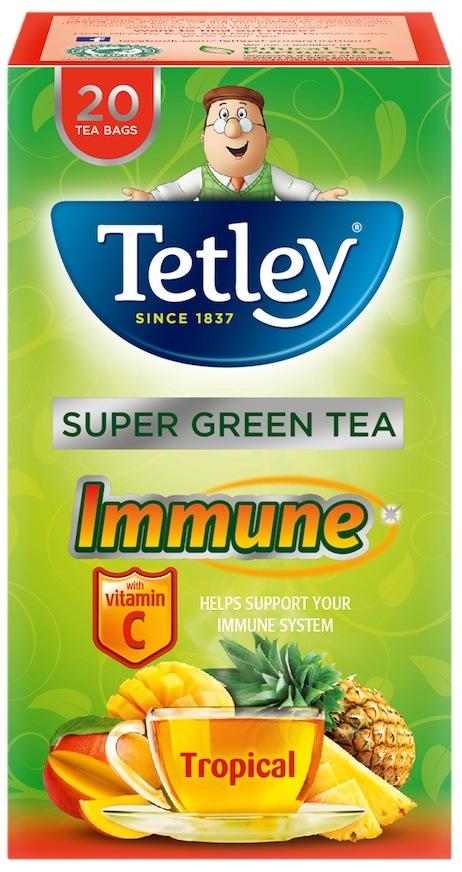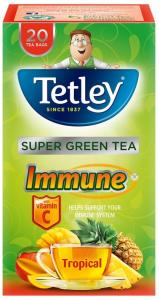 Tropical Immune (£1.40)– This super green tea tropical makes you feel like you're back in the summer. The tropical flavours are beautifully uplifting and sweet making it perfect for satisfying a sweet craving. The beautiful exotic fruit flavours makes this tea different to all other in this round-up. So fruity and gorgeous, it's a must-have for summer lovers.
5. Amanzi
Amanzi is not only London's first premier tea bar but is also a premium tea brand. Amanzi's first tea bar launched in Marylebone in February 2013 as the new standard for the modern-day tea house.The brand's philosophy is to combine the heritage of tea with innovation, playfulness and modernity to create an entirely new tea experience. You can enjoy, taste and sample proprietary blends to discover a tea like no other.
Why we love it:
The store in Marylebone features an interactive tea wall, showcasing 50 of Amanzi's 150 proprietary blends of premium loose-leaf tea, where visitors can explore and engage with the product through touch and smell. Showcasing over 100 unique blends of tea, Amanzi's extensive range includes classics like English Breakfast and Earl Grey; rare single estates from India, Africa and China; exotic spicy and smoky blends; as well as indulgent teas with chocolate and toffee.

Great for: Cinnamon lovers:

Cinnamon Spice (£8.99)– This strong black tea is blended with three types of cinnamon, zesty orange peel and sweet cloves and is utterly delicious. If you love cinnamon, there is no doubt you will love this tea. It's very sweet (you will not need a big mug of this one) but actually has quite a spicy kick to it that makes it quite fiery and perfectly warming this winter. The cinnamon and orange are potent making it the perfect addition to the festive season. This naturally sweet and spicy tea is not only satisfying but can also aid in boosting the immune system as well as your energy levels.
6. T2
T2 is an international tea retail brand with a difference. Founder Maryanne Shearer used her knowledge of fashion and design as inspiration to create a new tea brand in order to modernise tea drinking and expose it to new generation of tea-lovers. Established 19 years ago in Australia, T2 brings tea to a new generation with it's design and fashion inspired aesthetic and unique blend of contemporary flavours.
Why we love it:
Founder Maryanne Shearer used her knowledge of fashion and design as inspiration to create a new tea brand in order to modernise tea drinking and expose it to new generation of tea-lovers. Specialising in loose-leaf teas, Maryanne embarked on a mission to design a retail experience where customers could be taken on an immersive journey out-of-the-ordinary, allowing them to discover their favourite flavours along the way. In addition to this, beautifully crafted teaware is a T2 forte; stunning tea diffusers, stylist travel flasks and intricate cups & saucers are just a few of the goodies available both in-store and online.

Great for: Spicy flavours
Sweet Spice (£7.50)– this tea is like memories of  Christmas in a cup. Filled with sweet notes of meringue, rose, raisins, marzipan and orange along with spicy cardamom and cloves this tea is as festive as you can get. With actual pieces of meringue and orange in it, this really does provide a spectacular flavour like no other. This sweet yet spicy tea is truly a Christmas delight.

Our favourite: 
Oolong Chocolate Chai (£9.50)-This tea has a deliciously chocolaty flavour that will help curb a sweet craving. Warming and satisfying, this spiced tea combines the silky smooth elements of Chai, refreshing light notes of Oolong and the spice elements from cinnamon and ginger to create the ultimate cosy winter drink. This is not to be missed if you just can't resist chocolate. 
7. We are tea
We Are Tea is a London-based, independent, ethical, multi-award-winning tea business, set up in 2012 by husband and wife team, Spence and Suzy. The company follows a simple philosophy – to ethically source, exceptional whole-leaf teas from artisan producers and hand-pack them right here in the UK. They aim to make the often complex and daunting world of speciality tea more open and accessible and to celebrate the British love affair with tea.
Why we love it:
The company is on a mission to break down the barriers to speciality tea and demystify the often over-complicated world of whole-leaf tea. From devising unique colour-coded categories for their teas to launching the simplest loose-leaf tea infuser on the market, they aim to make it easier than ever for people to explore whole-leaf teas from artisan producers across the world. The quality of the teas has been recognised with 46 Great Taste Awards and We Are Tea has been voted one of Britain's coolest brands for 2015 / 2016.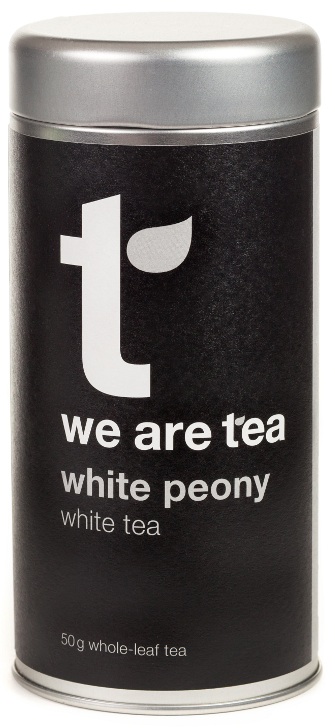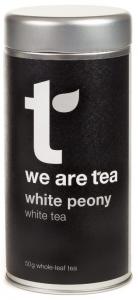 Our favourite:
White Peony (£6.25)– This white tea is very subtle in flavour with just the smallest hints of melon making it lovely and fresh. This is perfect if you fancy something light and refreshing.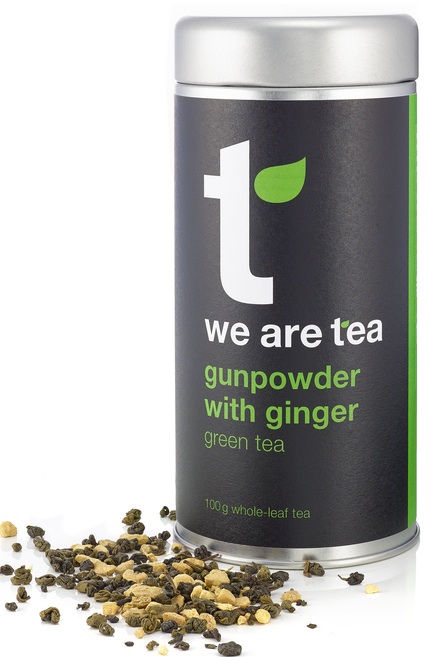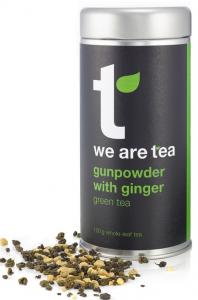 Great for: Ginger lovers
Gunpowder With Ginger (£11.99)– If you love ginger, this tea is perfect for you. It provides a powerful kick of ginger that is guaranteed to warm your insides and leave you feeling refreshed and revived.
8. Clipper
Clipper was founded in 1984 by Mike and Lorraine – two tea fanatics, determined to change the world of tea forever. Their mantra being, 'It's what's on the inside that counts', they focussed obsessively on what's inside the bag to create a tea that was of the best taste and quality. They have led the way in organic, green and white teas, non-chemical decaffeination, and are the UK's first Fairtrade tea brand.
Why we love it:

Clipper is a quality tea like no other – it takes great care over every detail to ensure the teas it produces are natural, fair and delicious. The brand prides itself on using ethically sourced tea, knowing exactly where the tea comes from, using no artificial ingredients as well as famously using unbleached tea bags.
Our favourite:
Lemon Green (£2.34)
– One of our all-time favourites in the office, this lemon green tea is simply delicious. It is subtly infused with lemon peel and enhanced with natural lemon flavour, providing a clean citrus flavour that is both light and refreshing.
9. Qi
Herbal Health Ltd, a small family-run business, was created in 1997 after founder, Joe d'Armenia, read a book on the health properties of green tea: 'Green Tea: The Natural Secret to a Healthier Life'. Inspired by this research, he embarked on a voyage of discovery to China, and from here Qi Teas were born. Qi teas are inspired by the ancient teachings of the Chinese who have for centuries used natural plants and herbs for healthy living. They taught that Qi is the life-force – the natural energy of life.
Why we love it:
Qi teas are ethically sourced from independent farmers with long traditions in the preparation of high quality teas. They are grown on small farms, in an environmentally protected area, high in the Yellow Mountains of Southern China. All packaging is 100% recyclable and made from renewable resources.
Our favourites: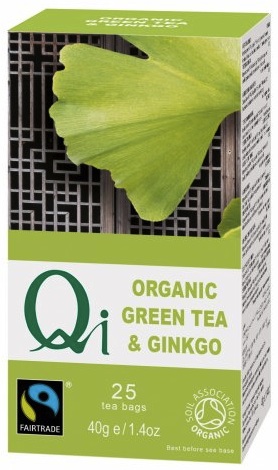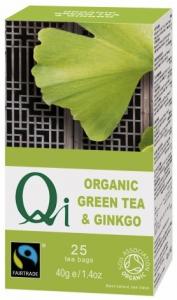 Green Tea & Ginkgo (£2.37)– This ginkgo green tea is ah-mazing. The ginkgo biloba is one of the oldest living tree species and has been used in traditional Chinese medicine for thousands of years. The organic ginkgo leaf provides powerful antioxidant properties that are great for wellbeing. This combined with the comforting flavours of natural vanilla and caramel makes for a gorgeous flavoursome tea that is smooth, indulgent and completely satisfying.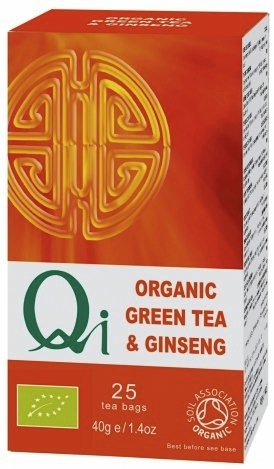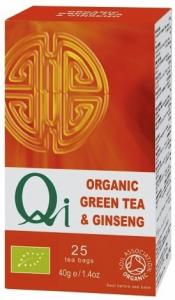 Green Tea & Ginseng (£2.25)– this tea is wonderfully warming and energising. Panax Ginseng is one of the Emperor Herbs of the east reputed for its tonifying properties. Sometimes called an "adaptogenic", Panax Ginseng root can help to revitalize. This tea is so delicious and infused with hibiscus, cinnamon bark and cloves which enhance it's slightly spicy flavour.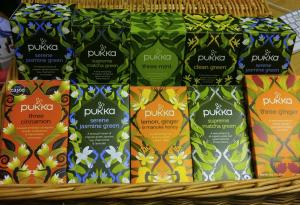 For a chance to win this amazing Pukka Tea hamper, follow @HealthistaTV retweet this story.
Like this article? Sign up to our newsletter to get more articles like this delivered straight to your inbox.