We've been tasting and testing the latest in healthy treats and these are definitively the best healthy snacks we could find
Snacking. Does the word instantly fill you with guilt? Chocolate, biscuits and crisps are often the first things that come to mind, especially when that 4pm craving hits.
But whether you're after weight loss or health (we don't judge), skipping on artificial sweeteners like sugar, dextrose and sorbitol, which can leave you feeling uncomfortable and bloated as well as salt, actual sugar and fat, can only be a good thing.
It's why Healthista tested the latest in healthy snacks – and blimey we found so many new snacks – and hand picked the best sweet and savoury delights we could find.
Many of these products are low calorie, suitable for vegans, and those following a gluten free diet.
Our criteria? It had to taste great, be all natural, and not only fill us up, but also fill us with excitement – because finding a low-calorie snack that is natural, healthy and actually hits the spot is exciting.
1. Best alternative to dairy milk chocolate
First things first, a healthy chocolate bar. Nomo means no FOMO – that's not likely with these bars though, which are all free from gluten, dairy, eggs and peanuts. So, did Nomo live up to the hype? The simple answer is, YES.
Shea oil is the ingredient which gives Nomo its silky smooth texture, making it look and taste exactly like a bar of Galaxy milk chocolate and its sweetened with rice syrup. The Fruit and Crunch Bar is our winner though – think KitKat meets Yorkie, bursting with raisins and crispy rice.
Nutritional info: Calories per 38g: 160kcal, Sugar: 14g
£0.90 in both an 85g block & 38g bar.
Available at: Tesco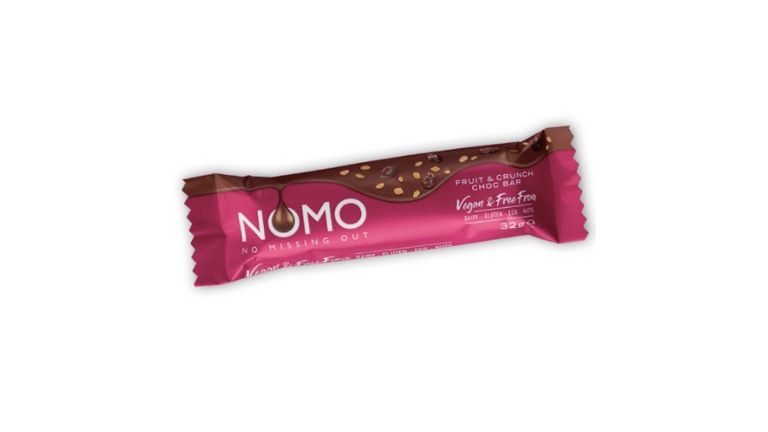 2. Crisp lover? Best healthy alternative to Pringles
Salad in a can? Yep that's right – no plastic in sight. Rough's are a new brand of veggie crisps by Satisfied Snacks who set out to create a snack that could fulfill a crisp craving but be as healthy as a salad. That's some mission but seriously, these moreish snacks are made of 80 per cent vegetables, dried instead of fried and the non-veggie bits of the ingredients are simply things like black pepper or feta cheese.
Seriously if you love crisps, and want a low calorie (91 calories in a can) that honestly fills a crisp craving gap, this is your thing. Our editor Anna Magee loves Walker's Crisps and said these stopped her craving in its tracks.
They're wafer thin crisps… light and crumbly and actually taste of vegetables, not artificial in any way.
Our favourite flavour was Red Pepper & Walnut, which you can use as a tasty canapé or as an accompaniment to soup. But Tomato & Feta is also amazing.
Nutrition info: Calories per 20g: 86kcal, Sugar per 20g: 6.2g
£1.79 Available at: satisfied snacks.co.uk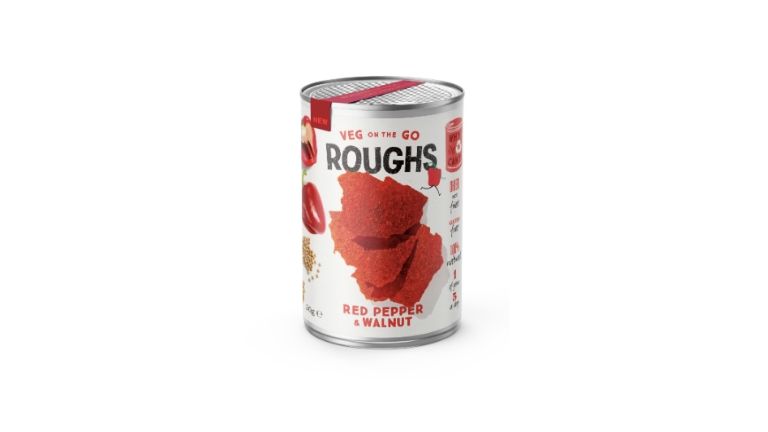 3. Best crisps for summer days
Looking to spice up your life? Healthista tried Hawker's new sweet chili pop chips. Each bag has only 94 calories, is gluten free and vegan and did we mention, unlike many crisps, doesn't contain palm oil.
We were huge fans of the sweet chilli and ginger flavour combo, an addictive mix that left us reaching for more. These make the perfect healthier summer snack, to bring on the go, to the pool, or to your next BBQ.
Suns out, snacks out.
Nutritional info: Calories per 23: 94kcal, Sugar per 23g: 1.5g
85p per pack Available at: Ocado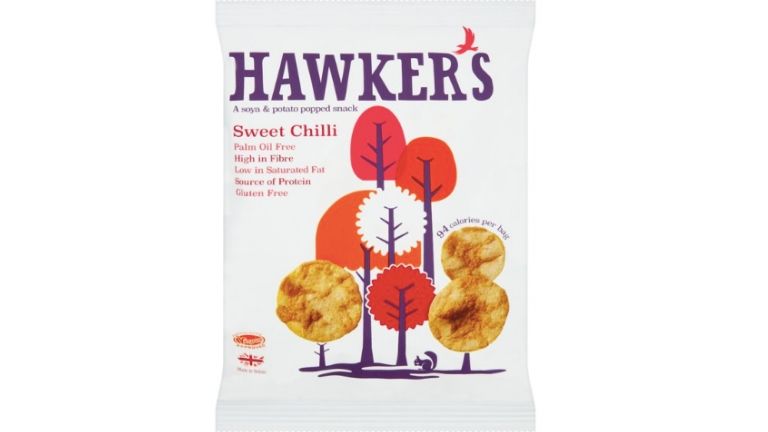 4. Best for popcorn lovers
Propercorn is our proper good and not so guilty snack here at Healthista HQ. We sampled Propercorn's latest Peanut Butter and Almond flavour (the company have come up with a way of getting the peanut butter flavour with a tiny fraction of the fat). Each piece of crunchy popcorn is coated in a heavenly peanut butter powder with just enough sweet and saltiness to keep you coming back for more.
Your cinema trip just got healthier.
Nutritional info: Calories per 25g: 115kcal, Sugar per 25g: 3.5g
£1.60 Available at: Waitrose & Partners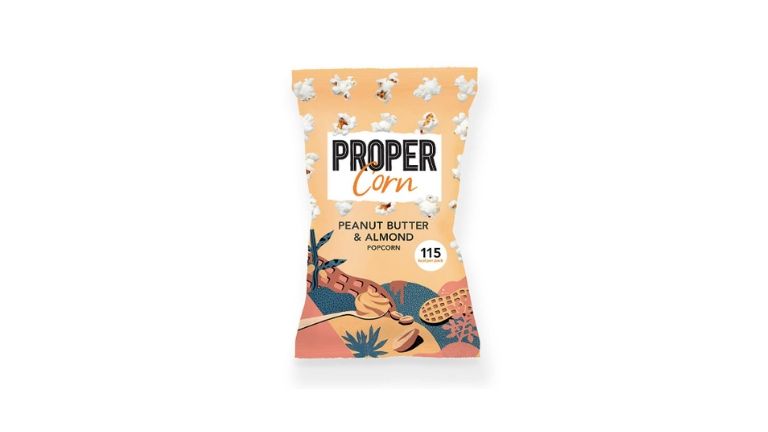 5. Best for the Magnum-obsessed
Bye Magnum, Hello Halo Top. Oh Halo, you're angels. 'Sticks' are the latest low calorie addition to Halo's range, launched just in time for summer. Theres no need to wave goodbye to your bikini bod since all sticks are under 100 calories and have only 7g of sugar. Yes, REALLY.
We didn't need a reason to celebrate when we tried Halo's Birthday cake sticks. But we're sure its someone's birthday somewhere right? These were everything a birthday should be: fun, colourful and of course covered in plenty of sprinkles. Believe it or not these actually taste like birthday cake frosting.. weird eh? but definitely what dreams are made of.
If you're like us and can't settle for one flavour, luckily there's 3 others available: Strawberry Cheese Cake, Peanut Butter Swirl and Sea Salt and Caramel. So what are you waiting for, go grab a stick or 3.
Summer just got sweet.
Nutritional info: Calories per 1 stick: 90kcal, Sugar per 1 stick: 8.7g
£2.50 Available at: Tesco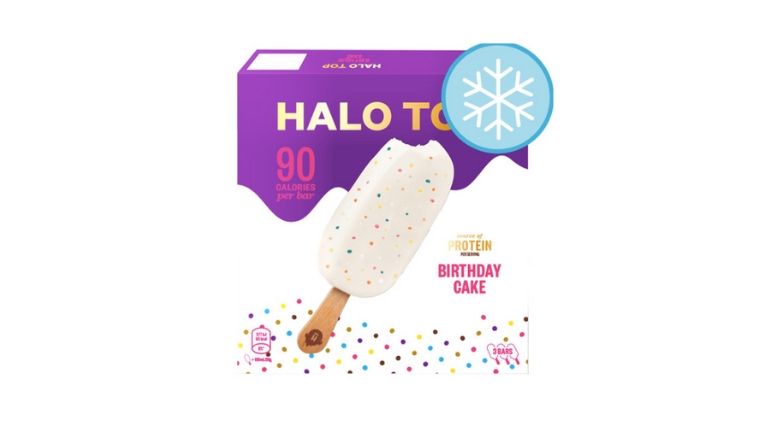 6. Best ice cream snack for vegans
Little Moons are Japanese inspired gelato Mochi that have caused quite a stir in the Healthista office. We sampled their new vegan Belgian chocolate Mochi, which are just 71 calories and look identical to mini doughnuts.
The contrast in textures is what makes Mochi so unique, the outer layers are chewy – made using gluten free rice flour, which tastes like a cake or dumpling. But, the inside is creamy and indulgent, filled with dairy free coconut ice cream, then dusted with cocoa powder.  They were all amazing but we especially loved the Belgian Chocolate and Tropical Mango & Passionfruit flavours.
Drooling yet? We guarantee that after one bite, you won't be able to stop smiling.
Nutritional info: Calories per 32g: 71kcal Sugar per 50g: 8.4g
£4.99 Available at: Waitrose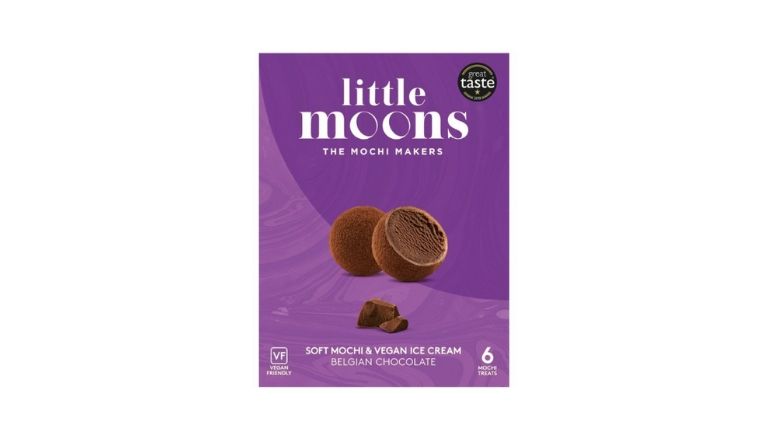 7. Best snack dips
Looking for a tasty dip to try during your next Netflix binge sesh? Moorish has combined avocado and hummus to make an epic side dip that will guac your world.
Healthista sampled the Avocado Hummus, a 100% vegan dip, which actually tastes of real ingredients. There's just enough nuttiness from the hummus and zing of lemon, that gives an extra kick of yum.
At 156kcal Moorish is best shared with friends over a large bag of doritos.
Nutritional info: Calories per 50g: 156kcal, Sugar per 50g: 0.2g
£1.80 Available at: Sainsburys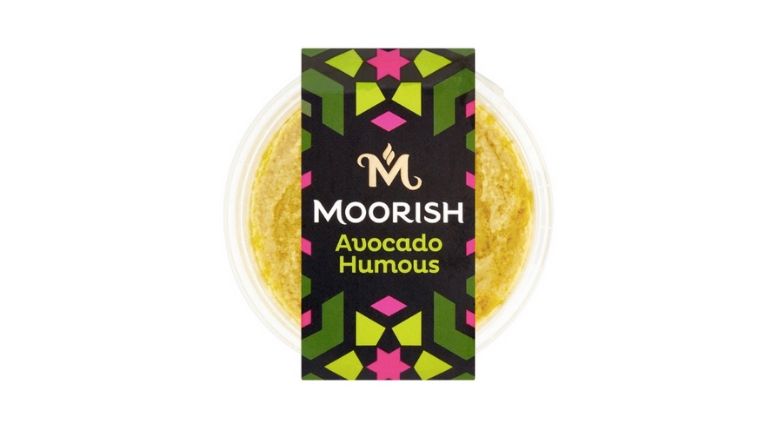 8. Best sweet moussy treat
Okay, this stuff is dessert humous. We know what you're thinking, 'dessert hummus? 'Ew that won't work,' right? WRONG. Hou Humous absolutely nails that sweet and savoury combo and it's made entirely nut-free – amazing for nut allergies. We sampled Choco – o Chic, a thick, chocolate dessert made with coconut milk and nutty notes of chickpea.
The unusual mix of gritty hummus and sweet chocolate is confusing at first, but after a few mouthfuls it tastes like a healthier version of Nutella – that's all thanks to chickpeas, which are low in saturated fat and sugar.
It can be spread over toast, as a dip with fruit or if you're feeling cheeky – straight out of the tub.
Nutritional Info: Calories per 100g: 240kcal, 13.4g, Fat per 100g: 13.4g
£2.50 Available at Selfridges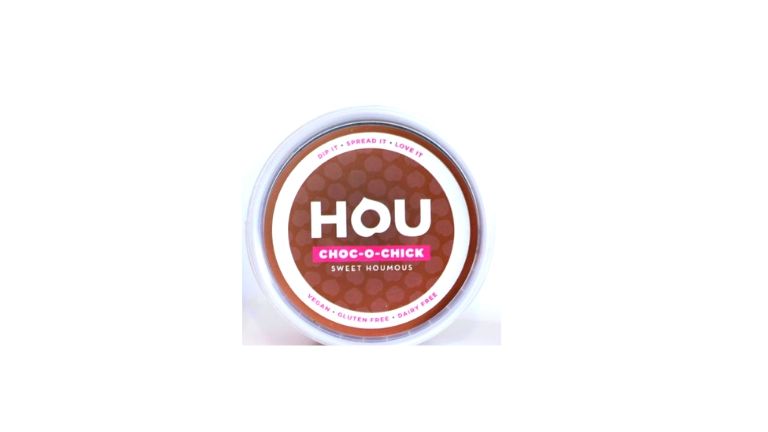 9. Best vegan cheese
Nuts for cheese? Fermé is a new Italian vegan cheese, made with only fermented cashews, water and a pinch of salt.
With so much vegan cheese available, its hard to know which are actually good. A lot of it uses coconut oil which can give a nasty aftertaste. But thats where Fermé comes in – there's no coconut in sight. We tried Fermé's chive addition, with just cashews which have been fermented for days, giving you that rich and earthy cheesy taste.
It'll taste good however you slice it, be it on top of crackers, oatcakes, toast or salad.
Nutritional info: Calories per 100g: 430kcal Sugar per 100g: 1.2g
£6.50 Available at: Planet Organic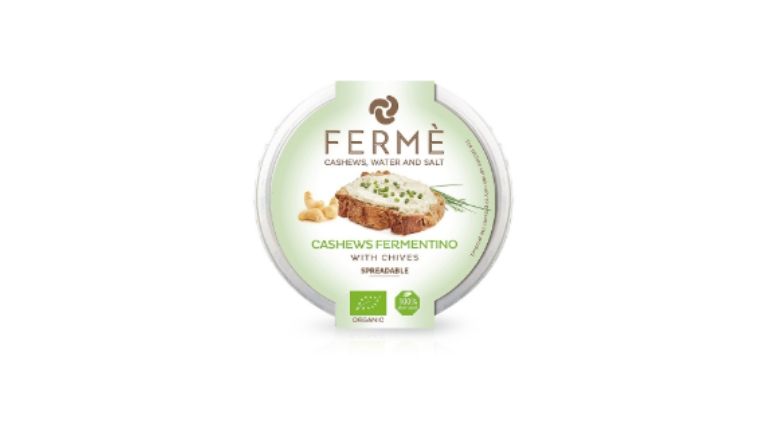 10. Best guilt free biscuits
Craving something sweet? Livia's Million Squares are unbelievably tasty and were a huge hit with the Healthista team. Livia's are a natural twist on your classic Millionaire shortbread made with completely vegan, raw ingredients.
We tried The Chocolate Orange Million squares, which came in mini packs of three – great for sharing, although we doubt you'll want to. After one bite, we were obsessed, the date paste is soft and gooey and tastes just like caramel. Each square has a crumbly gluten-free oat base, and a top layer of dark chocolate.
Nutritional info: Calories per 60g: 212kcal, Sugar per 100g: 26.8g
£4.49 for sharing tub Available at Ocado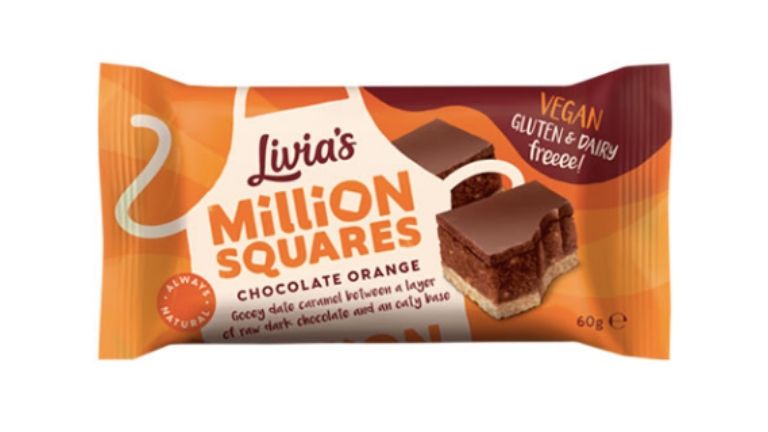 11. Best sweet snack for sustaining your energy and focus
Nibble Protein have answered your chocolate cravings with their little cocoa bites. They're basically mini healthy brownies but with much, much less sugar – 4g to be precise – thanks to the fact that they use dried plum instead of dates as the sweetener. It's genius.  Fair warning, you'll probably get through the pack in less than 20 seconds.
Each bitesize ball is extra chocolately and filling, and the pack contains a staggering 4.4 grams of protein to help keep you satisfied.  We tried The Choc Walnut Brownie and loved the addition of crunchy walnuts, which went perfectly with the chewy brownie texture – trust us, you'll be nibbling these all day long.
Low in fat (YES), high in fibre (double YES) and high in Omega 3 for heart health – uh we think its time to stock up.  What we found is that these snacks, while filling a sugar craving didn't spike our blood sugar and filled us up until dinner.
Nutritional info: Calories per 24g: 98g Sugar per 24g: 4g
£1.59 Available at Ocado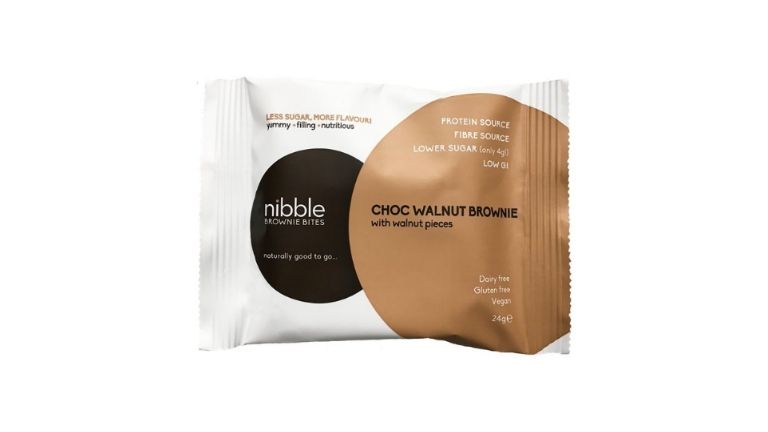 12. Best gut friendly snack bar
Purpose are a snack bar with a difference, containing 9 grams of prebiotic fibre, which can keep you regular and may improve the levels of good bacteria in your gut. Added to that, is pea protein and superfoods such as maca, which work is a natural sweetener. The amazing thing about these bars is not only the taste, but the fill factor too.
Our editor Anna Magee doesn't like any energy / protein bars except Pulsin and was converted by these. If you like dense, filling energy bars, try having half before your workout and half after, they're really sustaining – and not too sweet, chewy or date-y tasting.
Our clear favourite was the Salted Caramel & Maca bar, AKA the healthiest toffee you've ever eaten and with just 0.7g of saturated fat.
Nutritional info: Calories per 40g bar: 141kcal Sugar per 40g: 12g
£1.78 per bar Available at: Purpose Foods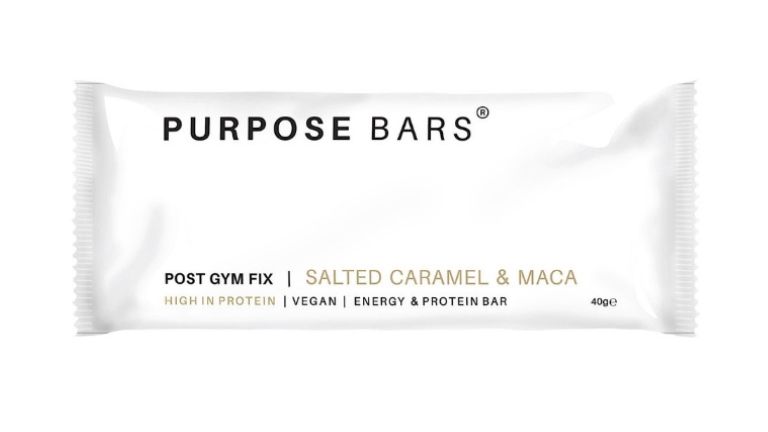 13. Best creamy snack bar
Looking for something quarky to add to your snack collection? Yaar bars are like a yoghurt you can hold – no spooning involved. Quark is the secret ingredient to its smooth centre, a type of dairy product containing the milk protein casein, which is lower in fat compared to your average yoghurt.
We tried the Cloudberry & Lemon bar – a cross between red currant and raspberry. If you're a cheesecake lover, you'll be in heaven with its creamy lemon texture, which is covered in milky caramel. Mmm. You'll be on cloudberry 9 with these tasty treats.
Nutritional info: Calories per 40g bar: 140kcal Sugar per 40g bar: 11.1g
£1.00 Available at: Sainsburys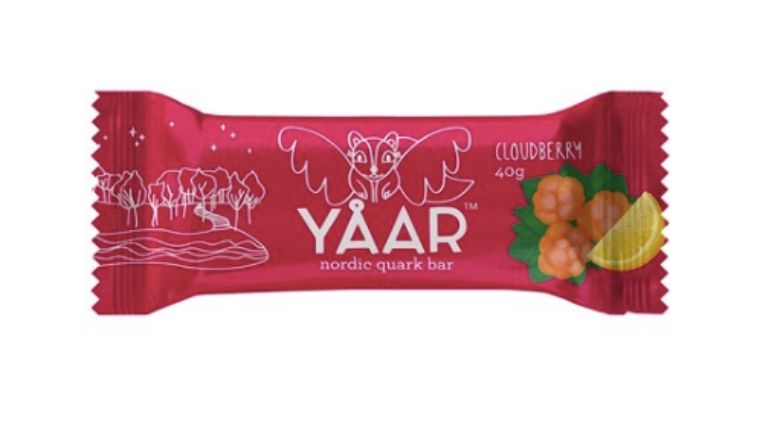 14. Best low sugar snack bar
Buon appetito. Boka is a new Italian cereal snack bar which demands your attention. Each bar has four green lights: low in fat, sugar and salt AND comes in four different flavours – what's not to love?
We tried Choco Mallow, a dreamy combination of milk chocolate, puffed rice and chewy marshmallows. At 94kcal these bars make great lunchbox snacks for kids, and with only 1.4g sugar you don't feel cheated on flavour or quality of ingredients.
Nutritional info: Calories per 30g bar: 96kcal Sugar per 30g bar: 1.4g
£2 per pack of 4 Available at: Sainsburys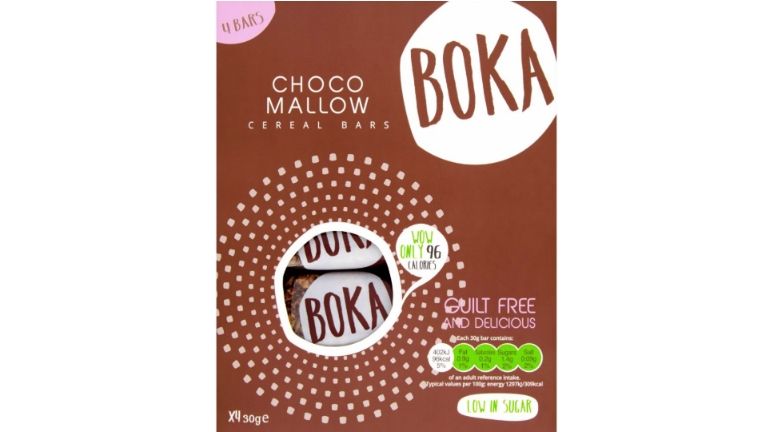 15. Cake? Yes please – try these
New gluten free and vegan brand Bells & Whistles have really pulled out the stops with these insanely good mini 'cake' slices.
We tried the raspberry and cashew slice which delivered on flavour – 3 layers to be exact. At the bottom is a soft almond and coconut base, which is coated with white chocolate and sprinkled with dried berries. Believe us when we say you'll want to shout out how good these are. Don't shout too loud though, at 94 calories a slice, everyone will want one.
Nutritional info: Calories per slice (19g): 94kcal Sugar per 19g: 5.0g
£2.74 per pack of 4 Available at: Sainsburys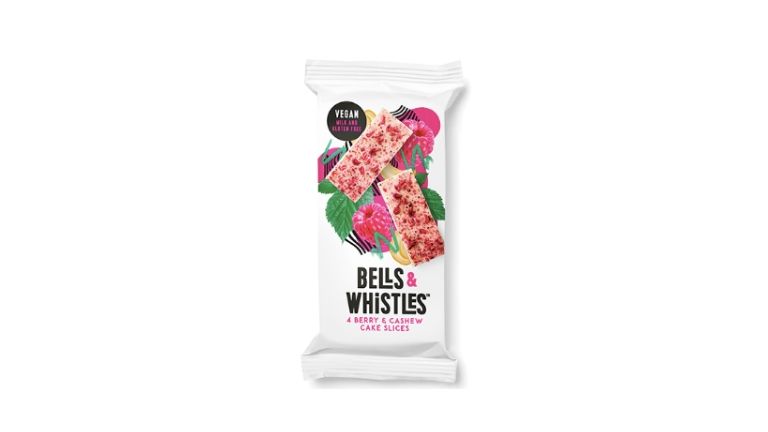 14. Perfect for all nut butter fanatics
Squeeze the day with Pip & Nut – your nut butter just got healthier AND tastier with these mini squeeze packs. For those busy and hectic days these are a perfect snack on the go and with 8.1g of protein a pop. Why not drizzle some on top of your morning porridge, pancakes or toast, to give you lots of natural, nutty energy throughout the day.
Theres just something about pip and nut we can't get enough of and these squeeze packs are no exception, making it even harder for us to stay away.
Nutritional info: Calories per 30g: 184 Sugar per 30g: 4.1g
£1 per pack. Available at Sainsburys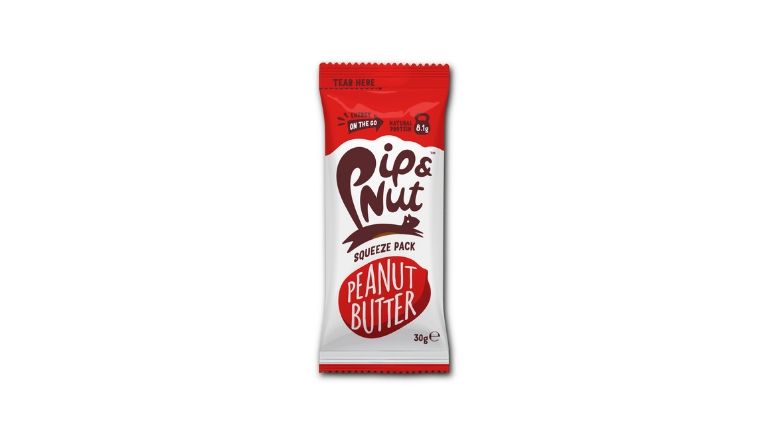 More Healthista Content:
5 natural fixes for joint pain proven by science
Do all humans have a type… on paper?
18 ways this celebrity trainer keeps Nicole Scherzinger and Amanda Holden in shape