From last week's high end splurge to something that suit all budgets.  This week's pick for Best Beauty Products Ever column is a product to wipe away the need for expensive cleansing
Has anyone else noticed how expensive cleansers can be? It's not uncommon for brands to use beautiful ingredients, often natural, organic or high-tech to create something super high end that easily tips over the £30, £40 mark or more.
It's great if you can afford this (I'm currently enjoying Oskia Renaissance Cleansing Gel which is a stunning product which costs £29.95 – I thankfully get this for free for testing) but I'm sure not everyone can indulge. To prove my hunch I did a quick opinion sweep around the Healthista office and found the highest happy-to-spend price for a cleansing product was £20. The lowest was £3! Luckily my beauty choice of the week falls in between the two at £6.95. Phew.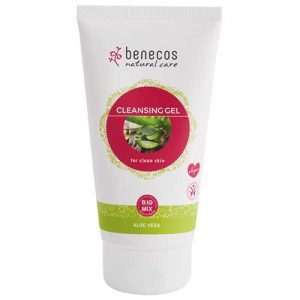 Benecos Cleansing Gel is a product that can easily be looked over – the brand is more well known in Europe (it was founded by a German couple) but has a growing fan base in the UK and aims to attract a younger audience interested in natural skincare and beauty so it's a surprising winner. (There's also a range of affordable natural cosmetics and the brand sponsors the Mavericks super-league UK Netball team.)
A basic wash-off gel cleanser is probably a standard buy for most beauty runs but mainstream brands available on the high street are often loaded with harsh sulphates that can strip skin of natural oils leaving it squeaking with tightness or too stringent to use on the eyes. So I'm genuinely delighted I've found a natural alternative that doesn't do either.
mainstream brands available on the high street are often loaded with harsh sulphates that can strip skin of natural oils
Benecos Cleansing Gel uses lime blossom water with aloe vera to cleanse, cool and calm the complexion and has a light, spring-like scent. Just a small five pence size is enough to cleanse the whole face as the jelly-like texture spreads instantly. Great for all skins (even oily and problem-prone) and best of all, it doesn't sting the eyes – hurrah! So if you are all about low maintenance, speedy beauty as I am, you can take the day off including waterproof eye makeup, in one simple swoop.
Most natural cleansers come as a cleansing balm (The Organic Pharmacy Carrot Butter Cleanser or Spiezia Facial Cle anser are a few cult favourites) or as a nourishing cream (think Liz Earle Cleanse and Polish) or my personal favourite, an oil (DHC Cleansing Oil is my go-to favourite) but as you can see from the links they all come in over my Healthista office £20 barometer and none are gel-wash offs.
So if budget or high street wash off cleansers are what you usually shop for, now there's a natural alternative that won't break the bank and it's my new favourite to recommend.
Benecos Cleansing Gel, £6.95 pravera.co.uk
Read More:
Is magnesium the key to better sleep?
More beauty reviews on Healthista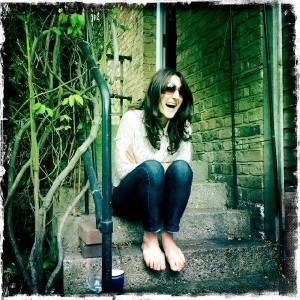 Healthista's Digital Director, Yanar Alkayat, is a health and beauty writer for the UK national press. She blogs about ethical beauty and lifestyle at brightershadeofgreen.co.uk. Follow her on Twitter at @YanarBeauty.