Fancy winning a beautiful Raleigh bike in association with Fabulous magazine? Healthista has teamed up with Britain's best read women's glossy Fabulous to find out what you really think about diets. Tell us in our short survey below for a chance to win this Raleigh Sherwood women's bike worth £330!
The prize
The Raleigh Sherwood bike perfectly combines modern components with retro styling so you can look great and get fit at the same time. It's ideal for riding on paths, trails or roads. The Raleigh Sherwood is also available in a range of colours inspired by the catwalk because they are not just bikes they are fashion accessories. The stylish frame colours are matched by the chain cover and mudguards so these functional parts, designed for keeping you and your clothes clean, complete the look. The Sherwood is finished with a gorgeous front basket, a stand and a retro ding-dong bell.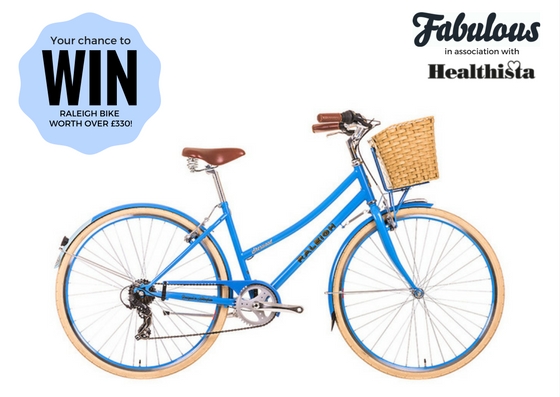 To enter
Simply take the Fabulous magazine diet survey for a chance to enter.
Create your own user feedback survey
Entries close midnight Sunday 30th April 2017. Good luck!
Read more:
Enter more competitions to win amazing prizes here 
What to eat for a healthy smile
Reviewed: London's vegan-friendly hair salon
Meat-free Monday: avocado bruschetta
Spa of the week: Four Seasons Hotel Des Berges Geneva, Switzerland
Could floatation therapy help your anxiety?